This week's Drawn to Comics is, once again, about an adorable webcomic. What can I say? I love cute, comfy art and fluffy, anime-inspired characters with big eyes and endearing smiles. That's what Ari has made with the webcomic Always Human. It's also one of the sweetest and most careful love stories I've ever read. Plus: soft colors, queer women of color, science fiction and lesbian romance.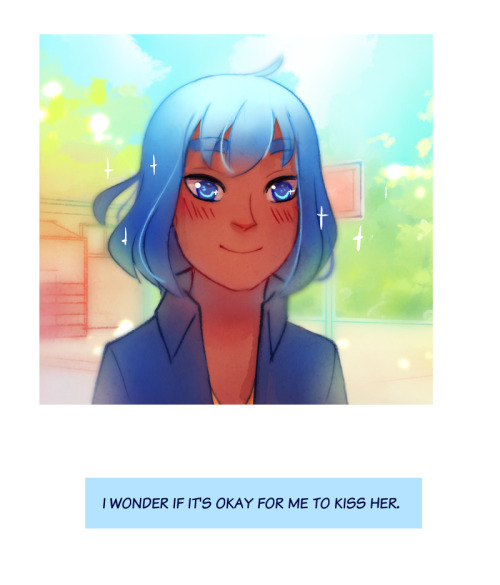 We first meet our main characters when they're meeting each other. Sunati is a blue-haired woman living in a future where digital body modifications are the norm. Some people do simple things like changing their hair or adding beauty marks, while others get blue skin or add elf ears or a cat's tail. One day she sees someone who doesn't have any mods, and she approaches her. This is Austen. Austen has a rare disorder, Egan's Syndrome, that makes her body's immune system reject all of the mods, so she can't use them. Sunati is drawn to Austen by both curiosity about why she doesn't use mods and by being taken aback by her gorgeous looks without mods, and the two start talking and decide to go out.
Sunati takes Austen out on a virtual reality date to show her a star system she created. She's a VR designer who loves space and this is her passion project. The two are quickly smitten. From there, the comic focuses heavily on their romance, and it's wonderful. Ari has spent so much time and care building these characters and their relationship. You can tell that she loves them, and if you read this comic, you will too.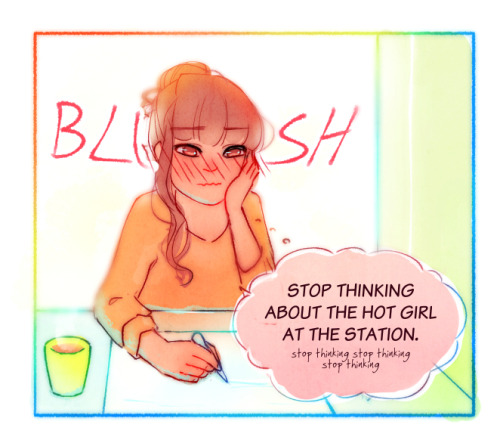 "Did you know that falling feels a lot like flying? I'm falling so fast right now," Sunati says to herself on one of her first dates with Austen. This comic is so great at showing a love story in it's early stages. It captures the exhilarating rush and fear that comes when you're being pulled around by your heart. Austen continues, "I wonder if she'll kiss me again. I wonder if it's okay for me to kiss her" and "I want to learn more about her. I want to know everything."
We then get to see the relationship as it progresses, as they get to know each other and as they start seeing each other for who they really are. We get to see them learn how to communicate and be open about their feelings. They aren't just smitten, they're actually in love. Always Human uses the metaphor of space travel into the unknown to talk about exploring their new relationship. It's pure and sweet and perfect. At first it's a thrilling and bumpy ride at breakneck speeds. They're going somewhere they've never gone before. Soon they're out among the stars, and they can relax a little bit. They know each other, they love each other. But still, they're on a journey together. They're not standing still, they've still got new things to discover and new challenges to face.
The comic also poses an interesting question about disability and relationships. When Sunati first asks Austen out on a date, she asks if it's only because she can't use the mods, and so Sunati sees her as some sort of weirdo. Sunati struggles to answer saying at first that if Austen could've used mods she might not have noticed her, but it doesn't change the way she sees her, but maybe it should, and she gets adorably flustered. At first when she sees her, she thinks that Austen is "so brave" for not wearing any mods. She later thinks, "There are so many things Austen does because she can't use mods. So much effort, just to live a normal life." Austen tells her that it's hard to believe that Sunati finds her beautiful. She's used to people feeling sorry for her and lying to her. Despite her protests, this is still an issue later in their relationship. But it's not the only one. Sunati comes out and tells Austen how "brave" and "strong" she is for not being able to use mods. This is not cool. She's using Austen's life to inspire her, she's placing her on a pedestal, she's not seeing the real her. This is something the characters have to go through together.
There's also a pretty intense discussion of body image and eating disorders that comes up throughout the comic. Partially due to the body mods being so readily available, and partially due to Austen not being able to use them, she's developed an obsession with being thin. Again, the creator does a good job of addressing this, as well as depression and anxiety that often come along with body and food issues.
The colors are bright and vibrant, but also soft. The blending is just gorgeous. Every page is a cacophony of colors you can practically feel. The author's really interesting idea of incorporating these appearance mods into the universe of the comic make the character designs unique. We get to see some really creative looks on these characters and it helps the comic to really stand out.
Ari has created a beautiful and delicate comic. Those words perfectly describe both the art and the love story. Always Human is great for fans of anime or manga-style romances, and for fans of creative science fiction stories. And, of course, it's great for anyone who wants to read about two women falling in love.
New Releases (October 13)
Batgirl and the Birds of Prey #17
Bitch Planet Triple Feature Vol 1 TP
The Wicked + The Divine Christmas Annual #1
---
Welcome to Drawn to Comics! From diary comics to superheroes, from webcomics to graphic novels – this is where we'll be taking a look at comics by, featuring and for queer ladies. So whether you love to look at detailed personal accounts of other people's lives, explore new and creative worlds, or you just love to see hot ladies in spandex, we've got something for you.
If you have a comic that you'd like to see me review, you can email me at mey [at] autostraddle [dot] com.