Welcome my dearest friends to a fresh, pre-chilled recap of the second episode of the third season of The L Word Generation Q, brought to you by the same network that brought you the original L Word, a meditative mini-series about getting your vagina rejuvenated and the iconic exes you run into along the way. This L Word Generation Q Episode 302 recap is chock-full of high-stakes drama, great outfits, high-brow art and low-brow art!!
Every season of this program I remember anew what a delight it is to write about and consequently discuss with all of you here in the comments!!!
---
We open where we departed: Bette and Tina playing tonsil hockey in the living room, their innocent brokenhearted daughter Angie walking in upon them, looking for solace regarding her split with Jordi and finding instead that her Moms are looking for solace in each other's gaping maws.
Bette and Tina attempt to play it cool but fail immediately. "Are you seriously gonna act like I just didn't see? Just — ew—" Angie shares before turning around and going right back to school!
And then — Bette and Tina, who haven't had sex with each other for a significant number of years and are wet as the Everglades for each other, let Angie walk right out that door, rationalizing that they'll talk to Angie tomorrow, NBD. And then they check in that this is real and not a mistake and then they return to the beating heart of L Word Fandom: boning each other.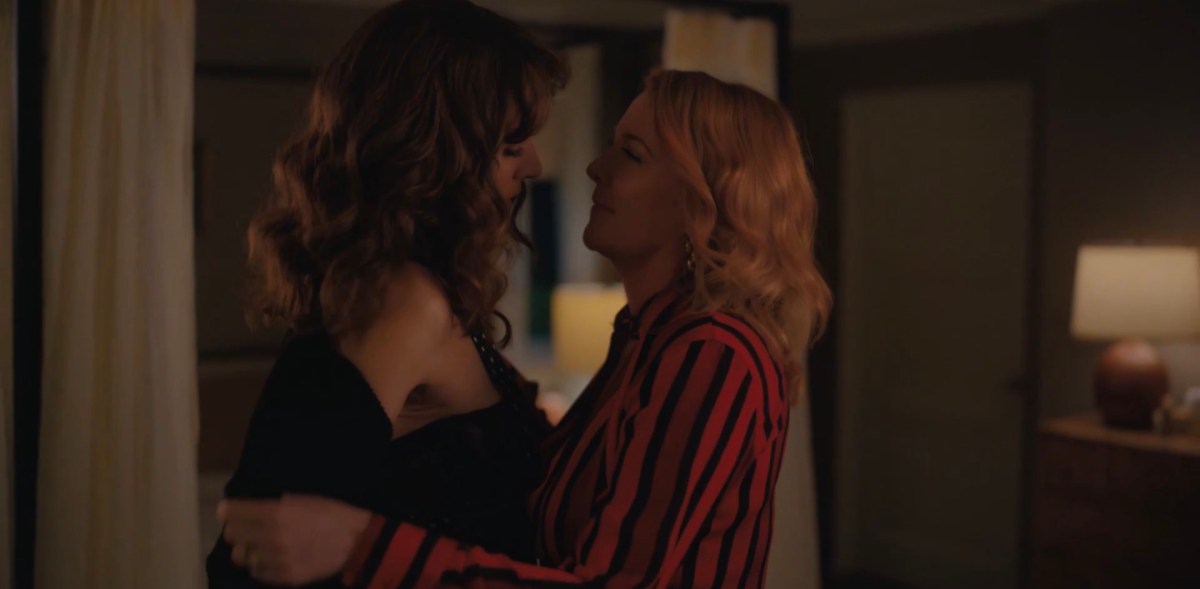 Sexy Moment #2: Did You Know That This is Bette & Tina's 11th Sex Scene of The L Word Franchise
The Players: Bette and Tina
The Pick-Up: "I mean it feels so real to me." // "Yeah it is real."
Content: Bette leads Tina into the bedroom because that's what Bette does, she leads, and they undress each other and Bette's got her hands running over Tina's body like it's a work of art she wrote her thesis about. "It's been a long time," Bette says. "I'm… different." But Tina says she's so, so beautiful and Bette's like NO YOU ARE. Okay you both are!! What a Feeling!!
---
We then move gamely forward across the river and through the woods to where Gigi and Dani are starting the morning out with a piping hot cup of Fighting.
Lesbian Squabble #2: Step by Step
In the Ring: Dani vs. Gigi
Content: Nat wants to get to know Dani a little bit before allowing her to move in with her ex-wife and potentially corrupting her children — Eli and Olive, notorious L.A. Times cover stars best known for vomiting into a crock pot. Dani is somehow insulted by the prospect of having dinner with Nat.
"You have to stop making me feel bad for having kids," Gigi says. Dani wants Gigi to stop talking to her like she's a child! Gigi wants Dani to stop acting like a child and so do I.
Then, Gigi's phone buzzes because of course Nat is calling Gigi at this moment, which causes Dani to leave in a huff, filled with the righteous anger of a person who does not have children and clearly does not understand what having children entails, perhaps because her father is a monster.
Who Wins? Gigi because she's right and Dani is wrong.
---
Back at the Shess Shack, Tess is trying to seduce Shane into buying the second bar! She's whispering about how well their bar's doing, how it's the only lesbian bar in L.A., and just imagine… what if they had two lesbian bars… right next to each other… in the same neighborhood…
"Oh, it would be so glam," Tess whispers, incorrectly.
"Are you manipulating me?" Shane asks, reminding Tess that she wasn't born yesterday as she flips Tess over, returning to her rightful throne as East Hollywood's Top Top.
Shane is very gently reminding Tess she simply needs time to think about it, but Tess is firmly opposed to calm, rational decision-making and negotiation. In fact, she subsequently takes a call regarding an inspector coming to check out the property that afternoon. I think Shane's best next move here, in response to Tess's accelerated action plan for an idea Shane has yet to approve, would be to buy the second bar and then sell it to Chuck E. Cheese.
---
Over at FiSoMiMar's, Finley's also making big moves: she built an easel! For game night! A beloved pastime of the sober community! I love game night, especially when everybody realizes how fun it is to follow the rules, which I know by heart. Sophie agrees with me that game nights are cute. Also Sophie hopes Finley's good at games because she "sucks… at losing."
Finley wants to invite Micah and Maribel which pushes Sophie to acknowledge that womp womp actually Maribel hates Finley! So maybe they could just do some one-on-one Pictionary? Finley, possessing a social confidence that is perhaps the exact opposite of my own, is certain she can fix Maribel's loathing by simply putting in some "hang time" with her. "I'm gonna easel her into it," Finley ker-pows before heading upstairs.
Surprise for everyone, though: Maribel heard the whole convo! And she is a soft no on game night.
Sophie quickly convinces Maribel to put her aversion to Finley aside and give herself over to the joy of sober group gaming and Maribel relents. Sisterhood is powerful!
---
When you want to go where everybody knows your shipper name, there's only one place to go: The Dana Fairbanks Memorial Tavern. Bette and Tina arrive hand-in-hand, full of promises about open dialogue and taking it slow, and Alice and Shane are, once again, pretty stoked.
However, it turns out Bette and Tina's fingers have been too far up each other's vaginal canals to give their own daughter a ring to learn why she'd stopped by on her first night of school. Uncle Shane's got the scoop: Jordi dumped her. Well, Bette Porter never liked that girl, not from the very beginning!
Ivy texts Shane that she's "still waiting on [her] haircut" which is like, ok everybody calm down. Anyhow, tonight is Marcus Allenwood's post-mortem gallery opening, and everybody's coming including Alice and her "age-appropriate date," an actor who was in a Marvel movie or maybe a DC movie because what's the difference you know???
Alice ducks out to take a call from JoJo Siwa's people and Bette and Tina don't know who JoJo Siwa is which somehow inspires a conversational tangent about how Alice lives in an imaginary world of unicorns, rainbows and Oompa-Loompas? Which honestly is a much better description of JoJo Siwa than Alice but I digress!
---
Game Night is here and Finley is getting the festivities off on the wrong foot by congratulating Marbiel and Micah on the "goo-goo-gah-gah" baby? The baby that:
Micah has not consented to having
Neither of them have taken any concrete steps to create
Sophie told Finley about in confidence
"It's gonna be cute, a little combo of both your faces," Finley continues down this intermediate-intensity hike off a cliff. "Wait no. You're gonna have to choose. How are you gonna choose? You guys both have such good faces?"
The thing about any two people who want to make a baby together is that truly no congratulations are in order until like week 16 of an actual pregnancy because you know, so much can go wrong. And for two people who don't produce sperm, it can also be incredibly expensive! Luckily on this show everybody is rich, even the poor people.
"Look, we're not having a baby," Micah interrupts Finley.
"We're just talking about having a baby," Maribel clarifies.
And then Finley does the Finley thing — where when she fucks up she declares herself a fuck-up and sulkily exists the room. I look forward to Finley perhaps learning some more mature methods to dealing with self-loathing and social errors at some point.
Maribel flicks a piece of food at Sophie and chastises her for having a big mouth.
---
We then journey to the storied Zakarian Gallery, where Bette and Dani are outside in the soft pansexual lighting of a hot night in the city, discussing Dani's recent success as an event planner. But Dani wants to get personal — "I asked Gigi to move in with me," she tells Bette. "But she said we had to talk to Nat about it first. As a trio. She's lost her mind!"
Bette is like yeah babe, that's called parenting, get a clue! Bette points out that Gigi's not prioritizing Nat, she's prioritizing family, which's something Dani should want in her partner. This is excellent advice, which Bette follows up with honestly incredibly intense inquiry: "The question is: are you ready for that? Are you ready to be a parent?"
---
We then shoot back to FiSoMi's, where a riveting game of Pictionary is underway — Sophie's sketching a bird and a piece of matzoh? — and Micah is reminding Maribel that he's only 28, and Maribel is reminding Micah that he has mentioned that a few times.
"My Mom had me when I was 26, look how I turned out!" says notoriously mentally stable sketch artist Sarah Finley.
"My Mom had me when she was 24 and look how great I turned out!" I, another notoriously mentally stable person, say to the television set.
The squabble that subsequently unfolds between Micah and Maribel takes a few scenes to play itself out. But it begins right here right now: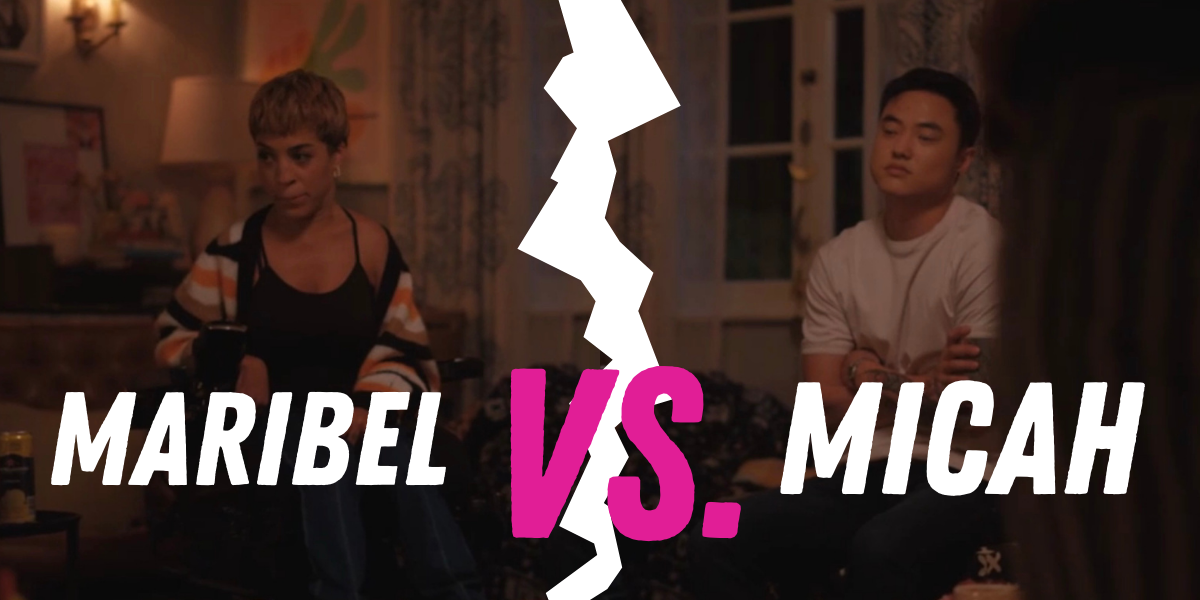 Squabble #3: Baby Baby Baby
In the Ring: Micah v Maribel
I love this snippet of dialogue:
Micah: "Did you ever think that I might wanna carry?"
Maribel: "No" […] "Do you?"
Micah: "No. No but that's not the point. The point is that you didn't think of me!"
In the background of this exchange, Sophie and Finley are crushing at Pictionary but unfortunately nobody cares because of goo-goo-gah-gah.
---
Come along, Bad Art Friends, it's time for an art show! Angie's looking smart in her suit as Bette and Angie talk to Marcus's family about how great it is that his work is finally getting a showcase now that he's dead. Then Angie and Kayla enjoy a brief aside about Angie's breakup and her future at California University.
Kayla: "You're single and in LA and you technically have your own spot."
Angie: "OOOO, you're right, this could be like, my hoe phase."
Good for her. Hopefully she won't make the same mistake I did in college and hook up with three different boys named Andrew.
---
Elsewhere in the gallery, Alice and her date, Asia, have arrived. Asia's telling Alice how ever since her movie came out, the press has been hounding her, but she stays grounded with a lot of "volleyballs," famously the favorite sport of noted cult leader / scammer / sexual predator Keith Raniere. Alice asks if it's a rec league and Asia clarifies that it's "invite only."
As Asia dashes to get more ice for her wine, Alice turns to Shane expecting a rave review of her lady in red.
"Several red flags," Shane immediately and correctly declares. Alice protests that Asia's passionate about social issues and she's got a mentor who's in prison — "Oh who, like Keith Raniere?" Shane asks. A passing cocktail waitress catches Shane's wandering eye and Alice clocks it, accusing Shane of getting "the itch," defined as how when things get too real, Shane gets restless and starts to "wiggle."
Shane denies any malfeasance or any suggestions of impending malfeasance.
---
Back at Quit Playing Games With My Heart Night, Sophie and Finley are still killing it.
Meanwhile, Micah and Maribel are very close to killing each other as they tumble though their landslide squabble regarding perhaps one of the most important decisions a couple can ever make besides, of course, buying a second bar.
Squabble #3 Part 2: Back in the Habit
Micah tells Maribel they've gotta slow down because — despite the fact that he recently proposed marriage to Maribel — his Mom doesn't even know they're dating yet. "We've been living together for like, eight months," says Maribel. According to last year's timeline, they started dating in May of 2021, so this means they'e been together for 15 months and Micah hasn't told his Mom yet!??!!? What on earth do they talk about?
---
Back at Art Night, Bette's sauntering through the gallery and spots Tina and decides to initiate a little role-play for all the fans at home — re-creating the legendary moment in 1996 when Tina and Bette met at an art gallery, as explained in episode 112, Looking Back…
…and the subsequent moment at the "Artist's Dinner" (featuring special guest Catherine Opie) where Tina and Bette saw each other again…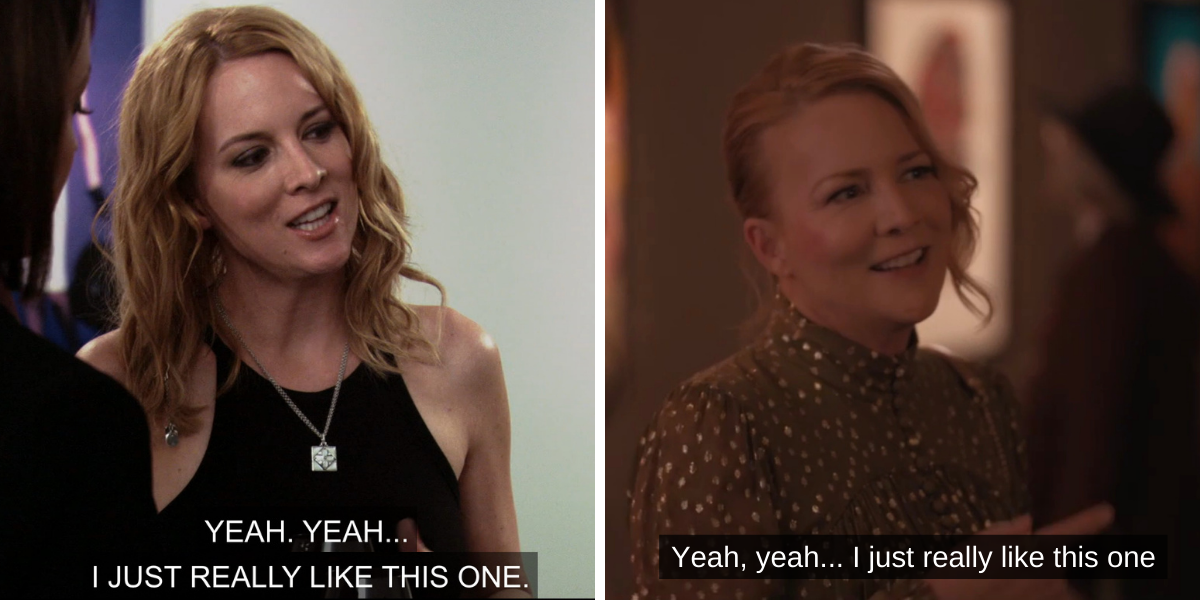 And then, famously, Tina's earring got lost in her illustrious mane and Bette retrieved it.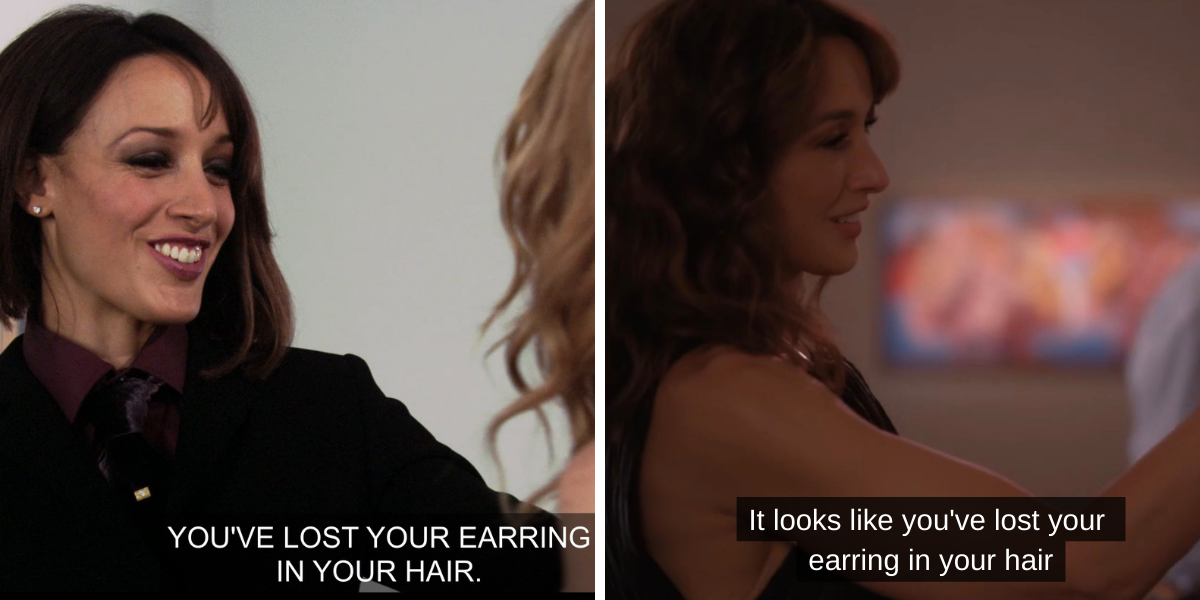 They giggle together and touch heads and fumble around and it's really corny and I wish Angie was here to see this so we could die together because nobody wants to die alone.
Then they decide to improv by kissing.
"This is so much better than the first time," says Bette.
"I agree," says Tina, probably thinking about how much better Bette's hair looks now.
My girlfriend at this point in the program had her entire face covered with her sweatshirt and moaned, "I'm flatlining."
---
Elsewhere in the gallery, Dani, having come to her senses via Bette's advice, calls Gigi to apologize — she knows Nat's just looking out for the kiddos and she's happy to prove her case. Also, she'd love for Gigi to come to the show tonight if she's not too busy filming Black Bird.
Meanwhile, Bette and Tina are having a special Talk with Angie: letting her know that she's got two Mommies who are not just her Mommis but also two Mommies Back Together and despite the fling-esque length of their courtship thus far, it's serious business this time. Angie's completely chill about the whole sitch, and furthermore isn't bothered about her breakup — after all, she has Uncle Yoda Shane and her sister Kayla to also offer comfort, advice, and ho phase suggestions.
Then, a man dares to speak to Bette Porter, asserting himself as her biggest fan, which immediately inspires her to want to give him a little walkthrough. His buddy approaches Angie to apologize for his friend who "always does this" at "every opening they go to" — he beelines for the curator rather than the artist, despite the fact that in this man's opinion, the artist is the "real greatness" and the curator just "does the paperwork." Unfortunately for this man, this artist is dead and the curator is Angie's Mom.
---
Pictionary has reached its organic end and Micah and Sophie head to the kitchen, leaving Finley alone with Maribel. Finley immediately puts into play her good intentions and her bad habit of saying the exact wrong thing at the wrong time — Finley says she's not close with her Mom and Micah isn't either so probs there's no reason for Maribel to be upset about this all being a secret from Micah's Mom.
Finley: I just… I think maybe I take things too personally sometimes, that I shouldn't, and I think that maybe, you know, maybe it's not about you.
Maribel: Oh, it's definitely not about you.
Sophie and Micah return to the room to find their beloveds have crossed horns, but Finley says it's completely fine, her and Maribel totally like each other. Maribel counters that in fact, they don't like each other one bit. "And to be honest, I liked whoever she was fucking while you were gone," Maribel concludes before making her exit. BIG YIKES, Maribel!!!!! Sophie does a big-ass sigh.
"If I wasn't sick I would get up and leave the room too," says my girlfriend as Sophie and Finley leave the room.
Maribel's volley hits Finley right where it hurts (everywhere), and so Finley heads upstairs to sit or think or something, and Sophie follows — Sophie apologizes for how weird that all happened and Finley says it's fine but it's clearly not fine. Sophie reiterates that…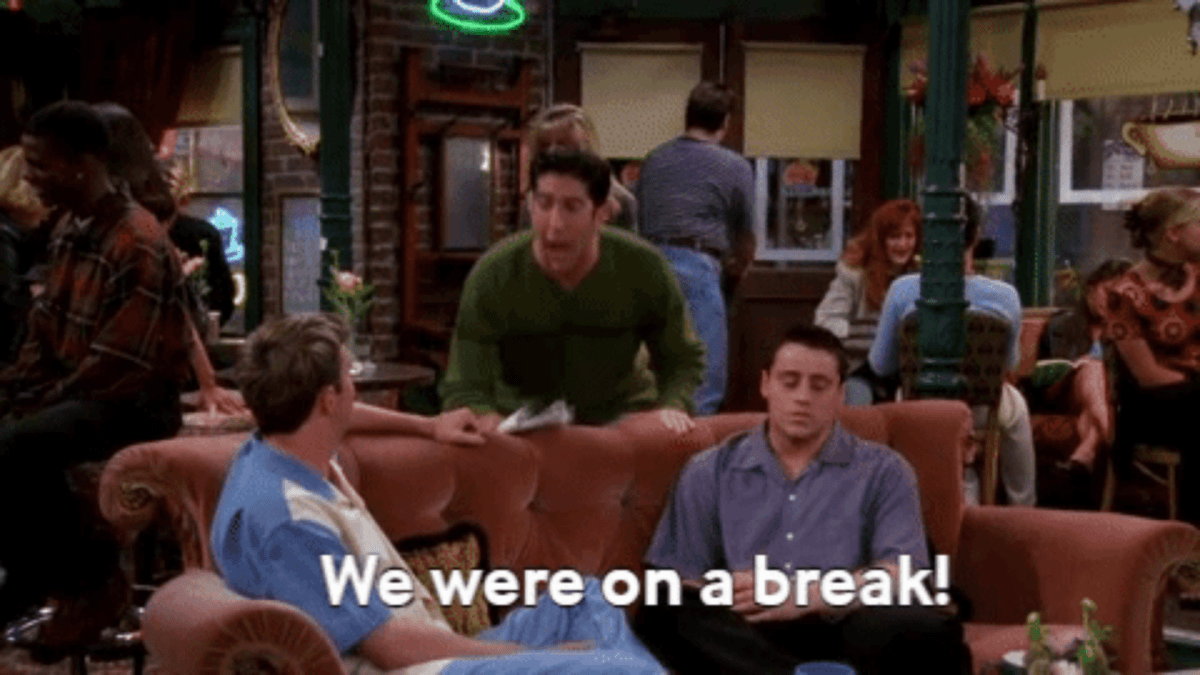 …and also that Finley told Sophie that she didn't want Sophie to wait for her but also didn't want to know about her dating other people if she did in fact date other people.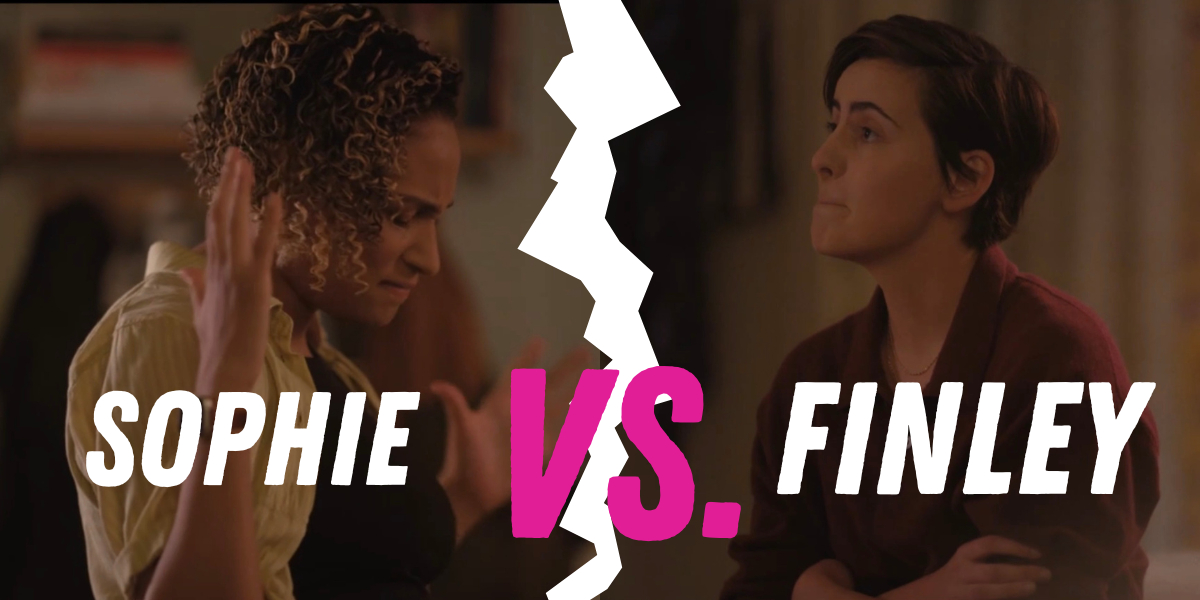 Lesbian Squabble #4: We Were On a Break
In the Ring: Sophie v Finley
Content:
Sophie: They didn't mean anything!
Finley: There's more than one?
Sophie: No, they, singular.
Finley: How many times?
Sophie: You just said that you didn't wanna know about it … so now this feels like a trap.
Finley says it's okay, it's okay. She knows it was allowed, it just still hurts. Sophie says that's not fair, but I think it actually is fair: you can acknowledge that although this situation wasn't a betrayal, it's still hard to hear about.
"You slept with someone while I was in rehab, Soph," Finley laments. "No matter how legal or whatever it was, it still fucking hurts."
Finley wants Sophie to apologize for hurting her, but Sophie won't, because she says she didn't do anything wrong. Finley says she knows it's her own problem and she just needs a minute.
Who Wins? Whoever she was fucking while Finley was gone
---
A clearly distressed Finley calls Tess but Tess shoots her down like a bird in a period film about English aristocrats who shoot birds for fun.
See, Tess is all revved up to see Shane and to try once again to pressure her into making an unwise real estate investment. "You've got this," Tess tells Finley despite lacking any evidence at all that Finley has got anything. It's truly bananas to me that Tess would brush Finley off with a platitude instead of suggesting other ways to cope or people to speak to or literally… anything at all! I'm also not sure if Tess is supposed to be Finley's sponsor or if Finley is just leaning on her for support as a fellow sober person. Either way, though, Tess could've done a little more here just as a pal, you know?
---
Tess thusly arrives at Art Night and her eyes scan the walls with thrilling intensity, as if she's seeing art for the very first time in her life. Shane cozies up to her best girl and gives her the big news: she's ready for the Baby Bar. "I'd do anything with you," Shane says. Hopefully Tess's next big idea for a thing for them to do together will be having a threesome with Kehlani.
Bette's on the mic now introducing the show, speaking fondly of Marcus Allenwood, how he was held back by institutionalized racism and how he considered his marriage and his family to also be a work of art. "I think he understood what so many of us struggle to, and that is that our time here is limited. He reminds me not to waste another second," Bette says, despite the fact that she did not try as hard to get Marcus Allenwood a kidney as the residents at Grey-Sloan Memorial Hospital try every other episode to transport kidneys across state lines through valleys and streams.
In the crowd, Dani's texting Gigi to ask if she's on her way, in that anxious way that you do when you've realized you lost the Lesbian Squabble and would like to return to relationship harmony ASAP.
Meanwhile, Asia and Alice are wrapping up their Art Night date — Asia had a great time with Alice, who she finds magnetic. And then she asks the NXIVM question: "Have you ever done an intensive with the Executive Success program?"
Asia thinks Alice could really benefit from the Executive Success Program because it is responsible for so much of Asia's success! Alice chugs her champagne, nods politely, and ends this courtship before Asia even has a chance to introduce her to Cally from Battlestar Galactica, which is all for the best because Cally is the worst.
---
Back at FiSoMiMar's, Micah apologizes for embarrassing Maribel and for not telling his Mom. Maribel says that she's sorry too — she feels like she's been really intense and fucked up everything.
Maribel doesn't want to push him into something he's not ready for buttttt also she apparently needs to know immediately if Micah is ready for Baby. Great news: Micah has given it around 24 hours of deep, intense thought and he's ready to begin the unwinding path of the circle of life!!!! Maribel's super cute like, really? Even though I'm mean sometimes? 
"If we can get through this," Micah says, probably about Pictionary or the last three episodes of Season Two, "We're gonna be okay."
---
Elsewhere in the FiSoMiMar estate, Sophie's turning in for the night and pulls back the comforter on her bed to find a pretty cute note from Finley: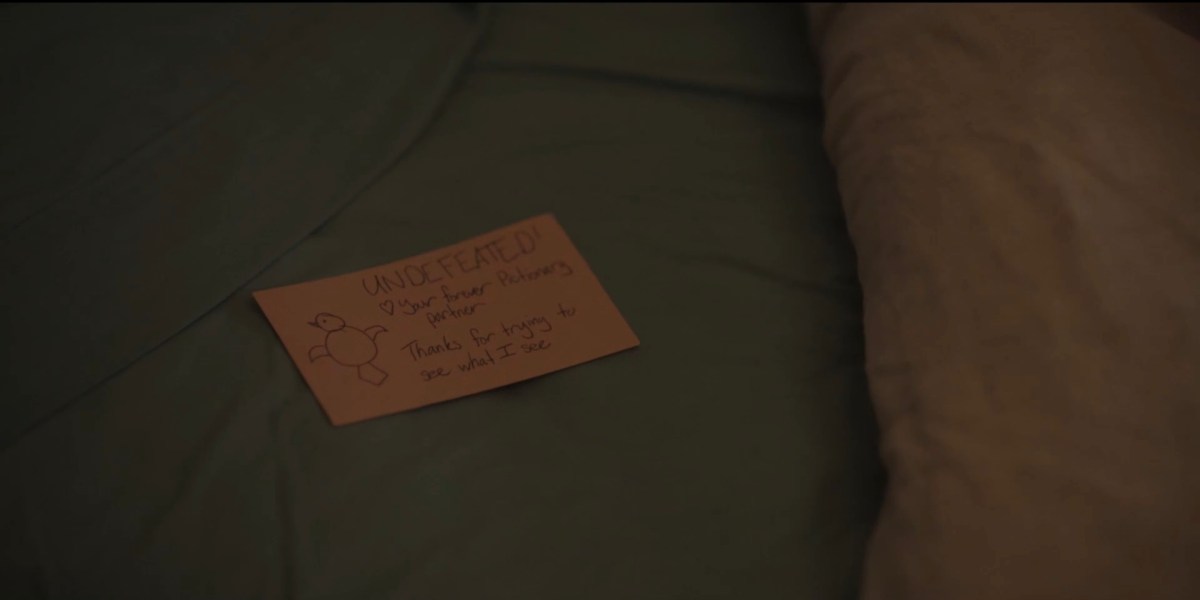 Sophie's charmed: she kisses the note and she crawls into bed and Finley rolls over and Sophie apologizes for hurting her and Finley apologizes for being crazy and Sophie says she's not crazy and they're both wearing soft cotton t-shirts and their bedding looks really cozy!!!
"Sometimes it's hard to know what you see in me," Finley admits. Sophie says Finley's her guy and Finley makes her heart beat faster and despite both of those things being about how Finley makes Sophie feel and not about what Sophie sees in Finley, Finley accepts it and smashes all up into her. It's a very cute moment for me and the 35 other #Sinley fans in the audience.
---
Art Night is still throwing down and Tina's very proud of Bette. Carried away in the passion of this artistic moment, Bette whispers "stay" to Tina, like it's a sexy and exciting thing to say. But it's not. Not to Lisa Loeb and definitely not to Tina!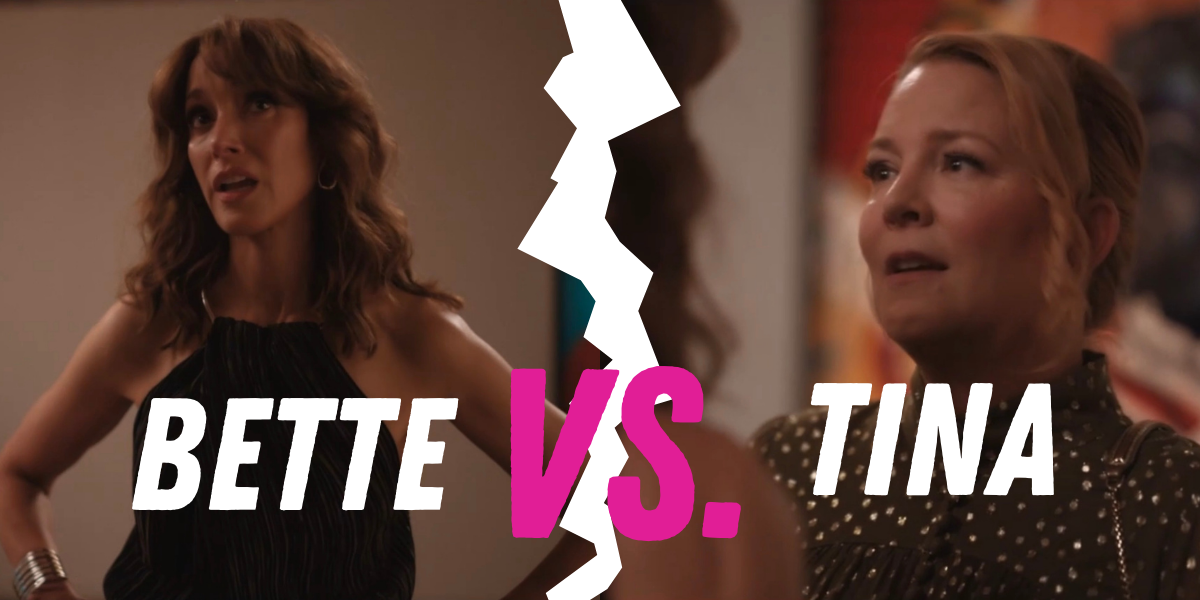 Lesbian Squabble #5: You Think Your Things Are More Important Than Everyone Else's
In the Ring: Bette vs Tina
Content: Tina says Bette's not the only one with a career! Tina's gotta go back to Canada to film Season Nine of Criminal Minds: Deep Federal Law Investigation Squad. Bette's doing it again! She's prioritizing herself over Tina and not holding space for Tina to have her own career and her own deer picture!
Who Wins? Timbits
Tina storms out of the gallery and Bette beelines for Alice and Shane in a hot panic — she's fucked up, she's not sure what to do now.
"Bette we've been here before with you and Tina," Shane says. "Why would it be different now?"
"I know you asked her to stay but maybe…?" Alice suggests.
Shane agrees.
Bette realizes: "I need to go."
---
Outside the gallery, Tina gets into her enormous Lyft and heads out to Terminal 1 at LAX, which is definitely the wrong terminal. Angie's flirting with the man with the annoying friend when Bette bursts from the building like confetti bursting from the embers of a "happy new year" text  — followed by Shane, Tess and Alice — high on life and experiencing an undeniable adrenaline rush from the very concept of doing something selfless for her beloved Tina Kennard.
"I've gotta go win your Mom back, again!" Bette shouts, and then Angie kisses this man right on the mouth and gets into the vehicle and Angie's driving and they're going to follow Tina all the way to LAX, famously the absolute worst drive in the world.
Meanwhile, poor Dani's trying to pull Bette back for the Vogue interview she so painstakingly acquired for Ms Porter but Bette blows her off because Bette is all about love and not her career!!!!!!
---
Meanwhile Gigi is driving to the art show, singing along to the radio nonchalantly without a care in the world, which is a surefire sign that she's about to get railroaded by a semi-truck.
---
Bette asks Angie if she can drive faster but also safely, and Shane says Tina's not picking up her phone — because Tina has of course downloaded a meditation app onto her phone and is blissing out probs wishing she had a more expensive shirt to meditate in.
Alice says she feels like she's in The Parent Trap. Tess has appointed herself Head of GPS — she's got eyes on the cars ahead of her and is anybody worried about Angie getting a point on her license and having to pay $268 a month in car insurance!!!
---
Gigi's phone buzzes and in a classic kiss of death move, she turns to look at it — it's Dani, with harsh words about Bette and a plea for Gigi's arrival, and Gigi texts that she's on her way. This is when you know for sure for sure she is about to get T-boned.
And then! Here comes that car like it's on a pre-planned track at the Universal Studios Backlot tour, smashing right into Gigi. Fortunately, we've all already seen clips from future episodes of a seemingly alive + well Gigi in the trailer, so I did not lose my mind at this moment, but nevertheless was… disturbed, and perhaps also slightly annoyed.
---
Speaking of people playing fast and lose with traffic, Parent Trap continues and honestly this is my #1 recurring nightmare that suddenly I'm on my way to a flight for an unplanned trip and I'm not dressed appropriately and don't have any luggage! So I really salute Noted Control Freak Bette Porter for diving headfirst into this abyss for the glory of love. It's also entirely unrealistic that Bette would truly just get on a plane to Canada in her current attire without any luggage, but I will suspend my disbelief because we're all going to die some day, what's a little bumper-to-bumper???
Traffic's backed up more than usual — there's an accident, Shane notes, and Tess winces that she hopes everyone's okay, which means it's definitely Gigi's accident. But with traffic at a standstill, the kids have nothing to do besides scream into the wind!
Then, suddenly, it is as if Bette is not in fact merely heading to Toronto, Canada, for a few months but perhaps is actually on the verge of literal death? Because she begins doling out send-offs to her Scooby Gang like these are their final moments together on this wretched earth.
"I love you, you've created a wonderful full life for yourself and I'm so fucking proud of you," Bette says to Shane, henceforth cursing the wonderful life.
"You are incredibly special, like unicorns and fucking rainbows special, and apart from Tina you are my absolute favorite ex-girlfriend," she tells Alice.
Bette tells Angie she loves her and she hugs her and she hops out of the car to the siren song of a soft rock cover of soft rock classic Suddenly I See! Everyone in the car is cheering! Bette's running!
Everybody (me) is thinking about the classic lesbian romantic comedy Imagine Me & You!
Tina is still listening to her meditation app! Bette bangs on her window! Tina asks if she's crazy!
Bette: "I love you, I've always loved you. I love you and I'm in this forever."
Tina: "I know, I know, I know you love me and I know you believe in this but that's not our problem. It's more complicated than that."
Bette: "Okay, I hear you, but I spent the last 25 years of my life building my career and I'm so proud of that. And now I wanna spend the rest of my life with you. You are my home. I wanna love you better each and every day, I wanna love you more deeply each and every day and I don't wanna wait another minute to do it."
Tina suggests Bette's not thinking clearly because she loves Los Angeles! She loves her friends and she loves her job and she loves paying $7 a gallon for gas and $15 for a jar of tomato sauce! Bette says that while it's true that she loves Los Angeles, she loves Tina more. Honestly I would rather live in Toronto than Los Angeles but unfortunately I am merely an American citizen, just like Bette, but let us not dwell upon this technicality!
Anyhow, it's true: Bette loves Tina more than Crying While Looking at Art and Leaving Her Friends' Events Early and Wearing Gigantic Sunglasses in November and Screaming in Griffith Park. Take this woman to the top of the CN Tower she is ready to commit!!!!!
I hope Bette has a change of underwear in her purse.
---
Back at the Zakarian Gallery, Dani apologizes to the Vogue man who says he cannot promise a reschedule, which's bad news for Bette who in my opinion would've looked resplendent iin Vogue.
Dani's phone buzzes. It's Nat.
Dani picks up and Nat tells her that Gigi's been in an accident and she needs Dani to come now.
---
The Round-Up:
Sex Scenes: 1 this episode, 2 total
Squabbles: 4 this episode, 5 total
Quote of the Week: When Tess, Shane, Alice and Bette all had their heads out the window screaming TINNANAAAA at the same time
Pages: 1 2 3See entire article on one page