---
Back at FiSoMiMar's, Micah apologizes for embarrassing Maribel and for not telling his Mom. Maribel says that she's sorry too — she feels like she's been really intense and fucked up everything.
Maribel doesn't want to push him into something he's not ready for buttttt also she apparently needs to know immediately if Micah is ready for Baby. Great news: Micah has given it around 24 hours of deep, intense thought and he's ready to begin the unwinding path of the circle of life!!!! Maribel's super cute like, really? Even though I'm mean sometimes? 
"If we can get through this," Micah says, probably about Pictionary or the last three episodes of Season Two, "We're gonna be okay."
---
Elsewhere in the FiSoMiMar estate, Sophie's turning in for the night and pulls back the comforter on her bed to find a pretty cute note from Finley: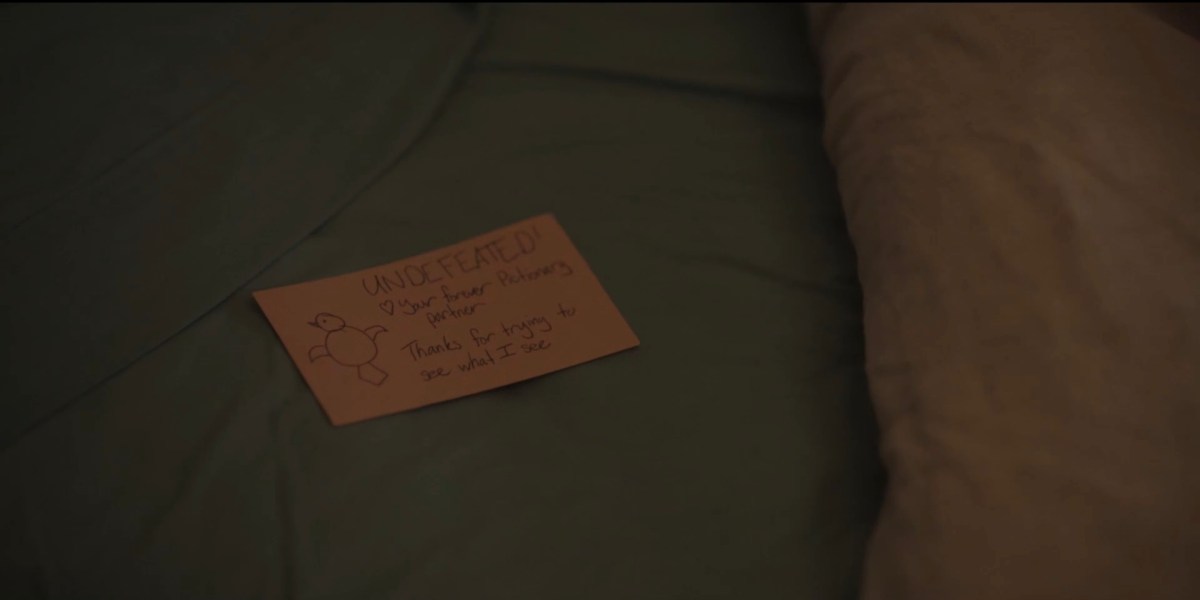 Sophie's charmed: she kisses the note and she crawls into bed and Finley rolls over and Sophie apologizes for hurting her and Finley apologizes for being crazy and Sophie says she's not crazy and they're both wearing soft cotton t-shirts and their bedding looks really cozy!!!
"Sometimes it's hard to know what you see in me," Finley admits. Sophie says Finley's her guy and Finley makes her heart beat faster and despite both of those things being about how Finley makes Sophie feel and not about what Sophie sees in Finley, Finley accepts it and smashes all up into her. It's a very cute moment for me and the 35 other #Sinley fans in the audience.
---
Art Night is still throwing down and Tina's very proud of Bette. Carried away in the passion of this artistic moment, Bette whispers "stay" to Tina, like it's a sexy and exciting thing to say. But it's not. Not to Lisa Loeb and definitely not to Tina!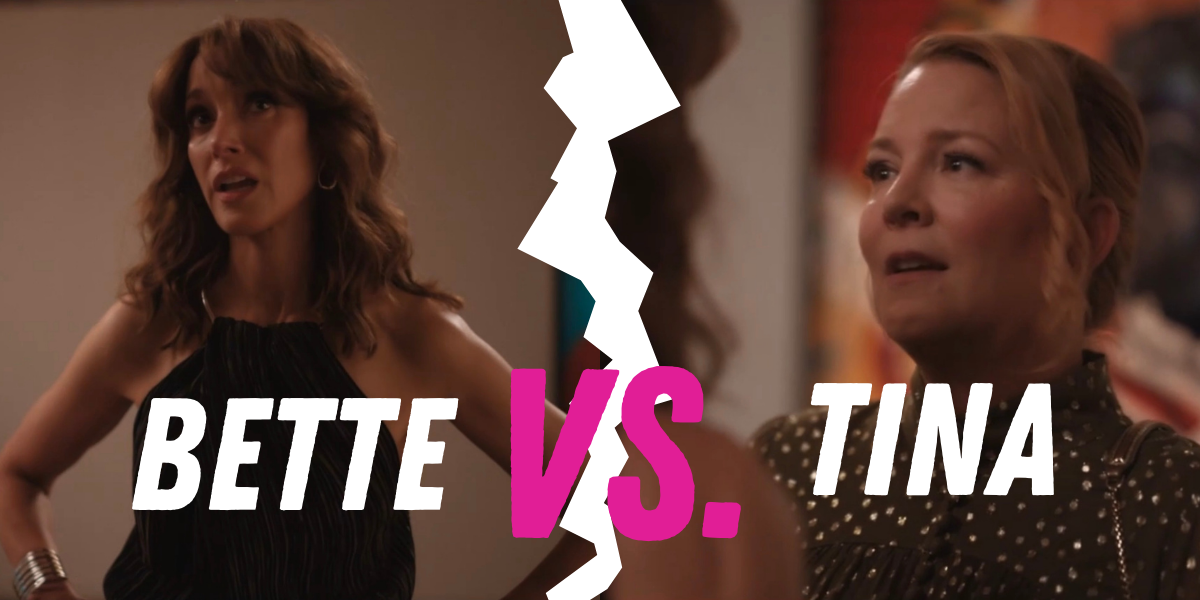 Lesbian Squabble #5: You Think Your Things Are More Important Than Everyone Else's
In the Ring: Bette vs Tina
Content: Tina says Bette's not the only one with a career! Tina's gotta go back to Canada to film Season Nine of Criminal Minds: Deep Federal Law Investigation Squad. Bette's doing it again! She's prioritizing herself over Tina and not holding space for Tina to have her own career and her own deer picture!
Who Wins? Timbits
Tina storms out of the gallery and Bette beelines for Alice and Shane in a hot panic — she's fucked up, she's not sure what to do now.
"Bette we've been here before with you and Tina," Shane says. "Why would it be different now?"
"I know you asked her to stay but maybe…?" Alice suggests.
Shane agrees.
Bette realizes: "I need to go."
---
Outside the gallery, Tina gets into her enormous Lyft and heads out to Terminal 1 at LAX, which is definitely the wrong terminal. Angie's flirting with the man with the annoying friend when Bette bursts from the building like confetti bursting from the embers of a "happy new year" text  — followed by Shane, Tess and Alice — high on life and experiencing an undeniable adrenaline rush from the very concept of doing something selfless for her beloved Tina Kennard.
"I've gotta go win your Mom back, again!" Bette shouts, and then Angie kisses this man right on the mouth and gets into the vehicle and Angie's driving and they're going to follow Tina all the way to LAX, famously the absolute worst drive in the world.
Meanwhile, poor Dani's trying to pull Bette back for the Vogue interview she so painstakingly acquired for Ms Porter but Bette blows her off because Bette is all about love and not her career!!!!!!
---
Meanwhile Gigi is driving to the art show, singing along to the radio nonchalantly without a care in the world, which is a surefire sign that she's about to get railroaded by a semi-truck.
---
Bette asks Angie if she can drive faster but also safely, and Shane says Tina's not picking up her phone — because Tina has of course downloaded a meditation app onto her phone and is blissing out probs wishing she had a more expensive shirt to meditate in.
Alice says she feels like she's in The Parent Trap. Tess has appointed herself Head of GPS — she's got eyes on the cars ahead of her and is anybody worried about Angie getting a point on her license and having to pay $268 a month in car insurance!!!
---
Gigi's phone buzzes and in a classic kiss of death move, she turns to look at it — it's Dani, with harsh words about Bette and a plea for Gigi's arrival, and Gigi texts that she's on her way. This is when you know for sure for sure she is about to get T-boned.
And then! Here comes that car like it's on a pre-planned track at the Universal Studios Backlot tour, smashing right into Gigi. Fortunately, we've all already seen clips from future episodes of a seemingly alive + well Gigi in the trailer, so I did not lose my mind at this moment, but nevertheless was… disturbed, and perhaps also slightly annoyed.
---
Speaking of people playing fast and lose with traffic, Parent Trap continues and honestly this is my #1 recurring nightmare that suddenly I'm on my way to a flight for an unplanned trip and I'm not dressed appropriately and don't have any luggage! So I really salute Noted Control Freak Bette Porter for diving headfirst into this abyss for the glory of love. It's also entirely unrealistic that Bette would truly just get on a plane to Canada in her current attire without any luggage, but I will suspend my disbelief because we're all going to die some day, what's a little bumper-to-bumper???
Traffic's backed up more than usual — there's an accident, Shane notes, and Tess winces that she hopes everyone's okay, which means it's definitely Gigi's accident. But with traffic at a standstill, the kids have nothing to do besides scream into the wind!
Then, suddenly, it is as if Bette is not in fact merely heading to Toronto, Canada, for a few months but perhaps is actually on the verge of literal death? Because she begins doling out send-offs to her Scooby Gang like these are their final moments together on this wretched earth.
"I love you, you've created a wonderful full life for yourself and I'm so fucking proud of you," Bette says to Shane, henceforth cursing the wonderful life.
"You are incredibly special, like unicorns and fucking rainbows special, and apart from Tina you are my absolute favorite ex-girlfriend," she tells Alice.
Bette tells Angie she loves her and she hugs her and she hops out of the car to the siren song of a soft rock cover of soft rock classic Suddenly I See! Everyone in the car is cheering! Bette's running!
Everybody (me) is thinking about the classic lesbian romantic comedy Imagine Me & You!
Tina is still listening to her meditation app! Bette bangs on her window! Tina asks if she's crazy!
Bette: "I love you, I've always loved you. I love you and I'm in this forever."
Tina: "I know, I know, I know you love me and I know you believe in this but that's not our problem. It's more complicated than that."
Bette: "Okay, I hear you, but I spent the last 25 years of my life building my career and I'm so proud of that. And now I wanna spend the rest of my life with you. You are my home. I wanna love you better each and every day, I wanna love you more deeply each and every day and I don't wanna wait another minute to do it."
Tina suggests Bette's not thinking clearly because she loves Los Angeles! She loves her friends and she loves her job and she loves paying $7 a gallon for gas and $15 for a jar of tomato sauce! Bette says that while it's true that she loves Los Angeles, she loves Tina more. Honestly I would rather live in Toronto than Los Angeles but unfortunately I am merely an American citizen, just like Bette, but let us not dwell upon this technicality!
Anyhow, it's true: Bette loves Tina more than Crying While Looking at Art and Leaving Her Friends' Events Early and Wearing Gigantic Sunglasses in November and Screaming in Griffith Park. Take this woman to the top of the CN Tower she is ready to commit!!!!!
I hope Bette has a change of underwear in her purse.
---
Back at the Zakarian Gallery, Dani apologizes to the Vogue man who says he cannot promise a reschedule, which's bad news for Bette who in my opinion would've looked resplendent iin Vogue.
Dani's phone buzzes. It's Nat.
Dani picks up and Nat tells her that Gigi's been in an accident and she needs Dani to come now.
---
The Round-Up:
Sex Scenes: 1 this episode, 2 total
Squabbles: 4 this episode, 5 total
Quote of the Week: When Tess, Shane, Alice and Bette all had their heads out the window screaming TINNANAAAA at the same time
Pages: 1 2 3See entire article on one page