---
Come along, Bad Art Friends, it's time for an art show! Angie's looking smart in her suit as Bette and Angie talk to Marcus's family about how great it is that his work is finally getting a showcase now that he's dead. Then Angie and Kayla enjoy a brief aside about Angie's breakup and her future at California University.
Kayla: "You're single and in LA and you technically have your own spot."
Angie: "OOOO, you're right, this could be like, my hoe phase."
Good for her. Hopefully she won't make the same mistake I did in college and hook up with three different boys named Andrew.
---
Elsewhere in the gallery, Alice and her date, Asia, have arrived. Asia's telling Alice how ever since her movie came out, the press has been hounding her, but she stays grounded with a lot of "volleyballs," famously the favorite sport of noted cult leader / scammer / sexual predator Keith Raniere. Alice asks if it's a rec league and Asia clarifies that it's "invite only."
As Asia dashes to get more ice for her wine, Alice turns to Shane expecting a rave review of her lady in red.
"Several red flags," Shane immediately and correctly declares. Alice protests that Asia's passionate about social issues and she's got a mentor who's in prison — "Oh who, like Keith Raniere?" Shane asks. A passing cocktail waitress catches Shane's wandering eye and Alice clocks it, accusing Shane of getting "the itch," defined as how when things get too real, Shane gets restless and starts to "wiggle."
Shane denies any malfeasance or any suggestions of impending malfeasance.
---
Back at Quit Playing Games With My Heart Night, Sophie and Finley are still killing it.
Meanwhile, Micah and Maribel are very close to killing each other as they tumble though their landslide squabble regarding perhaps one of the most important decisions a couple can ever make besides, of course, buying a second bar.
Squabble #3 Part 2: Back in the Habit
Micah tells Maribel they've gotta slow down because — despite the fact that he recently proposed marriage to Maribel — his Mom doesn't even know they're dating yet. "We've been living together for like, eight months," says Maribel. According to last year's timeline, they started dating in May of 2021, so this means they'e been together for 15 months and Micah hasn't told his Mom yet!??!!? What on earth do they talk about?
---
Back at Art Night, Bette's sauntering through the gallery and spots Tina and decides to initiate a little role-play for all the fans at home — re-creating the legendary moment in 1996 when Tina and Bette met at an art gallery, as explained in episode 112, Looking Back…
…and the subsequent moment at the "Artist's Dinner" (featuring special guest Catherine Opie) where Tina and Bette saw each other again…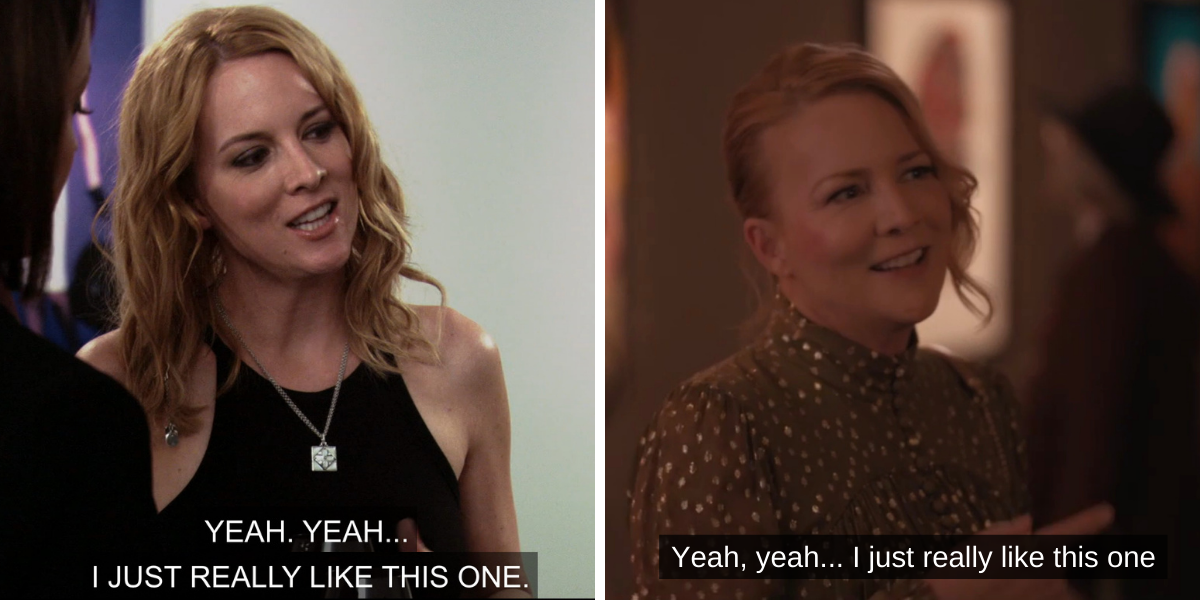 And then, famously, Tina's earring got lost in her illustrious mane and Bette retrieved it.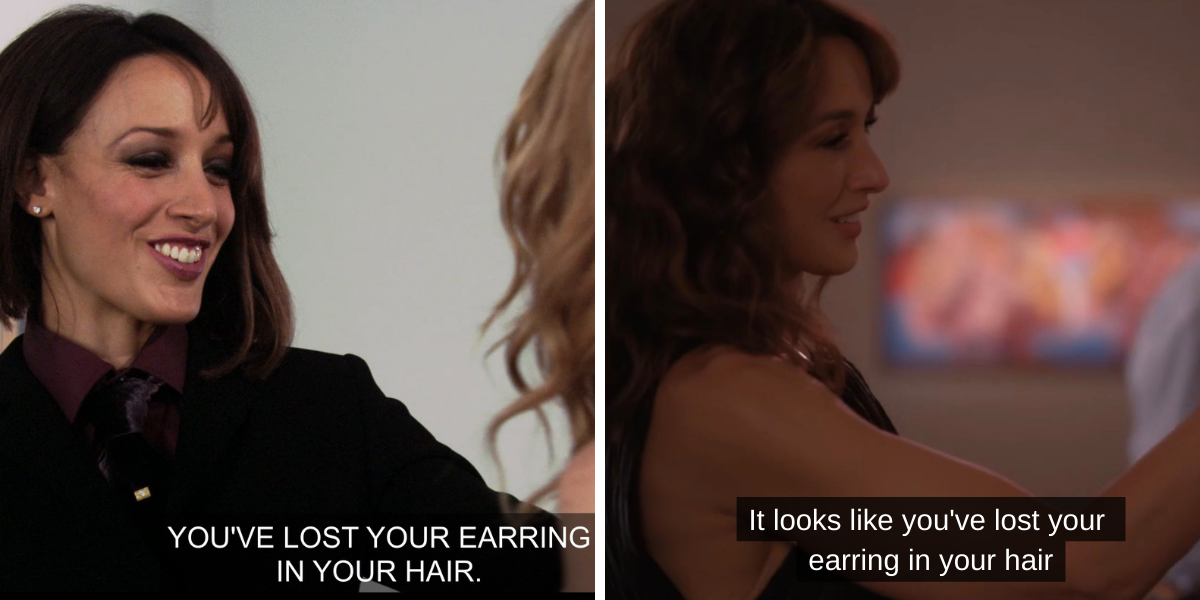 They giggle together and touch heads and fumble around and it's really corny and I wish Angie was here to see this so we could die together because nobody wants to die alone.
Then they decide to improv by kissing.
"This is so much better than the first time," says Bette.
"I agree," says Tina, probably thinking about how much better Bette's hair looks now.
My girlfriend at this point in the program had her entire face covered with her sweatshirt and moaned, "I'm flatlining."
---
Elsewhere in the gallery, Dani, having come to her senses via Bette's advice, calls Gigi to apologize — she knows Nat's just looking out for the kiddos and she's happy to prove her case. Also, she'd love for Gigi to come to the show tonight if she's not too busy filming Black Bird.
Meanwhile, Bette and Tina are having a special Talk with Angie: letting her know that she's got two Mommies who are not just her Mommis but also two Mommies Back Together and despite the fling-esque length of their courtship thus far, it's serious business this time. Angie's completely chill about the whole sitch, and furthermore isn't bothered about her breakup — after all, she has Uncle Yoda Shane and her sister Kayla to also offer comfort, advice, and ho phase suggestions.
Then, a man dares to speak to Bette Porter, asserting himself as her biggest fan, which immediately inspires her to want to give him a little walkthrough. His buddy approaches Angie to apologize for his friend who "always does this" at "every opening they go to" — he beelines for the curator rather than the artist, despite the fact that in this man's opinion, the artist is the "real greatness" and the curator just "does the paperwork." Unfortunately for this man, this artist is dead and the curator is Angie's Mom.
---
Pictionary has reached its organic end and Micah and Sophie head to the kitchen, leaving Finley alone with Maribel. Finley immediately puts into play her good intentions and her bad habit of saying the exact wrong thing at the wrong time — Finley says she's not close with her Mom and Micah isn't either so probs there's no reason for Maribel to be upset about this all being a secret from Micah's Mom.
Finley: I just… I think maybe I take things too personally sometimes, that I shouldn't, and I think that maybe, you know, maybe it's not about you.
Maribel: Oh, it's definitely not about you.
Sophie and Micah return to the room to find their beloveds have crossed horns, but Finley says it's completely fine, her and Maribel totally like each other. Maribel counters that in fact, they don't like each other one bit. "And to be honest, I liked whoever she was fucking while you were gone," Maribel concludes before making her exit. BIG YIKES, Maribel!!!!! Sophie does a big-ass sigh.
"If I wasn't sick I would get up and leave the room too," says my girlfriend as Sophie and Finley leave the room.
Maribel's volley hits Finley right where it hurts (everywhere), and so Finley heads upstairs to sit or think or something, and Sophie follows — Sophie apologizes for how weird that all happened and Finley says it's fine but it's clearly not fine. Sophie reiterates that…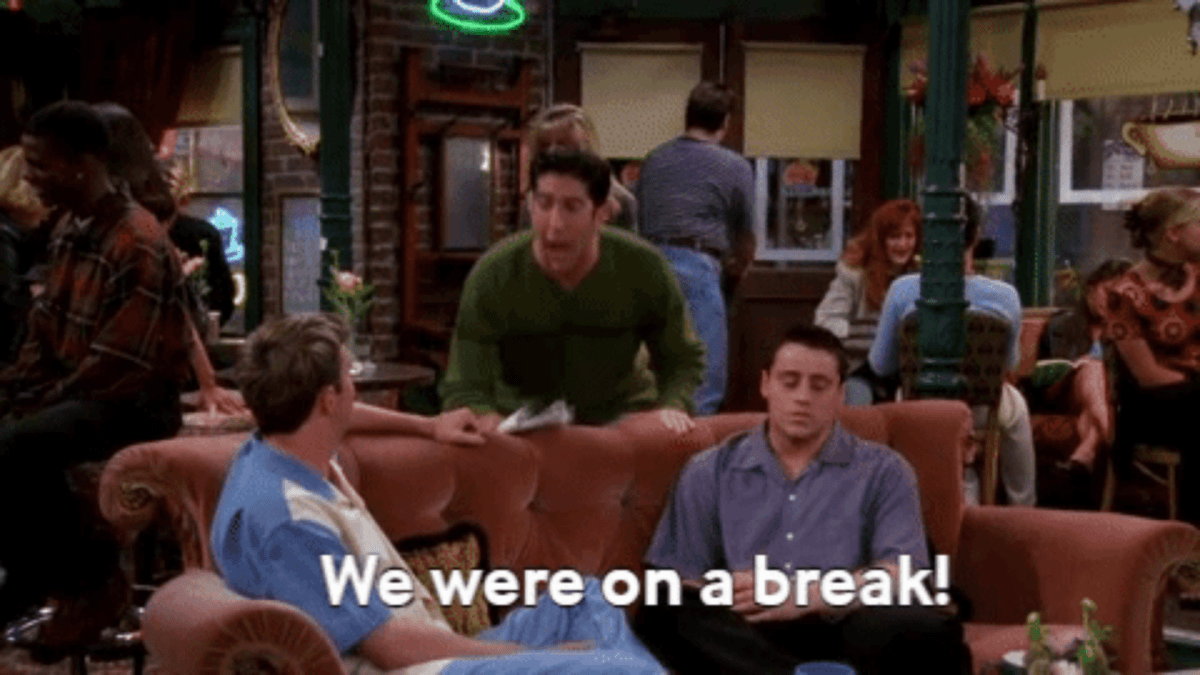 …and also that Finley told Sophie that she didn't want Sophie to wait for her but also didn't want to know about her dating other people if she did in fact date other people.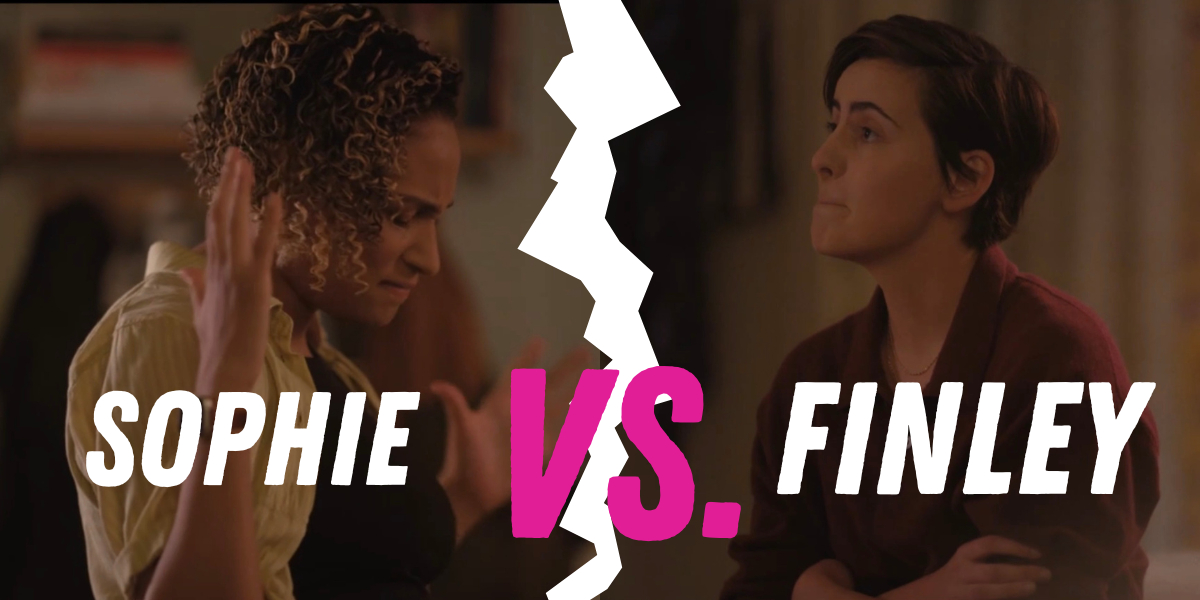 Lesbian Squabble #4: We Were On a Break
In the Ring: Sophie v Finley
Content:
Sophie: They didn't mean anything!
Finley: There's more than one?
Sophie: No, they, singular.
Finley: How many times?
Sophie: You just said that you didn't wanna know about it … so now this feels like a trap.
Finley says it's okay, it's okay. She knows it was allowed, it just still hurts. Sophie says that's not fair, but I think it actually is fair: you can acknowledge that although this situation wasn't a betrayal, it's still hard to hear about.
"You slept with someone while I was in rehab, Soph," Finley laments. "No matter how legal or whatever it was, it still fucking hurts."
Finley wants Sophie to apologize for hurting her, but Sophie won't, because she says she didn't do anything wrong. Finley says she knows it's her own problem and she just needs a minute.
Who Wins? Whoever she was fucking while Finley was gone
---
A clearly distressed Finley calls Tess but Tess shoots her down like a bird in a period film about English aristocrats who shoot birds for fun.
See, Tess is all revved up to see Shane and to try once again to pressure her into making an unwise real estate investment. "You've got this," Tess tells Finley despite lacking any evidence at all that Finley has got anything. It's truly bananas to me that Tess would brush Finley off with a platitude instead of suggesting other ways to cope or people to speak to or literally… anything at all! I'm also not sure if Tess is supposed to be Finley's sponsor or if Finley is just leaning on her for support as a fellow sober person. Either way, though, Tess could've done a little more here just as a pal, you know?
---
Tess thusly arrives at Art Night and her eyes scan the walls with thrilling intensity, as if she's seeing art for the very first time in her life. Shane cozies up to her best girl and gives her the big news: she's ready for the Baby Bar. "I'd do anything with you," Shane says. Hopefully Tess's next big idea for a thing for them to do together will be having a threesome with Kehlani.
Bette's on the mic now introducing the show, speaking fondly of Marcus Allenwood, how he was held back by institutionalized racism and how he considered his marriage and his family to also be a work of art. "I think he understood what so many of us struggle to, and that is that our time here is limited. He reminds me not to waste another second," Bette says, despite the fact that she did not try as hard to get Marcus Allenwood a kidney as the residents at Grey-Sloan Memorial Hospital try every other episode to transport kidneys across state lines through valleys and streams.
In the crowd, Dani's texting Gigi to ask if she's on her way, in that anxious way that you do when you've realized you lost the Lesbian Squabble and would like to return to relationship harmony ASAP.
Meanwhile, Asia and Alice are wrapping up their Art Night date — Asia had a great time with Alice, who she finds magnetic. And then she asks the NXIVM question: "Have you ever done an intensive with the Executive Success program?"
Asia thinks Alice could really benefit from the Executive Success Program because it is responsible for so much of Asia's success! Alice chugs her champagne, nods politely, and ends this courtship before Asia even has a chance to introduce her to Cally from Battlestar Galactica, which is all for the best because Cally is the worst.
Pages: 1 2 3See entire article on one page