Welcome to the final recap of the second season of The L Word Generation Q, brought to you by the same network as The L Word, a show about Dos Equis beer and all the reasons a lesbian might be driven to drink one.
As we come to the final episode of this season I just want to say that it has been an honor and a privilege to dissect this show with y'all every week and even though the past three episodes have been pretty rough (and yes, I am including the finale in that number), I will be devastated if Showtime does not renew it!  (Speaking of things that will devastate me if they are not renewed: WE'RE DOING A FUNDRAISER FOR OUR FUTURE HAVE YOU HEARD?) I read all your insightful and hilarious comments and remain pleased that this franchise continues to be a point of connection and community for us as lesbians but also for us as bisexuals, queers and otherwise-identified people. I love this cast and these characters and these actors and want to see them continuing to live their messy problematic lives!
I would also like to inform you that unfortunately I have indeed written an entire post tracing the bizarre and inconsistent timeline of this season of television, it is 40 million words long.
As we say on the pod…. let's get into it!
---
We open in what Finley will eventually accurately refer to as "a surprise party with really bad vibes," where all of Finley's fans have assembled to stage an intervention, a very logical next step following all of the preceding steps they've leapt right over with the gusto of Olympic long jumpers.
Sophie seems hesitant, perhaps because she knows Finley better than the rest of these yahoos and knows she's not gonna respond well to a group confrontational approach! "It seems fast," Sophie accurately points out. "I don't wanna scare her and I don't wanna force her to go if she's not ready."
Shane insists there's never a good time to do this, and Tess says not to worry, Finley for sure will go to rehab. Has anybody tried like, talking to her one-on-one? First? Before um, rehab?
Thus Finley arrives home from soccer, flushed and sober and bitten, to find all her friends in earth tones humming around her living room like paternalistic flies.
Before Finley enters the room, Micah pulls her aside and says, "I'm a social worker so I have an actual educational background on this topic and I've made you an appointment with a therapist at the LGBTQIA+ center who specializes in addiction and is trained in CBT and MET, wanna shower up and when you're ready we can swing by Trejos on our way?"
JUST KIDDING MICAH DOESN'T SAY THAT LOLOLOLOLOL
Here's what actually happens: everybody sits down, tells Finley they love her and are worried about her, and invite her to attend an Alice-financed rehab at a beautiful oceanside vista, replete with pool and a Top Chef runner-up concocting delicious meals! Alice is ready to drop around 40 grand on this kid okay. Finley says she doesn't need to drink spa water by a pool to get her shit together, which is one way in which Finley and I are different.
Shane: Okay then what do you need?
Finley: Nothing, I had a bad night. Okay?
Micah: It wasn't one night.
Finley: I'm in my twenties, I fuck up like somebody in their twenties. I mean what the fuck were your twenties like?
Shane: No no don't do that—
Alice: My twenties were amazing.
[Shane swats Alice]
Honestly, she's not wrong! Like so many of us, Shane was actually drunk and/or on drugs for a significant chunk of her twenties, and, like Finley, went straight for alcohol at the slightest sign of emotional upheaval. Upset that she told Carmen she didn't want a relationship so now Carmen is in a different relationship? Get this woman a beer and some pills!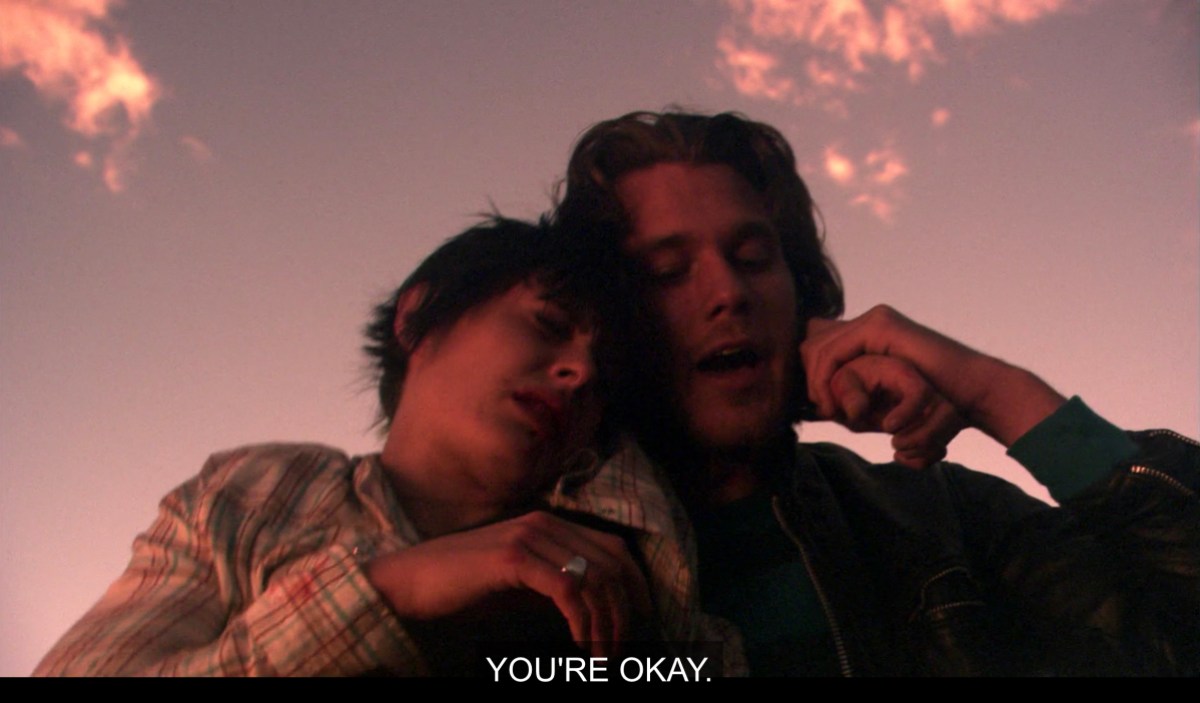 Upset that she left Carmen at the altar? Time for cocaine and vodka and literally crashing a car into a cement wall beneath a highway overpass!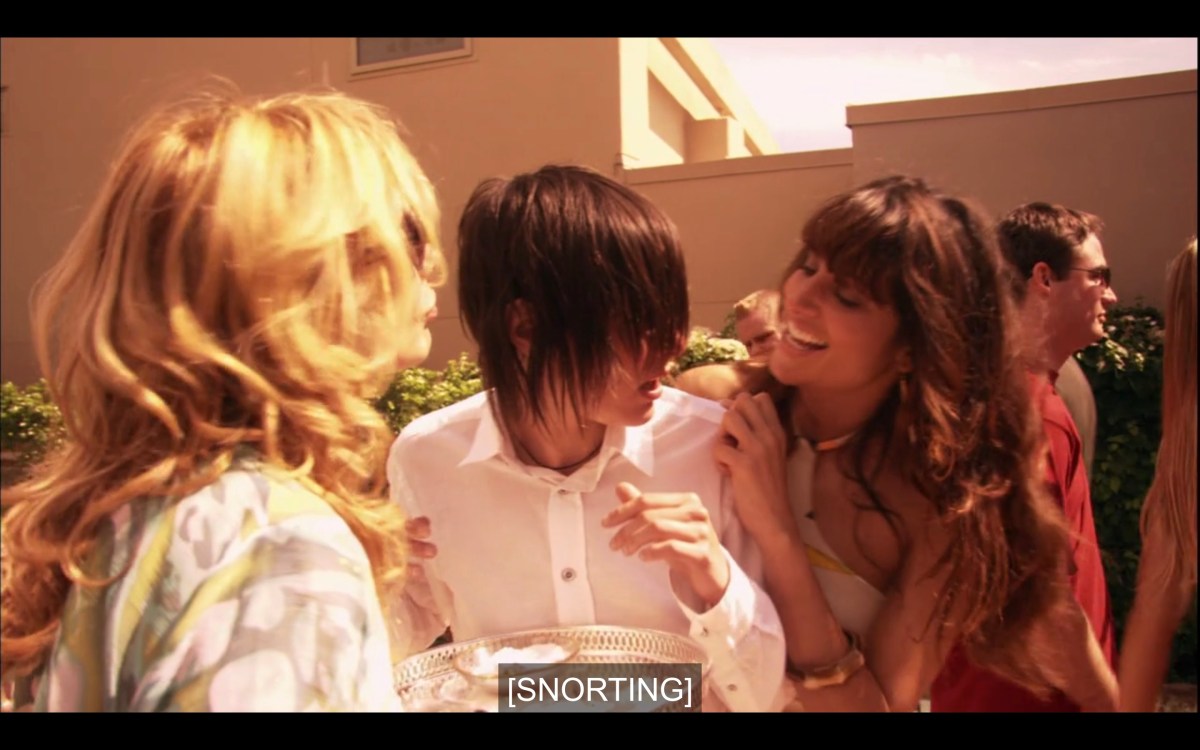 Upset that she fucked Nikki on the balustrade of Yamashiro and now Jenny's mad at her? Drink up and pass out on a weird chair!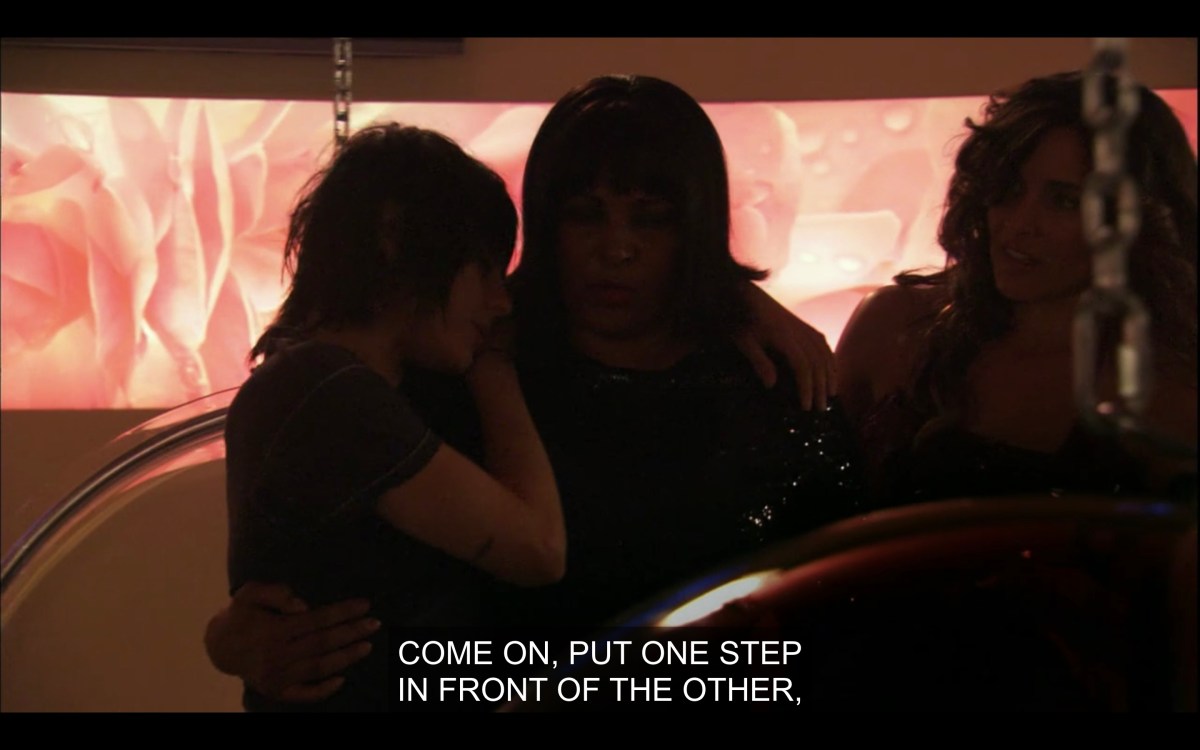 But Shane didn't get a DUI or pee in Dani's hallway, and that's all that matters obviously. Anyhow, nobody's gonna share any new information that might illuminate for Finley why they're so troubled by her drinking, even though I personally shared many examples of her problematic drinking behavior in prior recaps.
Generally an intervention is an absolute last resort, when all prior avenues have been exhausted and the addict has failed at multiple sobriety attempts. Furthermore, an intervention serves as an opportunity for the addict's friends to share specific, detailed reports of how the addiction has impacted them and the repercussions for the addict if they refuse the offer of help. So: even in a scene centered on a type of meeting devoted entirely to providing a rich, multi-layered portrait of the subject's addiction, we don't get it!
Finley says thanks but no thanks, and Sophie sadly watches her go.
---
We cut to Pippa's Topanga Canyon retreat, where Bette and Pippa are lying in bed for a little morning tongue kissing and to discuss the impending CAC opening. "I love it when we step out together all fly," Pippa says. Bette asks if Pippa would like to attend the going away party Alice is throwing herself tomorrow evening but they're interrupted by a phone call from the one and only Tina!
Pippa asks if Tina's coming to Alice's party and how Bette feels about that, and Bette says she feels fine and then makes the grave personal error of adding, "I'd feel a lot better if you came with me." She means it affectionately but the delivery reveals a paradigm Pippa finds alarming — is she merely a prop to enable Bette to feel like she's over Tina?
The gulf between how Pippa and Bette handle relationships is well-lit here. Pippa plays with chaos and uncertainty in her work and prefers stability and clear outlines in her personal life. Bette finds order and power in her work — even her unrestrained emotional response to the art she loves is reigned in by plugging that artist into the familiar structure enabled by the Art Business — and revels in mess, impulsivity and uncertainty in her emotional life. She constantly charges head-first into relationships she's plainly unready to show up for, and she's never prioritized "getting over Tina" as a pre-condition to make commitments to others.
"I'm nervous about you two," says Pippa, who looks distractingly hot as she pulls on an oversized flannel and shares her chapstick with Bette. Pippa's dialed in to her instincts and her instincts tell her she's flirting with danger regarding the inevitable draw of Bette's moth to Tina's flame.
---
Back at Bette's very own home, her teenage daughter is obsessing over preparations for perhaps a school trip of some kind and her girlfriend is like, hey babe are you okay about this show introducing Marcus Allenwood as a season-long arc only to simply murder him
Jordi's curious if Angie wants to attend Marcus's funeral, but Angie refuses, saying she's not his daughter, she's not anything to him, and she could've saved him but did not.
Jordi tells her that it's not her fault and they embrace. I love supportive teen love!
---
We cut to an important building, where Gigi's distracting Dani from the impending trial by prepping Dani for an upcoming meeting with her family, full of delightful characters including her favored brother. Also, Dani shouldn't tell Gigi's family that they've slept together.
A heckler tells Dani that her Dad is guilty, typical city hall stuff. The most important thing about this scene is how hot they look together in their outfits. Dani says she's fine and will do great in court today because she has been PREPPED within an inch of her life. I wonder what the trial is about
---
Lesbian Sexy Moment #14: Morning Os
The Players: Shane and Tess
It's the cool clear light of day and two hot happy naked lesbians are in bed fucking and eating each other out! Tess lifting her leg up to put her ankle on Shane's shoulder so Shane can fuck her deeper is like real good stuff right there and everybody's having a very good time and then for some godforsaken reason Tess interrupts this bang session to say that they should fire Finley because otherwise they're enabling her.
Shane thinks Tess should be the one to do the firing because she's nicer. They giggle and fuck about it before Tess has gotta take a call from her Mom. Tess reminds Shane they've gotta hire a new GM because (surprise!) Tess is planning to move to Vegas to be with her Mom.
Shane seems open to Tess's proposal of a long-distance relationship but then Tess plows further forward, with a leap towards commitment that feels unearned — Shane, who's struggled all her life with finding a place that feels like home but has made one for herself in L.A., could move to Las Vegas with Tess.
---
Back to The Aloce Show, where our favorite Bisexual Talk Show host has dressed up like Julia Child for an undoubtedly exciting segment with Paul Hollywood. Alice tells Sophie she's welcome to stay at her luxury apartment if necessary, but Sophie declines. "I'm not doing that to her, she doesn't deserve it," Sophie says, perhaps mired in guilt from the unsuccessful intervention.
Alice volunteers to speak to Sophie further on this topic if necessary but is then interrupted by the arrival of Tom, who announces, full throated: SAY HELLO TO A CIS MAN NAMED TOM! I laughed!
Tom: "I can't wait to explain to my momma what cis means. You see that elbow right there? That elbow is the elbow of a man who is officially in a power couple."
Sophie asks if they're gonna celebrate the article and Tom announces that yes indeed, they are doing the swan boats! I'm thrilled to hear this news because I know someone who had full lesbian sex in a swan boat and now I've had an opportunity to share this news with all of you here!
Alice doesn't wanna go but Tom's stoked to get Alice away from her Google Alerts and on that note, Alice passes her phone over, only for Tom to be immediately alerted of a very bad review in The New York Times that suggests Alice should've "stayed in her lane." Alice immediately lashes out.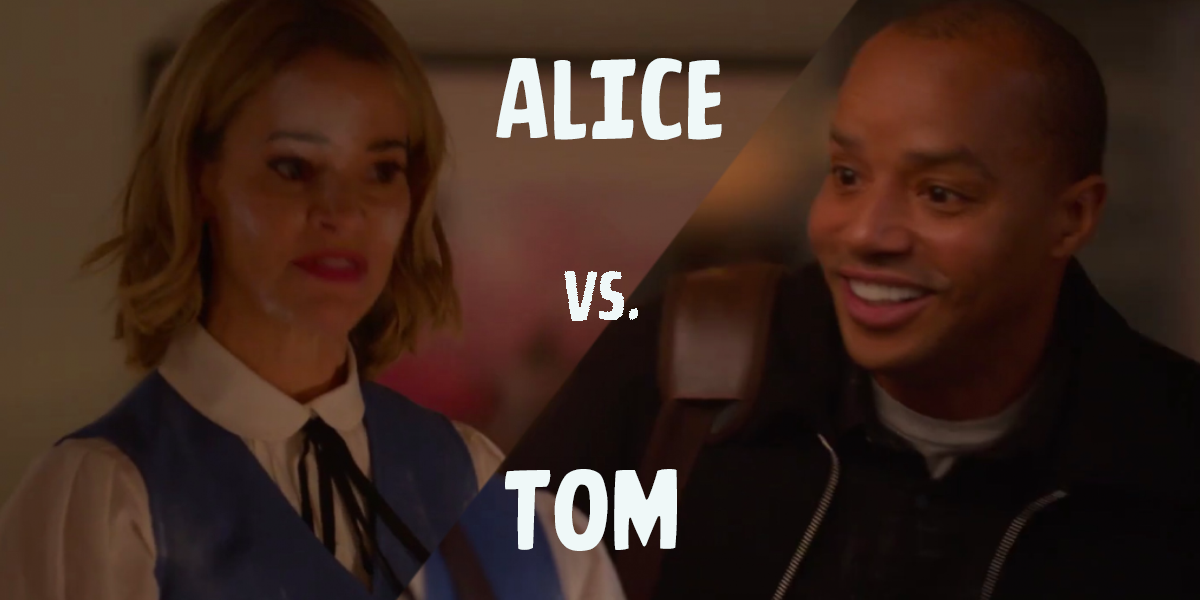 Squabble #36: Read It and Wept
In the Ring: Tom vs. Alice
Alice is blaming Tom for the bad review that inspired her to deviate from her lane, and Tom is responding exactly as I would respond — by not realizing that Alice is seriously actually getting mad at him about this.
Alice: It says I should stay in my lane, that's what it says. You know who pushed me out of my lane, Tom?
Tom: That would be me!
Alice: I didn't want to veer out of my lane, Tom, no, because I have a very successful talk show that is very firmly in my lane.
Tom: Absolutely, but in the grand scheme of things—
Alice: I'm gonna go.
Tom: But what about the swan boats?
Alice: Fuck the swan boats! Fuck the swans, fuck their friends!
Who Wins? Not the swans!
---
We then transition to a store where Bette, Shane and Alice are shopping for Tina and Carrie's wedding gifts. Bette's shares that she simply cannot believe Pippa would accuse her of holding a torch for Tina! Shane and Alice and also me personally can 100% believe that Pippa would accuse her of holding a torch for Tina.
Shane tells Alice it's okay to be preoccupied by negativity following her bad book review, 'cause it's the first time she really "put herself out there." Alice says dating Tess is making Shane objectively more introspective which segues into Shane noting that her relationship with Tess "might be over before it begins" now that Tess is moving back to Vegas.
Bette gives the absolute most batshit advice of all time when she says Shane should relocate to the blazing desert of Las Vegas because "a love like that doesn't come around that often and when it does you have to be willing to do crazy shit to keep it." I personally would like to suggest the sane shit of doing a long distance relationship for now until Tess and Shane both have a clearer picture of their obligations in both locales.
"Who are you talking about, Pippa or Tina?" Shane asks Bette. SHOTS FIRED. Follow up question: what if Tina were by chance somehow to titter up to Bette's tiny doorstep and say "let's get together," what perchance mayhaps Bette say in response? Bette refuses to answer the question, so Shane ups the ante:
Shane: "Bette if you are having any doubts about Tina getting married — Carrie is having cold feet."
Alice: "Wait what?"
Bette: "How do you know that?
Shane: "All I'm saying is if there was ever a time to win her back, I think it's now or never."
Leisha Hailey's comedic skills saves this scene from descending into what feels like a very underhanded and perplexing move by Shane.
---
So many many moons ago, I got my hands on a script for an early draft of the pilot episode of The L Word Generation Q. In said script, Dani's family's business (called "Family Pharma" in that draft) was in fact DEEP into the literal production of opioids, but that take was eventually softened.
In the script that went to air, Dani explained that Nunez Inc had a "diverse portfolio" with "investments in everything from biomedical research to agriculture," and Bette asked if that biomedical research included investments in pharmaceuticals, and she said "prosthetics for Wounded Warriors don't pay for themselves." So, they kept it foggy. Perhaps the goal was to soften Dani's character due to the abject and unquestionable evil embodied by companies like Purdue and board members like the Sacklers who knowingly pushed a highly addictive drug in pursuit of profits. (This is a good documentary about it)
But where does that leave us now?
"Investments" and "portfolio" can refer to many things, and it's been difficult to parse out what exactly is Nuñez's relationship to the opioid industry, and the reason for Rodolfo's arrest similarly remains vague. But now we're in court and it seems as though he's being tried for his involvement in misleading doctors and customers about opioids, and Rodolfo is accused of the 500k deaths the Sacklers have also been declared responsible for. The Sacklers were mentioned in an earlier episode, but not in a context that suggests the Nuñezes were on the same board at Purdue Pharma.
Has Dani known this all along or is it just crashing down upon her now that she's moments away from going on record? Dani begins a panic attack, whispering to Gigi that she's not fine and needs to get the fuck out of there.
Gigi's the perfect girlfriend for what Dani needs — she was understanding of why Dani's destructive relationship with her father, her only living relative, had landed her atop the mountain of this corrupt company, but now that Dani's ready to step back, Gigi's there to usher her down that path as well. Maybe it's easier too that Gigi's never been pitted against her father how Sophie was, thus muddling her perspective on why she needed to cut herself out of her Dad's business. Rodolfo's lawyer follows them into the corridor to threaten Dani with contempt of court. Gigi tells her to go fuck herself.
---
Ah, back to FiSoMi's, where Finley, adorned in a very cute tie-dye hoodie, offers to loop Sophie in on some mac and cheese she was about to make, apologizes for blowing up at her last night, and relays that Tess fired her earlier that day.
Sophie cozies up to Finley in a tentative but familiarly adorable way as they negotiate the mac-and-cheese add-ons, with Finley pushing for veggies. Sophie squeezes her face and rubs her nose against Finley's and says Finley cares about her so much and they kiss and everything feels easier, maybe even better — but then Sophie can taste the beer on Finley's breath. And then …. it all falls apart.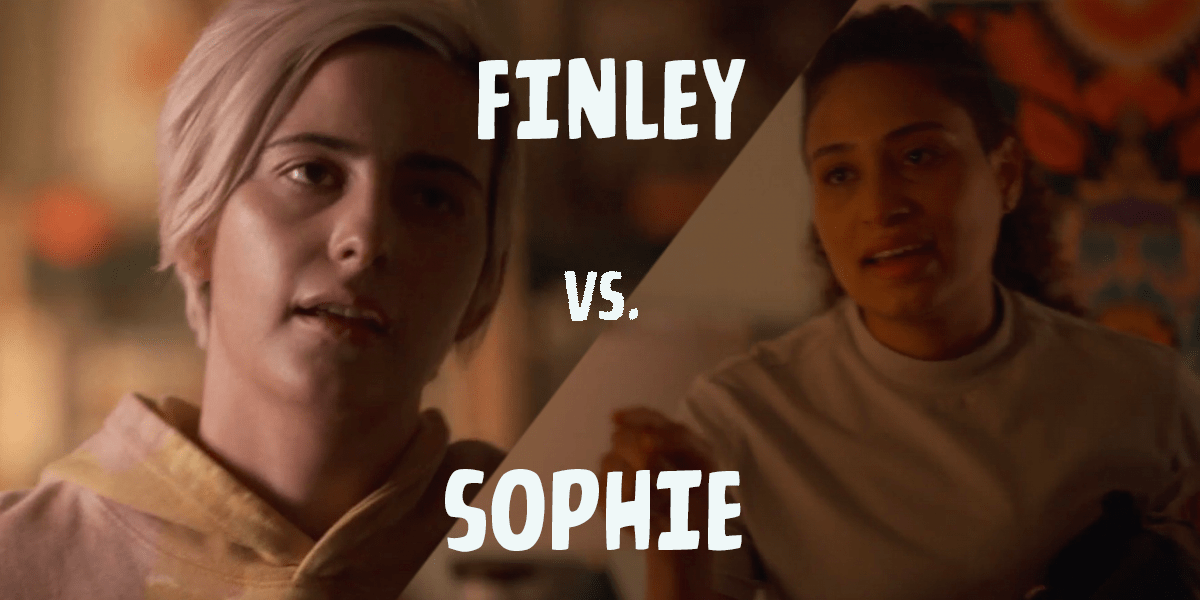 Lesbian Squabble #37: But I Said No, No, No
In the Ring: Sophie vs. Finley
Content: Sophie hates worrying about Finley and simply wants her to be okay. Finley insists no worrying need take place as clearly Finley is present and preparing a meal. Sophie says she doesn't wanna go through the garbage but she will. It's a fraught, emotional moment, and Sophie scrolls through her options before concluding, with her fingers on her mouth like she's afraid to say it, that she has to go stay at her Mom's.
Thus, the spat transitions to the upper chambers of the home, where Sophie is throwing all of her possessions into a suitcase and Finley insists she wants to get better, she just needs to do it her way.
'We've been doing it your way and you got a fucking DUI," yells Sophie and at the same time, Finley and I both roll our eyes and go OH MY FUCKING GOD. Firstly, what were they "doing" "Finley's way" when she got a DUI? Pretty sure they were both… trying to drink and save money on a Lyft home instead of making a more responsible decision. Secondly, as Kayla wrote in her AV Club review of the last episode, "A DUI—at least as it has been written here, especially since Sophie and Finley's conversations after the fact were vague and brief—is not character development in and of itself."
Sophie mentions Finley going missing and pissing in her ex's hallway, and Finley does that self-pitying thing, that thing that Sophie hates. Then Finley's like "Okay, then why the fuck are you with me?" and Sophie's like, "because I love you!"  Finley is like, "please don't go" but Sophie is like byeeee
It's gonna be a fun little roomie situation for Micah and Finley, huh!
Who Wins? Promises Rehab Malibu
---
At a sparkling private park, Jordi and Angie are chilling on the swings when Kayla arrives, fresh from the throes of her father's funeral with the answers to the questions Angie had left for Marcus — she got all his friends to answer them for her. It's pretty adorable!
The music swells, as does our hearts, and Angie is warmed by the effort, Jordi is happy to see her happy, and I hope Angie and Kayla stay friends!
---
We then take a slow jog back to the Manor, where Father has arrived to yell at his daughter Dani. She apologizes for not being able to take the stand but he says it's okay — she can take the stand tomorrow instead! She's tough, she's his daughter, she can handle this!
Unfortunately, Dani would rather not take the stand tomorrow. Daddy says he's given her everything and he just needs her to get on up there and tell the truth that he's innocent! She asks if he really is innocent and if he understands what this has been like for her!!!
He screams in her face and she says she can't see him anymore. It's over! Thank G-d Dani has bagged the best girlfriend on this program because I think she just lost her last actual family member.
---
Well everybody it's finally time for Alice's Big Goodbye Party, a prime opportunity to assemble multiple cast members in one windowless room. Alice isn't sure Tom accepted the apology she sent him with a 50-pound bag of gummy lobsters.
Great news: Tom hath arrived, and Alice hath thusfar apologized upon him, and he says she should be sorry because "people do not take kindly to grown-ass men in tiny boats." He reminds her they could've felt bad about the review together and also informs her that she's somehow landed herself on the NEW YORK TIMES BESTSELLER LIST!!!!!!!!!!!!
"Honestly, I never liked a guy more in my life," Shane comments.
"Me either," says Bette.
"Me too," says me, Riese.
Tess then strides tentatively into the main hall and Shane excuses herself to "go do a thing," which's informing Tess that Shane was enchanted by her when they first met and also she's put down roots in Los Angeles and really enjoys it here and couldn't ever leave it.
Tess excuses herself to cry outside, like in the legendary work-related self help book, "If You Have to Cry, Go Outside." Why can't they do long distance? What is happening!
"I just can't believe that this is gonna be the thing that takes us down after everything we've been through" says Tess, and I agree. They've endured so much over the two weeks they've been together and now Tess wakes up suddenly ready to move to Vegas tomorrow and long-distance relationships don't exist anymore. Shane tells Tess that she's in love with her like it's a present she's put on the table for Tess to ease the pain of their departure. Tess says she loves her too. They kiss. They're good at that.
---
Back inside, Bette saddles up to ruin Tina and Carrie's impending nuptials, wanting to circle back to the dropped question of why Tiny Tina asked Our Lady of Porter if she was still in love with her. Tina insists she shouldn't have asked at all, but Bette insists that this is an issue of immediate emotional relevance to her specifically and must be be settled immediately.
Bette: I'm in a really good relationship right now but I need to know why did you ask me that question in the first place? Why did you ask me if I was still in love with you?
Tina: It was a mistake and I never should've —
Bette: No no no no, it wasn't a mistake, because it made me think. I want you to be happy. And I wanna be happy too.
Tina: I want that for us, I want us to be happy.
Bette: But then Shane and Alice asked me what I would do if you showed up on my doorstep and asked if I wanted to try again —
Tina: They never should've done that.
Bette: No, I'm glad they did because it made me realize that —
Then they're interrupted by Carrie with the drinks and the wedges of assorted citrus fruits. She has overheard this dialogue and has some notes. I also have notes which are WHY IS EVERY CONVERSATION ON THIS SHOW SO AGGRESSIVELY VAGUE!?!?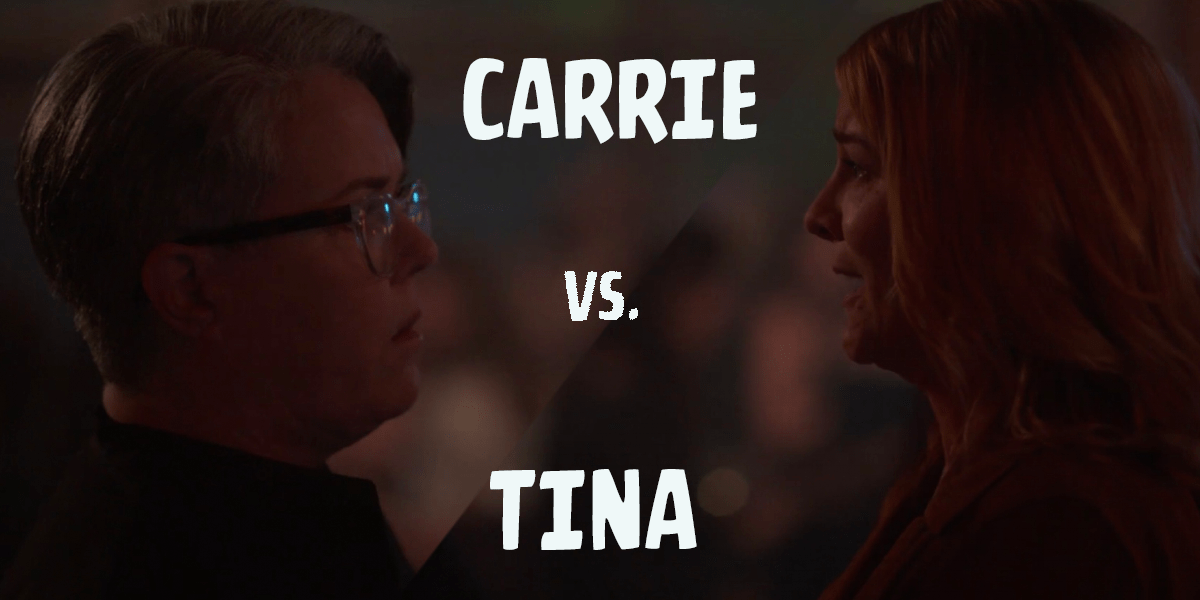 Squabble #38: I Can't Help It, It's Something I Can't Help
In the Ring: Carrie vs. Tina
Content: "I knew this would happen," Carrie declares. Bette says nothing happened, and Tina backs her up, but Carrie insists that Bette's still in love with Tina. Tina says that doesn't matter 'cause she's in love with Carrie. Carrie says Tina has no idea what it feels like, walking around trying to measure up to "that woman," a sentiment shared by so many power lesbians throughout the ages. "You don't have to measure up to her!" Tina says, and then immediately wishes she had not. Carrie says she really loves her but she can't do this anymore!
Who Wins? I have never felt as confident declaring a winner as I do in this moment: Tibette fandom!
This transitions into a brief spat with Tina and Bette in which Tina growls that she knew this was what Bette wanted and she hopes Bette is FUCKING HAPPY. She storms off and Bette turns around to watch her go just as Pippa is arriving, looking stunning and brilliant and all of those things that Bette has just thrown away, and for what.
"I should've listened to my gut," Pippa said. "I knew you weren't ready." Bette sits down to do some deep breathing and Alice comes over to serve as her standing pillow. Pippa is not simply a catch, you know? Pippa is like… the ultimate catch. Especially for Bette who's been a fan of Pippa's all her life!!!! And it's been great to finally have Bette dating a Black woman. Hell, it's been great to finally have Bette having conversations with a Black woman she isn't related to.
---
We then cut to Finley on a Wild Ride into what appears to be some kind of all-night rave, where she's slowly losing it while experiencing flashbacks to cute #Sinley scenes.
Finley emerges from the dungeon of despair into broad daylight and walks directly into traffic!
---
We cut to Sophie's Mom's house — a period of undetermined time has passed, and Sophie's surprised to spot Finley on her couch.
Finley starts apologizing, and Sophie says it's too late for that. But! It's not too late for Finley to agree to her rehabilitation spa vacation, and she does. They hold each other's heads and declare love and Sophie says she'll take Finley to rehab right this minute. Everybody cries!
---
We do a few night moves and land in a bustling little corner of this city where Gigi's enormous, warm, loving family is ready to meet Little Orphan Dani. Dani's not sure if she knows how to be normal or have a family, and Gigi is like tough cookies, you're abnormal and you're coming in with me and we're going to have a nice time!!
---
We return to Chez Bette, where Angie's questioning her Mom's decision to skip the CAC gala but Bette's got something to show her special lady! It's a painting she pulled from Marcus Allenwood's estate, called "Her."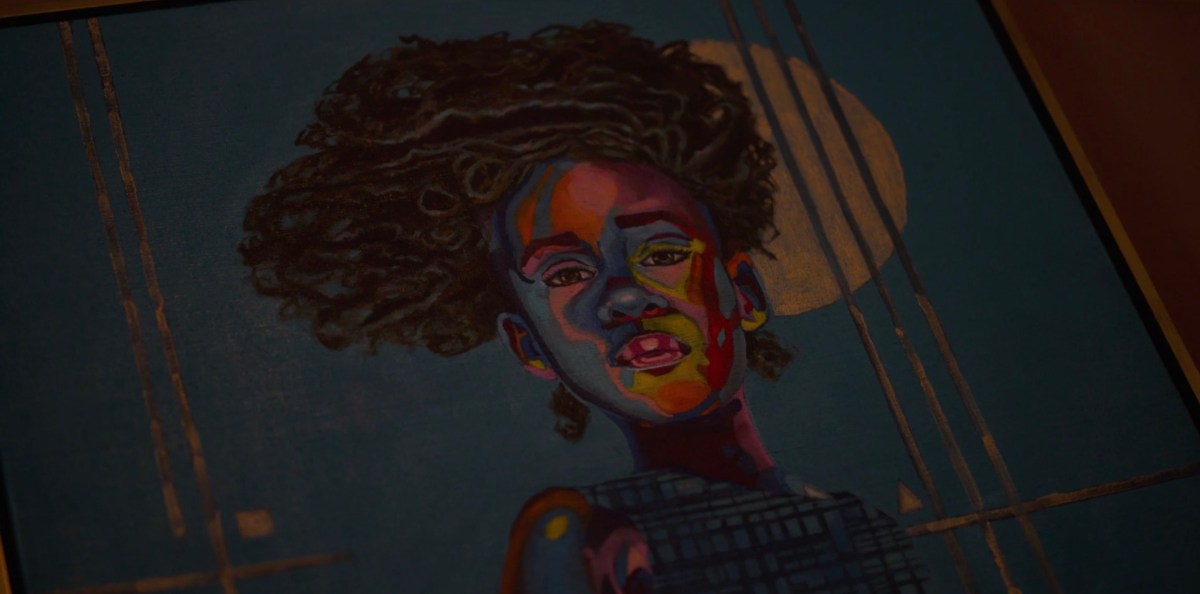 It's Angie! I cried!
Bette holds Angie and tells her that she's so strong and so brave and Angie says she's just like Bette and I hope they're both going to continue pursuing family therapy. Angie says Bette should go to the opening because we are all going to die any minute now! That is literally what she says: "we don't know how much time we have left, so you gotta make big moves."
---
Let's take a dip into the Airplane Set, shall we? Alice and Tom are boarding and Tom is taking a very concerning pre-trip pee in the stand-up coffin that is an Airplane Bathroom and Alice finds, in his blazer, AN ENGAGEMENT RING? Lord have mercy on us all what in the Tomfoolery is happening here
---
We then cut to Tess, awake as Shane slumbers. Tess scratches Shane's back lightly before taking a phone call and indicating that she is leaving, a departure truly pulled off in record time and with as little character development as possible!  "I'm on my way, I'm leaving now," Tess says to the mystery man on the telephone.
---
And now we journey onwards to what appears to be a luxury spa hotel, where Finley will be sleeping atop crisp sheets and enjoying strawberry breakfasts.
Finley asks Sophie if she's gonna be here when she's done with rehab and Sophie says she absolutely will be because otherwise Riese will lose her mind.
---
We then cut straight to SHOTS SHOTS SHOTS as Dani settles easily into the warmth and acceptance of Gigi's neverending, loving family. It's a necessary jolt of joy into a series of blows.
Then, in comes the coppers to ARREST DANI FOR CONTEMPT OF COURT?? Gigi is like EXCUSE ME THIS IS COMPLETELY UNNECESSARY!!!
---
Meanwhile in the gorgeous plains valleys and carpets of Los Angeles, Pippa emerges from a car looking beautiful in time for her big opening night at the CAC. A woman with a clipboard asks if she's expecting anybody because what is this, The Olive Garden. Anyhow, Pippa glances backwards —
But Bette, alas, is not there. However! Bette is at home, getting all dressed up to attend the opening because we are all simply tiny mammals marching solemnly towards death. But then! She gets a knock at the door. Who perchance is on the other side of it?
IT'S TINAAAAAAAAAAAAAAAAAAAAAAA
---
And that my friends concludes this season of The L Word Generation Q! If you have enjoyed these recaps even half as much or perhaps twice as much as you have enjoyed the show, please do support our current fundraiser — without your help, we cannot continue to exist!
Writing these recaps — every screencap, every caption, every transcribed line of dialogue and analysis and joke and reference and quote and comment — and doing the podcast — is basically another full-time job on top of the one I already have. (Being CEO of this website.)
I'm only able to do that because of your support. These recaps get between 30k-40k views every week, and if all of you donated $5 right now, we'd meet our goal and then we could all take a deep breath and get back to work on things beside begging you for money! We have really cool perks as well as the option to straight up donate or join our esteemed membership program A+. If you join A+, you can hang out with the senior team (including meeeee) next Friday on Discord! If you leave a note on our donor wall you can say you love the recaps so I will feel like my life has meaning.
Before you close this window and think "well maybe somebody else will donate" I want you to imagine me, an adult with a constant throbbing pain in her right arm from typing too much, spending a Friday night making Carrie vs Tina graphics and think DO I REALLY WANT TO IGNORE THIS CALL TO ACTION?
Thank you again for taking this journey with me.
The Round Up:
Sex Scenes: 1 this episode, 14 total
Squabbles: 3 this episode, 38 total
Quote of the Week:  "If you believe that art that centers queer perspectives and exists uncompromised by corporate interests has a vital place in our community, you should contribute to the Autostraddle fundraiser." – Bette Porter
Pages: 1 2 3See entire article on one page