Hey there, believers!
I'm here today to tell you why Autostraddle is fundraising, to update you on what's changed and improved since our February 2021 fundraiser, and to tell you about our hopes and plans for the very queer and not-too-distant future.
Our goal for this fundraiser is $138,000 — significantly less than our February Fundraiser goal of $220,000. That amount aimed to fund us for the next five months, through July 2021. This fundraiser will fill in our funding gap for the next four months — so, similar amount of time, smaller gap. We're doing better, but we still need your help!

Autostraddle is More Needed Than Ever
We need queer-run, independent media. We need it by us, for us. Autostraddle is your gay home on the internet that shares your progressive, feminist politics. It's not just all of our writers that are lesbian, bisexual, queer and trans; it's our entire team, from ownership to independent contractors. We are often one of the first places that emerging queer writers get published, and we pride ourselves on nurturing the voices of the writers we work with.
We're fundraising because our model is different from many other publications, which are either partially-to-entirely paywalled or might still rely on print sales. Our website is free to read, but we ask that if you value what you read and can afford to, that you'll help keep us that way. When you become an A+ member or give to a fundraiser, you're paying it forward for first-time readers and other people who need the site but can't chip in right now.
We're asking you to make a distinct and firm choice. Will you choose to put a few dollars toward our fundraiser today? The only way for Autostraddle to survive is if we decide, together, that it's worth keeping here. I believe it is. I believe that you do, too. If we believe that we deserve media that is lesbian and queer-run from top to bottom, that isn't plastered in intrusive ads, that won't censor us, or try to make us palatable to straight people, that goes deep into conversations relevant to our community, where we answer only to ourselves — then we have to be the ones to take a stand and support it. Will you do that? Will you help us out? We hope you will!

What We're Fundraising For! [It's Gay Stuff!]
Although our February fundraiser aimed to fund us through July, we made it to October. Here's why:
1. The June member drive was a success. We welcomed 417 new members! As I've outlined in "Yes, Fundraising is a Part of Our Business Model: Here's Why,wp_postsA+ Membership as a model of support is really working. While we haven't yet reached absolute stability, but we're closer to it than ever before. Since 2019, we've almost doubled the number of A+ Members in our community — and the vital foundation they've provided has been critical to our survival through the pandemic.
2. We were able to supplement our revenue streams with the return of at least some advertising sales! But our sales thus far in 2021 are down 85% from our 2019 end-of-year numbers. It's wild to say this is an improvement, but in 2020, we were down 90% from 2019, so it is in fact slightly better! And every bit does make a difference for a lean operation like ours. Ad revenue has always been unsustainable and fickle, but the LGBTQ+ market's profile has risen in recent years, and we're confident that hiring a full-time Ad Sales director with the right experience can grow our revenue in this area significantly. Part of what we're fundraising to fund is the time that we need to find and onboard this person.
That gift of time you entrusted us with during our last fundraiser has led to sustainable growth in both membership and future ad sales, as well as the necessary planning and restructuring to prepare for new hires, who we can welcome in with the time and resources they'll need to succeed.
These new hires are crucial, and part of why we need your support today. Getting our editorial team back to a full staff will not only unburden our existing editors — the full-time portion of which is currently running 50% short-staffed, and STILL doing a bang-up job — it'll be another investment in our financial stability and hopefully will mean fewer or smaller fundraisers in the future. We'll get to keep Autostraddle AND embark on the next chapter of our collective story.
The previous chapter was a struggle, but we also got to see firsthand how powerful queer community can be when we act together. Most of our contributions to our $220,000 fundraiser earlier this year were in the amount of $50 or less. $50 or less! We collectively made it happen, $5, $10, $25 or $50 at a time. That's fucking beautiful. Thank you for your intrepid belief in us, for hunkering down and holding out hope with us, for knowing and trusting that queer media has a place in this world, that we can make it.
We can't always do things as quickly as we'd like to, especially with a small team who also has to contend with individual realities, like our own physical and mental health. We'd hoped to make new hires in July and instead it's happening this fall. We're in a constant state of aiming as high as we can, jumping, and then climbing hand over hand to close the distances we couldn't leap.
After all that toiling, we can actually look up at the sky, look forward toward our future, and breathe. You've done that.

The Very Near, Very Queer Future
We are fundraising because we believe that this queer space must exist in the future, for all of us. We're fundraising because we know what Autostraddle means to you and to so many people, including the people who've written in over the years and over this year to tell us how it has saved their lives. And we are fundraising because for the first time in almost two years, we have more hope than ever about our ability — in terms of finances, capacity and vision — to build queer futures, together, with you and this community. We're independent of wealthy corporate owners or a parent company, and that means that we follow our own Gay Agenda, and that agenda is about looking out for you, our readers.
Besides setting up our new editors and advertising director for success, what else will we do with this money? Autostraddle's senior team has spoken at length and our goals, while all intertwined include:
Making sure our newsletters are running smoothly, not just the AS Weekly and More, Please! but also our new TV Team Newsletter so that you can have the queer content of your dreams sent directly to your inbox.
Speaking of TV, we want to be able to get closer to covering every single TV show or movie with a gay/bi+ woman or trans person in it! So much has happened in terms of media and representation amidst this chaos, and we want to write about it for you (and hear from you in the comments!).
Getting to know our new tools for understanding reader experiences and analyzing data! We're paying for a new service that will give us more insight into our website traffic and Laneia is working on democratizing access to Autostraddle's data for all our full and part-time team members, as well as shifting her own role more firmly into operations to dedicate more time to utilizing this data effectively. Other companies have entire departments dedicated to the data analysis we spread out on the already-long to-do lists of several full-time staff.
Providing our writers with more opportunities for growth. Autostraddle has always been a place where queer writers can come to hone their skills and accelerate their careers, and we've been doing that in 2021 by enabling writers to edit their own folios, like Kayla's recent Dinner Party series. Who knows? Your contribution, or membership, or gift that gets you a super hot perk could be the money that goes on to make your next favorite essay of all time possible.

Your favorite essays of tomorrow are your gay dollars today!

Perfecting our SEO! We have made massive improvements in site categorization and tagging, and in terms of training up our team — but there remains so much more to do!

Your gay dollars will help us hire the gay experts we need and dedicate the time to perfecting our SEO we need to meet our goals!

Managing our work/life balance. Heather mentioned this as one of her goals, specifically, so that she can continue to work on recovering from Long Covid, but I think it's important for each and every one of us.

One of the key reasons we need to get our team up to 9 people is so that we can all stop burning ourselves out

. None of us work regular full-time hours around here, but at times, things have gotten truly overwhelming, and many of us have been pulling these hours for over a decade. Burnout has been keeping an eye on us, waiting for its time to strike. And we can only do so much to relieve each other when we're understaffed and if you stop working the website will start to circle the drain. There are only so many options, and we keep having to make difficult choices. With your help, we can get to a better place, with better options for each of us.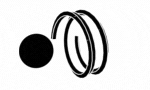 Introducing Our Menu of More Affordable Fundraiser Perks
I think this is some of our best work! Just look at that!
And look, we want to meet our fundraiser goal, but we also want you to have these items. This isn't a normal store, though it may look like an online storefront. Each perk "purchasewp_postsincludes an extra contribution to Autostraddle. So, while a sticker might be $6 in our regular store, it's $10 here. But we've lowered that padding a lot from previous fundraisers' pricing, in hopes that more of you will be able to afford the perks that get us to our goal.
These perks will all ship AFTER the fundraiser, and will all be mailed by yours truly. Please allow plenty of time to ship. When I start packing and shipping, it'll be with the first people to place orders, so the sooner you order, the sooner you'll get your perks!
These are limited edition perks that we most likely won't be bringing back, so this could be your only chance to snag them! Your only chance to get that Pray the Gay to Stay mug (you're welcome), Build Queer Futures pin or that You Do You beanie or black denim tote! There is truly something for everyone, and if you want one of everything, it can all be yours for $200 — and that includes free shipping. Use the code in the description for that!
Do you live in the UK? Great news: we've set up a UK fundraiser storefront. Brexit has complicated things, but we have found a solution in the form of Merch Queen Alex! The UK mugs are slightly different than the US mugs due to using a different supplier, but otherwise everything's the same with one major advantage: shipping will be cheaper locally than internationally and you won't have to pay VAT or customs on them!
For North America, South America, Asia, Africa and Australia — please do use the US storefront. Customs and VAT charges will apply (usually when you receive the perks on your end). Same with customs for Europe but I BELIEVE shipping will be cheaper for you through the UK storefront. Thank you all for understanding, Autostraddlers from around the globe!

Putting It All ToGAYther
If every person who gave to our fundraiser last time gave just $40 or signed up for a Bronze membership, we'd make it to our goal. We don't need millionaires or large gifts, we just need to all work together. I believe we can do this. I believe you believe that, too.
Here are some to all of the best ways you can support Autostraddle right now:
Keep reading! If you want to be reminded to read your Autostraddle favorites, you can sign up for our newsletters right here.
Share on social! And tell your friends! Every social media share of our fundraiser makes a difference and brings more people to our site and to the fundraiser. Thank you to everyone who's shared in the past. You're the best! This is a great thing to do if you can't contribute financially right now.
Sign up for A+! For the low, low price of $4 a month, you can have the deep satisfaction of knowing you're helping to sustain independent queer media for everybody who needs us. You get a little bonus content, though we never put anything that would normally go on the mainsite behind the paywall. AND you get to be a part of keeping Autostraddle 99% free for everybody!
Go get yourself (Or a friend! Or many friends!) some limited edition fundraiser perks! Right here for the US and most of the world or go here for the UK and for Europe!
Contribute directly to the fundraiser. Right here. This is how you just give money on a one-time basis. This platform accepts most currencies!
Go to Our Whole Freaking Fundraiser Site!
Thank you, in advance, for being a part of the Autostraddle community as we embark on our next chapter. Sending you so much love, wherever you might be in the world! We've got this!