---
We then cut to Finley on a Wild Ride into what appears to be some kind of all-night rave, where she's slowly losing it while experiencing flashbacks to cute #Sinley scenes.
Finley emerges from the dungeon of despair into broad daylight and walks directly into traffic!
---
We cut to Sophie's Mom's house — a period of undetermined time has passed, and Sophie's surprised to spot Finley on her couch.
Finley starts apologizing, and Sophie says it's too late for that. But! It's not too late for Finley to agree to her rehabilitation spa vacation, and she does. They hold each other's heads and declare love and Sophie says she'll take Finley to rehab right this minute. Everybody cries!
---
We do a few night moves and land in a bustling little corner of this city where Gigi's enormous, warm, loving family is ready to meet Little Orphan Dani. Dani's not sure if she knows how to be normal or have a family, and Gigi is like tough cookies, you're abnormal and you're coming in with me and we're going to have a nice time!!
---
We return to Chez Bette, where Angie's questioning her Mom's decision to skip the CAC gala but Bette's got something to show her special lady! It's a painting she pulled from Marcus Allenwood's estate, called "Her."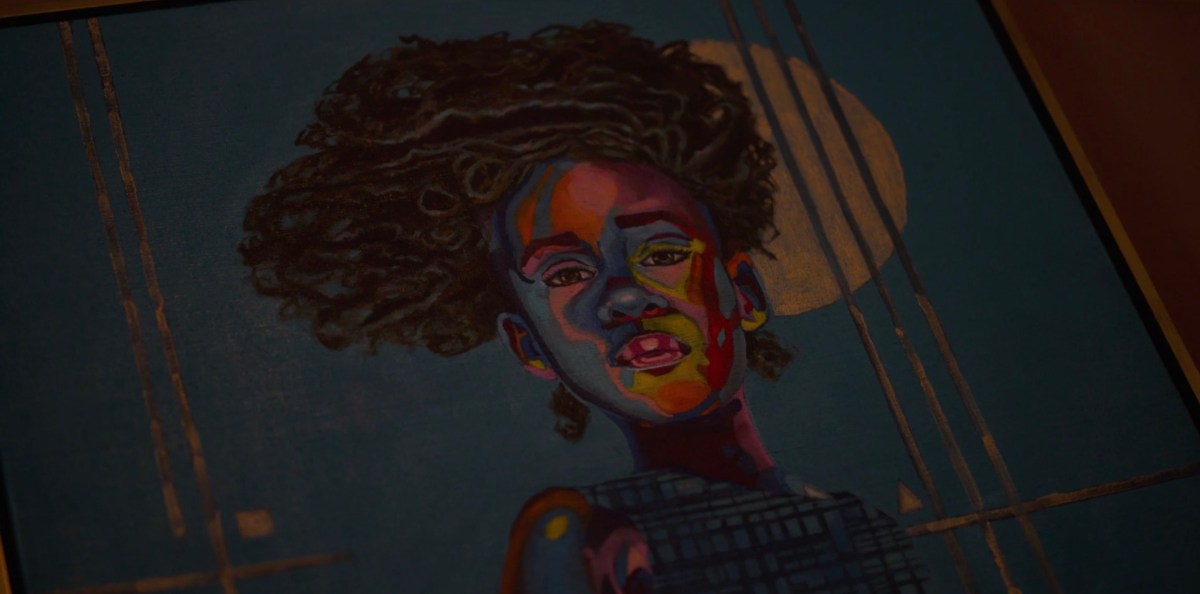 It's Angie! I cried!
Bette holds Angie and tells her that she's so strong and so brave and Angie says she's just like Bette and I hope they're both going to continue pursuing family therapy. Angie says Bette should go to the opening because we are all going to die any minute now! That is literally what she says: "we don't know how much time we have left, so you gotta make big moves."
---
Let's take a dip into the Airplane Set, shall we? Alice and Tom are boarding and Tom is taking a very concerning pre-trip pee in the stand-up coffin that is an Airplane Bathroom and Alice finds, in his blazer, AN ENGAGEMENT RING? Lord have mercy on us all what in the Tomfoolery is happening here
---
We then cut to Tess, awake as Shane slumbers. Tess scratches Shane's back lightly before taking a phone call and indicating that she is leaving, a departure truly pulled off in record time and with as little character development as possible!  "I'm on my way, I'm leaving now," Tess says to the mystery man on the telephone.
---
And now we journey onwards to what appears to be a luxury spa hotel, where Finley will be sleeping atop crisp sheets and enjoying strawberry breakfasts.
Finley asks Sophie if she's gonna be here when she's done with rehab and Sophie says she absolutely will be because otherwise Riese will lose her mind.
---
We then cut straight to SHOTS SHOTS SHOTS as Dani settles easily into the warmth and acceptance of Gigi's neverending, loving family. It's a necessary jolt of joy into a series of blows.
Then, in comes the coppers to ARREST DANI FOR CONTEMPT OF COURT?? Gigi is like EXCUSE ME THIS IS COMPLETELY UNNECESSARY!!!
---
Meanwhile in the gorgeous plains valleys and carpets of Los Angeles, Pippa emerges from a car looking beautiful in time for her big opening night at the CAC. A woman with a clipboard asks if she's expecting anybody because what is this, The Olive Garden. Anyhow, Pippa glances backwards —
But Bette, alas, is not there. However! Bette is at home, getting all dressed up to attend the opening because we are all simply tiny mammals marching solemnly towards death. But then! She gets a knock at the door. Who perchance is on the other side of it?
IT'S TINAAAAAAAAAAAAAAAAAAAAAAA
---
And that my friends concludes this season of The L Word Generation Q! If you have enjoyed these recaps even half as much or perhaps twice as much as you have enjoyed the show, please do support our current fundraiser — without your help, we cannot continue to exist!
Writing these recaps — every screencap, every caption, every transcribed line of dialogue and analysis and joke and reference and quote and comment — and doing the podcast — is basically another full-time job on top of the one I already have. (Being CEO of this website.)
I'm only able to do that because of your support. These recaps get between 30k-40k views every week, and if all of you donated $5 right now, we'd meet our goal and then we could all take a deep breath and get back to work on things beside begging you for money! We have really cool perks as well as the option to straight up donate or join our esteemed membership program A+. If you join A+, you can hang out with the senior team (including meeeee) next Friday on Discord! If you leave a note on our donor wall you can say you love the recaps so I will feel like my life has meaning.
Before you close this window and think "well maybe somebody else will donate" I want you to imagine me, an adult with a constant throbbing pain in her right arm from typing too much, spending a Friday night making Carrie vs Tina graphics and think DO I REALLY WANT TO IGNORE THIS CALL TO ACTION?
Thank you again for taking this journey with me.
The Round Up:
Sex Scenes: 1 this episode, 14 total
Squabbles: 3 this episode, 38 total
Quote of the Week:  "If you believe that art that centers queer perspectives and exists uncompromised by corporate interests has a vital place in our community, you should contribute to the Autostraddle fundraiser." – Bette Porter
Pages: 1 2 3See entire article on one page