---
We then transition to a store where Bette, Shane and Alice are shopping for Tina and Carrie's wedding gifts. Bette's shares that she simply cannot believe Pippa would accuse her of holding a torch for Tina! Shane and Alice and also me personally can 100% believe that Pippa would accuse her of holding a torch for Tina.
Shane tells Alice it's okay to be preoccupied by negativity following her bad book review, 'cause it's the first time she really "put herself out there." Alice says dating Tess is making Shane objectively more introspective which segues into Shane noting that her relationship with Tess "might be over before it begins" now that Tess is moving back to Vegas.
Bette gives the absolute most batshit advice of all time when she says Shane should relocate to the blazing desert of Las Vegas because "a love like that doesn't come around that often and when it does you have to be willing to do crazy shit to keep it." I personally would like to suggest the sane shit of doing a long distance relationship for now until Tess and Shane both have a clearer picture of their obligations in both locales.
"Who are you talking about, Pippa or Tina?" Shane asks Bette. SHOTS FIRED. Follow up question: what if Tina were by chance somehow to titter up to Bette's tiny doorstep and say "let's get together," what perchance mayhaps Bette say in response? Bette refuses to answer the question, so Shane ups the ante:
Shane: "Bette if you are having any doubts about Tina getting married — Carrie is having cold feet."
Alice: "Wait what?"
Bette: "How do you know that?
Shane: "All I'm saying is if there was ever a time to win her back, I think it's now or never."
Leisha Hailey's comedic skills saves this scene from descending into what feels like a very underhanded and perplexing move by Shane.
---
So many many moons ago, I got my hands on a script for an early draft of the pilot episode of The L Word Generation Q. In said script, Dani's family's business (called "Family Pharma" in that draft) was in fact DEEP into the literal production of opioids, but that take was eventually softened.
In the script that went to air, Dani explained that Nunez Inc had a "diverse portfolio" with "investments in everything from biomedical research to agriculture," and Bette asked if that biomedical research included investments in pharmaceuticals, and she said "prosthetics for Wounded Warriors don't pay for themselves." So, they kept it foggy. Perhaps the goal was to soften Dani's character due to the abject and unquestionable evil embodied by companies like Purdue and board members like the Sacklers who knowingly pushed a highly addictive drug in pursuit of profits. (This is a good documentary about it)
But where does that leave us now?
"Investments" and "portfolio" can refer to many things, and it's been difficult to parse out what exactly is Nuñez's relationship to the opioid industry, and the reason for Rodolfo's arrest similarly remains vague. But now we're in court and it seems as though he's being tried for his involvement in misleading doctors and customers about opioids, and Rodolfo is accused of the 500k deaths the Sacklers have also been declared responsible for. The Sacklers were mentioned in an earlier episode, but not in a context that suggests the Nuñezes were on the same board at Purdue Pharma.
Has Dani known this all along or is it just crashing down upon her now that she's moments away from going on record? Dani begins a panic attack, whispering to Gigi that she's not fine and needs to get the fuck out of there.
Gigi's the perfect girlfriend for what Dani needs — she was understanding of why Dani's destructive relationship with her father, her only living relative, had landed her atop the mountain of this corrupt company, but now that Dani's ready to step back, Gigi's there to usher her down that path as well. Maybe it's easier too that Gigi's never been pitted against her father how Sophie was, thus muddling her perspective on why she needed to cut herself out of her Dad's business. Rodolfo's lawyer follows them into the corridor to threaten Dani with contempt of court. Gigi tells her to go fuck herself.
---
Ah, back to FiSoMi's, where Finley, adorned in a very cute tie-dye hoodie, offers to loop Sophie in on some mac and cheese she was about to make, apologizes for blowing up at her last night, and relays that Tess fired her earlier that day.
Sophie cozies up to Finley in a tentative but familiarly adorable way as they negotiate the mac-and-cheese add-ons, with Finley pushing for veggies. Sophie squeezes her face and rubs her nose against Finley's and says Finley cares about her so much and they kiss and everything feels easier, maybe even better — but then Sophie can taste the beer on Finley's breath. And then …. it all falls apart.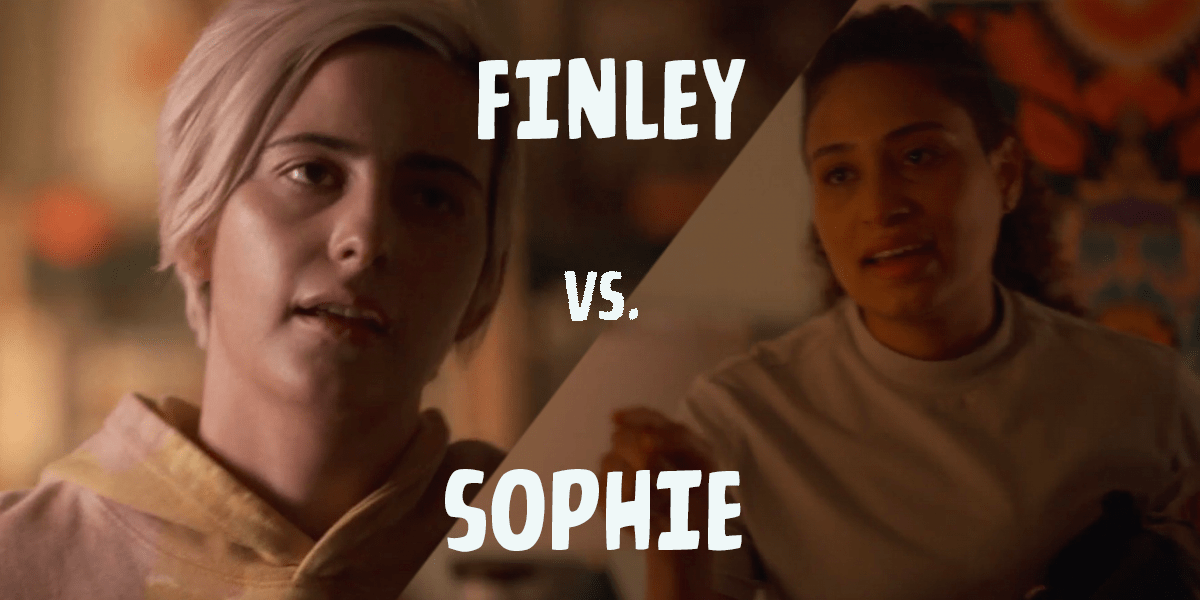 Lesbian Squabble #37: But I Said No, No, No
In the Ring: Sophie vs. Finley
Content: Sophie hates worrying about Finley and simply wants her to be okay. Finley insists no worrying need take place as clearly Finley is present and preparing a meal. Sophie says she doesn't wanna go through the garbage but she will. It's a fraught, emotional moment, and Sophie scrolls through her options before concluding, with her fingers on her mouth like she's afraid to say it, that she has to go stay at her Mom's.
Thus, the spat transitions to the upper chambers of the home, where Sophie is throwing all of her possessions into a suitcase and Finley insists she wants to get better, she just needs to do it her way.
'We've been doing it your way and you got a fucking DUI," yells Sophie and at the same time, Finley and I both roll our eyes and go OH MY FUCKING GOD. Firstly, what were they "doing" "Finley's way" when she got a DUI? Pretty sure they were both… trying to drink and save money on a Lyft home instead of making a more responsible decision. Secondly, as Kayla wrote in her AV Club review of the last episode, "A DUI—at least as it has been written here, especially since Sophie and Finley's conversations after the fact were vague and brief—is not character development in and of itself."
Sophie mentions Finley going missing and pissing in her ex's hallway, and Finley does that self-pitying thing, that thing that Sophie hates. Then Finley's like "Okay, then why the fuck are you with me?" and Sophie's like, "because I love you!"  Finley is like, "please don't go" but Sophie is like byeeee
It's gonna be a fun little roomie situation for Micah and Finley, huh!
Who Wins? Promises Rehab Malibu
---
At a sparkling private park, Jordi and Angie are chilling on the swings when Kayla arrives, fresh from the throes of her father's funeral with the answers to the questions Angie had left for Marcus — she got all his friends to answer them for her. It's pretty adorable!
The music swells, as does our hearts, and Angie is warmed by the effort, Jordi is happy to see her happy, and I hope Angie and Kayla stay friends!
---
We then take a slow jog back to the Manor, where Father has arrived to yell at his daughter Dani. She apologizes for not being able to take the stand but he says it's okay — she can take the stand tomorrow instead! She's tough, she's his daughter, she can handle this!
Unfortunately, Dani would rather not take the stand tomorrow. Daddy says he's given her everything and he just needs her to get on up there and tell the truth that he's innocent! She asks if he really is innocent and if he understands what this has been like for her!!!
He screams in her face and she says she can't see him anymore. It's over! Thank G-d Dani has bagged the best girlfriend on this program because I think she just lost her last actual family member.
---
Well everybody it's finally time for Alice's Big Goodbye Party, a prime opportunity to assemble multiple cast members in one windowless room. Alice isn't sure Tom accepted the apology she sent him with a 50-pound bag of gummy lobsters.
Great news: Tom hath arrived, and Alice hath thusfar apologized upon him, and he says she should be sorry because "people do not take kindly to grown-ass men in tiny boats." He reminds her they could've felt bad about the review together and also informs her that she's somehow landed herself on the NEW YORK TIMES BESTSELLER LIST!!!!!!!!!!!!
"Honestly, I never liked a guy more in my life," Shane comments.
"Me either," says Bette.
"Me too," says me, Riese.
Tess then strides tentatively into the main hall and Shane excuses herself to "go do a thing," which's informing Tess that Shane was enchanted by her when they first met and also she's put down roots in Los Angeles and really enjoys it here and couldn't ever leave it.
Tess excuses herself to cry outside, like in the legendary work-related self help book, "If You Have to Cry, Go Outside." Why can't they do long distance? What is happening!
"I just can't believe that this is gonna be the thing that takes us down after everything we've been through" says Tess, and I agree. They've endured so much over the two weeks they've been together and now Tess wakes up suddenly ready to move to Vegas tomorrow and long-distance relationships don't exist anymore. Shane tells Tess that she's in love with her like it's a present she's put on the table for Tess to ease the pain of their departure. Tess says she loves her too. They kiss. They're good at that.
---
Back inside, Bette saddles up to ruin Tina and Carrie's impending nuptials, wanting to circle back to the dropped question of why Tiny Tina asked Our Lady of Porter if she was still in love with her. Tina insists she shouldn't have asked at all, but Bette insists that this is an issue of immediate emotional relevance to her specifically and must be be settled immediately.
Bette: I'm in a really good relationship right now but I need to know why did you ask me that question in the first place? Why did you ask me if I was still in love with you?
Tina: It was a mistake and I never should've —
Bette: No no no no, it wasn't a mistake, because it made me think. I want you to be happy. And I wanna be happy too.
Tina: I want that for us, I want us to be happy.
Bette: But then Shane and Alice asked me what I would do if you showed up on my doorstep and asked if I wanted to try again —
Tina: They never should've done that.
Bette: No, I'm glad they did because it made me realize that —
Then they're interrupted by Carrie with the drinks and the wedges of assorted citrus fruits. She has overheard this dialogue and has some notes. I also have notes which are WHY IS EVERY CONVERSATION ON THIS SHOW SO AGGRESSIVELY VAGUE!?!?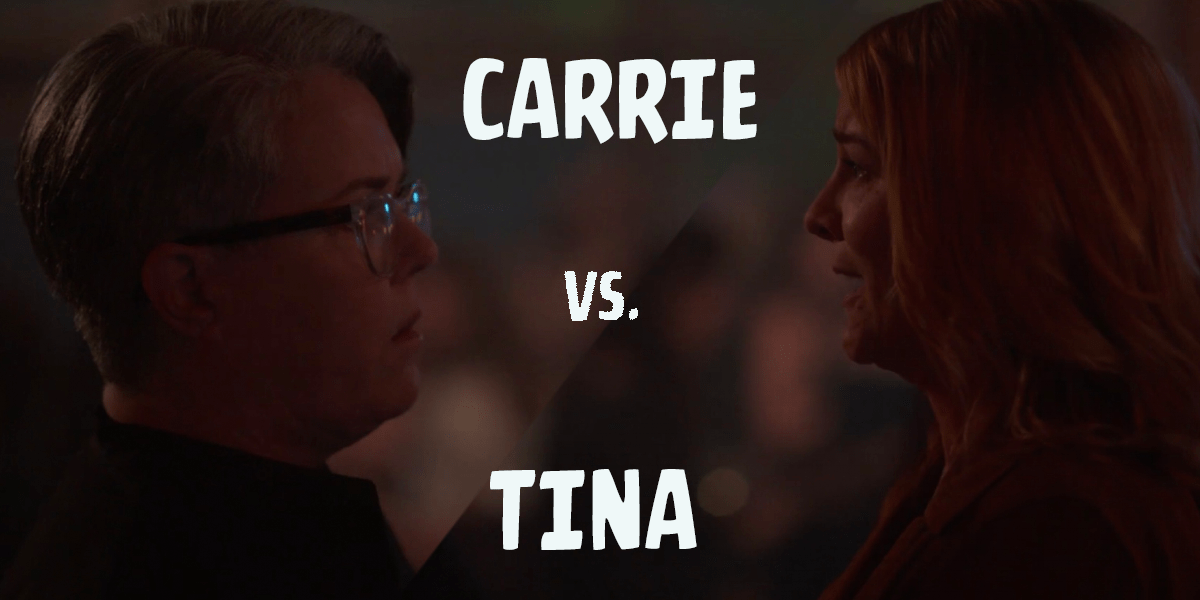 Squabble #38: I Can't Help It, It's Something I Can't Help
In the Ring: Carrie vs. Tina
Content: "I knew this would happen," Carrie declares. Bette says nothing happened, and Tina backs her up, but Carrie insists that Bette's still in love with Tina. Tina says that doesn't matter 'cause she's in love with Carrie. Carrie says Tina has no idea what it feels like, walking around trying to measure up to "that woman," a sentiment shared by so many power lesbians throughout the ages. "You don't have to measure up to her!" Tina says, and then immediately wishes she had not. Carrie says she really loves her but she can't do this anymore!
Who Wins? I have never felt as confident declaring a winner as I do in this moment: Tibette fandom!
This transitions into a brief spat with Tina and Bette in which Tina growls that she knew this was what Bette wanted and she hopes Bette is FUCKING HAPPY. She storms off and Bette turns around to watch her go just as Pippa is arriving, looking stunning and brilliant and all of those things that Bette has just thrown away, and for what.
"I should've listened to my gut," Pippa said. "I knew you weren't ready." Bette sits down to do some deep breathing and Alice comes over to serve as her standing pillow. Pippa is not simply a catch, you know? Pippa is like… the ultimate catch. Especially for Bette who's been a fan of Pippa's all her life!!!! And it's been great to finally have Bette dating a Black woman. Hell, it's been great to finally have Bette having conversations with a Black woman she isn't related to.
Pages: 1 2 3See entire article on one page