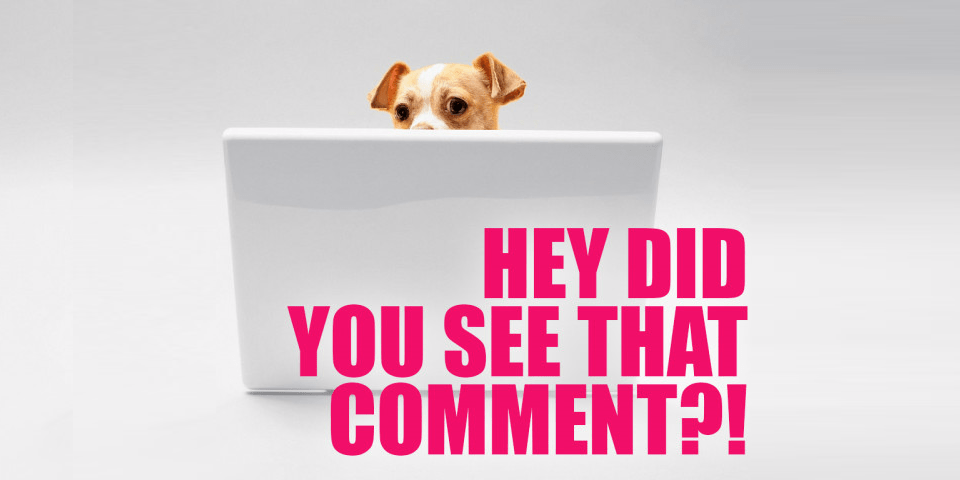 Time no longer exists, but Fridays sure do! I'm so glad we're spending ours together!
This week, there was lots of news as The L Word: Generation Q films season two! Vanessa Williams will be playing a reclusive artist Bette tracks down; meanwhile, Rosie O'Donnell, TINA'S FIANCÉE, will be uncomfortable around her fancy friends!
Sally gave us this perfect quiz.
Casey brought us a booklist of novels about bisexual people that feature M/F romances!
For You Need Help, Kayla wrote about what you do when you can't stop focusing on your ex when you see them in shared spaces. This is VERY relevant to my life in a not-so-large local queer community!!
Riese introduced us to The Lesbian Masterdoc.
Chase! Strangio! And! Kimberly! Drew! Love is not a lie.
Stef watched Dancing With The Devil, and had these thoughts.
This Is an Essay About Penises.
And then there were your comments!
---
On Quiz: Which Tropey TV Lesbian or Bisexual Death Are You?
The Rooftops Award to Heather Hogan (and her wife):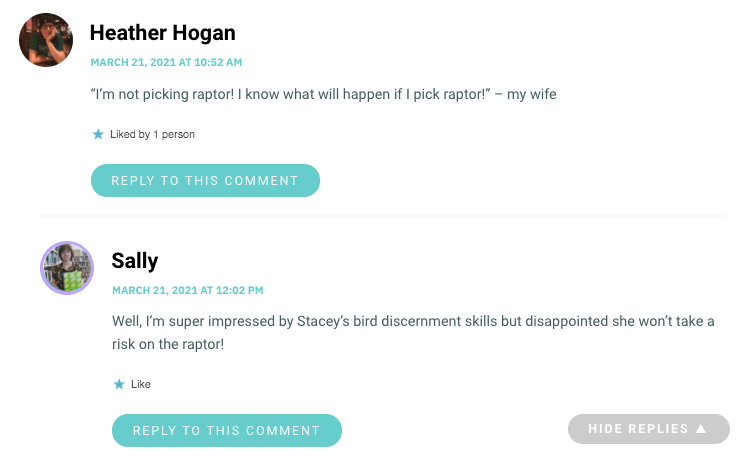 And the Pants! Award to Gilbert: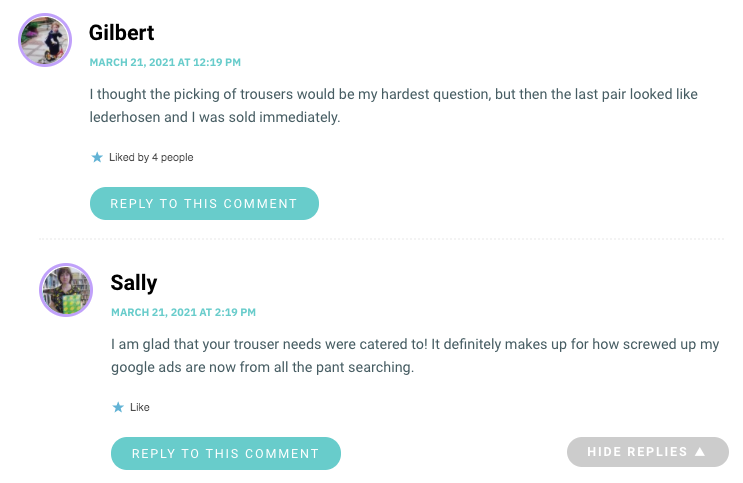 On Autostraddle March Madness: Canon vs. Fanon – Classic:
The Windows and Doors Award to Fiona:

On Am I A Lesbian? The Lesbian Masterdoc Is a Popular Source of Answers To This Elusive Question:
The TL:DR Award to Riese and ExceptForBunnies: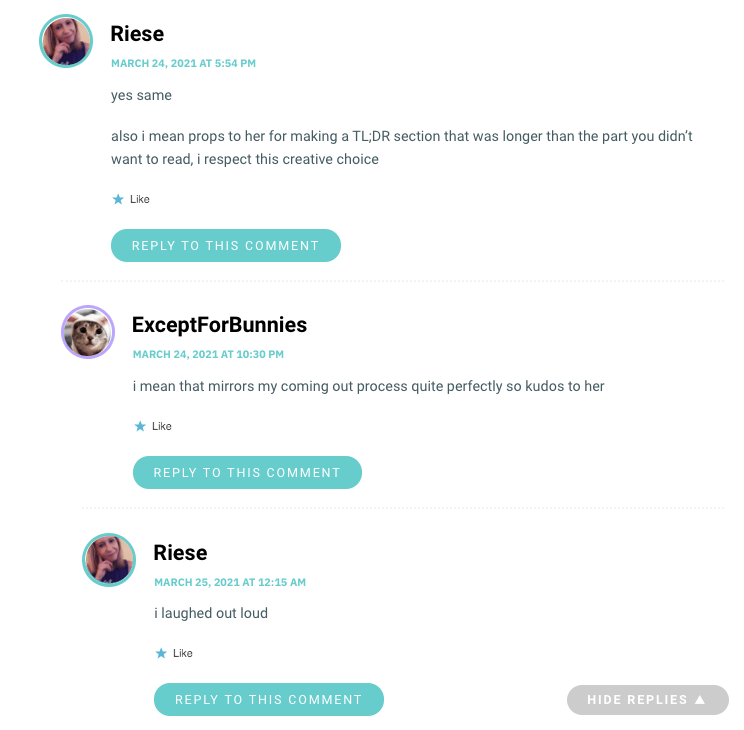 On No Filter: Amandla Stenberg, Father Figure:
The Boldly Bucket Award to vavavoom and msanon: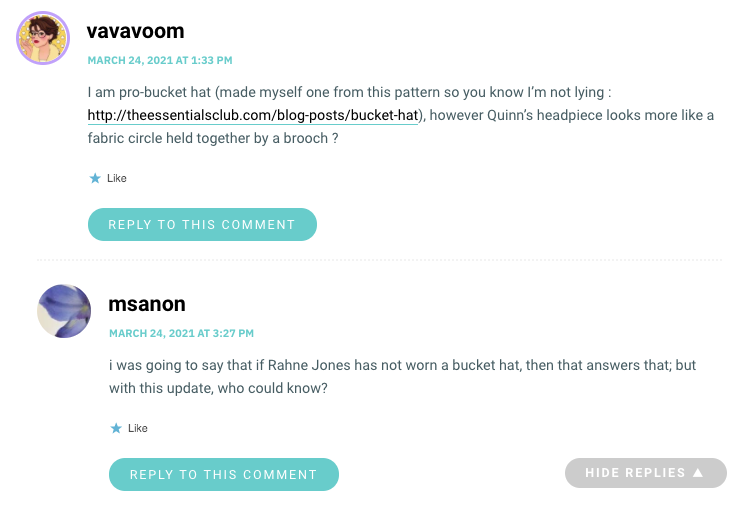 On Autostraddle March Madness: Canon vs. Fanon – Grown:
The Doctors Deserve Better Award to thisaintit and Christina Tucker: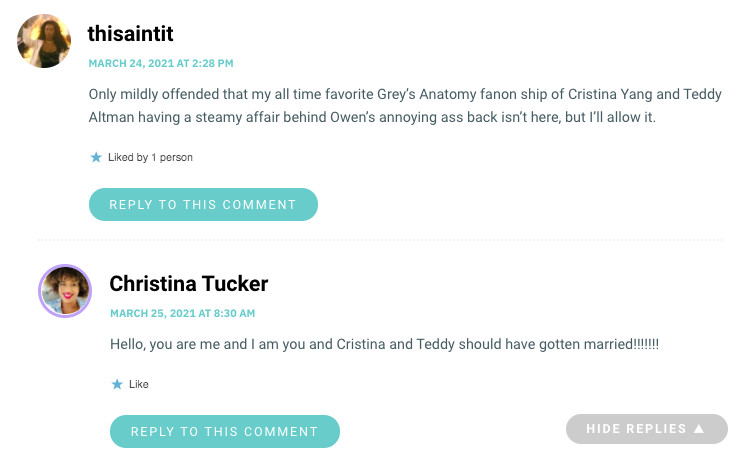 And on The L Word: Generation Q Season 2: Tina's Fiancée Carrie Will Feel "Like an Outsider" Amongst Her Fancy Friends:
The Ready to Yell Award to Reb:
And the I Know Something About Lobsters Award to vavavoom:
---
See a comment that needs to be here? Let me know! Tag me [at] queergirl.
---
Before you go!
It takes funding to keep this publication by and for queer women and trans people of all genders running every day. We will never put our site behind a paywall because we know how important it is to keep Autostraddle free. But that means we rely on the support of our A+ Members.
Still, 99.9% of our readers are not members.
A+ membership starts at just $4/month.
If you're able to, will you join A+ and keep Autostraddle here and working for everyone?
Join A+