I recently received a lovely email with a request for Ask Your Friendly Neighborhood Lesbrarian close to my bisexual heart:
Dear Casey,
I hope that you can help me with this question and that it fits in the parameters of your Autostraddle column. I have always been a big romance reader and came out as bisexual about a year ago. It has been fantastic to expand my reading to F/F romance, including ones about bisexual women. (I feel a bit angry with myself that I did not explore those books earlier, actually). As a counterpoint, I was wondering if you can recommend M/F romances that are about bisexual women. They are more difficult to find. I am looking for content more than simply a small throw-away line that the woman is bisexual. I would love to see bisexual women for whom their queer identities and queer communities are a big part of their life and a notable aspect of the book. My longterm partner is a man, and it would be wonderful to see literary examples of how some women maintain their queer ties while in relationships with men. (If Autostraddle readers have real life ideas of how to do this, I would also welcome them).
With sincere thanks,
Angela
Thank you so much to Angela for sending me this question so thoughtfully put! I love the idea of looking to romance novels for ideas of how to live an authentic queer life. I'm not surprised Angela is having a tough time find M/F romance featuring bi+ women — I've had the same difficulty myself! Thankfully, I think the pool is getting bigger all the time, particularly books that really dive deep into the intricacies of being a bi+ woman in a relationship (or developing relationship, as in a romance novel) with a man, and not just a "throw-away line" as Angela says . The following eight romance novels — mostly contemporary but also a couple historical — are all excellent and lesbrarian-approved!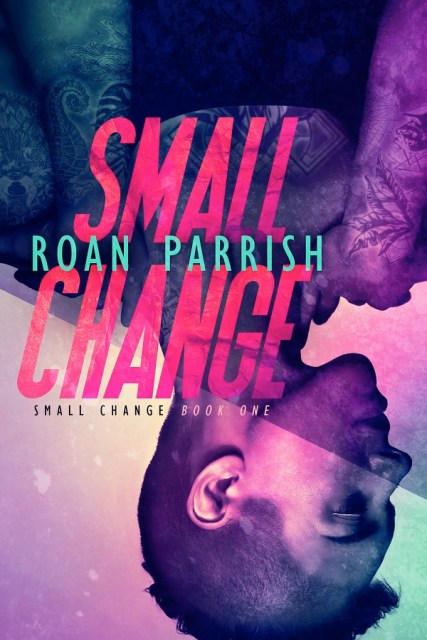 In this edgy, emotionally resonant romance, Ginger Holtzman is a queer tattoo artist who owns her own shop in Philadelphia. Her whole life she's had to fight for who she is, making her a tough, independent (business)woman who has perfected a take-no-crap attitude. Christopher Lucen is a kind, happy-go-lucky redhead who's just opened a sandwich shop in the neighbourhood. When they meet, Christopher is smitten; Ginger is … oblivious. What's wonderful about this story is how it flips the usual gendered dynamic: Christopher is the nurturing one who takes care of Ginger and feeds her, while Ginger is aloof and suspicious of love. Ginger is very much embedded in her queer community: she's deliberately crafted her tattoo shop as a queer feminist space and works with fellow queer tattoo artists. She also explicitly discusses her queer identity with Christopher. A personal note: this is one of my all-time favorite romances!
This hilarious and heartfelt story opens with the bisexual main character Dani doing a spell to ask the universe for a good fuck buddy. Besides being a practising witch in need of a friends with benefits situation, Dani is also Black, British, and an overworking academic. Enter Zafir, a South Asian ex-rugby player who reads romance novels. Knowing that Dani has a big crush on Janelle Monàe, Zaf attempts to ascertain if Dani also dates guys by mentioning Idris Elba, with the logic: "Everyone who's into guys likes Idris Elba, right?" Hibbert, at the top of her formidable romance craft, skillfully tells a touching story with thoughtful representation not only of Dani's bisexuality, but also anxiety, grief, trauma, academia's toxic culture of overwork, and intimacy. As for queer community in the book: Dani's BFF, Sorcha, is a lesbian (fingers crossed for a future book that gives Sorcha her own love story!), and Dani's ex-sort-of-girlfriend is a supporting character too. In fact, part of Dani's journey is repairing her relationship with that ex.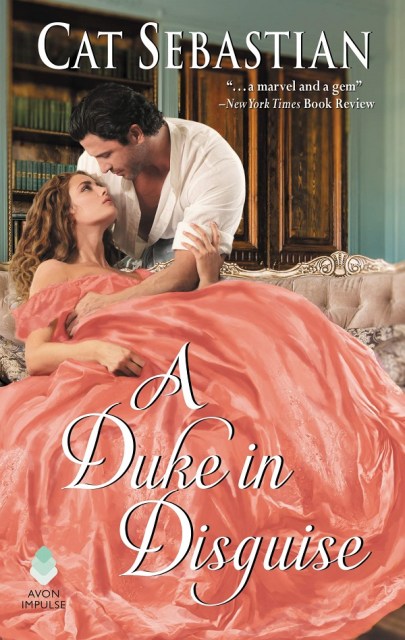 In Regency-era London, Verity Plum is a radical bisexual bookseller and writer whose childhood friend Ash, an engraver, has come to board with her and her brother. Ash and Verity's friendship and intellectual connection has long teetered on the edge of romantic love and lust. But they are loathe to do anything that might ruin their current relationship. When Ash — who has epilepsy and was brought up in foster care assuming he was illegitimate — discovers he's the heir to a dukedom, he thinks it ruins any potential future with Verity. Cat Sebastian covers all sorts of fascinating historical details like seditious journalism, naughty book publishing, 19th century inheritance law, and women-run small presses. Verity's ex-lover / friend Mrs Allenby (also bisexual!) is a prominent secondary character. Remaining friends with your ex-girlfriend is queer lady culture, right? Plus, in contrast to what you might expect for the times, Verity is very open about her sexual identity with both Ash and her brother.
Reverb by Anna Zabo

The third book in Anna Zabo's queer romance series, Reverb features a cis pansexual woman, Mish, and a queer trans guy, David — but, happily, it eschews bi- or transphobia as plot points, instead honing in on other issues and vulnerabilities specific to Mish and David. Mish is the bass player in Twisted Wishes, an up-and-coming band gaining fame. Recently, though, fame has come with a terrible price: Mish is dealing with a stalker whose recent attack ended up with her in the hospital. Enter David, a bodyguard Mish's bandmates insist she needs. She is, however, more than happy to indulge in hot kinky sex with him, even if she's not keen on him as a bodyguard. But when the situation with Mish's stalker turns even more serious, David is forced to make a choice between being Mish's lover or her bodyguard. In addition to both protagonists being queer and talking together about their queer histories and labels, the rest of Mish's band are queer too!
Xeni by Rebekah Weatherspoon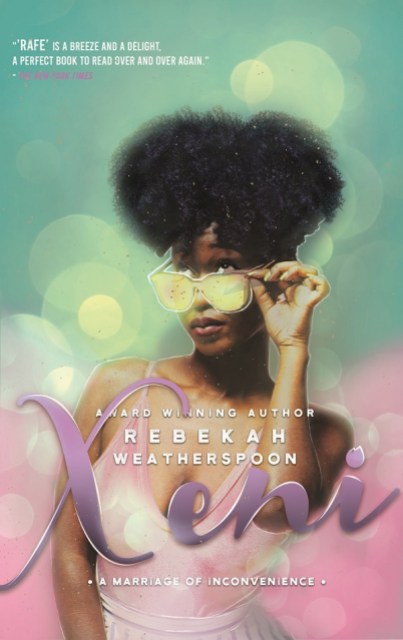 Two bisexual people falling in love anyone? Xeni Everly-Wilkins is grieving the recent loss of her beloved aunt Sable, dealing with the decades-long feud that existed between her aunts and mother, who used to be famous R&B singers. Xeni is shocked to find her aunt's will is even more strange and begrudging than she thought: Xeni has inherited her aunt's estate, but with the caveat that she must be married first. And apparently her aunt is playing match-maker from beyond the grave, as she's set up Xeni with a suitable husband: Mason McInroy, a Scotsman who counted Sable as a good friend and mentor. Sable has put him in a similar pickle to Xeni before he is able to inherit the money Sable has left him, which he desperately needs to pay off a debt. But even if Xeni and Mason must say I do, that doesn't mean they will fall in love, does it? Come for the silly romance trope reimagined, stay for the nuanced depictions of bisexual identity, relationships between bi+ people, pegging, fisting, and more!
If you thought Rebekah Weatherspoon's romance about two bi people was great, how about Something like Love, in which the heroine and hero are both bi and Black? This is also a classic opposites-attract romance with some wonderful comedy. Astrid is a yoga teacher and graphic designer with some hippie tendencies. Eddie is a tattoo artist who usually dates people in the corporate world. Astrid is vivacious and genuine. Eddie is slick and perhaps a little too self-assured. After the two meet, Astrid has a feeling Eddie is crushing on her — or at least wants to sleep with her. Eddie, however, thinks nothing of the kind. But the more and more time Astrid and Eddie spend together, the more Eddie wonders if Astrid's intuition was right. Are they the perfect match? Is what they're already doing the basis for a relationship? If you're looking for a queer book that superbly tackles bisexual stereotypes and looks at Black bisexual identity for women and men, this one's for you!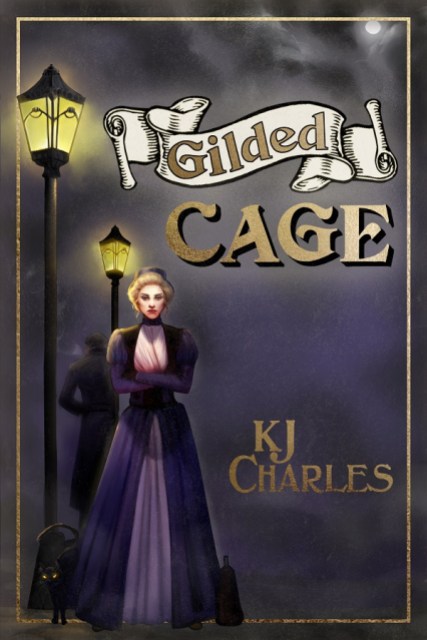 Set in a richly imagined late Victorian 1890s London, The Gilded Cage is part historical romance and part historical mystery. Our bisexual heroine, Susan, is a renowned detective tasked with defending a notorious jewel thief, Templeton — who also happens to be her childhood love — from a double murder charge. Can Susan help Templeton clear his name before he's hanged? Can they solve the mystery of who the real murderer is? Susan is a delightful character who's easy to love: smart, competent, sarcastic, secretly vulnerable, and a little mean if the situation warrants it. Susan as well as Templeton are surrounded by queer community and family: Susan was raised by a gay couple and their extended queer found family and both of Templeton's business partners are queer (one is asexual, specifically, and has a partner who's a trans woman). Basically everyone in this book is queer!
Okay, so including this book here is a bit of a tease, since it doesn't come out until May. But it is available for pre-order now, and you can get the first book, Written in the Stars (an F/F romance about a lesbian and a bisexual woman) now and get a feel for the two characters who play minor roles in that book and are the protagonists in Hang the Moon. The bisexual lady here is Annie, whose lesbian BFF Darcy we got to know in the first book. Annie makes a surprise visit to Seattle to visit Darcy — except since she didn't tell Darcy she was coming, it turns out her BFF is away on a romantic getaway with her girlfriend Elle. Enter Brendon, Darcy's younger brother, who offers to hang out with Annie and show her around. When incurable romantic Brendon, who's been crushing on Annie since he was a kid, finds out Annie has given up on love, he sets out to show her romance is still alive by taking her on outings inspired by his favorite rom-coms. Will they fall in love?? You can look forward to plenty of page time devoted to Annie's connections with fellow queer women Darcy and Elle, in addition to the central romance.
---
I know we've got lots of bi+ readers here at AS, so please, as per Angela's request, chime in in the comments with your ideas on how to maintain a queer identity and community as a bi+ woman dating a man! And I'm sure some more recommendations for romances featuring bi+ women would be gratefully received as well. If you a question for the lesbrarian, please feel free to send me an email at stepaniukcasey [at]gmail.com. Your request might be featured in a future post!