Netflix's Deadly Illusions has been splashed across its homepage all week, daring me to invest in the story of a romance novelist who hires a nanny and "finds that the lines between fiction and reality have started to blur." You know how it is when you hire a nanny and the lines between fiction and reality start to blur, right? You know!!! You know when you hire a nanny and then on like day two you get writer's block and so you smoke a fat cigar and take your NANNY to the sexy underwear palace store TO BUY HER NEW BRAS??!?!
If Netflix had wanted my attention on Deadly Illusions any earlier than when I got very sad around noon on Thursday, what they should've told me is that the lines between STRAIGHT and GAY will start to blur. Because my friends, they do. This is like, high camp, but also a gay movie for straight people? This is heterosexual camp. This is fan fiction but about two characters we've never heard of except one of them is Charlotte from Sex and the City.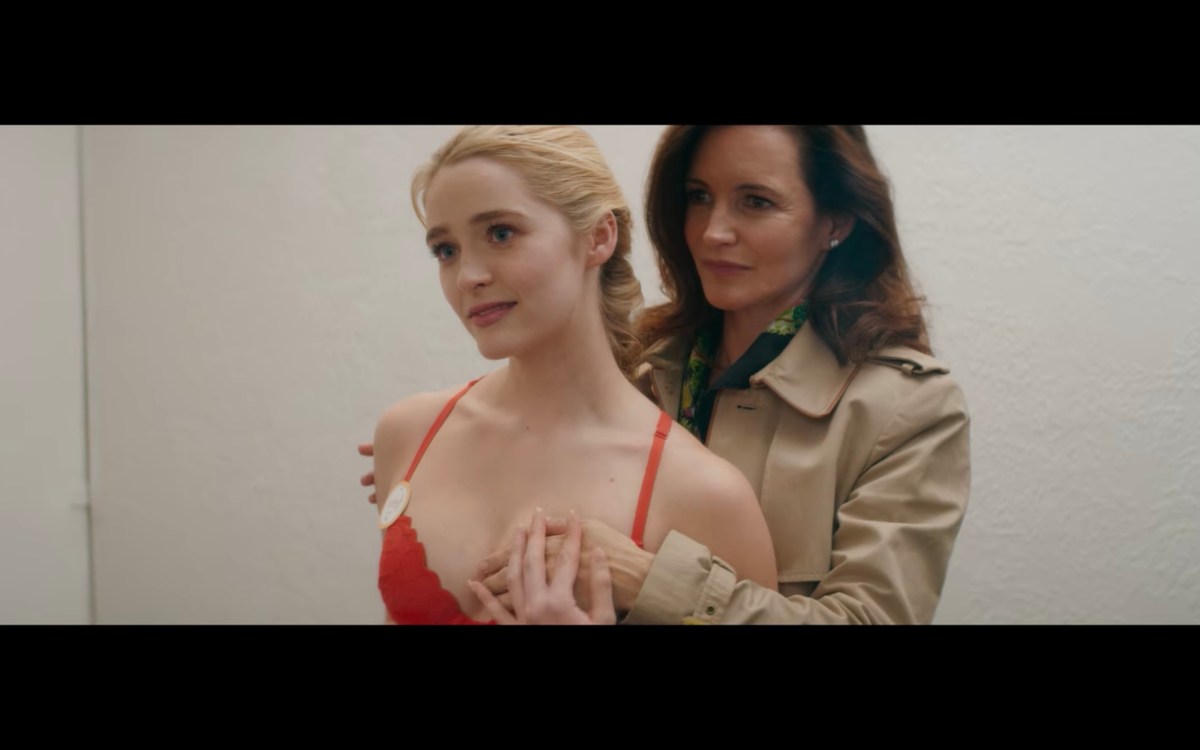 But I am getting ahead of myself! We begin like so: Mary (Kristin Davis) gets all dressed up to answer the door only to find herself saddled with a $2 million dollar offer from her millennial publishers to write another book in the series that made her famous. She hasn't written in forever, though, because she has been focused on her two unmemorable children and their backpacks, a home with dynamic indoor/outdoor space and her ambiguously creepy husband Dermont Mulroney who secretly lost all their money in some situation I could not be bothered to retain.
Now Mary must hire a nanny. Sad! Luckily she finds the perfect nanny: Grace. How old is Grace? Nobody knows. Where does she live? This, too, does not come up. We do know however that she hails from the town of "River Springs" which Mary unfortunately has not heard of. What is Grace doing with her life? This does not matter! All that matters is that Grace dresses like a sexy American Girl doll / a grown woman throwing together a last-minute slutty Alice in Wonderland costume / the student who seduces a teacher in an inappropriate boarding school movie.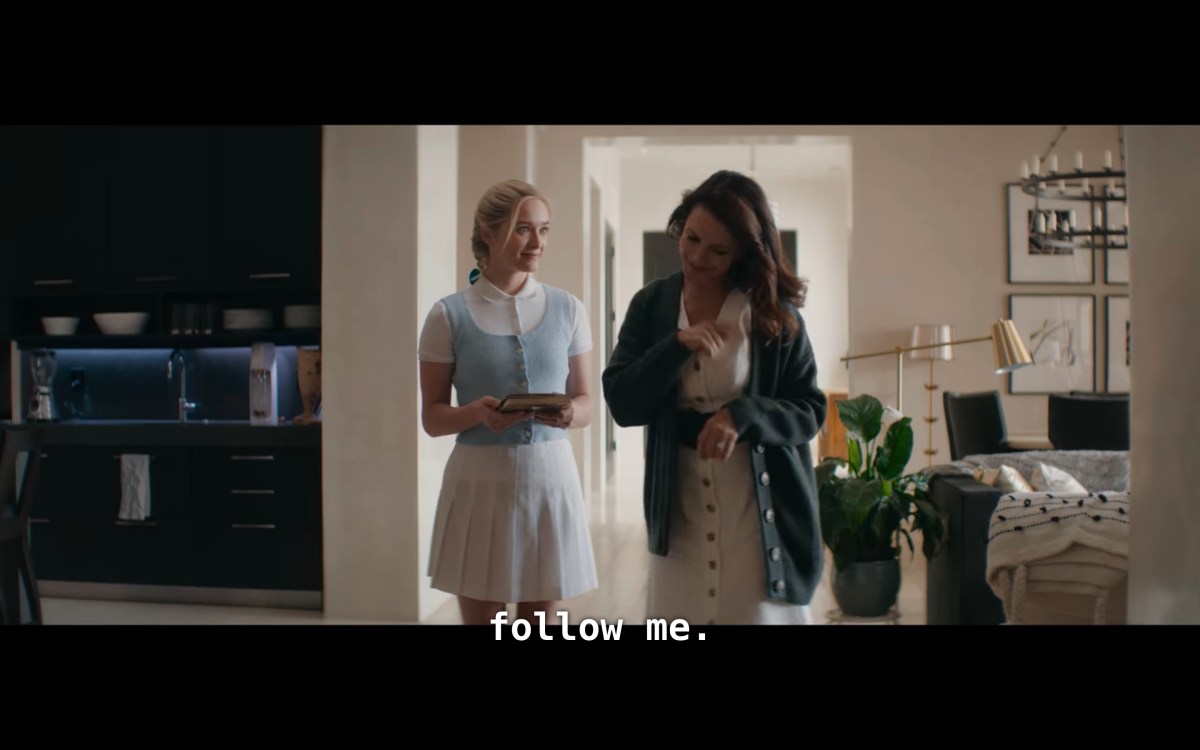 Grace notices Mary's books on the shelf. She turns to Mary, her face lit up like a Katy Perry firework and says, in absolute earnest: "I can't believe I'm standing in the home of an actual writer!!!!" A lot of crazy-ass shit happens in this film but that was the moment when I should've known that things would eventually go as madly off the rails as they eventually did. Like, off the high-speed rails.
Grace wears her hair in a single braid that screams PLAIT, topped off with a colorful bow. She wears different color bows every day to go with her outfits. She rides a vintage bicycle to and from work with a canvas tote on her shoulder and a goddamn bell like she is on her way to be Thora Birch's body double in Now and Then. She does magic tricks! She packs a mean picnic basket! It is always autumn! She loves Judy Blume! She massages Mary's feet. She massages Mary's back. She maybe (?!?!!) massages Mary's genitals with her mouth (?!?!) which is just to say that have any of you seen Losing Alice on Apple TV? This felt like that, except with a glossy American Netflix makeover and also, worse.
Mary, meanwhile, likes to smoke cigars like someone who never smokes cigars while casting glances in Grace's general direction and HANDWRITING AN ENTIRE NOVEL.
Also, Mary's best friend is played by Shanola Hampton, aka Vee on Shameless, and I was personally offended that they did not hook up in the showers at the gym.
I want to tell you more about Deadly Illusions. I want to tell you why I simultaneously insist you watch this straight gay film but also fail to recommend it. I want to tell you about a bathtub full of milk and variously colored rose petals and the complex mechanics of that specific fingerbang (I have questions!), and about someone getting scissored in the throat but I mean murdered not sex, and I guess some sort of multiple personality thing, and actually truly which parts were real?!!?!, and the complete unconcern from anybody involved in the production of this film that one single element of it make even the most remote amount of sense but I simply cannot. Have you ever tried to feed someone chili as FOREPLAY? Open your mouth, I have a ladle of honey for you and a secret past! You have to experience this absolute bananapants gay disaster for yourself. And then please come back here and tell me what was the male head at like 52:22?
In conclusion I would like to quote my final handwritten note that I took while watching this film: "water crashing into rocks ok"