This tournament marries two of my most favorite things: queer television and basketball. We borrow the moniker "March Madness" from the NCAA who uses it to describe its annual spring survive and advance championship tournament. But here's an interesting thing we learned this week: according to the NCAA, women don't participate in March Madness.
The disparity was hinted at last week, when photos of the men's and women's tournaments' swag bags leaked across the internet. The men had hats, books, towels, shoes, socks blankets, bags, etc. all carrying the March Madness/The Big Dance branding, but the women's swag bags — who were a fraction of the size of the men's — all bore the "Women's basketball" insignia. All this, while basketball players have all year, been wearing the word "equality" on the backs of their jersey.
Click here for a full-size image.
But not here: Autostraddle March Madness is all about celebrating women and their contributions to the fandom. Today, the voting commences for the CLASSIC sub-regions of the Canon vs. Fanon Contest. You have 48 hours to cast your ballot and then we'll be back to unveil another region shortly thereafter.
Late in Buffy's third season, a spell goes awry and Willow unwittingly brings her own vampire doppelgänger to Sunnydale. When the pair finally come face-to-face, Willow's taken aback by the vampire version of herself. She says, "I'm so evil and…skanky…and I think I'm kinda gay." Buffy assures Willow that her doppelgänger's personality isn't a reflection of her…but, in the end, Tara wonders if maybe it should be…and, by Season 4, it is.
Willow and Tara meet in Wicca group and their shared love of magic brings them together…first, as friends and then as something more. Tara confesses her feelings first — I am, you know. What? Yours — but a few episodes later, Willow answers: "You have to be with the person you love. I am."
Yeah, kinda gay.
Canon #8. Naomi and Emily – Skins
For years — since she was 12, in fact — Naomi Campbell ran from the way she felt about Emily Fitch. Even the moments where she allowed herself to feel the full weight of it — when she kissed Emily or when she held her hand or when they had sex — were just moments. They were fleeting, forgotten as soon as they happened, because loving another girl was such a scary prospect. But then Naomi's mother reminds her, "[the] people who make us happy are never the people you expect…so, when you found someone, you've got to cherish it."
And so she does.
She pedals over to Emily's house and holds her hand through the cat flap…and promises to cherish it forever.
---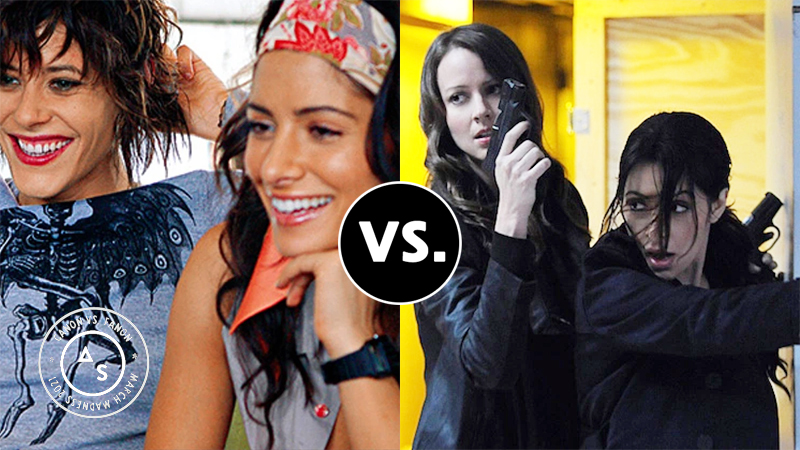 Canon #2. Shane and Carmen – The L Word
Early in Season 6, Jenny forces Shane to clean out her closet. She plucks a shirt out from "that horrible Paige era" and urges Shane to get rid of it. She finds another from Cheri Jaffe and, of course, that has to go too. Shane's amenable to it all until Jenny picks up a shirt that reminds her of Carmen…that one, she refuses to throw away: Shane wants some remembrance of her. And while the stilted dialogue leaves her meaning a bit ambiguous, I've always thought of it as Shane acknowledging that, with Carmen, she was — until she wasn't — the best version of herself.
Root and Shaw's meet cute? More meet than cute. Shaw shows up to a meeting with a CIA contact, only to find Root impersonating her. But by the time she realizes it, it's too late: Root sneaks up from behind and tasers her. As Root ties Shaw to the chair, she admits that she read Shaw's file and she's kind of impressed…not impressed enough to stop her from torturing her with the hotel room's hot iron, but still, impressed.
"One of the things I left out of my file," Shaw confesses. "I kind of enjoy this sort of thing,"
"I am so glad you said that," Root admits. "I do too."
And so begins the love/hate relationship that set the fandom ablaze.
---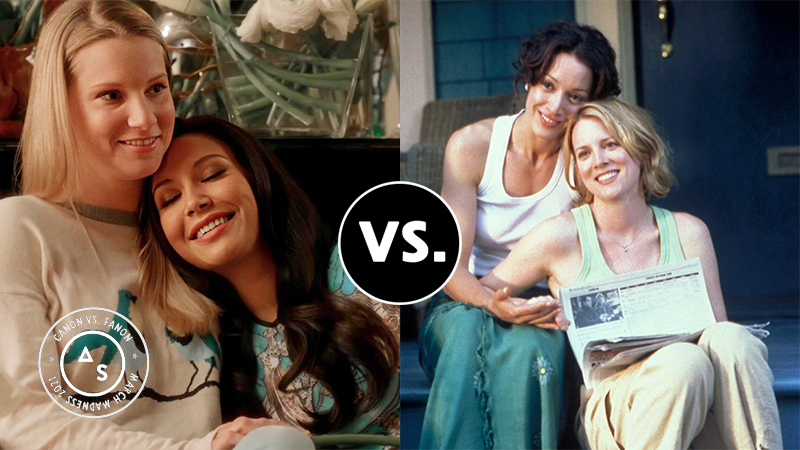 Canon #3. Brittany and Santana – GLEE
Brittany and Santana weren't supposed to be a thing. They were bit characters — the Kelly and Michelle to Quinn Fabray's Beyoncé — who were meant to come in, toss a few barbs at the GLEE club and then recede back to Lima Heights Adjacent. Even when Brittany unwittingly reveals the truth about their relationship — Santana says, "Sex is not dating," to which Brittany replies, "If it were, Santana and I would be dating" — it was supposed to be a one-off, throwaway line. But their talent, their chemistry and their fans made it more. They existed because the fandom demanded more, they existed because the writers and the actresses answered that demand with something great.
Canon #6. Bette and Tina – The L Word
When we first meet, Bette and Tina, their world — their relationship — seems idyllic. They are so deeply and effortlessly in love and are working to conceive their first child. But slowly but surely, the cracks start to show…and when Tina miscarries, those cracks become fault lines that threaten to destroy their relationship. But while they go through a cycle of cheating and reuniting and breaking up and dating other people, inevitably, Bette and Tina claw their way back to each other…each time, returning to their relationship, better people than they were before.
---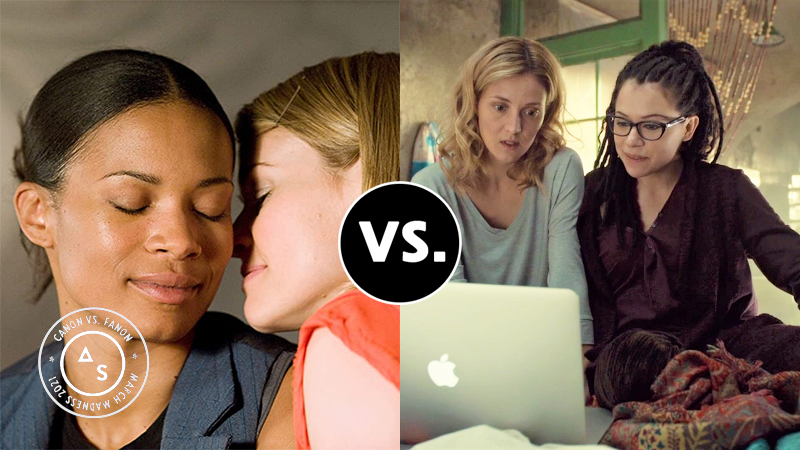 Canon #4. Alice and Tasha – The L Word
From the moment Papi introduces them at the club, Alice is immediately intrigued by Tasha. She checks her out, a few times, watches how she interacts with others — all tell-tale signs of interest — and Tasha ignores them, retreating outside to have a smoke. Undeterred by Tasha's cold shoulder, Alice finds her later at the club and tries to make conversation. It is a struggle. Tasha offers short answers, never divulging more details than are needed to answer the question. But Alice keeps trying and Tasha appreciates the effort enough to let her guard down a little, inviting Alice for a ride on her motorcycle…and so begins one of The L Word's most beautiful love stories.
Canon #5. Cosima and Delphine – Orphan Black
Soon after Delphine shows up at her apartment, Cosima apologizes for having assumed she was gay. Before Delphine even has a chance to respond, Cosima steers the conversation back to the professional — "I just want to make, like, crazy science with you" — and they settle into an easy rapport about the Dyad Institute and their crazy science. But just when Cosima feels like she can breathe again…like her past mistake is behind her…Delphine brings up the kiss again. She can't forget about it — in the best way — and, acknowledging the science of bisexuality, talks herself into doing the very thing she's wanted to do since their first kiss: have another.
---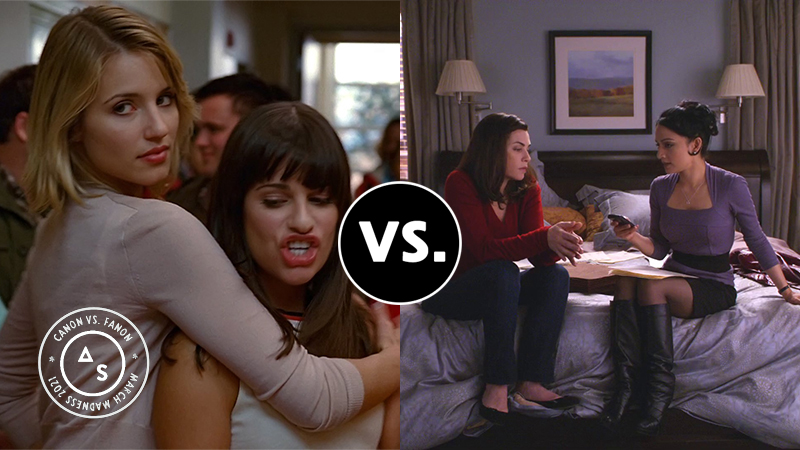 Fanon #1. Rachel and Quinn – GLEE
No one loves a good enemies to lovers trope quite like the gays…and Rachel and Quinn are the epitome of that. They start out on opposite sides of the spectrum: Quinn, the head cheerleader, dating McKinley High's star quarterback, and Rachel, the lead underdog of the New Directions Glee Club, who secretly pines for McKinley High's star quarterback. But through heartbreak, time and song, Quinn and Rachel find themselves on the opposite ends of an easy friendship…becoming, at once, each other's biggest critic and biggest supporter.
Fanon #8. Alicia and Kalinda – The Good Wife
Is Kalicia the most trafficked 'ship in the fanon? No, absolutely not. But there is something uniquely powerful about the Kalinda and Alicia fandom: it was so powerful, it compelled the writers to change the entire direction of the show…to the show's great detriment.
The Good Wife started out as a vehicle for Julianna Marguiles about a woman emerging from the fallout of her husband's political scandal. What it became, though, was an unwitting love story of a bisexual private investigator who worked, in secret, to ensure that the woman she loved would be able to achieve her dreams. The love story won Archie Panjabi the show's first Emmy and created a fandom so fervent that it unsettled the show's star and the show shifted its direction dramatically. From then on, the once BFFs were kept at arm's length, going years without sharing a scene, including Kalinda's final scene on the show.
---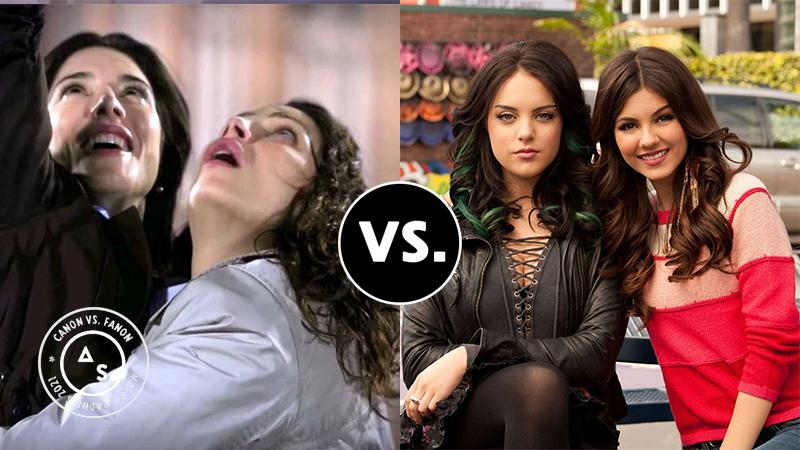 Fanon #2. Myka and H.G. – Warehouse 13
Myka Bering is the only person who regularly calls H.G., "Helena." She'll call her H.G. in front of others but, in those moments when it's just the two of them, she's Myka and H.G. is Helena. She slips and calls H.G. Helena once, in Artie's presence, and he chirps back, "Ohhh, it's 'Helena,' now is it? If it's all right with you, I'll just keep calling her 'the villain.'" It's a sign that Myka's the only one that ever truly sees her…the only person who believes in H.G.'s capacity to be good. And while H.G. struggles to live up to Myka's view of her — what's a bit of almost destroying the world between would-be girlfriends? — Myka's faith never waivers…even when she wishes it would.
Fanon #7. Jade and Tori – VICTORiOUS
In a lot of ways, Tori Vega and Jade West remind me of Nickelodeon's version of Faberry. Tori's the bright, popular new girl at their performing arts school, who regularly clashes with Jade, the prickly goth girl. And while their tension could be chalked up to the ongoing rivalry between the two girls — and Jade's jealousy over the ease into which Tori fights success at school — fans saw the potential for a queer love story. The show made the pairing a little easier to imagine when their teacher literally sent them out on a date.
In the moments where Jade and Tori settle into an uneasy truce, Jade is her best self. Despite their past skirmishes, Jade finds in Tori the one person who just lets her be herself.
---
Fanon #3. Jane and Maura – Rizzoli & Isles
Police procedurals are a man's genre…but Rizzoli & Isles came in and broke new ground. It was a show, developed by a woman, led by two women — Angie Harmon as Boston Det. Jane Rizzoli and Sasha Alexander as Chief Medical Examiner, Dr. Maura Isles — and based on novels by a woman. While police procedurals have gotten more diverse since Rizzoli & Isles' bowed in 2016, the show still stands alone in its depiction of women.
And, of course, it was gay. Not in the textual way…not in the way so many fans wanted it to be…but it was so, so gay….and somehow, also, not.
There are actual queer couples on screen today that don't touch each other as much as Jane and Maura did. There are actual queer couples that never exchange the deep, longing looks that were commonplace on Rizzoli & Isles. Few actual queer couples on screen today can match their chemistry. But somehow, still, not actually gay? Go figure.
Depending on who you ask, Xena and Gabrielle's placement here is troubling. To them, Xena and Gabrielle's relationship is canon and they cannot be persuaded otherwise. But, in my defense: 1. I included Xena and Gabrielle among the choices for our A+ readers and they didn't finish in the top 8 and 2. because of studio politics and Xena's relationship with Ares, the show's executive producer maintains that the couple weren't canon.
But politics aside, there's no debate that Gabrielle was the person who took someone who was marginalized — as Lucy Lawless pointed out "Xena means 'stranger'" — and made them feel worthy. Legions of fans have since picked up where the studio left off.
---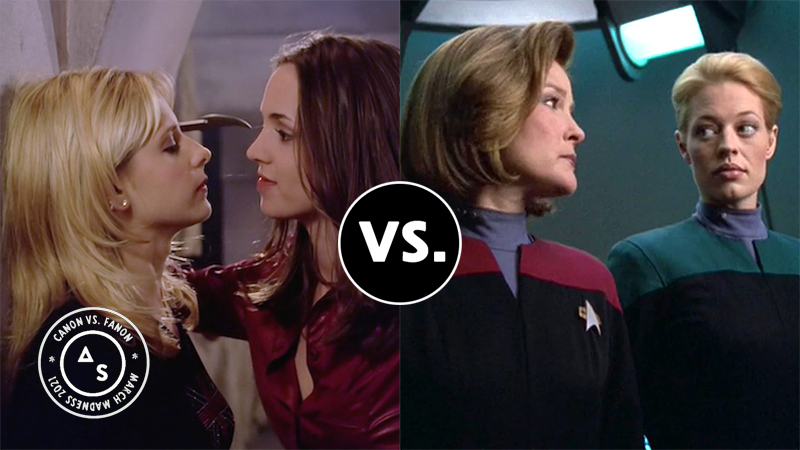 Xander, Willow and Buffy are in Chemistry class when Mrs. Taggart interrupts Buffy's 'Ode to Faith' — Buffy's regaling of the pair's slayer activities from the night before — to hand out a test. As soon as Mrs. Taggart leaves the room, Buffy turns back to her friends to continue where she left off. But Xander's focused on the test so Buffy does the same until she's interrupted by the object of her affection attention, rapping at the classroom window.
"Hey, girlfriend," Faith says, opening the window and wordlessly inviting Buffy out to play. She leans over to the next window, wipes it clean with her sleeve, exhales to fog it and uses her index fingers to draw a heart with Cupid's arrow — or you know, a stake, whichever — through it.
It's enough to entice Buffy to skip the test and spend time with her partner in crime.
Fanon #5. Janeway and Seven of Nine – Star Trek: Voyager
In "The Gift," Captain Kathryn Janeway reveals her discovery from the federation database: records from Deep Space Four about the Borg she'd come to know as Seven of Nine. She deduces that Seven — born Annika Hansen — and her parents were likely the first humans the Borg ever assimilated." The revelation puts them on strangely similar footing: both groundbreaking women traversing the galaxy alone. From Jane, Seven learns to embrace her humanity; from Seven, Jane gets "brought…to life, as a deeply human woman."
"I cannot function this way. Alone," Seven of Nine says.
"You're not alone. I'm willing to help you," Janeway answers.
---
As always, the clock's set: you've got 48 hours to cast your ballot in this round of March Madness. We'll be back later this week to share information about the other sub-regions.
Oops! We could not locate your form.