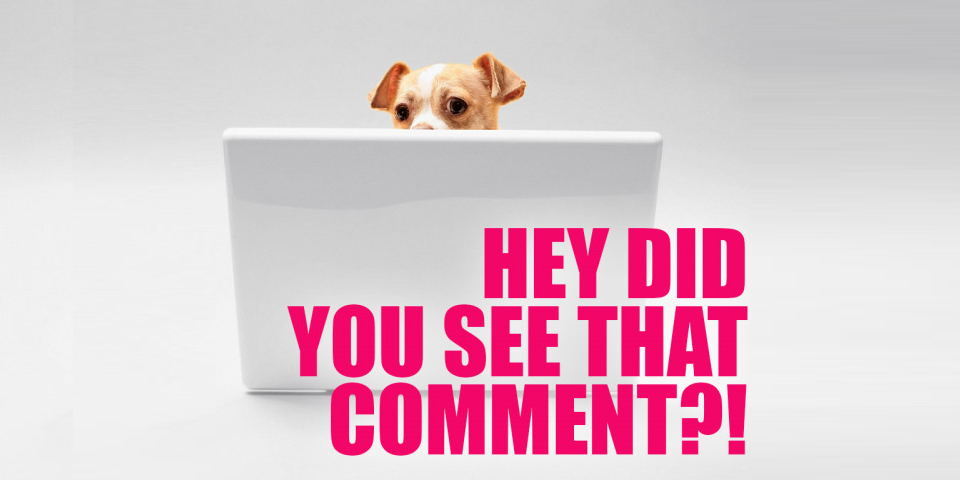 Hello my loves! I do not know how to explain the past month of my life to you. I had maybe the most transformative A-Camp that I've ever had, and then I came home and slid right into a chute of family trips, commitments and obligations that will not let up until August! I am so tired and so happy and so very, very gay! I am re-writing songs from Frozen to be topical to my life! I am in a bit of a loopy, liminal space, but I'm not even mad about it! Sometimes, maybe, hopefully, transformation comes out of the spaces where you don't have the bandwidth to self-censor, and I'm hoping that's the space I'm moving towards.
Also, anyway, Autostraddle absolutely killed it this week:
To L And Back posted their very first live episode, filmed at A-Camp! Some of the oohs and ahhs and laughter might be mine! Some of it might be yours!
The sometimes-climber in me absolutely loved this essay on perfectionism, from Carrie, AND this photo essay, from Lou.
Courtney gave us some advice about getting back together with one's ex, and the first heading is "listen: maybe don't," and I have never felt more seen in my entire fucking life.
Tiffany Cabán, an out Latina running on a platform of restorative justice, just won the Democratic primary for District Attorney in Queens, and predictably (I melt when faced with extraordinarily competent people), I am IN LOVE.
YVONNE WROTE THIS and I think you should read it: What the Border Wall Destroys.
Wanna start packing? Mika's got you covered! 
This conversation on sexuality and polyamory between three generations, including Willow Smith, was truly something.
This took my breath away: Snapshots of Pride Across Time.
And, finally: ONE DAY AT A TIME HAS BEEN SAVED IT'S BEEN SAVED IT'S GREAT IT'S FINE I'M FINE.
Then there were your comments!
---
On Also.Also.Also: Y'All Ever Heard of Stonewall?
The Full Menstrual Jacket Award to rachel:
On So You Want To Get Back Together With Your Ex:
The For Your Consideration Award to Stef and Sally: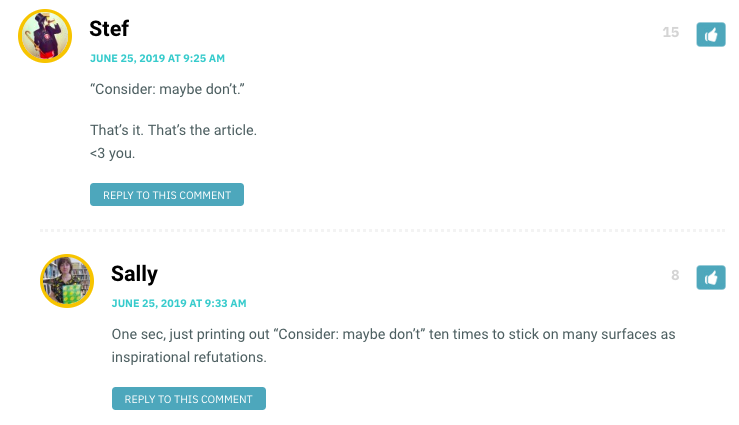 On PHOTOESSAY: Taking My Chosen Body Outdoors:
The One Route At A Time Award to Mel and Monica:
On No Filter: Tessa Thompson Does It for the Kids:
The Do Doo Do Doo Do Doo Award to Laura:
On Kristen Stewart Kicks Ass, Looks Gay as Hell in the First "Charlie's Angels" Trailer:
The Top of the Crops Award to Caitlin and Mareika: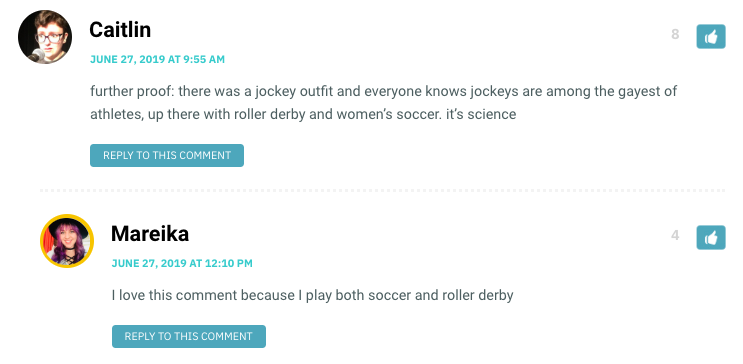 And on Snapshots of Pride Across Time:
The Good Shit Award to Al(aina):

---
See a comment that needs to be here? Let me know! I'm [at] queergirl on Autostraddle and [at] queergirlblogs on Twitter.