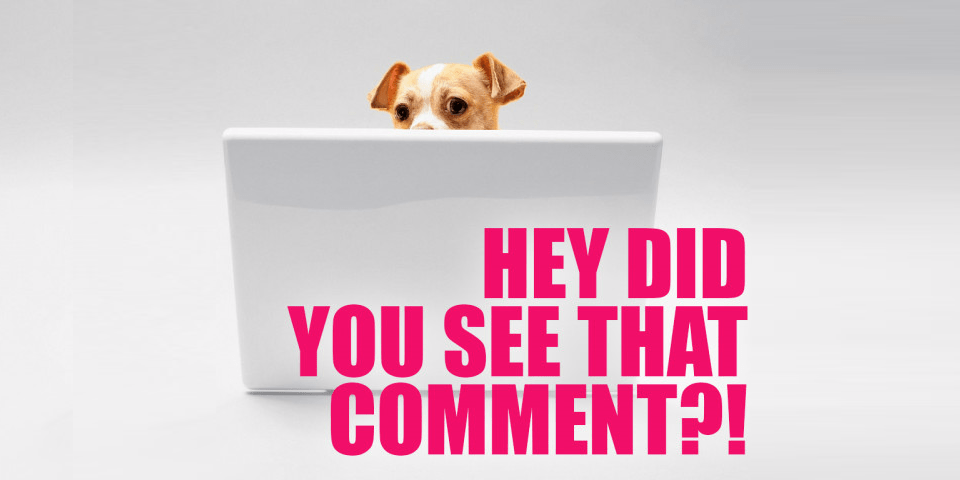 It's Friday! A day that ends in y. And here we are, together! We are doing great!
(A friend has promised me that at a certain point in this pandemic and/or post-pandemic journey, the passage of time will start to feel like a real and measurable phenomenon again. But today is not that day!)
This week, we got another story from Trans Fiction, Trans Imagination! I love this series so much!
Saturday's quiz, from Sally, was EXTREMELY relevant to my interests: Which Lesbian or Bisexual Woman in Space Are You?
Kayla reviewed Fear Street: 1994, which is a nostalgic delight by all accounts – if you're into that sort of thing, of course.
The team reviewed We Are the Babysitters Club, a new collection of essays that reflects on the series that informed so many of our childhoods.
Drew spoke to Jen Richards about changing Hollywood one script at a time. This conversation was SO interesting!!
Sara Ramirez is no longer married! I bet you feel a way about that.
Finally, a use for the hammer loop that came on all of my high school jeans!
And then there were your comments!
---
On Quiz: Which Lesbian or Bisexual Woman in Space Are You?
The Heather's Choice Award to Heather Hogan: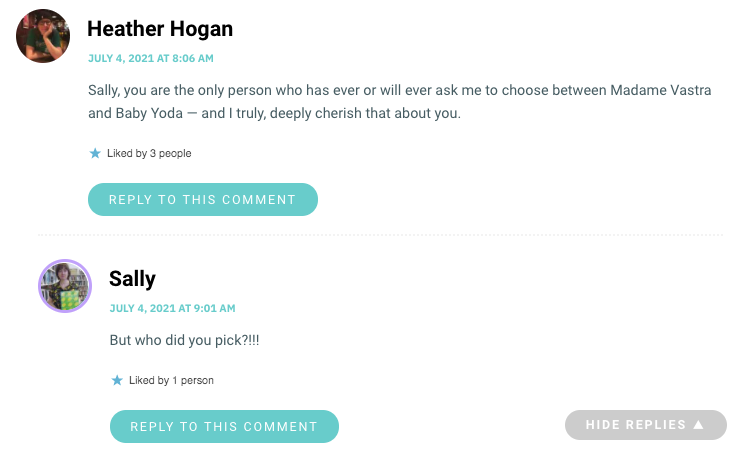 And the Tabby Open In Chrome Award to thisaintit: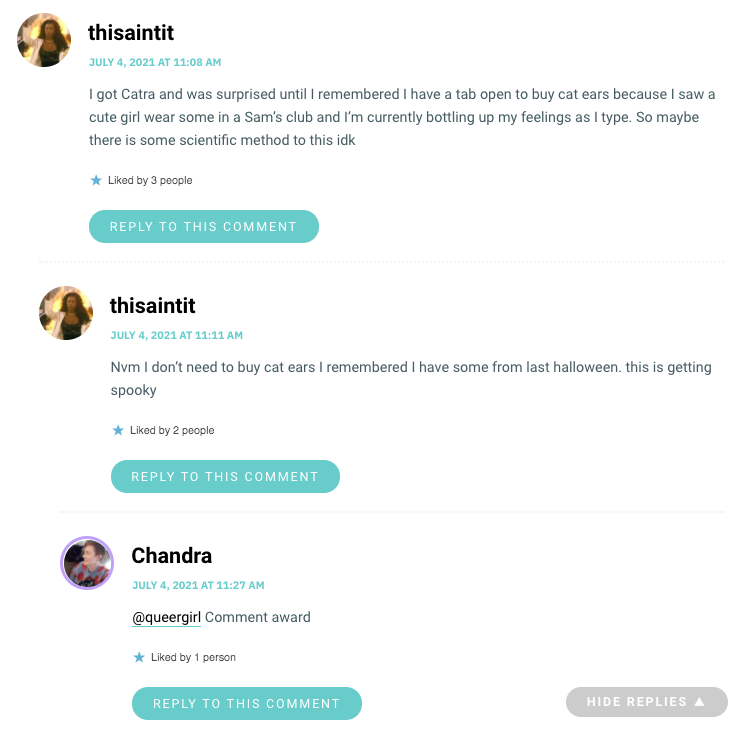 On 'We Are the Baby-Sitters Club' Succeeds in Both Praising and Critiquing the Books of Our Childhoods:
The Kristy's Great Idea Award to Charlotte:
On No Filter: Thot Shit and the Destruction of White Supremacy, A+ Agenda as Ever Indya Moore!
The One Piece Award to shamblebot:
On Pop Culture Fix: The Crown's Emma Corrin Has Some Binder Recommendations and Pronoun Updates For You:
The Feels Gay, Gay Feels Award to RMarlene:

On Anonymous Sex Toy Review: The Love Hamma Thrusting Vibrator:
The To-Do List Award to Noodlesforever:
And on Also.Also.Also: Legally Blonde Came THIS CLOSE to Having a Gay Ending, What like It's Hard?
The Bend & Snap Award to Ashley and E:
---
See a comment that needs to be here? Let me know! Tag me [at] queergirl.