Y'all it is 7pm where I am and I still have so many undone things on my to-do list? You know days like that? That is where we are.
---
Queer as in F*ck You
Abolition As a Method for Trans and Queer Freedom In Africa. "The work of trans and queer organizers across Africa fighting for the wellbeing of impoverished African trans and queer people offers a small history and contemporary foray into what an abolitionist future on the continent can look like."
Things that I love most in the world include Black gays uniting for world domination and that's why today I wish a Good Morning to @jazzedloon and @LilNasX and no one else. https://t.co/NnHFzRb4RD

— Carmen Phillips (@carmencitaloves) July 7, 2021
There is nothing and I mean NOTHING I love more than the rare slice of sunshine that is a Black queer person interviewing another Black queer person, and what Jazmine Hughes did with this Lil Nas X profile is nothing short of magic. Welcome to your Must Read of the day. The Subversive Joy of Lil Nas X's Gay Pop Stardom
Sue Bird Stares Down Olympic Glory and Equity Off the Court
Ohio Allows Doctors to Deny LGBTQ Health Care on Moral Grounds
We've talked about the new queer musical podcast The Flame a few times across our link roundups, but if you haven't given it a listen yet you are missing OUT!! Jasmine Savoy Brown is a fucking star and the finale episode airs July 21st, so now is the perfect time to catch up. You don't want to miss it!
---
Saw This, Thought of You
What, like it's hard?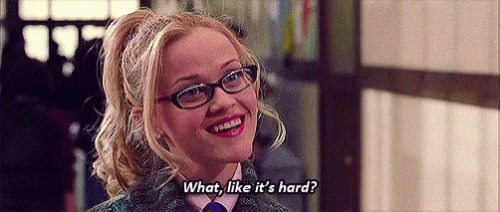 Today The NY Times published an oral history of the making of Legally Blonde, and this tidbit that the original movie almost had a (subtly) gay ending has sent our networks aflame and maybe yours, too? Here's the deal:
"The first ending was Elle and Vivian in Hawaii in beach chairs, drinking margaritas and holding hands. The insinuation was either they were best friends or they had gotten together romantically"
This makes it an excellent time to remind y'all that I ranked Legally Blonde as #19 in our list of 20 Movies About Friendship and Misandry For When You Want to Burn it All Down
'I Was Drowning inside': How the Sports World Failed When Three Black Women Needed Help. "Sha'Carri Richardson, Brianna McNeal and Naomi Osaka were barred from competition or fined after choosing how to handle their health. The system isn't built for them."
TikTok's Catfish Problem Is Worse Than You Think
Did Women-Led Corporations Fulfill Their Pledges on Racial Justice?
Rock-Climbing Route Names Are Notoriously Racist. So My Friend and I Scaled a Mountain to Create Our Own.
Big! Fun! Anxiety! The Return Of The Girls Trip
---
Political Snacks
Biden Federal Judicial Nominees Are 77 Percent Women — On Track to Shattering Previous Records