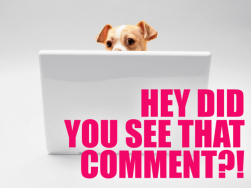 Hi, pals! This week I've been thinking a lot about the amazing gift that is A-Camp, and all of the beautiful, amazing, perfect people I've met there. And you can have this gift, or give it to someone else! It's time to donate to or apply for a campership! (I cried like I'd been gifted a basket of puppies when I read these, so.)
This week, Heather built a sex robot, and it did not go according to plan.
Fonseca interviewed Desiree Akhavan about filming the movie adaptation of Cam Post!
Carolyn's got advice that is relevant to at LEAST 90% of us in this week's You Need Help.
The Autostraddle Weekly is back!!!
Have you heard the good news? I am so excited about all of this!
Cheryl Blossom is bisexual, I'm fine, everything is FINE.
And then there were your comments!
---
On The Intensely Detailed Janelle Monáe and Tessa Thompson Timeline You've Been Waiting For:
The Intro to Stats Award to Nadia: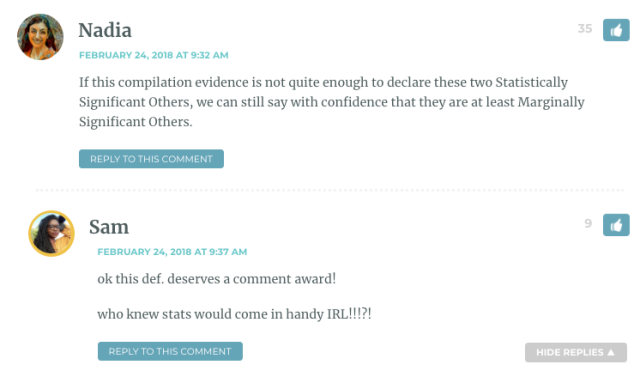 On Monday Roundtable: How Do We Live with Ourselves?
The Sound of Silence Award to Briana:

On I Built a Lesbian Sex Robot:
The Edwina Scissorhands Award to Sally:

On You Need Help: You're in Love with a Straight Girl and You Want It to Stop:
The Reality Bites Award to Jen: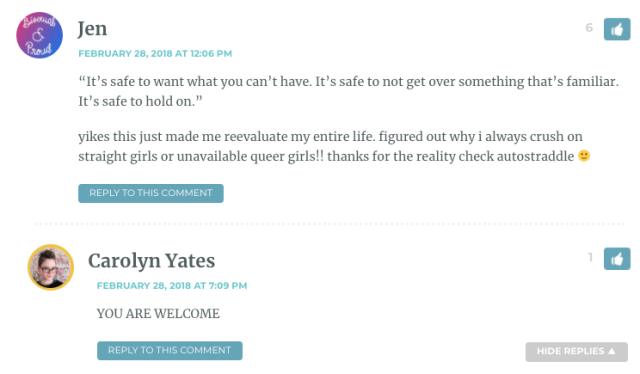 On Mal Ortberg's Creepy New Book Is Coming Out and Mal Is Too:
The Toasty Award to Amanda ling:

On Autostraddle Weekly DO YOU GET IT (I'm Talking About Our Newsletter):
The Ride, Sally Award to Sally: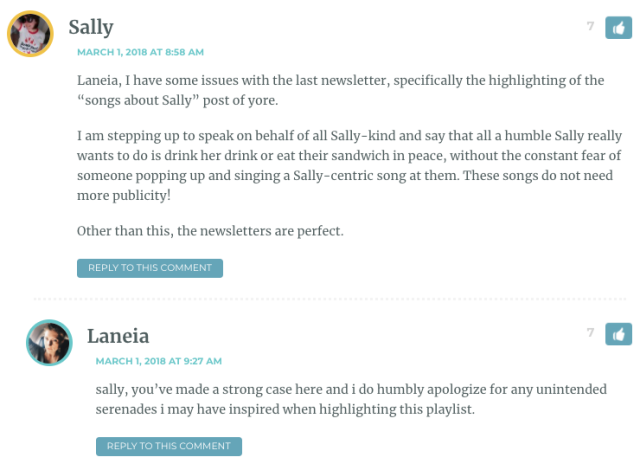 And on It's Official: "Riverdalewp_postsRiver Vixen Cheryl Blossom is Bisexual!
The Dare to Defy Award to Stef: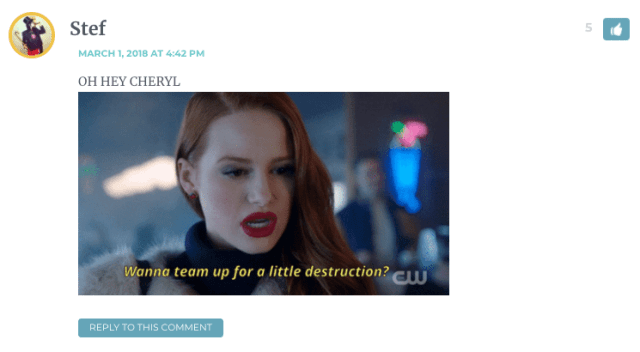 ---
See a funny or amazing comment that needs to be here? E-mail me at queergirlblogs [at] gmail [dot] com!