I have no flaws, and am basically a perfect human being. If I did have a weakness, though, it would be my propensity to buy ridiculous shit I don't need off the internet. Whether it's a bootleg Sonic the Hedgehog x Obama pin badge or a 1997 book on exercising with your cat, if it's silly, completely unnecessary and has free shipping, I'm probably going to end up ordering it. And that's exactly how I ended up buying a robot arm.
"I've just bought a robot arm," I told my girlfriend, shortly after entering my credit card details and hitting 'BUY NOW'.
This was, admittedly, the kind of thing I said quite a lot. There was already a storage box full of half-assed electronics projects stuffed under our bed, which might explain why she wasn't quite as enthusiastic as I was about the whole idea.
"Oh. Do you have to build it yourself?"
"Yes! It's going to be fun!"
"What are you going to do with it once you've built it?"
"It was half price!"
"Great, but that doesn't-"
"Half price!"
I didn't have a good answer for her then. To be honest, I rarely have a good answer for her. Luckily, this time, inspiration would be just around the corner.
I'm a web developer by trade, which meant that when I asked for a day off work to go to a sex tech conference, I could somewhat reasonably claim it was job-related. Run by the ever-wonderful Hacksmiths at Goldsmiths University, the event was fun, welcoming and somewhere around the end of the first talk, as Dr Kate Devlin went over some of the recent developments in sex robot technology, the gears in my brain started to spin.
It might not have been delivered yet, but I was soon going to be the proud owner of a partial robot, at least. And it was obvious that sex robots could use a bit of disruption. Despite the incredible potential for innovative, inclusive design, pretty much every sex robot on the market right now could be described as a glorified blow-up sex doll, built by and for straight, cis men looking for penetrative sex — with a robot. Even the very few companies marketing robots for women mould them in stereotypically male bodies and promote them on the strength of their bionic penises.
It seemed to me that an opportunity was being missed. Once you're able to free yourself from the idea that sex can only equal a penis entering a vagina, a whole wide world of robotic fun awaits. And who has more experience overthrowing that idea than queer women? We have all kinds of bodies and all kinds of experience having sexy fun in all kinds of ways. The world is waiting for a robot that isn't constrained by heteronormative ideas of what sex is or can be. Why couldn't I be the the one to build it? Well, perhaps my total lack of any qualifications or experience whatsoever would be a reason why, but I've never let that stop me before. My mind was made up. I was going to build a lesbian sex robot.
Now, I wasn't ambitious enough to think that I, or anyone else for that matter, would actually be having sex with my robot. I wouldn't trust anything I'd built to be left unsupervised for more than 20 seconds, let alone go near anybody's private parts. Even worse, for all my lofty goals of moving away from envisioning sex as sticking a thing in a hole, with the parts I had available that was pretty much all I could aim for. But as the saying goes, it takes a village to raise a sex robot, and if I could make a decent enough prototype, maybe someone who'd actually touched a soldering iron within the last decade would be able to take up the cause.
I'm not particularly good at visualising stuff, by which I mean I have multiple cognitive disorders affecting my ability to visualise stuff. However, I knew good preparation would be key if this project was going to be a success, and I was sure to spend the time I had to kill before my robot arrived drawing detailed plans.
Of course, when the kit to build my robot arrived, it was going to be missing a key component – the sexy bit. I was going to have to source that myself. Luckily, I work in Soho, the glorious, seedy sex capital of the U.K… circa 1976, before it was gentrified to hell and back. Nonetheless, I set aside an evening after work to hunt through the few surviving sex shops and find something suitable. Unfortunately, I failed to find anything that didn't cost a week's wages, wasn't Fifty Shades of Gray themed and didn't look like it belonged in a low budget body horror film. Eventually I gave up, grabbed a gourmet grilled cheese for dinner and ordered a dildo online.
I shelled out for express shipping, and after a few days of feverish anticipation, I had everything ready. I had my robot. I had my sex. All I had to do was put it all together.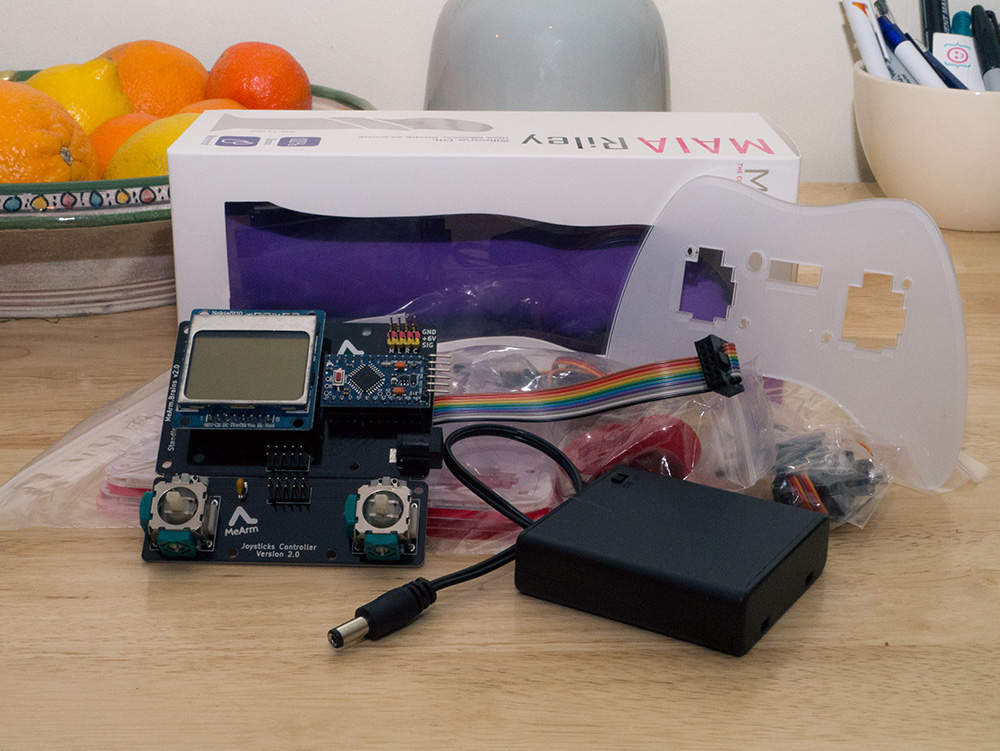 Things started out poorly. A few of the robot's parts had been damaged in transit and I had to request a replacement. By the time they arrived, I'd realised that the kit's instructions had a few oversights, such as 'diagrams' or 'any explanation as to what you were actually doing'. I managed to muddle through regardless, until a much bigger problem started to become obvious. Or, more accurately, a small problem was becoming obvious.
I'd fallen prey to the same mistake as countless impulse sex toy buyers online over the years – I hadn't checked the dimensions.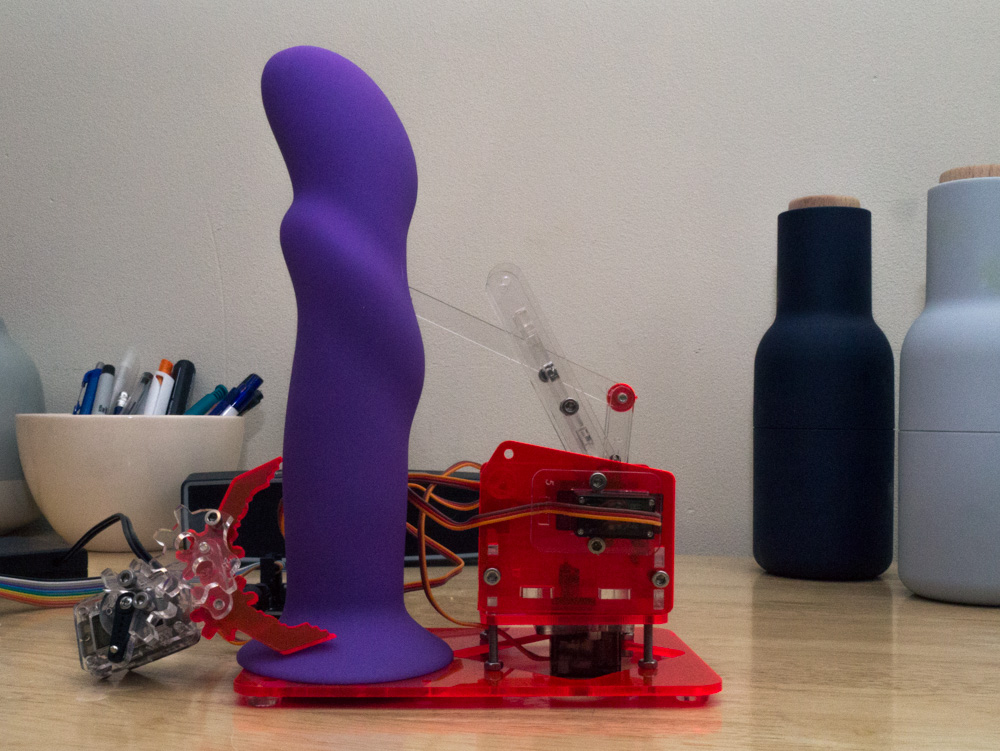 My poor miniature robot arm was going to be dwarfed by the dildo it was meant to be controlling. Sure, a size difference can be sexy, but how was this even going to work? Was it even going to be able to lift the dildo? It would be like trying to work with a butt plug over twice your height – which, in fairness, the French have already tried.
I couldn't answer any of these questions. I had no idea what I was doing. Nevertheless, I persisted.
With the initial wobbles out the way, the rest of the build went surprisingly well. I only had a few mystery screws left over, and the robot was looking great.
After a bit of fiddling with the motors, I could even get it successfully picking up some small household objects.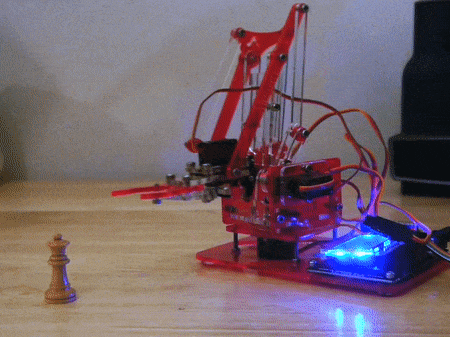 I couldn't bask in my success for too long, though. With everything more or less working, it was time for this robot to hit the big leagues. That's right – it was finally dildo time. I'd lowered my initial ambitions somewhat by this point; I was happy to call the project a success if I just managed to move the dildo.
Reader, that did not happen.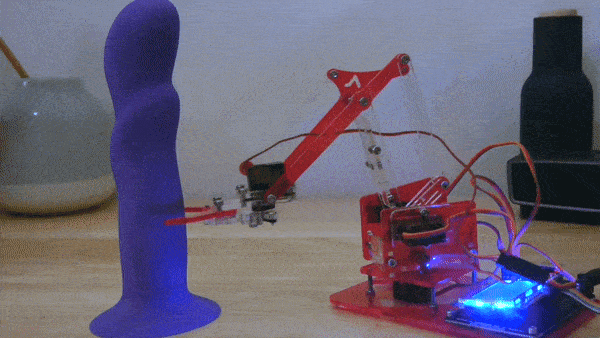 It did not happen at all.
It was a disaster. The dildo barely moved a millimetre – if anything, it moved the robot. Even worse, the strain of trying to move such a heavy object kept blowing out the robot's motors and causing it to shut down. I thought about trying again with a smaller sex toy, but I was already close to pushing the poor bot to breaking point.
I racked my brains for a way to salvage this mess. Eventually, I turned to my artistic skills, hoping that a sexier design might make up for the robot's lack of practical features.
It was no use. My lesbian sex robot dream was over almost as soon as it had begun.
Honestly, though, I can't say I'm too disappointed. Sure, nobody would be having sex with my robot anytime soon, but that leaves it in good company; some of the most famous sex robots in the world exist only as trade fair demos, so it's not like anybody is having sex with them either. And in 2018, building a sex robot actually seems pretty passé when it comes to DIY sex tech. Why stick to robots when you could build a videogame that syncs to your vibrator or 3D print a dildo to your exact specifications? With a little imagination and persistence, the world can be your sexy oyster.
But if anyone has any ideas as to what else I could do with a semi-functioning miniature robot arm, could you let me know?