No matter how long you've been reading Autostraddle — even if, like me, you started reading it when it was Riese's personal blog — you've always known Carly Usdin. She's been here since the beginning, writing and editing and dreaming big dreams. And so many of them have come true! She directed the beloved, award winning feature film Suicide Kale. She's writing an acclaimed comic book series called Heavy Vinyl (formerly Hi-Fi Fight Club). And now she's making her very own movie in conjunction with The American Film Institute's Direction Workshop For Women.
Carly took some time out of her busy schedule to chat with us about where she's been and where she's going and how things are changing in Hollywood.
Congratulations on being selected to AFI's Directing Workshop for Women! That's a huge deal! What does it mean exactly?
Thank you! It means so, so much to me, honestly. Out of 300-ish applicants they chose eight filmmakers, and I am one of those eight! My seven classmates are all brilliant, talented, accomplished women and now we'll get several weeks of intensive training at AFI, plus each of us will be shooting a short film. And then we'll all present those films next year at a showcase for industry folks. I am completely overwhelmed in the best possible way.

I'm really thankful for programs like this that seek to champion and support underrepresented voices. It's unfortunate that our industry needs so many programs like this, though. I really hope that someone like me, a weirdo queer Jew, can break through and I know that this program is, for me, definitely a step in that direction.
Can you tell me a little about your new movie?
Okay, so I wrote this short film last year, called Muscle Memory, it's an experimental romantic comedy about a college freshman who falls in love with close-up magic as an escape from her unrequited crush on her roommate and her undiagnosed OCD. Seriously.

It was inspired by some of my favorite films, like But I'm a Cheerleader and Scott Pilgrim vs. The World, and also by my life! There's lots of ME in this film: my unrequited high school crushes, my OCD diagnosis, the specific type of OCD I have (counting, organizing), and my love of close-up magic. I noticed two things when I was taking magic lessons at the Magic Castle here in LA a few years ago: that I picked up card tricks really quickly, and that when I was doing magic I wasn't experiencing my OCD symptoms.

A while back I wanted to make an experimental short about seeing the world the way I see it, actually bringing those compulsive behaviors to life via film, but never made it. So when it came time to write a script for my DWW application, I combined that idea with a romantic comedy about a girl who falls in love with close-up magic after being rejected by a crush.
That sounds rad as heck! What does it have in common with the work you've done before and what's new about it?
This is actually the first film I've written. I've been talking myself out of writing for years and years. It wasn't until Heavy Vinyl, that I sat down and told myself, "You're going to write this because you want to tell this story and the worst thing that can happen is that you get notes from your editor." So this project is me, fully putting myself out there, taking a really giant leap.

I think it's got a little connection to everything I've done. So if people like Heavy Vinyl, then they'll love the tender queer love story in this film. If they like Suicide Kale then they'll like the witty, relatable comedy. If they like my RuPaul's Drag Race commercials then they'll love the high production value and visual storytelling. I don't know that I'll ever make anything that is so quintessentially ME ever again.
What are the best ways people can support it?
Well, I'd love for people to donate to our crowdfunding campaign, if they are able. But there are other ways to help that are just as important — "following" our campaign on Seed&Spark, and sharing it with their friends.

The really cool thing about making this with AFI is that donations can be tax deductible, because you're actually donating to AFI and they're a non-profit organization. So any generous benefactors out there reading this, hit me up!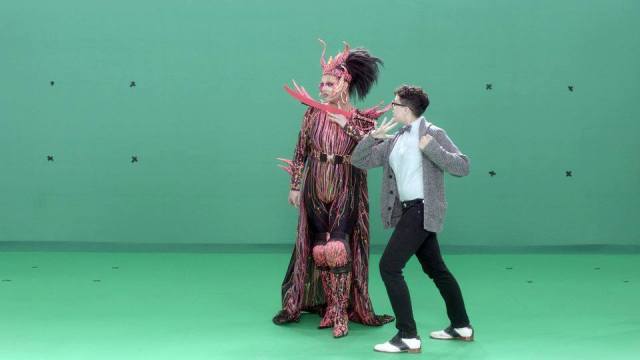 You've had so much success these last few years. What's your dream for your career over the next five years?
It doesn't always feel that way, but thank you! A lot of it is luck, so much of it is out of your control. But also I'm hustling 100% of the time just to find work and keep going and…

Wait, now I'm getting off topic. Five-year plan! Right. I'd like to make another indie feature. I'd like to actually sell and make some of the very weird TV and digital comedy series I'm developing with my friends right now. And then I want a big blockbuster franchise. I'm putting it out into the universe, right here on Autostraddle dot com. I just want people to give me money to make weird gay shit.

And I want to make more Heavy Vinyl, whether that's more comics or a film or TV adaptation or both. I just love those characters and I know that I'm not done with them yet.
I affirm your putting that out into the universe and believe it will happen for you! How do you see the #MeToo and #TimesUp movements playing out in Hollywood for real? Is it going to create an actual difference on the ground for women filmmakers?
It honestly does feel like things are shifting. And it's going to be a slow, intense, painful process. Because the problems are so systemic and there is so, so much work to be done and so many very powerful gatekeepers that need to either get on board or step aside. I am in complete awe of everyone speaking out as part of #MeToo and am really impressed with #TimesUp and I just hope that this is finally the time for a sea change.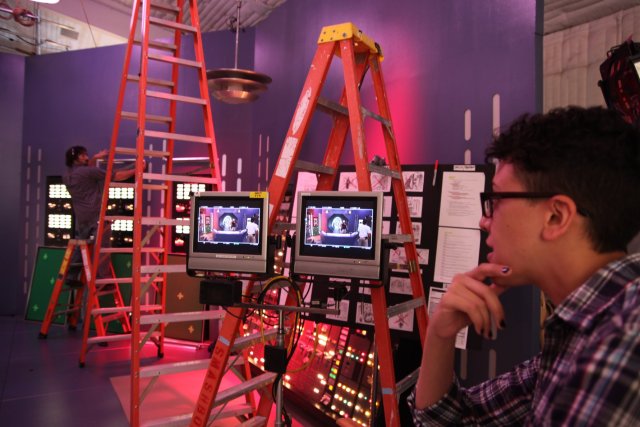 Have you always wanted to be a filmmaker?
Yes. Well, I have always wanted to work in the film industry. When I was a kid I was obsessed with this TV series Movie Magic and I wanted to go into special effects. And then in high school I learned how to edit on what I believe was the first version of Final Cut Pro, and then I wanted to be an editor. My first job editing out of college was in post-production because I was terrified that I would ruin a project if I was on set (it's really hard to irreparably ruin footage, unless you delete it all). So after years of editing I finally got the opportunity to try writing, producing and directing and I got over my fears and I just instantly fell in love.
What would little gay Carly thing of adult gay Carly's career?
Oh man, her little gay heart would just implode, honestly. I think little gay Carly would have never dreamed of actually getting to pursue her dream career and be married to someone as incredible as Robin.
Speaking of Robin, it's been said many times, many ways that your wife is ultimate Mommi. How do you feel about that?
Oh my god, Heather, this is so accurate. Robin Roemer is Peak Mommi. We've been workshopping her wardrobe for A-Camp, y'all are not even prepared for how #mommi she will be (but take lots of pictures for me because I'll be in school in May)!