Chris is your average 16-year-old queer tomboy with an awesome job at an awesome record store. Her life is full of listening to her dad's awful music, trying to figure out if her crush Maggie is into girls, avoiding her coworker Dolores' death stares and getting into TLC thanks to her other coworker Kennedy. Hi-Fi Fight Club would be an awesome comic just based on that alone, but wow, there's so much more. First of all, in the first issue we find out that Vinyl Mayhem, the record shop where Chris works, is the front for a secret teen girl fight club that rescues missing musicians. Also, there's the fact that the comic is written by Carly Usdin, who you might know from her awesome work with Autostraddle, her DJ skills at A-Camp and her directing on the groundbreaking queer film, Suicide Kale.
I loved the premise of this comic when I first heard about it and now that I've read the first issue, I'm so much more in love with it. It's so many of my favorite things, and it's by a creator I love and it's a comic with a queer main character written by a queer writer. When you add in some really, really charming and cute art by Nina Vakueva on pencils, Irene Flores on inks and Rebecca Nalty on colors, it's a can't miss comic. I wish I'd been friends with these girls when I was a teen.
The first issue comes out in comic shops on August 23, but until then, here's an interview with Carly Usdin and a short preview of the comic.
Mey: I love the '90s setting of this comic. Why did you choose that particular era and what kind of fun are you excited to have there?
Carly Usdin: I wanted to write something that I felt a connection to. In 1998, I was a 16-year-old high school student living in New Jersey, on the verge of coming out. I'll spare you that story (it's ridiculous and involves the Spice Girls) but you can listen to it on my friend Mo Welch's podcast, Come Out, Come Out. Anyway, I had a very intense connection to music and spent a lot of my free time at a local record store, always looking for new artists and music that would help me figure out who I was. So in writing this comic, I'm pulling from my adolescent experiences as well as a sense of nostalgia for that period of my life. The pop culture of the '90s helped shape the weirdo I am today and I'm excited to get to reference it in this book.
M: This comic is giving off some serious Empire Records vibes, which I love, but it's like if Empire Records was queer and full of women. What are some of the reference points in pop culture you want this book to evoke in readers?
C: Oh yes most definitely, Empire Records was a very formative movie for me and my friends growing up. I like to describe Hi-Fi Fight Club as equal parts Empire Records, Sailor Moon and The Baby-Sitters Club. I think there's some D.E.B.S., Scott Pilgrim, Josie and the Pussycats and Lumberjanes in there as well.
M: Is there anything cooler than a teen girl working at a record store and fighting crime?
C: Not really. This would've been my ultimate fantasy when I was in high school.
M: If you worked at a record store in the '90s, which of your favorite musicians would you want to rescue?
C: I'd like to preface this to say that I wouldn't want anything bad to happen to ANY of these musicians, but if they were in peril and fictional teen me could have rescued them, I'd have to say Bjork, Poe, Aaliyah, The Cardigans, Letters to Cleo, Sleater-Kinney, Garbage, No Doubt and — despite being fictional — Josie and the Pussycats.
M: How gay is this comic gonna be?
C: Like, really gay. I'd say extremely feminist and very gay. And CUTE!
Check out a preview of Hi-Fi Fight Club's first issue below!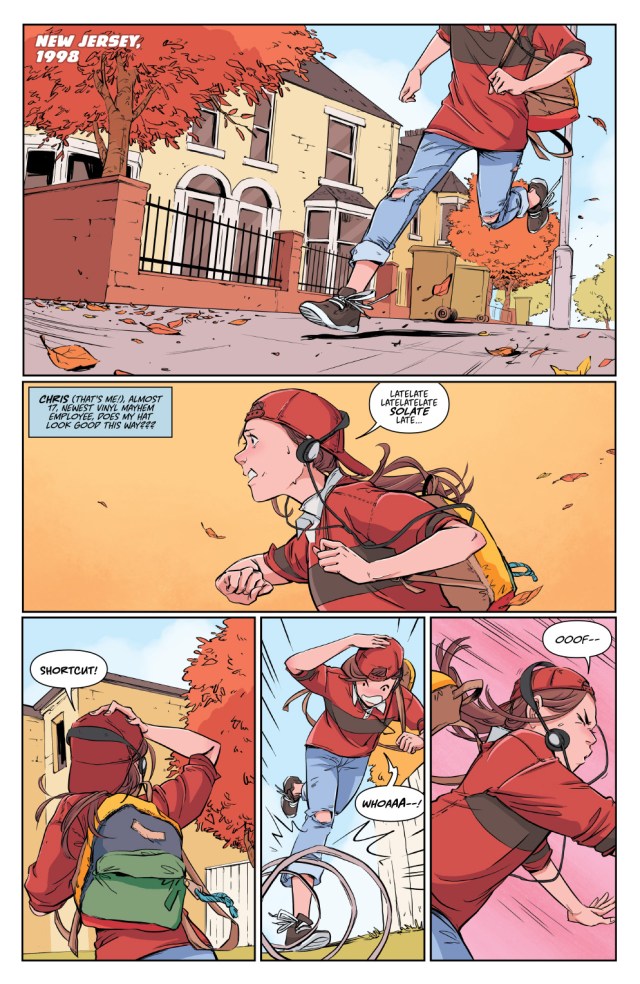 New Releases (Aug 9th)
Batgirl and the Birds of Prey #13
Gotham Academy Second Semester #12
Captain Marvel Vol 4 Earth's Mightiest Hero TP
Silk Vol 3 Clone Conspiracy TP
---
Welcome to Drawn to Comics! From diary comics to superheroes, from webcomics to graphic novels – this is where we'll be taking a look at comics by, featuring and for queer ladies. So whether you love to look at detailed personal accounts of other people's lives, explore new and creative worlds, or you just love to see hot ladies in spandex, we've got something for you.
If you have a comic that you'd like to see me review, you can email me at mey [at] autostraddle [dot] com.