A few weeks ago, I walked you through buying your first home and now I asked some folks 'round here who've gone through the home buying process to share their experiences and wisdom with y'all! Here's what they had to say!
Cee Webster, Tech Director & American Gothic Gardner, Portland, OR
Beth Maiden, Writer & Boat / Tiny House Dweller, Isle of Skye, Scotland
Update from Beth: I lived on my boat until 2015, when my partner and I both sold up, repaid our parents, and moved ashore. We were ready for a new chapter and very open to wherever the wind may take us. We came to the Scottish Highlands and WWOOFed (land-based volunteering) in exchange for caravan accommodation, then lodged in friends' spare rooms, even living in a holiday home for a few months. Eventually, we got sick of housing insecurity and living out of boxes and decided we were ready to buy a house. This huge step was only possible for us because we had lived so cheaply for previous years, so we had been able to save up for a deposit (down payment). The overwhelming paperwork described below has been very real for us: we're both self-employed and have lived off-the-radar for years, we got turned down for two mortgages before finally finding a small building society who treated us like human beings. We move into our very own house next week, and I'm beyond excited about it! It's been a journey of roughing it and compromise, but it's been an adventure. I'm looking forward to the next chapter, hopefully one of housing security and relative ease. But all that said, I would recommend #BoatLife to anyone who doesn't mind giving up some home comforts in exchange for adventure and cheap living!
Aja Aguirre, Former Fashion Editor & Founder of Fit For a Femme, Oakland, CA (formerly Boston, MA)
KaeLyn Rich, Staff Writer, Rochester, NY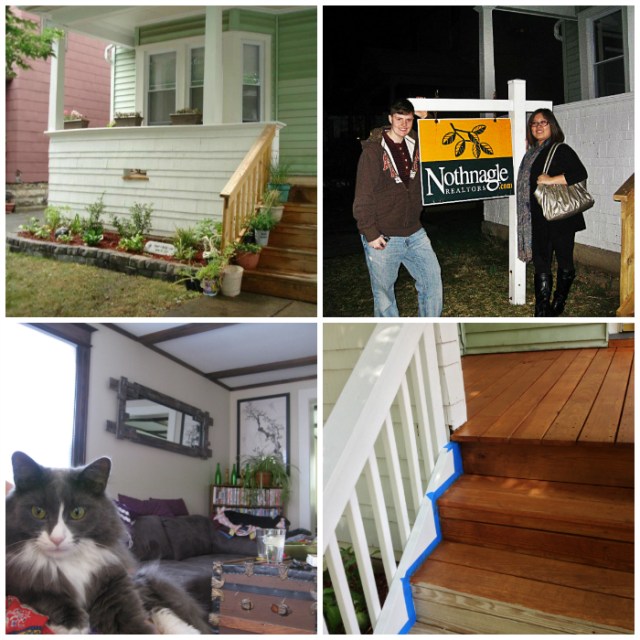 Why did you decide to buy your first house? What factored into your decision to start looking?
Cee: I've always wanted to own, but never lived anywhere I could realistically afford to. I moved to Portland with buying a home in mind, and spent about a year learning the market, the neighborhoods, and continuing to save for a down payment before I started officially house hunting.
Aja: We were looking at a few time-sensitive motivating factors — where we wanted our daughter to attend high school and where in the country we could afford to buy in an excellent school district that was also in a state where our marriage would be legally recognized. In 2012, pickings were rather slim and we were right at the precipice of a radical housing shift in the Bay Area.
With her headed to college in the fall, we just wanna go home, downsize significantly and have merciful commutes; all these things will help immensely with quality of life!
Beth: I knew that when I moved out of my ace little rented flat, it would be to do something different, to move beyond renting and into something I owned. I got together with my current partner, who lived on a boat, and discussions about moving in together turned into 'how about we don't move in, and instead I get my own boat?' I got really excited and started looking!
KaeLyn: We never planned to stay in Rochester when I moved here for a job promotion. We also were a hot mess in our early twenties. But by 2012, we had worked out our shit, gotten legally queer wed, and had put down roots in the city. We started casually looking, mostly online and by attending a couple open houses, for about two years. We kept waiting for the perfect moment financially to start looking "seriously," but life is complex and that moment never came. Ultimately, we decided we were as ready as we were going to be and we contacted a real estate agent.
What kind of things did you do to prepare for buying your first home?
Cee: I saved for years and made sure my credit was good first. Then I learned the market, what houses were worth, I toured several dozen homes and obsessively checked Redfin. I went to a few house buying classes and asked a million questions to my real estate agent, who was very patient with me. He became a friend of mine, and took me to "estate agent only" pre-viewings and on tours of houses for his other clients, so I could learn the industry a little. It was really fun for me to be honest, I love looking at houses. I also found a very good mortgage broker who helped me get a mortgage after the local credit unions and banks turned me down (self-employment = unemployment in their eyes apparently).
Beth: Not a lot. I found my dream boat on eBay for £6500. I had to make the case to my parents to lend me the money to buy it as I had no money at all. They're used to my weird schemes but this was the only time I'd ever asked for money and they took some convincing that this was a good idea.
Aja: This could be its own post! We had a very complex, multi-faceted problem to solve using research and loads of data: school district scores, real estate markets, job markets, local and state laws and taxes, finding an agent (who found us a broker and a lawyer and, incidentally, our current agent out in Oakland — they're both absolute gems) and learning the sometimes baffling differences between MA vs CA real estate, planning travel and timing around the school calendar, and then again around the new school calendar and school district entry requirements. We ordered a giant white board called Big Bertha and mounted it in our living room with charts and a map of the country, cross-referenced with shared Google Sheets and our bible, Nolo's Essential Guide to Buying Your First Home, which I highly recommend!
This time around it's just reversed, and significantly less stressful on the education-related front. However, the Bay Area real estate market is so ruthlessly competitive that offers with contingencies (which used to be somewhat routine) go straight into the recycling bin, so we're having to strategize around timing in several areas, like planning short-term housing given the number of variables outside of our control. As big a PITA that'll be, it's nothing compared to making a long-term six-figure mistake on the wrong house!
KaeLyn: We both have decent credit scores, which is something I worked really hard to achieve after a little tough spot immediately after college. We made a list of all the things we wanted, the must-haves and the would-be-neats and the no-ways. We knew what neighborhoods we wanted to look in, so we contacted an agent that was recommended through a friend and who does a lot of work specifically with LGBT buyers and in the neighborhoods we were considering. He came up with some suggestions. We already had a good idea of what we wanted in a house, so we also looked for interesting properties and sent them to him. We actually found our house by scouring online listings on our own. We were one of the first to see it (due to me putting some pressure on my agent to expedite the appointment) and the very first to put an offer in, which was fortunate because another couple put an offer in later on the same day, the day after it was listed.
What was on your must-have list when you were searching for your home?
Cee: I was very particular about which neighborhood, and I wanted an old house that wasn't remodeled modern. I was willing to rip out carpets, change fixtures, appliances, etc, but I wanted the old charm underneath. I also wanted a decent yard. And to be affordable, either a few bedrooms so I could have roommates, or a finished basement or in-law apartment I could rent.
Beth: It had to be super cute, super cheap, really small (I was scared of steering a huge boat), and near enough that I could move it to the town where I lived.
Aja: Hm, let me fetch our ridiculous list. Here it is:
Commute
Surround Sound*
Pre-wired Ethernet*
Closet Space
Master Bath
Light
Positioning/Views
If my wife never hears me say, "It's a perfect house, but I can't stand the way it's situated," again, she'll be thrilled. On the other hand, she'll point out a fig tree in the backyard and say, "This is the most perfect house in all of Oakland," even if the kitchen needs to be completely torn out and the interior has all the natural light of a bat cave and it's over budget. We should have our own obnoxious HGTV show!
In all seriousness, though, we both know there are hardcore must-haves (why do so many New England houses not have en suite master baths?!) and negotiable nice-to-haves, and that we'll each likely need to make trade-offs when push comes to shove, especially if we want to live in SF or Oakland. C'est la vie!
*These are her "gaming-specific needs". FYI. Preposterous!
KaeLyn: We wanted off-street parking because we live in a city were driving is the most efficient mode of transportation and we work opposite shifts and need a reliable place for our two cars. We'd messed around with on-street parking before and hated it. We wanted three bedrooms, two toilets, and we didn't want to have to do a lot to the house to move in. Neither of us are particularly handy. A big bonus would be a sunroom, like our most favoritest favorite Rochester apartment had. We didn't get that, but our house does have a sleeping porch we never use that we absolutely fell in love with.
What was the hardest/most confusing/challenging part of the home-buying process?
Cee: The market in Portland is nuts at the moment. My house was the 9th house I put in an offer on, being outbid by full cash offers over asking each time. Other than that I really enjoyed learning the process.
Beth: Being new to boats, it was hard to know what questions to ask the owner. Also, it's wise to have a hull survey when buying a boat — this is where the boat is taken out of water and an expert checks to see that the hull (the bit in the water) is sound and not about to wear through. It's expensive and a big risk — what if you find out that the boat needs replating or is about to leak?
Aja: Nobody warns you how emotionally exhausting it can be. I'm very resilient, a tough cookie, and yet there I was, crying on a rental car shuttle en route to Logan. I think we were in the security check line when our agent called and said our offer had been accepted and we had to spring into action. I waved my wife and child goodbye after we rebooked my flight so that I could stay behind for inspections and to sign miles of paperwork, while they headed back home (where our dogs were waiting with the petsitter) and to work and school the next day. That was only the beginning; we had offers accepted on two different houses and walked away from both (and thousands of dollars) because of poor inspection results. After subsequent and increasingly frantic SFO-BOS house hunting trips, the third time was the charm — but it also meant that the first time I laid eyes on this house was when my wife carried me laughing over the threshold, after we'd already bought it!
KaeLyn: It feels so intense when you put an offer in. You start to imagine your whole life in the house, with your stuff in there and the things you would do to change the place and your future self all wrapped up in it. The feeling that you could lose it if the offer isn't accepted or if the closing doesn't happen on time is super stressful. We got the sense the seller felt like they accepted our offer too quickly because there were other offers right after they accepted ours and they kept the listing up online with a higher price and new videos after we were in escrow. I was so nervous we wouldn't meet the closing date, especially when the bank flagged a couple bank account deposits from my part-time contract job that I initially forgot to report. It all worked out in the end and the forest-worth of paper to sign on closing day felt like a relief.
The other thing that was complicated were my feelings about buying a flipped house. I know that queer neighborhoods tend to converge with hipster/trending neighborhoods that are initially diverse until our occupancy drives up the values and pushes poor people out. I love our house and that we didn't need to fix anything because we suck at that and we also couldn't afford it at the time. I also felt confused about whether it was OK to move into a neighborhood that was just outside the trendiest "gayborhood" if our very presence was going to contribute to gentrification. I still feel weird about all this, especially as an Asian-American woman, for about a million different reasons. And our home value has indeed gone up rapidly over the past five years, for better or worse.
What is the best thing about being a homeowner vs. a renter (or squatter)?
Cee: I feel like I'm in control of my housing, which really reduces my stress. It took a hell of a lot of work but it was very worth it in the end. I also like that I can change stuff like appliances or fixtures and not have to wait forever for the landlord to do it (or more realistically not ever do it). It's pretty rad. And I'm learning so much about fixing houses; I knew nothing before I moved in.
Beth: Like Cee says, it's a sense of control. I would happily rent again, but I loved knowing that Swallow was mine.
Aja: Sweet, sweet equity. That aside, I do think it's healthiest to view homeownership vs. renting as trading one set of advantages and disadvantages for another. I appreciate and see the value in permanency, I even like the romanticism of it. But I think folks forget that it's almost mythological without being honest about the work and resources it takes to sustain it.
With certainty comes vast responsibility and that certainty is in no way even a little bit guaranteed — natural disaster, financial ruin, change in work (or school) and family status, like switching careers, divorce or having children, all can render the permanent soluble — so I just want to remind folks on the fence or who aren't yet able to take on homeownership that it isn't some end-all, be-all marker of adulting or personal success. For many, it doesn't make sense on paper, and that's okay. If the potential upside doesn't outweigh the risk, it's probably best to hold off and instead be well prepared for when it does!
It's also critical to understand that for people of color and queer people of color, there's a very complicated and appalling legacy of lending discrimination in this country that goes back decades and went unchecked until 1975, when the Home Mortgage Disclosure Act was passed. Mortgage discrimination is still a very serious issue with incomprehensible repercussions throughout public education and economic status for POCs and continues to feed on and perpetuate a system of racial bias today. I highly recommend reading the article Choosing a School for My Daughter in a Segregated City to learn more about that history and how it continues to disadvantage communities of color.
KaeLyn: Commitment is not natural to me, nor is staying in one place. However, putting down roots in a home that I own feels like making a commitment to the life side of my work-life balance. I don't feel like I have to stay here forever, but I definitely could and I'm really happy that I feel so at peace about that. It's a big thing for me. Especially now that there's a baby in our house, it feels like we could live here a long time. I imagine her making friends with the kids across the street, playing in the backyard that I'll eventually get around to dealing with, moving upstairs to the attic we might finish one day when she's a moody teenager. I like knowing that this is ours as our equity slowly builds, though I occasionally miss being able to call someone else to deal with it (and pay for) when the heat stops working or the pipes back up.
What is your favorite thing about your current house?
Cee: My back yard is quickly becoming my favorite part of my house. I have a little grill and a hammock and I've planted all my favorite flowers back there and it's very comfortable.
Aja: Superficially, that it's a pristine three-story Victorian built in 1882 in a fantastic neighborhood within walking distance of shops, cafes, restaurants, public transportation, and a ton of green space and trails along the Charles River. We couldn't remotely afford a tiny flat in one of these puppies back in SF, let alone an entire one all to ourselves! We were lucky to have found it.
My favorite thing about this house, though, is that it held us safe and sound these past four years. Through marriage equality milestones, with the Boston Marathon manhunt happening a mile away, for every holiday and birthday and anniversary together and through hurricanes and blizzards and the Worst Winter Ever, it's been our sanctuary and our home base. As a mother, it's the place I'll think back to when I remember our last years with the kiddo living under one roof.
KaeLyn: I love the bay window with a roomy window seat in the living room and the other bay window directly above that acts as a sort of 180 degrees view scenic headboard for our bed.
What do you wish you'd known then (when you were buying your first house) that you know now (as a seasoned homeowner)?
Cee: You can change your house but you can't change your neighbors or your neighborhood.
Beth: Don't take the sellers' word for anything. Do your own checks. It's sad because I want to go through life trusting people, but that guy told me a lot of fibs about my boat and I had plenty of issues that I had to fix. Next time I'll take it all with a big pinch of salt and have more realistic expectations about what I'm getting.
Aja: If your agent is any good whatsoever, they will briefly run your whole life. You will get emotional. It will be more expensive than you planned for. It will all be worth it!
KaeLyn: You will make an impossibly long list of all the things you're going to do to renovate or change your home right after you move in. You will do very few of those things at all and spread out over a super long time. You will keep talking about those things as if you might actually do them one day just to give yourself hope that you're not actually as lazy/busy as you are.
What advice would you give to someone who wants to buy a home for the first time?
Cee: Speak to a mortgage broker to learn what you can afford (it may differ than what you think) and if you qualify for a mortgage (you might, even if you don't think so!). Once you know what you can afford, start learning the market and seeing what is out there. If Redfin is available in your city, set up an alert to send you push notifications or emails when houses are listed in your price range. Once you feel like you know the market a bit, find a good agent and start viewing houses. Good luck and don't be discouraged!
Aja: There is no such thing as "too soon" when it comes to preparation. Don't wait until you're "ready" to talk to agents or brokers; bang out all the unknowns well in advance of actually starting the process. You can't anticipate what you're unaware of, learning the ropes months or even years ahead will give you the upper hand and a superior planning advantage.
Thoroughly know your budget inside and out before accepting a loan. Reverse-engineer your numbers based on a mortgage payment you can comfortably afford, not what the banks say you can afford. Get intel from homeowner friends in your area or from your agent on any new monthly expenses you may be unaware of as a renter — home insurance, local and state taxes, additional utilities, mortgage insurance (if applicable), include a savings bucket for the inevitable fixes that'll pop up out of the blue at the worst possible time, etc. Nobody wants to be house-poor!
KaeLyn: Know yourself financially, but don't set unrealistic expectations for yourself. The reality is you're probably not going to save 20% down or pay off all your school loans/credit cards first, but it's OK. If you can afford your payments and your bills are covered and your job is relatively stable and your credit score is decent, go ahead and see if the time is right for you!
Do you have any funny stories about buying your first home? Spill!
Beth: I have a whole blog full of stories about leaking windows, broken engines, falling in the canal and my tragic attempts at carpentry.
Aja: My wife has very few irrational fears, but bats are definitely #1. Within a month of moving in, she found something flying in relentless circles in the basement at dusk. "Jonesey, come look!" she said, "There's a bird down here!" It was, of course, an actual, bona fide, possibly rabies-infested bat. WELCOME TO NEW ENGLAND!
KaeLyn: OMG, we had a bat, too! A couple dead ones in the attic and one live one in our damn bedroom. We think they must have come in when the folks who sold the house were working on it because we haven't seen any since. We found the live bat when our cat woke us up one night. The cat was going utterly beserk on the bed, leaping around. We turned on the light and saw a scared and confused bat flying in circles around the ceiling fan. Waffle screamed and ran into the hallway. We had to coax the cat out because he really wanted to eat that bat. Waffle sent me back in and SHUT THE DOOR and kept screaming, "Get it out!" as he hid in the dark hall. I had to try to whack the bat with a broom, which I wasn't feeling great about and couldn't really bring myself to do because I love bats. I finally Googled it, with the bat swooping around my head, and realized the ceiling fan was throwing off its echolocation. Supposedly you can just open a window and they'll use echolocation to find it and fly out. So I turned off the fan, which required me to reach up into the fly zone, opened a window from the top, and the bat fairly expediently showed himself out. I still can't believe Waffle basically trapped me in the room with a bat. That's love for ya'.
Oh and we had a running joke that we were so bad at home improvements that the only thing we did in the year was a home disimprovement. We turned one of the bedrooms into a free-range home for our bunnies (basically a luxe indoor rabbit lounge) and to be able to see them and let them see us, we removed the bedroom door and replaced it was an unfinished wood-framed screen door, like the $15 kind you can buy for your shed. I judge people on how visibly they judge us when they first encounter our indoor barn bedroom.
---
Do you have questions? Your own advice to future homeowners? Put it in the comments!