In just a few short years, I've come to associate summer with The Bold Type. I think of Scarlet magazine's enviously trendy editorial floor and lounging on the floor of the fashion closet with glasses of rosé and sitting on my couch in a sports bra eating popcorn or ice cream.
And maybe it's silly, but that's at least part of the reason why I originally struggled to get excited for Season Three. It premiered in April. April in Michigan is decidedly still too cold for a sports bra on the couch weather (in fact, and I'm still depressed about this, it snowed — twice!). There's something awkward about the fact that I'm here writing about The Bold Type in preparation for its final batch of episodes for the season, and summer has just now barely gotten off the ground. It feels out of rhythm, out of cycle.
That's obviously not the only reason I had to force myself to watch — last year, Kat Edison and Adena El-Amin broke up. They may not have been my Hall of Fame favorite queer couple, but they were certainly damn cute! Adena was one of the few queer Muslim women on television, and watching Kat fall head over heels for her in The Bold Type's first season was positively dreamy. Queer women of color so rarely find themselves on shows that are this purposefully effervescent! Full of glitter and soft lightning and the kind of love story that makes your heart thump with joy. Loving them was easy because The Bold Type is easy.
The second season shined a light on a lot of the cracks in their relationship. Inconsistent writing ultimately engulfed them. Adena in particular was never fleshed out quite enough, and because of that we often lost a solid hold on Kat. Adena forcing Kat into an open relationship was an ill-advised move on the part of the writers, and even though they tried to cloak it at the end of the season as a decision stemming from Adena's own unhappiness, everything just felt unfinished and rushed. By the time Adena left Kat in Paris, it was inevitable.
I went into The Bold Type's third season resistant. Spring felt wrong. Kat without Adena felt worse. Beyond both of those things, I couldn't help but feel distrustful – so often when a queer couple breaks up on television, the sexuality of the remaining character gets conveniently "forgottenwp_postsby the writers. I was preparing myself for Kat to become a secondary character to her straight counterparts. I braced for her to be erased. Imagine my utter surprise when instead, despite whatever other shortcomings this season has brought, Kat Edison was allowed to soar.
I noticed the change almost directly following their breakup. The new head digital editor of the "dotcom,wp_postsPatrick, pushes Kat to become more publicly engaged as a leader in queer community (PS: I hate Patrick and the fact that his presence has lessened over the last batch of episodes is almost certainly tied to my greater ability to enjoy them.) Kat's unsure how she fits in the queer community at all without Adena by her side; so much of her coming out process was centered on her. But in true Bold Type fashion, she ends up giving a motivational speech about loving yourself and finding your voice.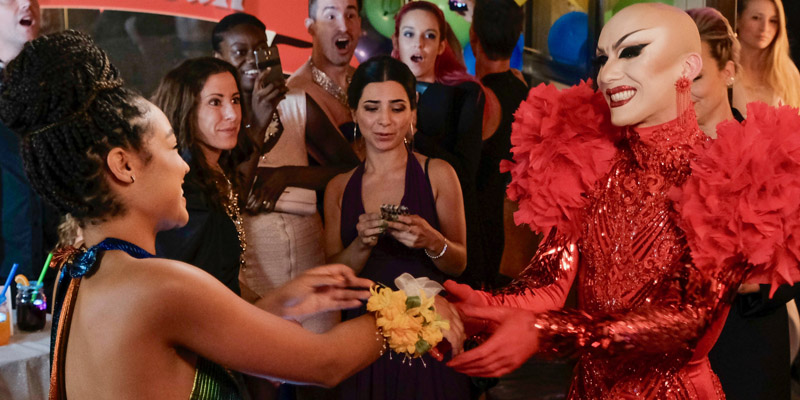 At the same time as Kat's wobbling on her baby gay legs in a post-Adena world, she ends up trying to save the last lesbian bar in New York. I mean, she fails at it, but she gets to host a very cute Gay Prom fundraiser, wear Tessa Thompson's rainbow Emmy dress to the shindig, and dance the night away with RuPaul's Drag Race winner Sasha Velour — so hey, I'm counting it as a win. When the bar closes anyway, because of a pro-gentrification city councilman, Kat digs deep to find her voice again and volunteers for the campaign of his opponent. When that opponent turns out not to be the best woman for the job, Kat decides to run herself.
Yes, it's improbable (and far too seamless) that a late 20something who's the head of social media for an alterna-universe Teen Vogue would end up running for city council faster than I can spellcheck the article you're currently reading, but this is The Bold Type. If optimistic young women saving the world with little more than the perfect pair of heels and determination in their heart isn't your thing, you're watching the wrong show. It's in running for city council that Kat becomes closer with her campaign manager, Tia Clayton.
It's less that Kat and Tia are perfect together on screen: their relationship is still very new and so far Tia has some of the same rushed writing problems that eventually caused issues with Adena. However, they are very cute. There's very little that I love more than watching black women fall in love on screen, which sounds shallow until you realize how few black women have had the opportunity to do so. What's impressed me most about Kat and Tia's short relationship together is that they've leaned on each other as they navigate how differently each negotiates their queer blackness. They aren't cookie cutter versions of the same woman just because they share the same sexuality and race. Kat's outwardly brazen in ways that Tia is reserved. Tia considers all the implications of her actions and Kat prefers to lead heart first. But already when they relate to each other, it feels authentic, which is more than I expected.
This is not to say that Kat's breakup arc is over now that she has a new girlfriend, or that her new girlfriend is the only reason to pay attention to the new season of The Bold Type. I don't believe that bisexual or queer characters are only worthy of our attention when they are dating women. One of the things that I've loved most about this season is that The Bold Type never loses track of Kat's queer voice, even when she was single. That's often tricky to pull off. When The Bold Type threads the needle just right, it's oh so sweet.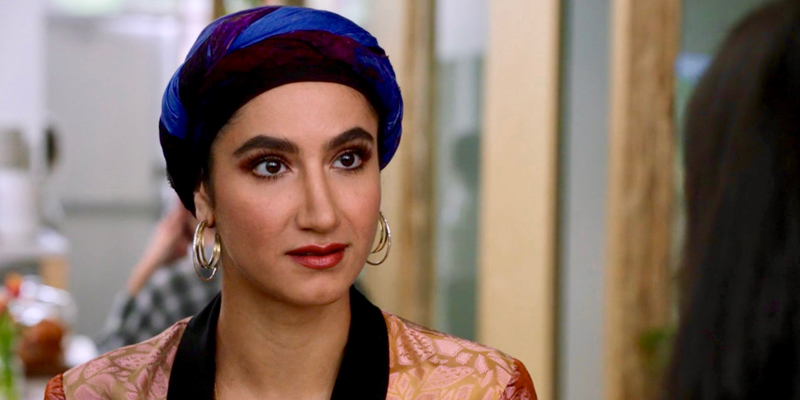 Just when Kat's arc felt settled in its new direction, Adena El-Amin arrives back in town! The Bold Type tripling down on three women of color when the season started with Kat heartbroken and alone is a pure delight I never saw coming! Kat's imagined her eventual run in with Adena dozens of times (in each of them, she's rocking Michelle Obama arms, natch). The reality is much different — Aisha Dee barely cries, leaving her face stoic and her eyes pools of emotion. Kat's heartbreak becomes once again visceral from the first time Jane mentions that Adena's been hired to photograph the new cover shoot. If this year has been about Kat finding herself and her queerness apart from her previous girlfriend, then it makes sense that as The Bold Type winds down, we end up back here. Of course Kat has to face Adena to see how much she's grown.
Adena's return comes with a subtle rewrite of her previous character motivations, giving her a depth that's exciting to dig into. She regrets that she pushed Kat away last summer. She's sorry that she let her own frustration about her stalling career eat away at Kat's confidence. She came to New York in hopes of maybe winning Kat back, but now she sees that she's moved on.
Or has she? At her friends urging, Kat agrees to meet Adena in the park. The camera cuts away on the two of them, walking away together. Adena's going to be in town for a few weeks, so who knows where this will lead. I just hope that, whatever the outcome, Kat's able to hold on to herself this time.