Please note: the suggestions in this article are not intended to serve as professional medical advice.
I am an expert at putting myself in stressful situations; I always take on too much. I'm sure most of you can relate. Sometimes life gets fucking insane, and it always gets insane all at once.
Stress really takes a physical toll on your body. For example, my stress manifests itself in my body with terrible chest pains. I also get headaches. Maybe when you're stressed you get stomach pains, have trouble sleeping, or throw angry tantrums. If all this nonsense sounds like no fun, well, you're right, but don't worry. We've got this.
Amy Poehler recorded a video last week in which she attempts to help young women out with not feeling so overwhelmed with stress.
It's a cute video and I love that Anne Lamott book, but maybe you're like me and ended that with, "Yeah, but what are some realistic ways of actually dealing with stress?" Funny you should ask, because I've found ten of them for you! Introducing:
Ten Pretty Simple Ways For Reducing Stress In Your Super Busy And Awesome Life.
+
1. Sex
When I originally posed the stress question to the Autostraddle writers, I received this response from Bren:
1. Sex
2. sex
3. sex
4. strap-on sex
5. sex
6. exercise
7. SEX
Do you really need any further explanation?
Sex is one of the best ways to relieve stress and has a surprising number of other health benefits as well including boosting your immunities, improving your heart health, and helping you sleep better. Fancy that.
If sex with a partner isn't in your cards, never fear. Masturbation also relieves stress in pretty much the same way. As if you needed an excuse to obsessively comb through months worth of NSFW Lesbosexy Sunday.
+
2. Exercise
This one goes along the same lines as sex, which is probably the best exercise I can think of, personally. Exercise releases endorphins, clears your mind, and improves your mood. Some studies have even found that exercise works as well as taking medication for anxiety.
Exercise can also double-duty as an excuse to get you out of your house, workplace or any other space where your stress may lie. Take a walk during your lunch break. Go hiking this weekend. Ask a cute girl if she'd like to play tennis. Ask a cute girl if she'd like to take a shower with you after you're all sweaty from playing tennis. See: step 1.
+
3. Laughter
Turns out, laughter is really good medicine, you guys. In fact, the Mayo Clinic says that "a rollicking laugh fires up and then cools down your stress response and increases your heart rate and blood pressure." Laughter also triggers the release of endorphins (are we finding a pattern here?) and increases blood flow through your body.
Now you actually have permission to watch YouTube videos when you have a paper deadline. Watch something that will make you laugh or hang out with your most hilarious friend or pictures of cats with words on them or whatever. You do you. Just with more laughter.
+
4. Chocolate
Not a typo. I am for reals. Eating dark chocolate helps to reduce stress. Chocolate contains antioxidants, and studies even say chocolate can reduce your risk of heart disease. Basically, dark chocolate reduces the stress hormone cortisol as well as the "fight-or-flight" hormones known as catecholamines.
I don't pretend to understand science, so I'm going to leave that to you gorgeous science people, but basically, I just want more excuses to buy dark chocolate and so do you, so let's say this is perfectly legitimate.
+
5. Reduced Caffeine
I live for coffee, which means this is heartbreaking. But we all must face the facts: all that caffeine isn't helping your stress levels. I'm not saying you need to cut out all caffeine (besides, how else will you get in your dark chocolate?). Just reduce it.
Caffeine elevates your blood pressure, and can also increase adrenaline and cortisol (the "stress" hormone) into your system, which make it harder to calm the fuck down, because it also inhibits absorption of adenosine, a calming hormone. Limit your caffeine intake to one or two cups of coffee in the morning and try to steer clear of it in the afternoon. I started drinking half-caffeine (we just mix decaf with regular) at home in the morning and it really does help.
+
6. Herbal Tea
I know I said some harsh things in number 5. But you know what else is warm and tastes really good and I can write about in an article my mother will read? Tea! Herbal tea is so yummy. It also has a surprising number of health benefits and knowing about tea can make you look really intelligent and therefore, sexy. There are a lot of herbs that can reduce stress, and the most affordable and least intimidating way to explore those can be with tea.
My favorite stress-reducing teas are Celestial Seasonings Tension Tamer (a friend of mine refers to it as liquid Xanax — that's how good it is), Yogi Kava Stress Relief and almost any chamomile tea ever.
+
7. Reading
We have been telling you to read a f*cking book for awhile now. Even just reading a book for six minutes can help you relax and reduce your stress levels by more than two-thirds. Reading a book works faster than any other stress reducer, which is believed to work "because the human mind has to concentrate on reading and the distraction of being taken into a literary world eases the tensions in muscles and the heart."
Yeah, reading eases the tensions in your heart. Isn't that just adorable?
In what is perhaps the best thing I've read all day, the psychologists in the study go on to conclude, "This is more than merely a distraction but an active engaging of the imagination as the words on the printed page stimulate your creativity and cause you to enter what is essentially an altered state of consciousness." So, go read a f*cking book, please.
+
8. Journaling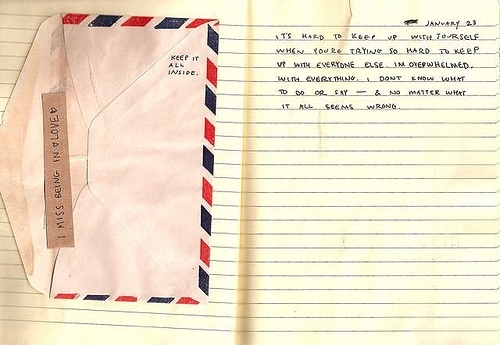 You have so many feelings. That's why you're stressed in the first place. What is the number one best place your feelings can go? In a journal. Not on Facebook. No one wants to read your angsty status updates twelve times a day. You can even create a stress journal to better understand the triggers of your stress and what coping responses are working best for you.
Write in your journal. Write bad poetry. Write illegibly and tear stain those pages and break your pencil tip with rage.
+
9. Power Nap
I babysit my two-year-old niece four days a week which means I have seen the miraculous healing power of a power nap with my own two eyes. Sometimes she's all, "I HATE EVERYTHING IN THE WORLD," and throwing herself on the ground and screaming and after her nap she's like, "Oh hey, this singing seahorse isn't my enemy after all." Those are words to live by, my friends.
But how come only toddlers get to take afternoon naps? Taking a nap significantly reduces your chances of dying from a heart disease increasing your productivity. 20-30 minutes is the perfect amount of time because it doesn't let you sleep too deeply, which is why sometimes if you take too long of a nap you wake up feeling sleepy and frustrated. Go have yourself a little Nana nap and wake up ready to greet the world and singing seahorses.
+
10. Hobbies
When I began researching this article, I asked my friends what they do to unwind. The number one response I got was about a hobby, except my best friend said, "Having an ice cold beer in a shower," which may or may not constitute a hobby.
Knitting, dancing, circus, shoe shopping, video games, writing, embroidery, snuggling a cat (my number one hobby), horse riding, shooting, listening to your favorite band — the most important thing is that if you love doing it, it's going to make you happy. And if something makes you happy, it's going to reduce your stress. Voila! It is that easy!
What other brilliant ideas do you have for  dealing with your stress?