Hello! Before we get started on today's article, we have something we're SUPER excited about launching today — a very special page on this website dedicated to all things o.b.® brand-campaign related!  That's where you can find all our "Custom Fit" articles, order o.b.® tampons via Amazon, see cute pictures of girls at Dinah Shore confessing why they love o.b.® tampons, and submit your "o.b.®sessed confession" — your testimony as to why you love o.b.® tampons. You can read what our team has already confessed about their relationship to world's tiniest bestest tampon in the universe!
What's also great is if you order o.b.® tampons from Amazon through the link on the dedicated page, Autostraddle gets a nice kickback from Amazon. It's a great way to support the site and save money compared to what you'd pay at the drugstore. (Also it's kinda awesome that the o.b.® brand has managed to find yet another way to support us for supporting them!)
So check that out. It looks really good, too!

Inspired by how happy you are that ob® tampons expand all around to custom-fit your body, Autostraddle's "a custom fit" article series will tackle how to make all the other parts of your life expand/adjust all around to custom-fit your life/self. Today Riese is gonna teach you how to fit exercise into your life!
+
Welcome to a very special episode of Custom Fit in which the wisdom of "Custom Fit" hooks up with the popular AS column "Get Fit" and transforms into a beautiful article about how to fit "getting fit" into your oh-so-complicated and ultra-unique special-snowflake life. I started working out regularly when I was 17, and now I'm 30 and I'm still at it, which means I've had to maintain this routine throughout many different life stages, jobs, schools, homes and states of mind. It's kinda exciting, actually!
For me, the kind of life I'm living has a bigger impact on my exercise/fitness routines than any specific physical goals or needs. I just know I need to stay active to stay healthy. For example, since moving to California sans vehicle, biking has become a big part of my exercise situation but prior to this, I hadn't owned a bike in six years.
So let's look at ways to start custom-fitting your workout to your life — first, some pro tips on stuff, and then a look at different lives and how to live them.
+
5 Things That Will Help You Custom-Fit Getting Fit Into Your Life
They're cheap, they fit into shallow drawers, and enable quick 10-minute workout breaks whenever you feel the urge. You can do leg lifts while washing dishes, or hamstring curls while watching television, or take a break from g-chatting to do the frog butt exercise. I'm working out my outer thighs as I type this, no lie.
2) Locker
Excuse-proof your workout and expedite your post-gym routine by splurging for a locker at your gym. This is especially important in urban auto-free environments where the idea of schlepping shoes around all day can deter your desire to workout and you're often going out straight after the gym without a trip home. In this locker you will keep: a hairbrush, shampoo/conditioner, cetaphil (doubles as face wash & hypo-allergenic body wash), disposable razors (leave the nice ones at home), makeup (if you want it), a shower cap, two pairs of underpants, two pairs of socks, gym shoes, flip-flops (for the shower), gym shorts (rotate out and wash regularly), sports bra (ditto), magazines, and an ultra-compact bag #2, which's where you put your cell-phone, wallet, ipod and reading materials while moving throughout the gym. Bag #2 shouldn't cost more than $15. Everyone needs a Bag #2.
3) The Stamina 55-1610 InMotion E1000 Elliptical
This weird machine is under $100 and you can basically hang out on it all day. Basically, it's an elliptical trainer without the poles. This frees up your arms to hold reading materials, lift ankle weights and even — even! — type. I know! I've started using my girlfriend's music stand to read things on my kindle while using it.
4) Yoga Mat
The only thing standing between you and becoming a total Yogi is a Yoga Mat and the Yogamazing video podcasts, which you can download for free. "Yoga for Toning" is my favorite.
5) Gym Membership (maybe!)
Now — not everybody needs a gym membership, 'cause perhaps you're a runner, involved in team sports, or have a gym in your house or building. Also, Sarah Croce is gonna discuss the importance of proper-gym selection and gym etiquette in an upcoming post, so I'm just briefly gonna go over some basics about picking a gym that fits into your life (she'll handle picking out a gym that fits your body) — the primary thing after cost is probably location, as it should be close to your home or work, whichever you're going to post-workout. It's difficult to generalize about national chains, but generally, the YMCA is always a good place to start. It's not fancy, but it's clean and committed to your health in a refreshingly honest way.
They often offer financial assistance to those who can't afford it, and many YMCAs are starting to offer lady-only facilities, which is a thing you won't even know you've always wanted until you get it, and then you'll feel so much more comfortable, like I do at my YMCA in Berkeley. (Sidenote: The Ys in Manhattan aren't like the ones outside of Manhattan! In NYC, the Y was more expensive than New York Sports Club, but that's unusual.) While living out east, the New York Sports Clubs were nice because of their multiple locations — I moved jobs/lives at least 14 times, and never needed to join a new gym!
I'm in the camp of saying that a nice gym is something worth the extra money if you have it, because your health is worth it!
Now let's break it down.
If you're a…
+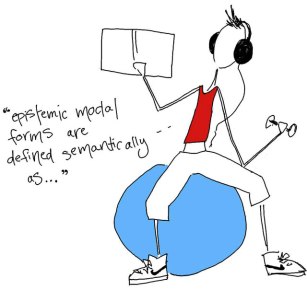 College Student
Chances are good you've got free access to a kickass gym — this may never happen to you again in your life, so take advantage of it! You're also able to make your own schedule, more or less, and don't fear creating yours with the gym in mind. Rather than deal with evening crowds, distracting friends or the difficulty of coordinating dinner around a workout, whenever possible I stuck a two hour break into my schedule between my first and second classes for working out. It's fully acceptable to attend an 8am class looking like death/in gym clothes and if you eat a good breakfast beforehand, you'll be dressed, fueled and ready to squeeze in a 40-minute mid-day cardio session and subsequent shower before your next class (and unlike a morning workout, you can't sleep through it!) You'll arrive at this next class feeling like the fittest, cleanest, smartest person in the whole world. Got reading to do before next hour? Excellent, there's a stairmaster for that!
Of course, it's not always that easy. Perhaps it's impossible to concentrate when that cute girl from English 125 is Ellipticalling next to you, or you're too intimidated by the fraternity-laden sausagefest in the weight room to pick up lifting. Perhaps you go to the University of Michigan, like I did, and are astounded that despite its world-class athletic program, the CCRB is a total dump.
How about a class? Most universities offer them, from Cardio Kickboxing to Yoga. Sign up with friends and make a night of it. Or join an intramural sports team (rugby is a great place to also meet hot chicks). If you're having trouble finding room for three cardio sessions a week, what about two cardio sessions and one long walk? Next time you and your friend need to process your feelings, do it on your feet.
If you're able to get off-campus, there are usually good deals for students at local gyms. Bally's is hit-or-miss, but so are most chains — while I was in undergrad, I went to the same gym I'd gone to as a kid, which was about a 15 minute drive from campus but it was nice to get away. I remember feeling like it was really peaceful out there.
+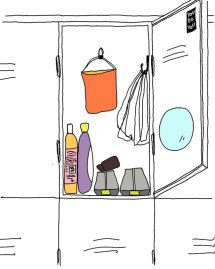 9-to-5-er:
Most adults have 9-to-5 jobs and 9-to-5 jobs are hands-down the most challenging schedules to work with when designing a workout regime, partially because most adults have 9-to-5 jobs. Sometimes it's hard to motivate yourself to work out after a long day, and the crowds don't help. Alas, you'll have to power through that at least twice a week and be very serious about it.
Clearly, the best place to fit in a workout is before work, Oprah taught me that. A morning jog is ideal, if you're into that kind of thing, or swing by the gym — pick a gym that's super-close to your workplace and if you take public transit, keep a locker there (as mentioned above). If you can afford it, this is when having a workout machine at home or in your apartment complex comes in handy, as it condenses the workout/shower/dressing locations into one location and that location is your home.
Other ways to fit it in: Take a walk on your lunch break, sit on a stability ball instead of an exercise chair, take low-impact classes during lunch, play sports on the weekend, ride bikes to work, exercise on the weekends, have a lot of sex.
+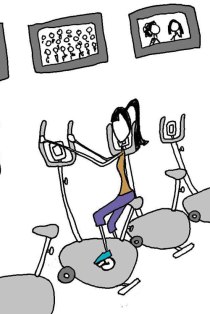 Freelancer:
Working out serves many purposes for freelancers: forces you to leave the house, forces you to interact with other humans, and makes you feel good. It's also your duty as a person to go to the gym when it's not-crowded, because you can — and lift! And take classes! Again, because you can. Another double-bottom-line workout/life tip: join roller derby or a local rugby or softball league to meet other women in your area and break a sweat while you're doing it.
When I worked as a copywriter, I'd print out briefs and read them on the elliptical trainer, or (I know this is bad form, please forgive me) catch up on emails on my phone, if it's been a particularly busy day.
Sometimes workout classes are the best 'cause they give you some structure, and over time you start to recognize familiar faces, and that can be comforting.
+
Unemployed/Underemployed: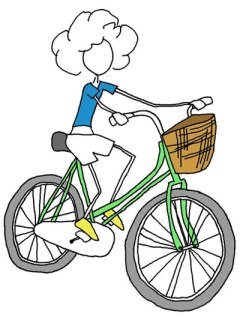 Like freelancers, If you can afford a gym membership you are the luckiest exerciser in the world, 'cause you've got the place to yourself and can fit a workout in pretty much whenever you want. The morning is always best, 'cause all day you'll feel smarter & better than everybody else, even if you're unemployed. Yoga can help clear your mind.
Being broke can be a great workout because it often involves a lot of biking and walking. If you can't afford to join a gym, you can either do one-week trial memberships at every gym in your area 'til you run out, or you can hit up the YMCA. Most have financial assistance programs you can apply for.
But the best workout of all is, quite truly, waiting tables. Working a busy restaurant counts as your workout for that day, and nice quads can make you feel better about not using your college degree.
If you've got tips for how to fit "getting fit" into various lives we lead, share them in the comments!