feature image by Robin Roemer
I don't mean the person (though I'm sure there were many Nancies there). I mean the podcast. Nancy is like gay This American Life. Kathy Tu and Tobin Low create a sound-venture of queerness from the perspective of two Asian-American homogays. I've been listening to Nancy since the first episode happened. I teared up; it's everything I love about podcasts and radio shows with its slice-of-life sensibility, calm intonations, and also it's 100% gaygaygay content. They have an episode about the "ring of keys" moment. They have an episode about the Pulse shooting. And now, they have an episode in which Kathy Tu, half of team Nancy, goes to A-Camp for the first time.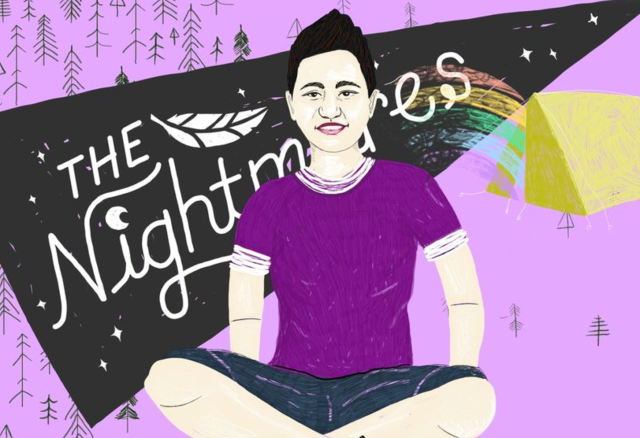 Now, as you may have gathered from my thousands upon thousands of complaints, I did not get to go to Camp this year; my wife was graduating from law school. This podcast audio, and Kathy herself, was super endearing and it really alleviated some of my sorrow at not being able to be there. I couldn't stop smiling while listening to everyone being silly and laughing and making cool shit (and Jenny singing!). I loved hearing all my friends talk; the friends I haven't met yet (I'll be back at Camp next Spring, so I'll meet you then!) I already loved Nancy — I've been listening since it started. But my love burst forth like a thousand suns.
You should listen to this episode if you, too, were sad about not being able to go. Or if you've never been and you don't know what Camp is. Or if you were there and you want to have the cool, cool water of happy queer folks drip dropping upon your heart. Ugh. I'm tearing up a little, guys. I can't. I'm listening to it right now as I type this and "Heaven is a Place On Earth" is playing and I'm crying LISTEN TO THE THING.