feature image via yumyummyyums.tumblr.com
Taco Tuesday is a biweekly column all about tacos! We'll dive into a lot of delicious topics ranging from the history of tacos to the gentrification of the taco to the exploration of various kinds of tacos and how they came to be. #tacosaretruth
---
When you think of tacos, there's probably two universal images that cross your mind: a fried corn u-shaped tortilla shell filled with ground beef topped with lettuce, tomato and orange cheese or freshly made corn tortillas filled with al pastor topped with cilantro and onions or with piña and sprinkled with lime juice and salsa. These two versions of tacos are deeply ingrained with our associations to tacos, no matter if we eat these kind or not. Both are (unfortunately, in the case of the fried corn shell taco) pivotal to taco history.
Taco history isn't as clear-cut as one would think. One thing is certain — the origins of tacos are unknown. The taco is influenced by thousands of years of Mexico's food history but has only dominated Mexico's cuisine in the 20th century. It's evolved rapidly since the day the taco was called a taco in the late 18th century making it hard to define its authenticity. With that in mind, I'm going to give you a rundown of key events and points of how it all began.
---
Mas Maize
Without maize, there wouldn't be any corn tortillas which is the main vehicle for tacos. Maize was deeply significant and at the center of Aztec and other indigenous people's diets but consistently eating it raw was dangerous because of the corn's lack of niacin, or vitamin B3, which led to pellagra, a deficiency disease that causes skin rash, intestinal problems, insanity and death. At some point, indigenous people discovered a process called nixmatalization that reduces the toxins in corn that induces pellagra. Dried maize kernels were soaked in an alkaline solution made of lime and ash that did not contaminate the maize. The kernels were steeped in the liquid for a day, which loosened the kernel's husk and absorbed the many minerals created in the alkaline solution. The kernels became easier to grind to make masa. The chemical reaction improved the flavor and aroma of the masa and allowed it to keep a firmness necessary for the kneading and stretching to eventually create tortillas or tamales. Most importantly nixtamalization allowed Aztecs to live on an almost all-corn diet, without dying, since time immemorial.
I just want to point out that since the beginning, indigenous, Mexican and Mexican American women have always been at the forefront of making food for their families and essentially making tacos for them. Food historian Jeffrey M. Pilcher notes in Planet Taco: A Global History of Mexican Food how hard women worked to make tortillas and other corn-based foods. "However nutritionally sound, the recipe for tortillas required enormous physical labor from women. Arguably, they worked as hard grinding a corn on the metate as did the men they fed who constructed the physical monuments of Teotihuacán, the pyramids of the Sun and the Moon."
With the Spanish conquest of the land we know as Mexico, beef, pork, chicken — today's common taco fillings — were introduced to indigenous people, making the taco a very mestizo tradition. Lard was also introduced into the indigenous people's diets which gives tamales their soft, fluffy texture and which is also used to create flour tortillas, depending on who you ask. While chili and chocolate from Mexico was traded and became globalized, corn did not because it was associated with lower class indigenous people. When maize arrived in Spain and the rest of Europe, the Spanish didn't know the methods of nixtamalization so it led to pellagra. So in the Spanish's eyes, corn was equated to poor people and disease while wheat was associated with Spanish conquistadors and the elite class. The origins of flour tortillas aren't clear but it probably was influenced by Spanish colonizers forcing indigenous people to use wheat instead of corn. For people living in Northern "New Spainwp_poststhey made mostly flour tortillas because of regional patterns of agriculture. Pilcher notes in his book:
"From a material perspective, it was a relatively easy way for rural women to prepare wheat without the time and expense of making either risen bread or corn tortillas, as folklorist Arthur Campa has noted. 'Wheat tortillas replaced the corn product in Hispanic homes in northern Mexico and most of the Southwest. It was considerably easier and faster for the housewife to prepare the biscuit-like dough and roll it out than go through the long process of making nixtamal,' he explained. 'With wheat tortillas she could have bread on the table in a matter of minutes.' Convenience was certainly important for hardworking frontier women, but such a calculation was valid only when both grains were affordable, a late colonial phenomenon at best."
---
A Linguistic Evolution
The first Mexican cookbook, El Cocinero Mexicano, was published in 1831 and included recipes for tamales and quesadillas but not for tacos. The first time the word "tacoswp_postsappears in print in Mexico in reference to food is in the 1891 novel Los bandidos de Río Frío by Manuel Payno. In the book a group of indigenous people are dancing in honor of the Virgen de Guadalupe and feasting on tacos filled with fried goat. This led to the word being introduced to the Mexican dictionary the Diccianario de majicanismos a few years later in 1895.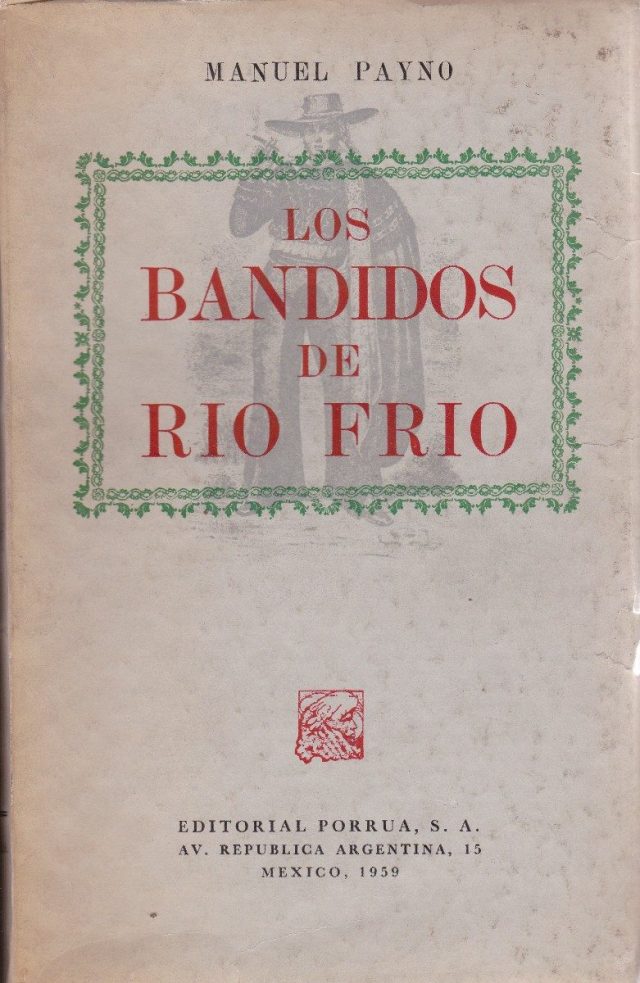 But before that, the use of the word "tacowp_postsin reference to food varies. Some cite it comes from the Nahuatl word quauhtaqualli, the name Aztecs used for a dish similar to tacos, which the Spanish couldn't pronounce so they used taqualli and with time, it became taco. Others believe it's derived from the words tlaco and tacol. Another theory put forth by Pilcher in Planet Taco, is that the word dates to the 18th century and came from the Real del Monte, a silver mine north of Mexico City, where "tacowp_postsreferred to explosive charges miners used to excavate the ore. They were pieces of paper wrapped around gunpowder and inserted into holes carved in the rock. The word was derived from the use of powder charge for a firearm and from the word's general meaning of plug.
The Mexican War of Independence and other civil wars and economic unrest impacted the silver mines hard which forced many of the workers to migrate in search of work. Unemployed miners brought their tacos to Mexico City where other city workers found the miner's tacos portable for lunch. One clue that supports this miner theory comes from an early visual record of the taco. One of the first photographs of a taco is from the 1920s and shows a woman selling tacos sudados to a group of paperboys. The tacos were made by frying corn tortillas briefly and then filling them with potatoes and salsa and then were kept warm in their own steam in a basket. Later they were called tacos de canasta. But tacos sudados's original moniker was tacos de minero, a common phrase among the taco stands in Mexico City in the early twentieth century.
---
Taco Bell Has Always Been The Worst
In the early 1900's Mexican migrants arrived in the U.S. to work in mines and on the railroads and brought along their recipes, including tacos. In the U.S., Mexican food was seen as street food and associated with the lower class; they were seen as dangerous (as in unsanitary), too spicy and exotic.
With the children of Mexican immigrants starting to advance economically and gaining their citizenship, they opened restaurants around the country. Contrary to popular belief, Taco Bell founder Glenn Bell wasn't the first to create a crispy fried corn shell — it was Mexican Americans. Tacos dorados or fried tacos became popularized in the 40s and appeared in Mexican cookbooks and restaurants. The actual process of frying the tortillas was arduous since cooks had to maneuver the tortillas in hot oil to get it crisp on all sides while making it into a u-shape. One restaurant owner decided to take matters into his own hands and invent a contraption to prevent his cooks from scalding themselves. Juvencio Maldonado, a Mexican immigrant and owner of Xóchitl restaurant in New York City was the first person to patent his torture-looking device for frying tortillas. He filed his patent in 1947 and was awarded it in 1950.
Long before Glenn Bell opened his first taco fast food chain, Mexican Americans were already making and selling fresh crispy tacos. In fact, Bell stole the idea from the Mexican restaurant across the street from his hamburger and hot dog stand in San Bernardino in 1950.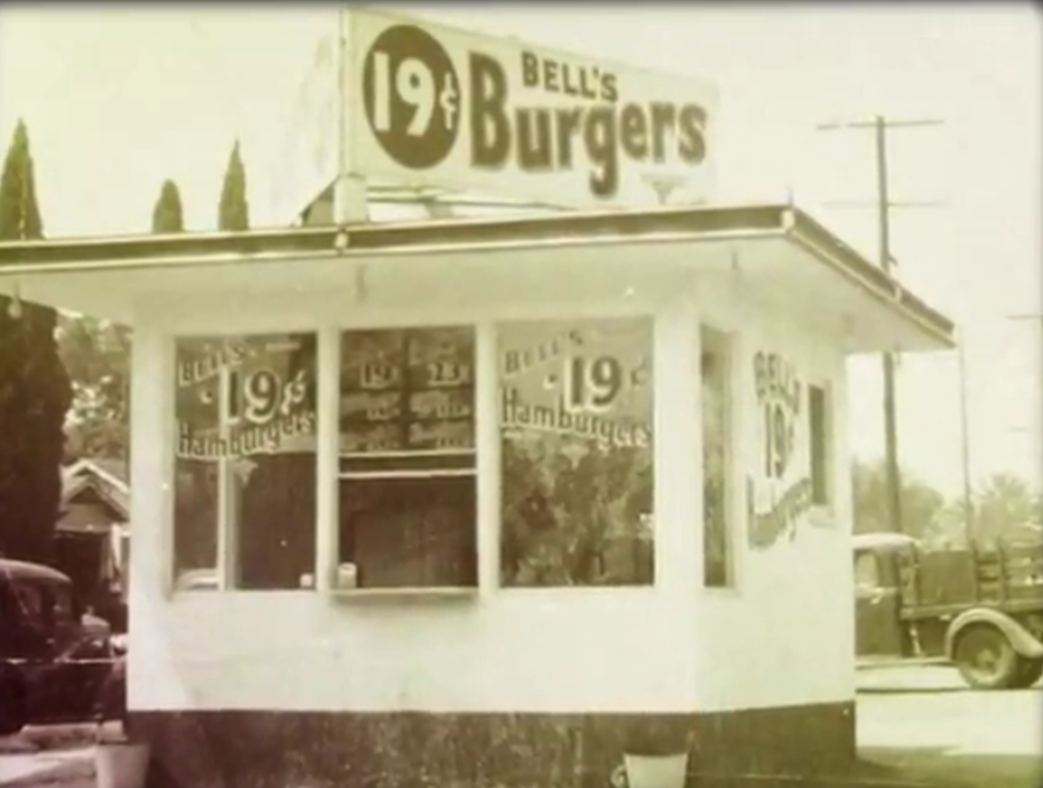 As the story goes, Bell opened Bell's Hamburgers and Hot Dogs in 1948 with hopes it would take off just like McDonald's. He noticed more and more that non-Mexicans were eating Mexican food and thought tacos were the way to beat McDonald's. He opened a third Bell's Burgers in 1950 in San Bernardino's West Side and across the street from Mitla Cafe, a Mexican restaurant. He frequented the restaurant and ordered the tacos —a freshly fried corn tortilla filled with ground beef and topped with shredded cheese — countless times in order to replicate them late at night after closing his stand. In Gustavo Arellano's Taco USA: How Mexican Food Conquered America, Irma Montano, whose in-laws opened the restaurant, recounts how often Bell would come in the family diner. "My father-in-law would say Mr. Bell kept asking about the tacos, how he made them, and so my father-in-law finally invited him into the kitchen to teach him," she said.
In December 1951, Bell debuted his tacos at his burger stands, they consisted of: prefried taco shell, ground beef, chopped lettuce, shredded cheese and a chili sauce Bell used from the same condiment he used on his chili dogs. In Taco USA, Arellano quotes Bell's enthusiasm when a white man ordered a "take-oh" and loved it.
"I didn't invent the taco," Bell boasted, "but I believe I improved it."
I hope you laughed. I did.
This was just the beginning of Bell's plagiarized, fake ass taco crusade. He opened a Mexican restaurant called Taco-Tia in 1954 and then sold it to open another chain called El Taco. He had opened six chains with his business partners by 1961, when he sold his shares to open a hot dog stand. It wasn't until 1962 did he launch Taco Bell in the Los Angeles suburb of Downey. Bell created a franchising platform for it in 1964 and by 1967 there were a hundred Taco Bells in California.
What Glenn Bell did was commercialize the taco and made it palatable for white Americans who still thought of Mexican food as dangerous and too ethnic. Bell made bank on prefried corn shells that had a lot longer shelf life than fresh made corn tortillas. The corn shells were made and then wrapped in plastic until someone needed them, unlike corn tortillas that weren't fresh a few weeks later. Taco Bell also opened the doors for other white business men to sell faux-Mexican cuisine across the U.S. that misrepresented what a taco really is all about — yet brought the taco forth into the mainstream.
---
These were just a few big moments in history that shaped the taco that we know today. I'll get into specific histories of different kinds of tacos in future columns since there's such a vast history between them all. It's amazing how tacos' roots can be traced back to ancient pre-hispanic times but has transformed over thousands of years of wars, feasts, trades, and migrations. They're truly a hybrid food that has been molded through time, regions and cultures. Tacos have come a long way since its domination in the 20th century and continue to evolve today. For sure, tacos are undeniably tasty and are here to stay forever.