In January, the world was outraged when it was discovered that Sweden's legal system still had a 1972 law on the books requiring trans* individuals to be surgically sterilized. The law was reviewed, and a clause which prohibited trans people from being married was removed, but shockingly the surgery requirement stayed on in the proposal for the new version of the law — gender reassignment surgery is required for legal change of gender, and trans individuals aren't allowed access to surgery without agreeing to surgical sterilization. Sweden (like many nations, including the US) seems to have a history of forcing sterilization among less "desirable" groups, from Gypsies to single mothers with too many children.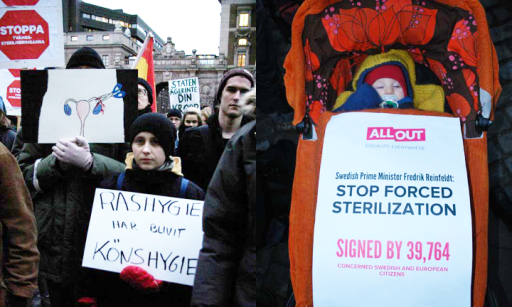 While the horror and disgust at Sweden's proposed legislation is completely appropriate, many may not be aware that Sweden isn't alone — according to Mother Jones, there are seventeen European countries which also require surgery and surgical sterilization for trans people.
Aside from the countries like Ireland which don't even have legal recognition of trans people, many countries require a trans individual to consent to surgery before they can have legal identification that reflects their true gender — surgery that will sterilize them for life. The practice of preventing a group of people from procreating because you find them in some way "deviant" is obviously dehumanizing and indefensible, and recalls the eugenicist ideals of the Third Reich — the Commissioner for Human Rights of the Council of Europe says "transgender people appear to be the only group in Europe subject to legally prescribed, state enforced sterilization."  And even if sterilization weren't required, forcing trans people to undergo gender reassignment surgery before they can have their legal identity reflect their true identity is deeply violating and misunderstands the reality of many trans people, who may not identify as the biological sex they were assigned at birth but still may not want drastic surgery that will permanently alter their bodies. It also leaves out the people who don't identify within the gender binary completely.
The United States has its own history of problematic approaches to trans healthcare — as Sebastian and Annika wrote about, it's not as though trans people haven't had to jump through restrictive and violating hoops to even attempt to get medical care or legal recognition of their identities in the US. But requiring permanent, life-changing surgery and sterilization just for someone to be able to live with dignity and with a legal identity that matches their real one? Especially when even that dehumanizing and unfair experience is restricted to those with economic access to surgery? That's inexcusable.