Hello, genderless gingerbread cookies! I'm on vacation with my lady and my puppy, so what I'm saying is all is right in the world no matter what. And I've got the news to prove it!
8-Year-Old Trans Boy Has Serious Rap Game
8-year-old Alex told his coming out story at queer summer camp, but his rhyme speaks for itself.
http://youtu.be/bWPEvmwG9Vw
Ohio Supreme Court Justice Like Gay People Now Because of His Totally Homo Daughter
Republican Justice Paul Pfeifer of Ohio's Supreme Court has realized, after watching his lesbian daughter grapple with discrimination, that the law isn't doing enough for queers.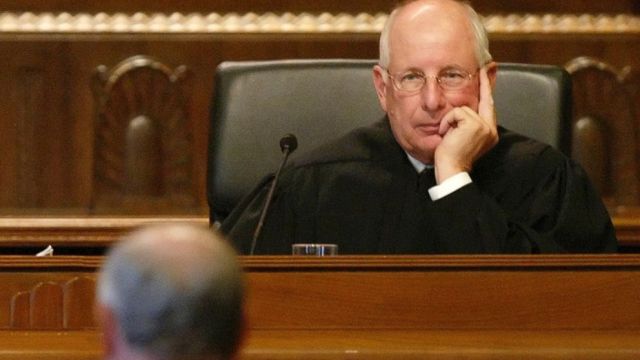 "Gay and lesbian couples who sit down, plan to take on the awesome responsibility of having or adopting children, go see a lawyer and draft up all the documents you can think of, they still don't establish parenthood, and they can't because of the constitutional prohibition," he told The Associated Press. "And that's just not right."

"…It has always been my view that someone as fortunate as me to hold high public office from time to time needs to speak out on important and sometimes controversial issues of the day," he said. "That's been my philosophy over my entire career in public office and, as I read that, I thought it's really time for me to step up and say something."
Welcome to the family, Paul. Nice robe, by the way.
We Won Things All Over the World!
+ A Botswana Judge overturned the nation's ban on gay lobbying Friday, granting official recognition to the group Lesbians, Gays, and Bisexuals of Botswana. Now, they can legally organize and campaign for their right to exist, and eventually, to party.
+ The Advocate said it best: Kansas is finally over the rainbow! And it's, um, pretty damn adorable.
Angie Crowley & Vicki Buchanan embrace ech other after their wedding inside the Douglas County Courthouse in #Kansas. pic.twitter.com/Wj2i0sEPMU

— George Mullinix (@georgemullinix) November 13, 2014
50 Shades of Gray Looks Different If You're A Lesbian
Here's a Reindeer Kissing Its Child