Ah, fall, a time for contemplation and evolution. Or, if you're straight, time to cruise control your thoughts and stay exactly the same. Hop aboard the haunted hayride of compulsory heterosexuality, folks. It's time for another round of Straight People Watch!
Straight People Watch, where we're off the deep end, being watched as we dive in, where we never meet the ground. Where we crash through the surface, where they can't hurt us, because we're far from the shallows now.
---
so beautiful. i cant wait to settle down one day and become my wife's vlog content pic.twitter.com/j4fsq0HEVt

— jack (@jackdwagner) September 20, 2018
Siri, play "The Despair in a Man's Eyes (Ft. Woman's Euphoric Denial)" at full volume. Siri? Thank you. Also, Siri? I'm sorry.
What a loving couple about to embark on the joys of parenthood, with half of which surely on their way to honoring their role in the childrearing process with a laser-like focus on the Saturdays when they get to shed it completely, instead of just partially like they do on the week days, to get blackout drunk on a combination of Southern Comfort and Coors at the football tailgate. A tradition like no other!
---
are men ……….. . okay pic.twitter.com/UoAgrBw7LK

— country toad (@beehivesy) August 20, 2018
For those of you unwilling to expose yourself to a Twitter thread by a guy named Eric, I commend you, because is this one ever a doozy! You see, Eric would like a version of Hooters (which, for clarity, is an American restaurant where the kinds of breasts you'll likely be served go way beyond chicken, am I right, fellas!!!) where instead of women serving wings in tight, low-cut shirts and what are essentially jean panties, women will be serving their undivided attention and empathy. Eric suggests "problem listener" hostesses, so as not to upset every single woman working with stories about his inability to adhere to very explicit social cues, as he is basically an American hero. Sort of that, as he puts it, "geisha place" vibe we all know and love.
Then, also, there would be free food available, which doesn't really need to be said because that's sort of obvious. From the get-go when you hear "emotional labor torture chamber"  you and I know there's free food involved. Oh, our large adult sons will be fed!
His suggested "debate nights" where men get to bait women into a maze of straw men and gaslighting are of course his proposal's most dynamic feature, combining the concepts of actual hell and escape rooms into one. Let's hope Gordon Ramsay can make his dreams come true on next season of Kitchen Nightmares!
---
I usually stay away from these kinds of forums, as they are the devil's playground and honestly, even for this series, are way too easy. There are entire categories dedicated to the conversation around whether or not men should have to properly wipe their ass, so there's really no challenge there. But I was sent this and LOVED it. What a day brightener!  It really doesn't get much better than a 26-year-old man who forced his partners to take IQ tests learning that his intellectual inferiority has made his 19-year-old girlfriend hate him. Some days you've just got it going on, and today is that day!
---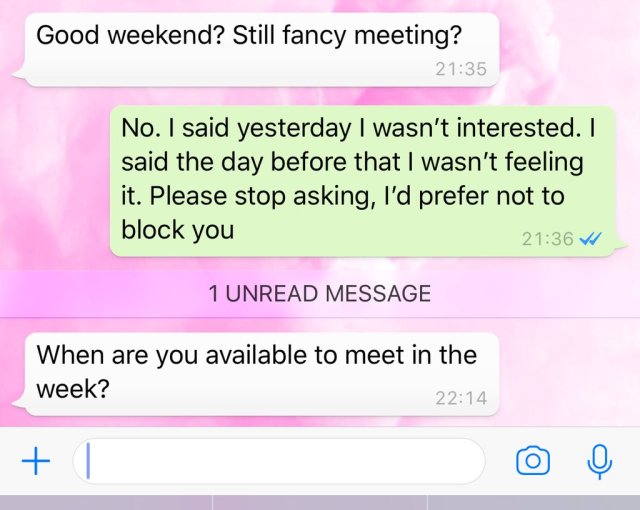 Do you think there's a correlation between women who date straight men and the number of phones/insurance claims they will have in their lifetimes?
---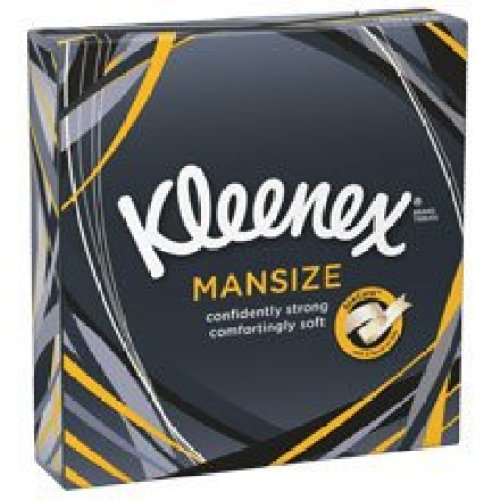 Do you hate your pregnant girlfriend, but the camera's watching your every move? Will no one go with you to Hooters for Nerds, and you can't even tell your bitch wife about it? Did you accidentally cut yourself with your monogramed Straight Up A Piece Of Glass Shard groomsman's gift, but you're trying to play it cool in the geisha place? Try crying later when you're alone, with Kleenex Mansize.
---
I'm wondering if she used the positive reinforcement method or just a spray bottle, because there really are so many arguments for both sides.
---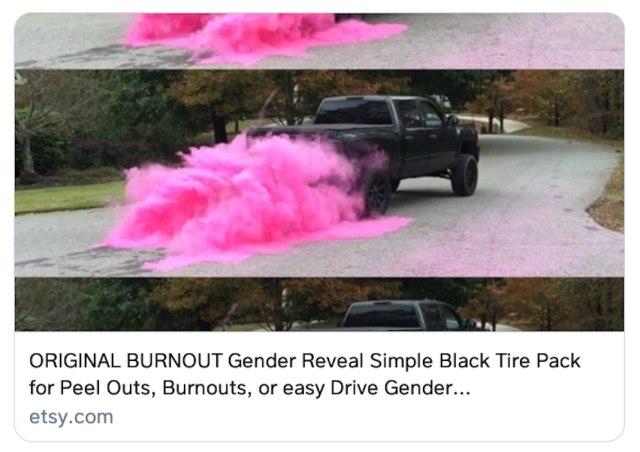 We'll put a boot in your ass pink smoke in your pipes, it's the American way! Honey, run the engine! *I peel out but realize I've hit the gas way too hard and lose control of the car into a ditch, except I planned for that and in that same ditch awaits a nest full of wasps with dye in their stingers that I've just burst and they attack our guests, leaving blue welts all over their bodies*
---
Tag yourself I'm the dust bin barely hanging on.
---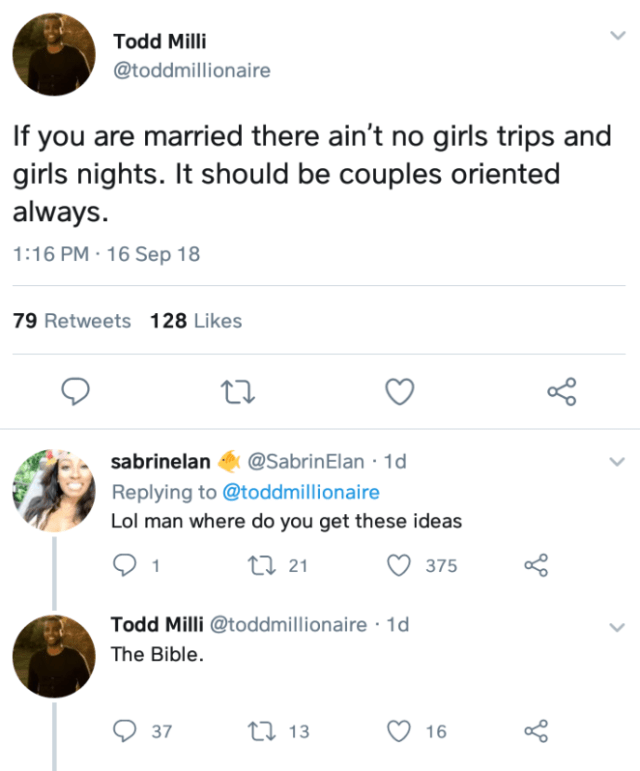 For in the gospel the righteousness of God is revealed—a righteousness that is by couples from first to last, just as it is written: "The righteous will play this Pictionary together."
---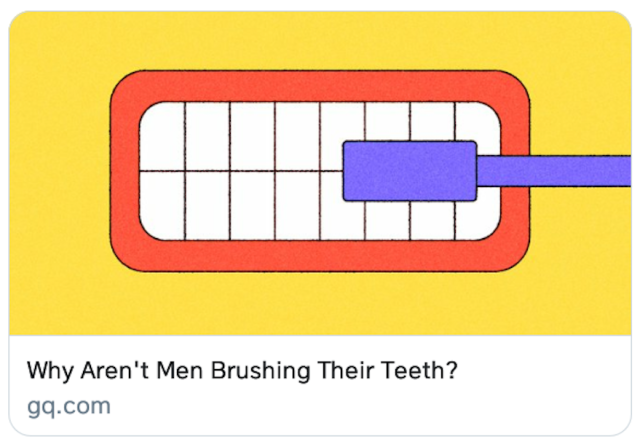 This isn't one of those misleading headlines that reveals the opposite to be true in the body of the story. This is exactly what's going on here. A quote from one of the brave men who inspired this investigation:
"I may spend all day following orders at work, and wrangling a toddler, and studying for classes, and I don't really have a choice in any of that, but when it comes to whether or not I am going to brush my teeth this morning I am completely in control."
Another man equated being asked by his girlfriend if he would brush his teeth since she had to kiss his disgusting crypt keeper mouth to being "nagged" and just stopped altogether. And, hey, I don't want to nag a nag, but maybe this woman, every woman, should ask their boyfriends if they could drink water and eat food and sleep at least four hours a night. Just a thought from someone who makes 80 cents to their dollar.
---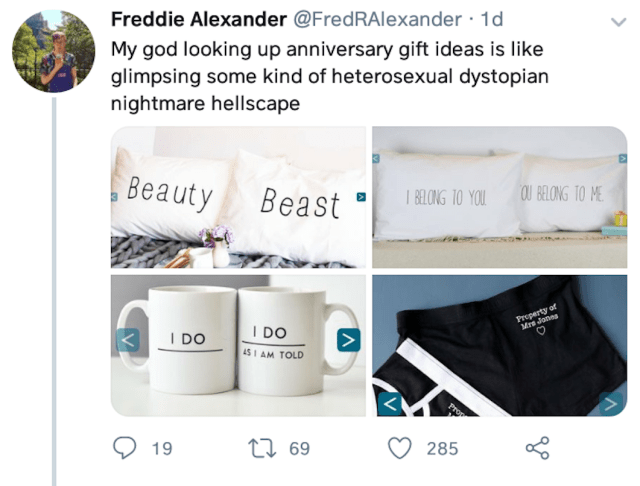 I love to flip the script that I'm a man's property by saying he is mine ;) ;) ;) ;) ;) ;) ;) ;) ;) ;) ;) ;) ;) ;) ;) ;) ;) ;) ;) ;) ;) ;) ;) ;) ;) ;) ;) ;) ;) ;) ;) ;) ;) ;) ;) ;) ;) ;) ;) ;) ;) ;) ;) ;) ;) ;) ;) ;) ;) ;) ;) ;) ;) ;) ;) ;) ;) ;) ;) ;) ;) ;) ;) ;) ;) ;) ;) ;) ;) ;) ;) ;)
---
The ultimate curse.
---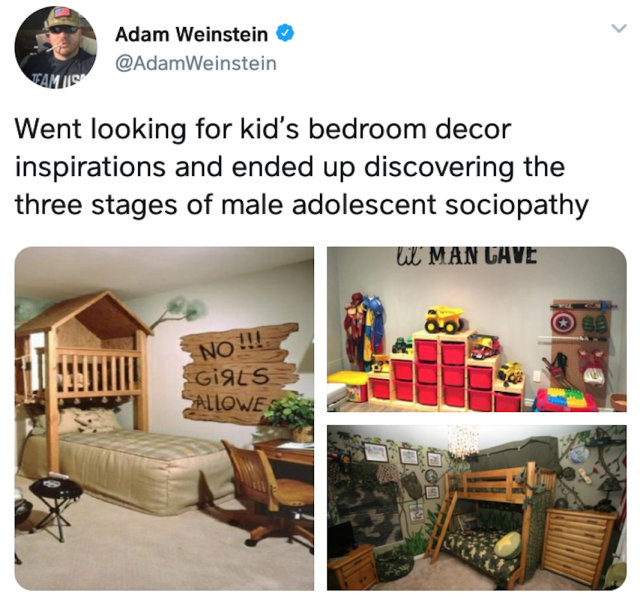 Probably don't need like a military bunker theme for a four-year-old, and as always, the option to calm down remains for everyone. That's just my opinion as someone whose name would trigger Amazon robot discrimination.
---
This is like getting kicked back in the Inception chair eight times.
---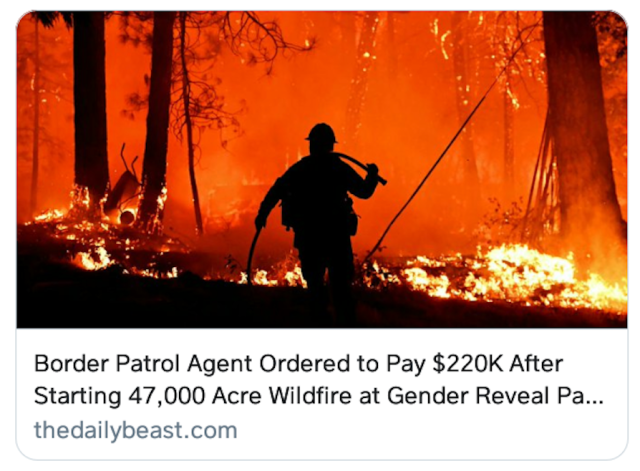 As Vanessa Williams once prophesied about me, "And now we're standing face to face, isn't this world a crazy place, just when I thought our chance had passed, you go and save the best for last."
Every time I was sent this article, this song played louder and louder, backing straight people's magnum opus. Rise, my flames, rise! EVERY BABY SHALL BE MARKED! BOW TO THE FIRE GODS, YOU FOOLS, AND BEG FOR THEIR MERCY, FOR THEY WILL INHERIT THE EARTH!