Hi crush monsters, this is Straddler On The Street, a feature where I celebrate all of you incredible Autostraddle readers by hunting you down, demanding you chat with me, and then writing about you on the Internet so we can all crush on you. Get excited, because butterflies in your stomach 24/7 is a fantastic way to live.
Header by Rory Midhani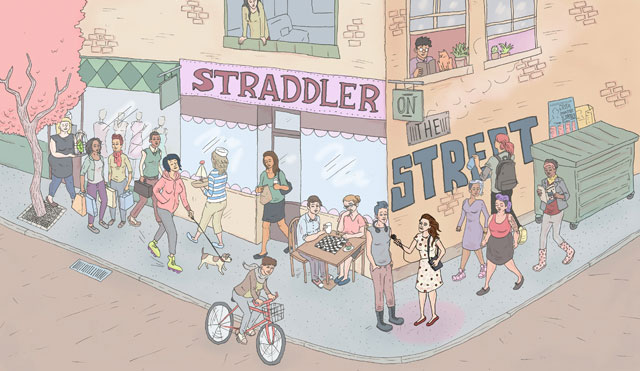 ---
Straddler On The Street: Kalyna, 24
Kalyna, also known as paper0flowers, also known as Papi, has quite the reputation on Autostraddle. If you've been here for a hot minute you've probably seen her comment on something, because she's been commenting faithfully since February 2010. We obviously love her (everyone should comment all the time so we can love you too!) and lucky for us, she loves us right back. When talking about Autostraddle to me via email, she said: "Honestly, this website has changed my life and has essentially saved me from a potentially miserable life because this community has helped me break down all my inner queeries, as well as educate me on all things social, political, and intersectional." Well damn Papi, make me cry before we even start the interview, why don't ya?!
When she's not being a kickass commenter here on Autostraddle, Kalyna is quite busy in her every day life. She moved from Winnipeg to Edmonton last year to attend the University of Alberta for her graduate program. She's getting her Masters of Arts in Anthropology and was recently officially accepted into her PhD program. She is also an "Executive Queer" in all things in Edmonton, is one of the executive members of the university's LGBTQ* group, and is a member of Fyrefly in Schools, a program where LGBTQ* students and allies visit junior high and high schools around the area to talk to students about homophobic language, bullying, and LGBTQ* visibility. She's involved in the Ukrainian communities in both Winnipeg and Edmonton, mainly through singing and "being the good Ukrainian girl you want to bring home to your mama."
You may also have heard that she has a girlfriend.
Hi! So you just got official acceptance into your PhD program…congratulations! What will you be studying?
I'm interested in reconstructing entire populational health trends.
And…what does that mean?
The field in bioanthropology for that is called "paleodemography," which is basically figuring out everything you can about a single archaeological population. So, let's say that I get to dig up an ancient cemetery. By examining the bones, I'd be able to reconstruct things like what foods those individuals ate, what diseases they had, the infant mortality rate, the average age that people died, maybe what kind of physical activity they did, and other stuff. I'm a big-picture person. I want to do everything!
My mom gave me a Kathy Reichs book – which Bones the TV show is based on – when I was 12, and my mind was blown. Now, 12+ years later, I'm still on that same trajectory.
You can figure all that out just from their bones?!
Yup!
Okay, now I think it's time for me to ask you about your girlfriend. I heard a rumor that you are "sickeningly in love with her.wp_postsTrue or false?
It's not a rumor… I can say that it's 100% true. And I'm prepared for Digger and all my friends to tease me in the comments.
And where does the in-joke come from? Like when you say you're prepared for your friends to tease you in the comments… why?
Some of my Straddler friends told me that I was in love with her before I was aware of it just by the way I talked about my super-awesome-best-friend and how we interacted on webcam when we video chatted with Straddlers. Now both of our Facebooks are covered in hearts and kisses and declarations of love. And both times at A-Camp, much of my conversations revolved around how much I missed her and how pretty/smart/funny/amazing/perfect she is.
I love that your friends guessed you were in love before you saw it – that shows you have good friends!
Yes, some of the best people in my life are Straddlers.
How did you discover Autostraddle?
I want to hear more about your interactions with Straddlers. I was a longtime Autostraddle reader before I was a writer, but I never felt connected to other commenters the way I think some people are. The first A-Camp was a big turning point for me in terms of feeling like part of the community. Can you talk about the friendships you've made via Autostraddle?
I'd love to! In the summer of 2010, just a few months after Autostraddle introduced the Groups section, I was bored and wanted to connect more with people who loved and worshipped [the site]. None of my real-life friends seemed to get into it – or, ya know, weren't the target demographic and I was still partially closeted at this time – so I stumbled across a Group that advertised for a tinychat room. And inside were some of the most amazing people I've ever met in my life. Every single night, there'd be a group of us that would meet on chat, and we'd video-cam and just share our stories. Even though I haven't met half of them, I can honestly say that these people know the depths of my soul better than people I've known for years off the Internet.
Do you think the medium of conversation played a role in that, or was it more that you were able to be honest with these people because you had shared experiences?
Probably both, actually. I've always had Internet Friends for as long as I've had the Internet, but I've seen it more that I can reach out to people across distances rather than using it as a mask of anonymity.
I think that's a key difference between certain Internet cultures – some people use the Internet as a mask but some of us use it to make connections that are real.
Absolutely. The first person I came out to ever was one of my Internet best friends. My life would be completely different, and less enriched, if I didn't have that ability to connect with people online.
Did you have access to a queer community in your day-to-day life outside of the internet?
Growing up, no. I only found a queer community here on campus, but I'm a grad student so I had to purposely find a student group because most universities don't advertise other aspects of campus life.
You've said that the queer community at Autostraddle helped you work through some "inner queeries.wp_postsCan you talk about what those were and how the site helped?
The September of my last year in undergrad, I literally woke up from a dream where I was making out with a female friend of mine and the heart stirred in ways I never felt before. But I was in a super long-term – five years – relationship with a guy. There was absolutely no question that I was attracted to girls, it was just a major issue of "What about my boyfriend?" I discovered Autostraddle in February 2010, and it was incredibly validating and comforting to know that I wasn't the only girl in my predicament, that I could be totally queer and gush over girls, but still be with a guy and have that mean something. Even though I realized two years later that I'm actually not bisexual, having a space where that was okay helped me self-analyze on my own time, with a big support system, including my (ex)boyfriend.
That's great that your ex was supportive of you.
My only regret is that I wish I didn't have to hurt him in order to be my happy self. It was a hard breakup last year, because he was the second person I came out to, and he was super supportive of me being bisexual, but once I realized that I wasn't attracted to men it just overwhelmed the relationship. There was a lot of denial back and forth. But now we're talking again, and he's doing great and we're both happy for each other.
I love happy endings! As a longtime commenter, are there any particular posts or comment threads that stand out to you as thought-provoking or life-changing?
I don't think I can pinpoint something that specifically, but the safety and comfort of the open dialogue [that happens in] the comment threads was mind-blowing, as well as seeing pieces of me reflected in some of the stories. [I remember thinking that] everyone [was] so respectful and so honest. I started commenting the first day I found Autostraddle.
Let's talk about A-Camp. What were your expectations and were they met?
I was excited to meet everyone – my online friends and people like Riese and Gabby and Haviland and every single writer and contributor. A-Camp for me is genuinely a spiritual experience. It was the first time that I felt like my skin actually fit perfectly, you know? Like, "Yes, this is who I am, this is my community."
You're making me tear up, FYI.
Everyone was so raw and open and just real. At the second A-Camp, I had a somber conversation with Gabby after one of the more emotional panels, and we were like: "What is wrong with the world that we all have to go to the top of a mountain to be ourselves?". That's my favorite part: the profound connections people make so instantly at A-Camp. It's simultaneously the best party ever and the most cleansing spiritual retreat.
Speaking of making profound connections, you work with youth in a program called Fyrefly. Can you tell me more about it?
Sure! Fyrefly is a program that's run through the Institution of Sexual Minorities Studies and Services at my university, the University of Alberta. It came from Camp Fyrefly which is a camp for LGBTQ* youth. We go to a number of junior high schools, high schools, teacher conferences and education seminars to talk about LGBTQ* visibility and homophobic bullying. We've got a few activities to introduce LGBTQ* vocabulary, and we talk about why using [the phrase] "that's so gay" is hurtful. My major contribution as a panelist is when I get to share my story. That's what usually gets the kids the most, you know? Seeing a face and hearing a story so that when you say, "That's so gay," you're really saying, "That's so Kalyna," and it's no longer an abstraction. Having to tell my story on a weekly basis has actually helped me process my own stuff, too.
I can imagine! I spoke at my girlfriend's synagogue about being gay and it was so validating to have the kids respond in a respectful awesome way.
That's so great! I always tell people, sharing stories is the most profound way of learning something. I haven't taken any gender studies class at school, but a lot of my friends turn to me to talk about feminism or queer theory because of Autostraddle. And it's because Autostraddle makes it so personal and real, while reading a textbook makes it academic and a "theory," rather than a story.
Yes absolutely. Theory is worthless if we can't use it to help real humans.
Hear, hear!
What do you want to be when you grow up?
Haha, oh man. Let's see. Dr. Horocholyn, PhD; wife of Katherine, mother; respected member of the LGBTQ* community; respected member of the Ukrainian-Canadian community; happy. Pretty much my life as it is, with more stability and permanence.
Well, that's a wrap!
Thank you so much for having this column. It's been an immense pleasure having this opportunity.
Thank you for existing, along with all the other readers and commenters! The column couldn't exist without you guys.
You're welcome! This is why Autostraddle is amazing. We're all community and it's beautiful.
---
If you would like to be featured as a future Straddler on the Street, please email vanessa [at] autostraddle [dot] com. Include a few photos, 3-5 sentences about yourself and put "Straddler Submission" in your subject line. Approximately a million people have submitted so far, so please be patient as Vanessa goes through her inbox — you're all sexy with really smart brains, and don't you forget it!