Hi crush monsters, this is Straddler On The Street, a feature where I celebrate all of you incredible Autostraddle readers by hunting you down, demanding you chat with me, and then writing about you on the Internet so we can all crush on you. Get excited, because butterflies in your stomach 24/7 is a fantastic way to live.
Header by Rory Midhani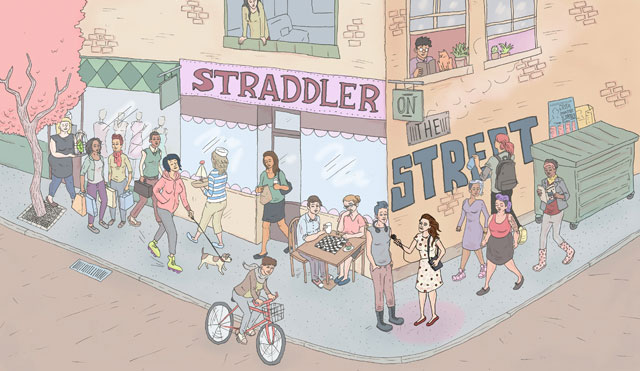 ---
Straddler On The Street: Chloe, 24
Chloe was one of the very first people to submit to Straddler On The Street way back in November 2012, but it took us forever to connect because of the huge time difference – she is our very first Straddler From Down Under!
Chloe lives in New Zealand and told me she has been reading ("lurking, really") Autostraddle for a while now. She loves photography and movies, she writes stuff in her blog ("sometimes!") and her favorite drinks are Appleton Estate rum and Reokorderlig cider. She also makes "a mean pizza base, toppings included!", so don't worry, I made sure to ask for more info about that when we chatted.
I instantly liked Chloe because she's 5'1, just like me, and also because she was super patient as we exchanged approximately 238423 emails trying to coordinate a time to do a Straddler interview and I think she might even still like me after all that tomfoolery. So say hello to our very first New Zealand Straddler on this cheery Monday morning – though for her, it may already be tomorrow!
Can you tell me about New Zealand? Have you always lived there?
Yeah, I love it! I haven't lived here my whole life; I was born in Singapore and lived there for eight years, before my parentals shipped the family over to Malaysia for a few years and then New Zealand after that. I've spent more than half my life here now and it's where most of my memories have been made.
What do you like most about it?
I love how laid back is it. Coming from Asia, especially, it was a huge culture shock and sometimes continues to be – there are just little things that you think, wow, I'd never get away with that back home! I remember when I was 11 years old and it was my first day at school… it blew me away that the desks could be opened and you could put books in there and leave them overnight.
The scenery is also amazing. It's coming up to autumn now and in the morning it's just stunning when the fog is still low and the grass is all frosty and the sun's just coming up… it's beautiful. There's less light pollution too so you can always see the stars.
So I hear you like movies. What are some of your favorites?
I LOVE MOVIES. They fascinate me: writing a script, storyboarding, just the process of transferring that written word into moving pictures that originated in your imagination is amazing… the creativity involved just boggles my mind.
My all time favorite movie is Identity, with John Cusack and a whole bunch of other great actors. I'd watch anything with John Cusack in it, so my favorite movies list feature him a lot… Grosse Pointe Blank, High Fidelity, Serendipity – also love me some Kate Beckinsale! – and Say Anything amongst others.
I tend to go for more lighthearted and awkward-comedy-type movies like Juno and Adventureland but also really appreciate heavier content like Memento, Fight Club, the Dark Knight trilogy – Christian Bale is another top actor and Chris Nolan is my favorite director – I'm actually quite happy to watch any sort of movie apart from horror. Thirteen Ghosts is the film that completely turned me off horror movies forever. In my defense, I was eleven years old and not prepared to see a dude get sliced in half by a glass door! Also, since then I have tended to walk very quickly through automatic glass doors…
Also! Pitch Perfect! And here we all jump up and down going "OMG" about how hilarious it is while the Americans in the crowd swoon over Rebel Wilson and her Australian accent as I make a face at the Australian accent in general while grudgingly agreeing that okay, sometimes it's pretty sexy BUT NOT ALL THE TIME. Like maybe 0.342% of the time.
Do you have a celeb crush?
First, Kristen Stewart. How do I love her? Let me count the ways… she's awesome and hilarious and has a style that she just owns, and I thoroughly appreciate the way she just seems to be herself all the time. People say she's too unhappy-looking all the time but you know what? Maybe that's just her face and she doesn't have time to fix it to make people happy.
Second, Anne Hathaway. People love to hate her. I love to love her. She's a great actress, smart, great smile, great hair, always happy, can sing, supports the gays, is gracious… need I say more?! My parents, who aren't very okay with my gay, don't want me to bring home a girlfriend but I bet if I brought Anne home – you know, in that alternate fantasy universe – they'd be like, "Honey, she's out of your league. PUT A RING ON IT." And I could actually put a ring on it because gay marriage just became legal in New Zealand!
One thing that amuses me about Anne Hathaway and her haters is that some people [complain] "she's so perfect all the time" while hating on KStew for basically not being perfect all the time. Maketh up your mind!
You have a blog! Tell me about it!
My blog is JAFAroundtheworld.com. JAFA stands for "Just Another [bleeping] Aucklander" and it came about because I had no imagination apart from wanting to travel and blog my experiences from around the world.
I've been blogging on and off for quite a few years now, but it's only this past year or so that I've actually made a solid go of it, to keep it up and post regularly. While I was still at uni it started out as an outlet for sanity, to separate at least a little bit of myself from the increasingly rigid box that was to be my career. Now it's turned into something to help me write somewhat regularly and to keep what skill I have current. As they say, if you don't use it, you lose it, and I don't have a lot to use at the moment so I better hang on to it tight!
You told me you make a yummy pizza. What is the Ideal Pizza and how can I make it?
Ideal Pizza has to be thin crust! That way you can stuff more of the yummy in your tummy while enjoying a great filling-to-crust ratio! Sorry, classic crust lovers. I can't get over how brilliant pizza is; it's this amazing, minimally messy way to transport all sorts of food into your mouth and you don't even need cutlery!
The ideal pizza will be delicious, obviously, and should contain pineapple – this seems to be a very controversial choice of pizza topping – and BBQ sauce. If I'm ordering a pizza I normally keep it super simple – you can't go wrong with a good margherita; if I make one, I'll put all sorts of stuff on it. My all time favorite is chicken and pineapple pizza, with BBQ sauce and fresh cherry tomato, mushrooms, and spinach. YUM!
What do you like to do for fun?
This is going to sound weird but I like driving medium distances. Because the drive to and from work is relatively short and I'm doing the same route over and over, it gets super monotonous… so sometimes on my days off I'll drive out to Havelock which is just about half an hour one way if I time it right, or Waipukurau is about an hour out from where I live. The roads are fairly open and high speed with low traffic so it's pretty enjoyable, especially during the day time with the beautiful sceneries! There are heaps of orchards and berry farms and wineries in the Hawke's Bay too, so it's easy to take half a day to just stop by all those places along the way.
I'm quite into photography as well, so if I'm up for it I'll head out and find something cool to shoot. Light writing has caught my attention recently so I'm either doing that or studying up on DSLR cinematography in my spare time.
How do you relax and unwind?
I usually put on a DVD or go out and watch a movie if there's something good on. Right now I'm on a huge Battlestar Galactica kick so have brought all my DVDs down with me from Auckland and am having a giganto marathon… I'm like that couple in Portlandia, except single.
Another way I unwind is going to the gym; it's nice to be able to hit the weights and turn your brain off for a bit. I really enjoy running on a treadmill – I enjoy it more than running outdoors. I'll walk outdoors and play sport outdoors, but if it's just running then you can't beat a treadmill, because I see it as a sort of mindless repetition exercise where I can get into a zone and clear my head. I think being in the gym is part of it as well; sometimes I feel like a dork getting into my car and driving to the gym to exercise but the sound of the machines kinda calms me down… sort of like whale sound therapy while sleeping, I guess?
Do you have any essential clothing items?
Um, undies? I try to wear them as often as I can. I don't have any piece of clothing that I'm particularly attached to although I have a "go to" outfit that I put on if I'm feeling lazy slash uninspired slash want to know I look great without having too much of a stress about putting together. I would be the first person to lose strip poker, I have no concept of layering.
Actually, I really love my trackpants. And I have a favorite towel and if it's in the hamper I'll do my laundry early so I get to use it again super fast.
That's hilarious and adorable! How did you discover Autostraddle?
Oh, gosh, this is going way back! I've been lurking for a long time. It was when AfterEllen was changing hands… I was on LiveJournal and someone on there told me about this awesome new LGBT site called Autostraddle and I checked it out, and the rest, as they say, is lesbistory.
I was at a stage of my life where I was sort of still wading around the veritable closet that was my sexuality, half in and half out of it, and when you guys came along with something fresh and new to offer the scene it just was a good fit. It was like closing the chapter of realization I had with AE, and starting a new one with AS where I was a more self-aware, self-confident gay girl.
Awww, I love that. Do you have anything else you'd like to share with the Autostraddle community?
Everyone here is super awesome and amazing! Every single thing I read on here is inspiring and intelligent and the comment discussions are great, too. I've learned a lot and gained a much wider awareness of everything from transgender issues – something of particular interest to me – to the [best] undies for any occasion. I've been able to help open the minds of others around me as well because of it. So thanks to everyone for that!
---
If you would like to be featured as a future Straddler on the Street, please email vanessa [at] autostraddle [dot] com. Include a few photos, 3-5 sentences about yourself and put "Straddler Submission" in your subject line. Approximately a million people have submitted so far, so please be patient as Vanessa goes through her inbox — you're all sexy with really smart brains, and don't you forget it!