Learning to feed yourself can be one of the most terrifying things. Am I about to give myself food poisoning? If I eat this too often will I end up with scurvy? How can I get the most nutritional bang for my buck? Why does this still taste like ass?
With Ode to My Pantry, learn to navigate a grocery store without having a meltdown in aisle three. Give a man a fish and feed him for a day, teach a queer to cook and stave off malnutrition for another semester.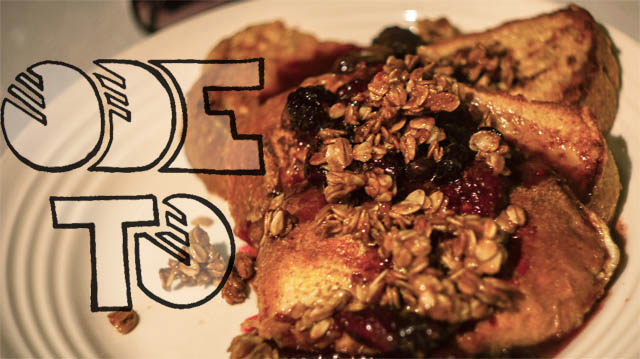 I feel like all of life's problems are solved by brunch, so I end up eating a lot of it. Too lazy to get out of bed for breakfast? Brunch. Need to debrief your wingman over whatsername last night? Brunch. Hungover? Brunch. Time to rid your fridge of perishables? Brunch! Because really, what is brunch other than an egg, dairy and carb delivery system?
Let's say you managed to scam your friends into lugging your crap and your fridge and/or fridges up and down four flights of stairs. (This is pretty impressive considering you're moving to a first floor apartment.) But now it's Day Two, and you figure you should probably carbo-load your movers for the second round. Part of you wants to just get takeout like a normal person, but part of you remembers you just spent half a month's rent on the moving van. Plus a question pops into your head: "Did I manage to get my milk and eggs down to a respectable temperature in a respectable amount of time or did I just put it in a new room temperature fridge?"  Crap.
Yet again brunch saves the day!
Even though I'm sure you'll argue that there are easier things to make (like say Toads in a Hole or Stale Bread), when it comes to the Empty Fridge Trinity, French Toast answers all of my problems. For one thing it manages to use up all of my questionable ingredients (even if those ingredients are almond milk or tofu) and it goes from boring to impressive with a just few tweaks!
Stale bread. You could get a fresh loaf of your baker's best, but it wouldn't hold up to the soggy force that is custard. You'd rather have a slightly stale slice that can soak up all of the custard and maintain enough physical integrity to get from pan to plate. Plus let's face it, if you're moving, there's a high probability you're swimming in stale bread since you haven't had a chance to go shopping all week. If you happen to have stale croissants, brioche or challah around, you definitely lucked out.
Extra sugar. Sweeten up your toast and promote extra browning and crisping. You can save your guests a step by pouring maple syrup directly into your brew. Laziness, we are all about laziness.
A shitton of cinnamon. When my mom made me French toast it usually implied one thing: flattened bread and a righteous slathering of the ground stuff. (Think a five-year-old doing the cinnamon challenge.) I've come to realize that most recipes for eggy bread do not call for a metric ton of cinnamon, but really, they're just wrong.
Change up the texture. If you find your slices lose their crispness by the time they get to the table, let your guest sprinkle on something else. Muesli, granola and straight up toasted oats can save your soggy slices. You can add some shredded coconut to your batter for a longer-lasting crunch.
Take a lesson from eggnog. What is French Toast mix other than cooked eggnog? Whip up your normal batch of batter and add in a few extras. Nutmeg. Vanilla. Bourbon. If that doesn't taste like holigay goodness, I don't know what will.
Steep it. Are you an Earl Grey or Chai person instead of a coffee fiend? Give your dairy a flavour friend by heating it up with a few of your favourite teabags. It's like a London Fog but you don't have to deal with your milk steamer!
Take a cue from your other favourite drinks. Given the higher fat content of your bread custard, you can use that fat to transport flavours from your plate to your tongue. Orange-flavoured liqueurs like Grand Marnier and Cointreau are expected, but if you happen to favour Bailey's or Frangelico, feel free to pour in a shot or twelve. If it works in your coffee, it'll work with your brunch. (Unless of course you like tequila in your coffee, in which case I can't help you.)
Salt. As with all desserts, a little bit of salt makes your food taste more like itself. If you're still too groggy to remember to add a pinch to your custard, you could always add a light sprinkle of kosher salt to your slices for added flavour and texture.
Think Quiche. Embrace your salty side just a little bit more and step away from the sugar completely. Since French Toast and Quiche both fall under the creamy Custard Umbrella, there's no reason to not try something savory. Dial back the sugar, add your favourite herbs and top with your omelette fixin's instead of whipped cream.
Sammich It. Admittedly Monte Cristos kind of scare me in the same way McGriddles scare me, but there's something to be said for custard-laden sammiches. Take inspiration from your favourite crepes and trap some Nutella, bananas or strawberry jam between your slices. Or be daring and go the ham-route anyways.
Get to it! Mother's Day is next week so you better practice your brunching. And I'll continue unpacking my bags.