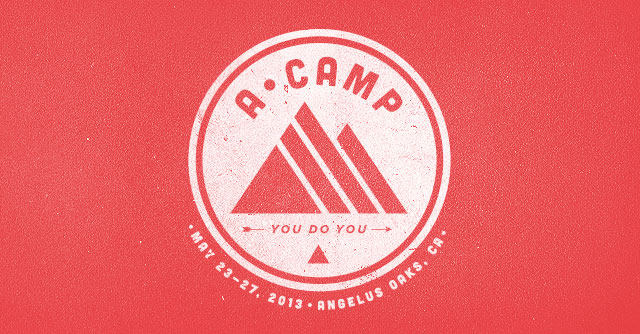 Hi crush monsters, this is Straddler On The Street, a feature where I celebrate all of you incredible Autostraddle readers by hunting you down, demanding you chat with me, and then writing about you on the Internet so we can all crush on you. Get excited, because butterflies in your stomach 24/7 is a fantastic way to live.
Header by Rory Midhani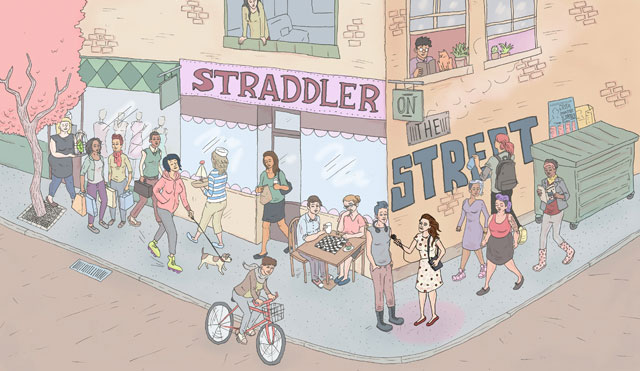 ---
Straddler On The Mountain: Brooklyn, 21
Welcome to a very special edition of Straddler On The Street wherein I'm currently on top of a mountain in California with 300+ queer humans, trying to convince every single one of them to appear in this column. So far everyone has been super obliging which is great because at this rate I'll have interviews for Straddler On The Street lined up through 2016!
But back to the present. I thought it would be fun to introduce you to one of our campership campers, because they're the people who wouldn't have been able to make it to camp were it not for your super kind and generous donations and also because I had to pick a starting point somewhere otherwise I'd be trying to cram 300+ faces and words into this post because every single person here is amazing and beautiful and smart and perfect. Have I mentioned I love every single one of you? Being on the mountain only increases that love. Blame it on the altitude.
So! Meet Brooklyn! She's originally from Beaumont, Texas but now resides in Houston. Brooklyn describes herself as "another terminally tragic, ex-homophobe, ex-fundamentalist Christian, queer gal with an unsupportive family." She was kicked out of her house when her parents found out she is trans* and was homeless for a period of time. She says that was "definitely one of the more interesting and defining pieces of my life so far."
Brooklyn is funny, effusive, and unflinchingly honest. "I don't have a lot of future ambitions," she told me. "I'm at a point in my life where I'm more focused on making sure I have enough bus money this week, and less focused on what I want to be when I 'grow up.'"
Please say hi to Brooklyn and get excited to meet many, many more A-Campers when we all get home from paradise. I hope one day every single Autostraddle reader is able to come to camp, and that I'll get to interview all of you in person on top of this mountain. That would really be something, wouldn't it? Gosh… I really love you guys. #feelings
Hi Brooklyn! When you're not at A-Camp, what are you up to these days?
Working hard making coffee for people richer than me. Spending my free time playing bad Neutral Milk Hotel covers on my guitar and hanging with my lovely friends.
Awesome. Can you talk a little bit about why you applied for a campership and what going to camp means to you? 
I first heard about A-Camp from my friend Morgan McCormick, when she went last year. I remember wanting to go so bad, but money was an issue. I was also living with my parents, so how could I tell them that their son wanted to go to a camp for queer women? This time around, I'm on my own. Morgan had been encouraging me for a while to apply for a campership and when the opportunity came around, I jumped on it.
I really wanted to go to camp because it's a space where I can just enjoy being me. Out in the real world? I have to worry about how people perceive me all the time and I feel like I'm constantly trying to justify my identity to people. That hasn't been an issue at camp. Camp has totally exceeded my expectations.
I'm so glad Morgan told you to do it! Would you be comfortable talking about your parents and how it was to come out to them?
Absolutely. I don't think you could call it a coming out and much as getting found out.
Oh, I'm so sorry.
The first person I came out to was a close friend of mine who was [about to move] across the country. I knew I needed to tell him before he left but I was too scared to actually say the words "I'm a girl" back then. So I wrote him a long, long email. A few months later, while fixing a virus on my computer, my dad found the email and confronted me about it.
His personal belief is that trans* people suffer from a mental illness. He really wanted me to stay away from them. Thankfully, he deals with problems by ignoring them until they go away. I think he thought it was a phase, maybe?
My mom found out after she found my hormones. We had a conversation about it at a playground in the middle of the night. It kinda ended with her yelling, "You're not gay," over and over. But my mother deals with problems the same way as my father and decided not to bring it up again.
It wasn't until a close friend of mine who also happens to be trans* passed away. I brought them with me to the memorial service in hopes that they would see how important my queer family was to me. They didn't understand though, and asked me to move out two days later.
Wow. I don't know what to say… I'm really sorry about their reactions, especially because it sounds like you tried hard to level with them. What happened once you moved out?
Well, I spent the next five months bouncing around Houston trying to find a permanent living place. It was scary and embarrassing. Thankfully, I have a wonderful support network who kept my head above the water until I got my job and an apartment. I recall spending a lot of time, probably more than I should've, watching My Drunk Kitchen on YouTube. You find ways to get through the day, I guess.
How did you find your amazing support system and your queer family?
Haha, I started sneaking out to a transgender support group with my friend Addie last summer. We slipped off every Monday and drove half an hour to the Transgender Center in Houston without our respective families knowing. Basically everyone really close to me at this point in my life, I met at the Center. It was a very cloak and dagger. Addie's family didn't know I existed and vice versa. But it was fun. There was a little bit of a thrill in rebelling. The morbid reality being that I have to sneak around to get some help.
When we first emailed, you described yourself to me as an ex-homophobe and an ex-fundamentalist Christian. How did having those identities affect your coming out process?
I think, in retrospect, it was me being queer that shook my fundamentalist beliefs, but it was losing my religion that allowed my to take a long hard look at my gender and sexuality. As a young boy in a southern baptist church, we had a lot of talks about "lust" and why it was a sin. A first I though my experience was shared by the other boys. At some point, I realized that that they were talking about "being on someone" while I was talking about "being someone."
I remember my parents explaining to us what the word "gay" meant. They told me then that I was straight, so I grew up believing it. Being from a little city in southeast Texas, I was surrounded by heterosexism. It was the norm. I didn't know anyone who was gay. I became a sponge in muddy water. I soaked it all up.
Then puberty hit and my body started doing all the wrong things. I knew what I wanted, even if I didn't have the words for it. More importantly, I knew I didn't choose to want it, which was completely counter to my beliefs at the time. It was just part of me. I started "cross dressing" at ten years old. It was always followed by this massive guilt trip, but I couldn't understand why I felt that. Why was this bad? It doesn't hurt anyone and it makes sense to me.
My teen years were one big religious debate and I think I was seventeen or eighteen when I took a step back from my Christian faith to reevaluate my beliefs. In that time, I learned a lot more about the LGBT community than I'd been told growing up. When I saw being queer as something that was totally legitimate and normal – and cool – I was able to apply that label to myself.
Woah, that is a huge journey. What were some of the resources you used to learn more about the LGBT community?
YouTube. There's a ton of great channels on YouTube for queer woman. One I got involved with was TrannystarGalactica. Translabyrinth was a big help too. Then there's a myriad of transition timeline videos out there that made my heart ache and soar at the same time. Another place to connect with people was Reddit, specifically /r/transgender. That's where I met Addie, which lead to me meeting everyone else, which lead to me not dying on the street, I guess.
Well cheers to that! Based on everything you've told me, I think I expected you to hate your parents, but when I was looking through your Facebook I came across a long, sympathetic letter you'd written them that you posted. I was really blown away by how kind and patient you were. Could you talk about your efforts to reach out to them and about how you are able to extend so much kindness to them?
Honestly, the first couple of months after getting kicked out, I didn't talk to them at all. Complete radio silence. But in spite of everything I'd been through with them, I used to have a really good relationship with my family. I'm the oldest of five kids, and my little siblings were my best friends. At this point in my life, I'm not allowed to see them. And as long as my parents are crossing their arms and looking in the other direction and saying, "You're not gay," like a parrot, I won't get to see them.
So I can choose to cross my arms too, or I can try to extend a hand. It's hard, because they aren't having it right now. But I hope they will. At this point, I'm doubting it though.
I also hope they will come around at some point.
Thank you, me too.
On a much lighter note, you mentioned that music is a big part of your life. What are some of your favorite bands?
Oh boy, I only listened to the local Christian radio station until I was sixteen, so I missed everything everyone was listening to. Now, I'll find some band and fall in love and then realize I'm ten years late to the party and no one has listened to them since high school.
My favorite for the past few years is Brand New. I instantly go bi for Jesse Lacey. Not even joking. Deja Entendu might be the perfect album. During my house-hopping slash homeless period, I'd go on long walks through Houston and listen to Kevin Devine's album "Brothers's Blood." It kinda became the soundtrack for my transition, not just from one gender to another, but from childhood to adulthood. And let's not forget the lovely miss Kaki King. Everytime I pick up a guitar, I wish I had her talented fingers.
It's pretty cool that you get to discover all these bands now for the first time… like a whole new world! Like camp! Connections! Okay, final question. I always end with this. Do you have anything else you'd like to share with the Autostraddle community?
I know I'm not the first to have a bad experience with my parents and I won't be the last. It's hard, really ridiculously fucking hard, and over something so insignificant. But it's good to know that there's a wonderful wonderful community here to fall back on. Would you be against me giving a little shout out to my friends who are gonna read this?
Go for it!
Marvelous Mary, River Monster, Meester Kyle, Tugboat Todd, Steph, Eugenia and lovely Addie. You guys are great and I love you. Thank you all so much for everything!
---
If you would like to be featured as a future Straddler on the Street, please email vanessa [at] autostraddle [dot] com. Include a few photos, 3-5 sentences about yourself and put "Straddler Submission" in your subject line. Approximately a million people have submitted so far, so please be patient as Vanessa goes through her inbox — you're all sexy with really smart brains, and don't you forget it!