Steven Universe's season five finale, "Change Your Mind," saw Rebecca Sugar stick a nearly impossible landing, and, in doing so, prove not only her skill as a showrunner and storyteller, but her commitment to allowing children and adults to see their trauma, abuse, and mental illnesses reflected back at them with compassion and hope for healing. Steven Universe has never shied away from showing the myriad facets of depression, anxiety, PTSD, and grief — but in "Change Your Mind," the show went even deeper, depicting Steven's final battle with the Gem Empire as a boy facing off against a toxic family, held together by an abusive narcissist, and walking away triumphant.
The hour-long episode opens with Steven and Connie imprisoned on the Gem Homeworld. They're basically alone, and determined to get the heck out of there with the dormant forms of Garnet, Amethyst, and Pearl. Blue Diamond and Yellow Diamond both try to stop them, but Steven finally gets through to them by pulling back the curtain on their dysfunctional family dynamic with White Diamond. She's a controlling, manipulative, unbending tyrant whose demand for perfection — and inability to see other Gems and even whole civilizations as anything other than beings who exist to satisfy her whims — drove Pink Diamond away. Blue and Yellow agree with him, and when they try to explain their feelings to White, she proves Steven right by turning them colorless and forcing them to act as literal extensions of herself.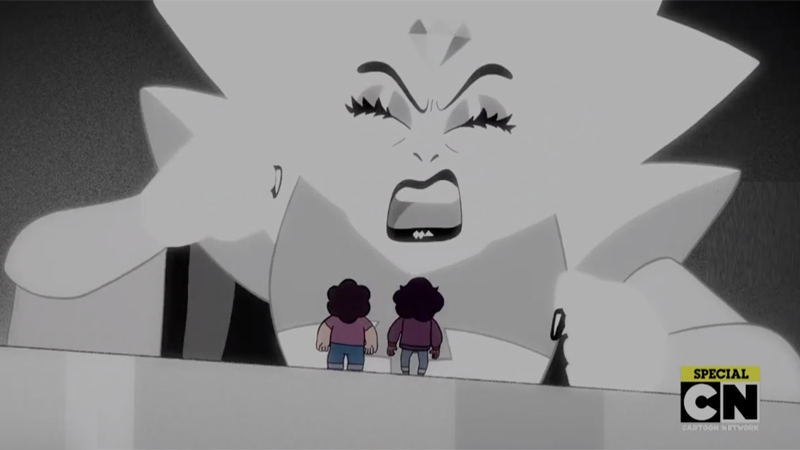 That's her power. The power of narcissism. She even uses it on Garnet, Amethyst, and Pearl after Steven (awesomely!) fuses with all of them in turn, and then collectively, to reactivate them. But the textbook emotional abuse doesn't stop there: White senses Steven's identity crisis and decides to convince him, once and for all, that he isn't who he thinks he is, that he's someone else, and that someone else exists for the purpose of making White happy. In a stunning, stark, horrifying series of animation, White completes her gaslighting by plucking Steven's gem from his body. It seems, for a second, like she's destroyed him. But then: The gem becomes Pink Diamond, it becomes Rose, it becomes Steven. Connie carries broken human Steven to Gem Steven. They reach for each other with tears in their eyes. They hug. Steven fuses… with Steven. When he finally sees himself for who he really is, he laughs and stands up, whole and strong, in that truth.
His giggling sends White Diamond to the edge of herself. She coldly, furiously scolds him for acting like a child. "I am a child," he says. "What's your excuse?"
White flushes (pink) and Steven wins.
Is it on the nose? Yes, it's on the nose — and it's magnificent. As is every other way this show has illustrated the pain and struggles of our minds and the minds of the people we love.
There's "Room for Ruby," in which Lapis' battles with PTSD and depression are fully revealed. She was imprisoned for millenia, and, after being released, she didn't just bounce back. Even time and empathy and companionship couldn't fully "heal" her. She uses apathy as a defense mechanism, she hides away to keep herself from being afflicted with more emotional pain. When Lapis meets a Gem who's been through the same things as her, but somehow came out unscathed, her despair and rage collide and she flees the love of even her closest friends to hide in her brokenness. She blames herself for everything that's happened to her, every terrible thing she feels, every way she can't connect.
But Steven Universe doesn't abandon her in that pain. There's respite in "Room for Ruby," when the seemingly happy Navy absconds as a villain, and Lapis' pessimism is proven correct. She and Steven even laugh about it. But that's nothing compared to "Reunited," when her depression becomes her superpower — as Blue Diamond's ability to infect everyone with deep sadness incapacitates the other Gems, even Garnet on her wedding day, only Lapis is able to fight back. "I've felt worse," she proclaims, while disrupting Blue's aura enough to let everyone else regroup and find the strength to join the battle.
And there's Pearl in "Steven the Sword Fighter." Impaled by her own hologram, she's forced to retreat into her gem to heal. For weeks, Steven is only able to interact with Holo-Pearl, an echo of Pearl's real self who will only respond to Steven by trying to provoke him to sword fight. We already know, at that point, that Pearl was in a codependent relationship with Rose and grieves for her loss more than all the other Gems. She tells Steven she was Rose's greatest confidant. Connie wonders, in "Sworn to the Sword," if Rose made Pearl feel  likeshe wasn't good enough. "Rose made me feel like I was everything," Pearl confesses. Her grief doesn't heal, and Holo-Pearl becomes the allegory for the depression her pain creates. Steven knows Pearl as his fierce and brilliant protector, not as the shell of a person who only wants to fight him. "Steven the Sword Fighter" empathizes with depression, and those in relationships stymied by it.
Pearl eventually does regenerate, though her pain is never fully gone. She fights her grief to be able to fight for Steven.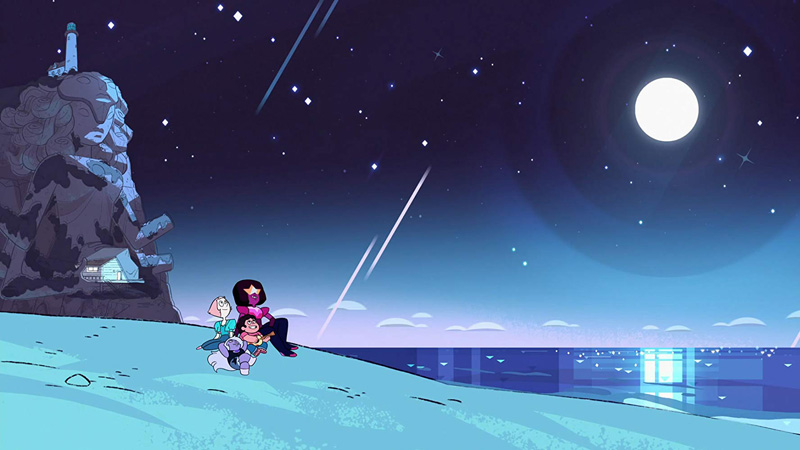 "Change Your Mind," the culmination of 156 episodes and the end-point of the original five-season series Rebecca Sugar pitched to Cartoon Network, ends with Steven on the beach with his ukulele. He sings a song he wrote, an idea he had, the most important lesson he's learned: "I don't need you to respect me, I respect me. I don't need you to love me, I love me. But I want you to know you could know me, if you change your mind."
As he sings, he's surrounded by those queer, nonbinary Gems who adore and protect him. His found family. He's not his mother; not even his mother's son; he's him, Steven Universe. A child who was ripped apart, and healed.