I bake regularly, but I'm rubbish at pastry. And I'm rubbish enough at pastry that I keep avoiding pastry. So when Maddie asked for volunteers for Soggy Bottoms, I saw my chance. I picked the most finicky bullshit I could think of from my favorite season of the show: Kouign Amann. They're flakey little parcels, much like a croissant but originating from Brittany. As soon as I volunteered, I re-watched the Pastry Episode and questioned every choice I made that led me to this moment, the moment I am spectacularly bad at something in front of you, my community of internet queers. Let's fail at this all together!
First, I knew I was going to have to stray from the Paul Hollywood recipe because the Great British Bake Off one calls for a stand mixer, and as I am not getting married until this October, I do not yet possess that classic wife-lady KitchenAid. Luckily, the Kitchn has also taken on Kouign Amann and has let me know its possible with a hand knead. I decided to start with that recipe, because she helpfully breaks it down. Here's what you will need for that recipe:
1 cup water, room temperature
2 teaspoons active dry or instant yeast
2 3/4 cups all-purpose flour, divided
1 teaspoon salt
8 ounces (2 sticks) cold salted butter, plus extra to grease the pans
1 1/2 cups sugar, divided, plus extra for shaping the pastries
And that's it! Six ingredients, and one million hours worth of work. In addition, I used a French rolling pin, a bench scraper and a muffin tin.
I began by mixing up the Kouign Amann dough by putting the yeast and water together and letting them activate a bit, then adding the flour and the salt. I stirred it with a wooden spoon until it was more or less together and then kneaded the dough for exactly 8 minutes and 20 seconds. I was pleasantly surprised—this dough is really soft and springy and fun to work with. I put it right back into my mixing bowl and let it rise for an hour.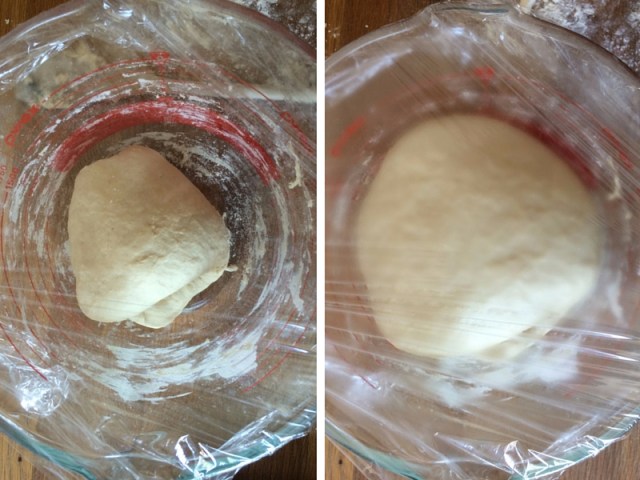 It rose! I felt pretty good. I transferred it to the fridge and went to get sized for my wedding band. When I came back, I pounded butter. This, I think, is where it all went wrong. What I SHOULD have done was turn the air conditioner on in my apartment until it was basically ARCTIC and THEN beat the butter with a rolling pin. Instead what I did was not that, I just took two sticks of butter out and beat them with a rolling pin, occasionally folding the butter in on itself with a bench scraper. What I was supposed to wind up with was a thin rectangle of cold-but-pliable butter. What I actually wound up with was a triangle-ish of semi-melted butter. When you have melty butter it interferes with the layers.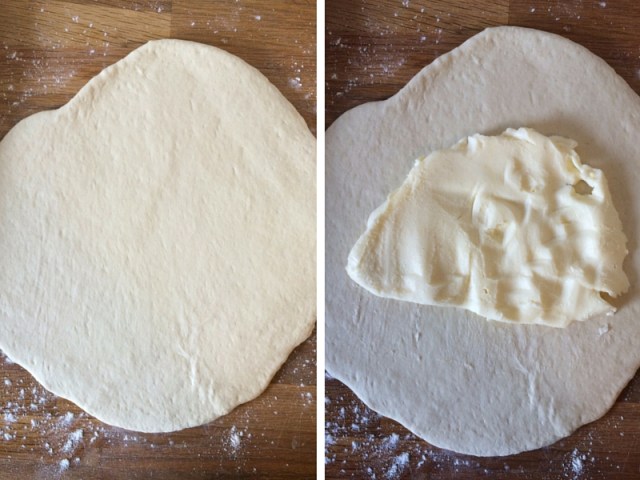 But I pressed forth. I did the turns, which is when you fold the dough over the butter, roll it out and then fold it in thirds and do it again. You're supposed to do three turns and make sure the butter doesn't melt and absorb into the dough. That's what makes those flaky layers. Then on the fourth turn, you add the sugar. This I knew! Because on GBBO a few bakers effed this up and put sugar in every turn, and that is WRONG SAYS PAUL HOLLYWOOD. But I was gonna be wrong anyhow because my butter was melting. I was also going to be wrong because I cannot. Make. A. Fucking. Rectangle. That is what I discovered. I can roll a pie crust into a circle, but I cannot roll a single damn thing into a rectangle. I can't do it with butter, I can't do it with dough. Between each turn (or every two if you managed to start with not-melty butter), you have to chill the dough for thirty minutes. That coupled with the rise time mean that these things take FOREVER.
I used a pizza wheel to cut the dough into what loosely resembled squares. I shoved them in a muffin tin, covered them with plastic wrap and let them rise for forty minutes. I was supposed to get twelve out of the dough, but I only got nine. I know I made them too big, but I also know that I didn't roll out thin enough to get twelve. I let them rise AGAIN for forty minutes in my dining room because I didn't want the butter to melt further and my oven makes my kitchen into a Hell mouth. In the show, they do this technical challenge in three-and-a-half hours and truly I do not know how. The math doesn't work. They must be working really fast and also have magic butter that doesn't melt. I followed the directions on The Kitchn and preheated the oven at 400 degrees F, but turned the oven down to 350 when it was time to put the Kouign Amann in. Then I baked them for 20 minutes, turned the pan around in the oven and baked them for another 20 until the tops were just catching dark brown.
The thing about muffin tins is that you're going to wind up with caramelized sugar on the bottom, so you have to get them out quickly and onto a rack to cool. Don't leave them in or they'll harden to the bottom of the tin!
Y'all, I hate being bad at things. And I truly truly thought my first batch of Kouign Amann would be inedible. But it wasn't! Sure, parts of it were a little bready due to my melting butter, but there were definitely layers in there. I ate one plain and tried one with Nutella and raspberry jam. Both were excellent! They're best served same day—almost as soon as you take them out, just as soon as it won't burn to eat them. But my friend Nate, who was here over the weekend, says they worked the next day with just 15 seconds in the microwave.
So I decided to make an attempt at the Paul Hollywood recipe on the BBC. Here it is:
300g/10½oz strong plain flour, plus extra for dusting
5g fast-action yeast
1 tsp salt
200ml/7fl oz warm water
25g/1oz unsalted butter, melted
250g/9oz cold unsalted butter, in a block
100g/3½oz caster sugar, plus extra for sprinkling
The big difference that I saw was two fold—I had to break out my kitchen scale for this recipe because it's in weights and there's butter in the actual dough as well. Mixing, kneading and letting the dough rise was pretty much the same otherwise, aside from adding the melted butter. Paul Hollywood also recommends sandwiching the butter in between parchment paper, so I did that and it DEFINITELY cut down on my clean up. But he made no mention of turning the butter over with a bench scraper, so I didn't do that. I also turned my AC way way up and, as a result, my butter was decidedly not melty on this go. But I also think I didn't beat it into submission nearly enough. While I was doing the turns, I could feel it breaking a little. I felt like it didn't distribute evenly. I was CONVINCED I was about to accidentally bake bread muffins. I was so flustered that I did four turns and didn't put sugar in, so I had to do a fifth turn. I was despondent. I was like, well, they're already ruined anyhow. I topped them with a little sugar this time as well.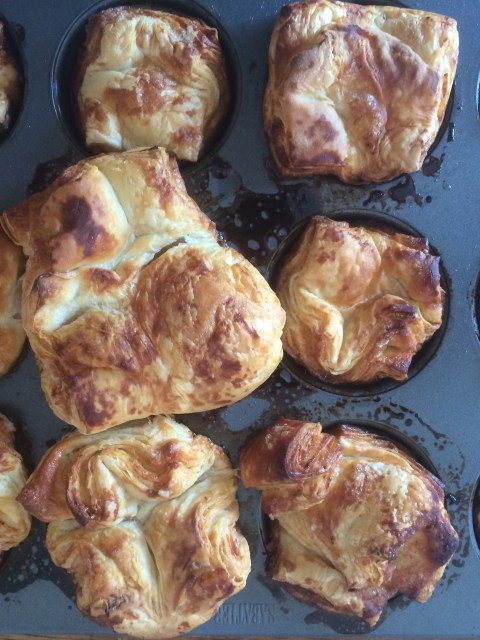 I cut them and got twelve out this time, but they were massively inconsistent in size. I grabbed a beer. I thought they'd be awful. Even though the Paul Hollywood recipe doesn't say to turn the oven temperature down after the preheat, I did because my oven runs really hot. And it was a good thing I did! They came out a really nice color. It was time for the taste test—and they were delicious! I could. Not. Believe it. And because I did the fifth turn, the layers were OUT OF THIS WORLD. I just need to work on my polish, presentation and size consistency going forward. Because they're monetarily inexpensive to bake, I think I'll add them to my rotation even though they cost me a lot in time. And after two batches, I feel like I could probably make these ahead, refrigerate them overnight in the muffin tin, and then let them rise an hour in the morning and pop them in the oven for a delightful breakfast.
I think my whole take away from this is that, even though they're finicky bullshit, it's still sugar and dough and it's gonna taste AWESOME even if they're not perfect. Even if you're inconsistent, even if you don't get as many layers as you want, you should still try this. You and I, we're not being judged by Paul Hollywood. We're just queers in the kitchen.