feature image via oliviagilywatkins.tumblr.com
Despite what you saw in all those Kevin Smith movies, smoking weed, in fact, is apparently an inherent effect of being super smart. Well okay not really. Not really at all. But! Some smart people are doing it. Specifically, "high-IQ ladies [a]re twice as likely to smoke weed and do coke as other women."
That finding comes from Britain, where research on the topic was published online in the Journal of Epidemiology and Community Health. The study involved just under 8,000 participants, and looked at lifetime drug use, socioeconomic factors, and educational attainment. Participants' IQ scores were measured at the ages of 5, 10, 16, and 30. They were then surveyed about drug use at 16 and 30 as well. Drugs accounted for in the research included cannabis, cocaine, uppers, downers, acid, and heroin.
And, in the end, all the smarties were toking up:
[Women with high IQs] were more than twice as likely to have used cannabis and cocaine as those with low IQ scores.
The same associations emerged between a high IQ score at the age of 10 and subsequent use of cannabis, ecstasy, amphetamines, multiple drug use and cocaine, although this last association was only evident at the age of 30.
The findings held true, irrespective of anxiety/depression during adolescence, parental social class, and lifetime household income.
Before we go on let's be clear — we're not endorsing using drugs or saying drugs are a sign of intelligence. Especially cocaine, uppers, downers, acid and heroin, we are not endorsing those. ESPECIALLY heroin. That being said, we do think that when you look at everything else that's legal in this country, it's silly that cannabis isn't. And whereas I'm about to talk about my familiar experiences with weed, I want to make it clear that my experience isn't everybody's experience, and there are plenty of reasons why weed sucks, too.
Any smart stoner will understand what it's like to hide an affinity for weed from friends, family, and colleagues. When she wanted to write her undergraduate thesis on women drug dealers everyone rolled their eyes. When she wanted to craft a theory linking drug legalization and personal autonomy to feminism, people shot her down. Her friends who don't smoke make jokes about her slowly disappearing brain power and her forgetfulness.
Maybe you're like "a girl I know" who learned how to smoke weed sitting at the end of a full bed in an off-campus apartment with her best friend, and then started smoking pretty consistently with people she met in her honors program residence hall on-campus. Maybe, for a while, she and her best friends would smoke and talk politics, post-modernism, and Chinese take out. Or pizza. Maybe she even once passed nine blunts around her living room while rapping "Pussy Money Weed" by Lil Wayne to 300 strangers ….and then aced her finals. Maybe she's a really, really smart stoner.
The thing is, maybe you're reading this because you smoke weed, and maybe you don't feel as dumb for it as people say you are. In fact, maybe you're pretty smart. Does it feel validating to know that science hasn't confirmed that the stupid thing you're doing is actually stupid after all?
In related news, is anyone else thinking "Natalie Portman Rap" right now?
One of the questions now is, of course, why:
The study authors weren't sure why people with high IQs were more likely to get high. They cited earlier research showing that smart people are "open to experiences and keen on novelty and stimulation." They also noted that kids with high IQs might be more likely to be bored or bullied at school, "either of which could conceivably increase vulnerability to using drugs as an avoidant coping strategy." 
In short, smart people smoke weed because they like the way it feels, and can make being smart feel even better — isn't that part of why smart people are so drawn to "novelty and stimulation?" On the other hand, maybe it's also easier for smart people to get high without consequences because of their intelligence, or less likely to get caught up in drugs lest it curb their ambitions and career progression.
It's like that time she studied for her test high as fuck and you got an A+ anyway. The time she did write an entire semester's worth of projects while smoking Jack Herer in the bushes behind campus. Remember when you wrote an entire book of poems stoned that you still cry when you read? It's like you're a new kind of leader or something. A great mind. You're like Jack Kerouac, or some other great dude who got fucked up and got away with it. Some women are smoking weed and not just getting away with it, but excelling.
The idea that some smart people do smoke weed is important. We found out last month that for the first time a majority of Americans. Maybe the government will stop lying about stoners, jailing high school drug dealers instead of, oh, I dunno, real criminals, spending tons of dough on a "drug war" and finally make weed legal if we can convince the nation that every stoner is not Beavis or Butthead, or worse, a violent criminal a la Reefer Madness. Which is why studies like this one are important in the first place — so much of the money and time spent on our "drug war" is based on imaginary fears and assumptions about drug use and the people who partake in it that having the actual information be public is always a good thing.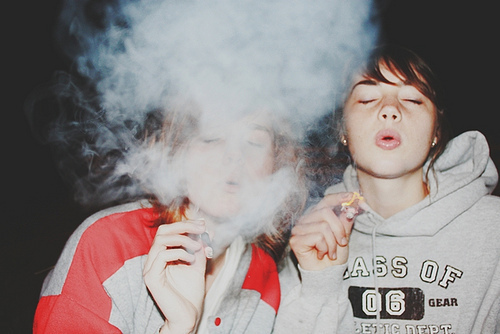 So yeah, maybe you smoke weed with your girlfriend and maybe you once insisted that "the only thing better than getting high and having sex is getting high and having sex." Maybe you like to smoke and smoke and then cuddle and cuddle. Maybe you exhale into your dog's ears until he yawns. Maybe you like to get stoned and be driven around listening to Drake. Maybe you got high to write a marketing paper and now it gets passed out to every class since as a "great example." Maybe smoking weed is a one hundred percent fool proof way to make it possible for you to laugh with your best friend about how awkward it is that you're hooking up.
Maybe you're just super, super smart.
Maybe you're just lifted.
All photos courtesy of wearehomomafia.tumblr.com and my alter rap ego, Lil C.