Oh hello, do you remember that art exhibit Hide/Seek: Difference and Desire in American Portraiture? The one at the National Gallery that caused John Boehner to threaten to defund the institution because the show included a controversial statement about Jesus? (And by "controversial," I mean one video installation had a 5 second clip of ants running across a crucifix.) It made me want to lock the entire GOP into a room so I could scream about the Bill of Rights at them at the top of my lungs. Oh, and the ironic cherry on top is that Hide/Seek is an exhibit about the systematic marginalization of gay identities in American history. How meta it all turned out to be!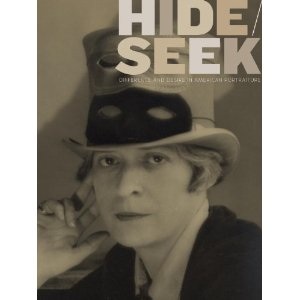 Well, if you don't remember that whole hullabaloo a few months ago, those were the basic details. Maybe now you're frustrated all over again and sad you can't see all that awesome queerio history. But it's ok because Hide/Seek is coming back, albeit not to the National Gallery. The Brooklyn Museum has been so awesome as to reconstitute the show in New York City. It will open at the museum tomorrow, Nov. 18, and will run until Feb. 12. Then it heads to Tacoma, where it will be at the Tacoma Art Museum from March 17, 2012, to June 10, 2012.
I suggest you go see it if you can! It's now a piece of the very history it documents. It's got some good stuff, too, from Annie Liebovitz to the gay couple Jasper Johns and Robert Rauschenberg. As the New York History blog describes it:
Hide/Seek includes works in a wide range of media created over the course of one hundred years that reflect a variety of sexual identities and the stories of several generations. The exhibition also highlights the influence of gay and lesbian artists who often developed new visual strategies to code and disguise their subjects' sexual identities, as well as their own. Hide/Seek considers such themes as the role of sexual difference in depicting modern Americans, how artists have explored the definition of sexuality and gender, how major themes in modern art–especially abstraction–were influenced by marginalization, and how art has reflected society's changing attitudes.
How can you resist that?