DUDE! For the first time in U.S. history, the majority of Americans support legalizing marijuana — 50% are for it and 43% are against it. In the mid-nineties, when we all had less back pain, better appetites and only mild-to-moderate anxiety, 73 percent of Americans opposed legalization. It's safe to say that 50% of Americans have clearly not seen this hard-hitting Anti-Marijuana PSA: But seriously folks, in addition to obviously proving that D.A.R.E failed us all, there's many other things suggested by this sea change. Gallup has been tracking the issue for 40 years and even five years ago there was a "healthy majority against legalization," says talking points memo — this is the first time it's even been CLOSE.
Gallup says:
"If this current trend on legalizing marijuana continues, pressure may build to bring the nation's laws into compliance with the people's wishes."
Why is this happening? In September 2009, New York Magazine did a feature story which asked if "at long last, the Great Pot Moment is upon us"? The article declares: "Pot smoking simply does not carry the stigma it once did, even in the straightest society" and it proves it, too. But the article also explains how in New York City, marijuana possession arrests are conducted with outrageous racial bias. You need to know this stuff.
+
Why Do a Majority of Americans Want Pot Legalized Now?
1. It Already Is
Sixteen states already legalize some kind of medical marijuana situation, and so far, the world hasn't burst into flames and re-absorbed itself into the atmosphere as a giant starry fireball (although if you consumed any psychedelic banana bread at Dinah Shore Weekend 2010, you might have seen a fireball or three). However, according to the federally-enforced Controlled Substances Act, you cannot cultivate marijuana. You cannot sell marijuana. Anywhere. And when federal laws conflict with state or local laws, the federal laws always win.
However, in 2009, the Obama Administration declared that it had better things to do than arrest people for selling weed. But then, a few weeks ago for seemingly no reason at all, an absurdly aggressive crackdown on pot dispensaries in California began — 45 California dispensaries were told they needed to vacate in 45 days OR ELSE. San Francisco Dems are calling on the feds to cut this shit out. Regardless, it's making a mess of the state and its one billion dollar marijuana business (a well-needed boom as California's really pushing it lately).
2. The Youngs
If you were born after 1980, your parents probably were a lot more liberal about weed than your parents' parents, theorizes talking points memo. But now they're dying and can no longer participate in Gallup Polls.
3. It's The Economy, Stupid
Even during recessions, people still buy liquor and they find money for marijuana, too, if that's what tokes their boat. The War on Drugs, as far as marijuana is concerned, is a black hole of wasted lives and resources, and do we want underground criminal economies employing only those gutsy or foolish enough to risk their freedom in order to sell? No, we want jobs for American taxpayers! We want our government to focus on drugs that are actually dangerous, not weed. Here, Alternet has a list of 15 jobs a Marijuana industry could create. If Prop 19 — which called for complete legalization — had passed in California, experts estimated the state's annual 8.6-million pound, $14 billion pot crop could bring $3 billion to $4 billon in revenue for the state.
4. The National Mood
People are stressed out! People are stressed the fuck out. When times are tough, we tend to go a bit easier on behaviors we typically frown upon — people look a lot differently at their peers "eschewing the perils of the actual world in favor of smoking pot " than they do at their peers "devastated by the perils of the actual world and therefore smoking pot."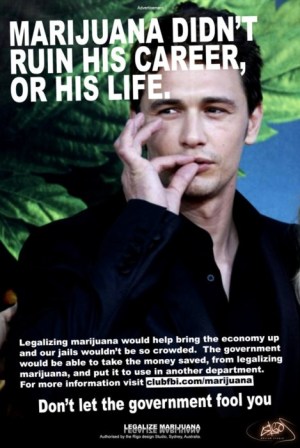 5. Celebrity Endorsements
In February when Lady Gaga told the world that she smoked pot while writing music, Mary Elizabeth Williams of Salon.com wrote The Rise of the Celebrity Stoner, about the increasing dialogue around marijuana in the media and how that was de-stigmatizing the drug for regular people. From the opening paragraph:
"… get this: Sometimes famous people just smoke a little weed and they don't even develop a substance abuse problem or go to jail. Crazier still, this happens all the time to regular folks as well."
She cites the Showtime series "Weeds" and the "Harold and Kumar" franchise as well as quoting many celebrities who've publicly expressed affinity for the drug — Sarah Silverman, Woody Harrelson, Jack Black, Zach Galifianakis, Roseanne Barr and others. Kevin Smith recently told MTV "I became a stoner because of Seth Rogen" and, as aforementioned, Lady Gaga told Anderson Cooper "I smoke a lot of pot when I write music. I'm not gonna sugarcoat it for '60 Minutes.' I drink a lot of whiskey and I smoke weed when I write." She concludes:
Maybe [Rogen, Gaga and Smith] speaking up and even joking about their marijuana use won't effect a sea change in the drug laws. But their candor might at least open the door for others to come out of the closet on the subject too, and eliminate some of the stigma and misconceptions about pot smokers. It's not all "Dark Side of the Moonwp_postsand Ben & Jerrys binges, you Internet scolds and DEA officials, you. As with many other things in life, it's silly to have so much secrecy and denial attached to something so many people do. As Gaga explained Sunday night, it's not about getting high; it's just about elevating the conversation. "I don't want to encourage kids to do drugs,wp_postsshe said. "But what artists do wrong is they lie, and I don't lie.wp_postsAnd you don't have to be an artist to appreciate someone being refreshingly blunt.
Many civillians, like Lady Gaga, find pot helps them to be more artistic, alert and creative, which  means celebrities are just like us.
6. Growing Body of Medical Research/Public Awareness
In addition to all the individual states successfully medicating with marijuana, a lot more research is coming out about the drug's potential benefits. With the country increasingly uninsured and skeptical of Big Pharma, weed is becoming more of a viable option for many patients.
Also, hopefully, drug educators are becoming a little more honest about weed — really when I found out they were lying about weed, I assumed they were also lying about ecstasy and acid but actually they mostly told the truth about ecstasy and acid. They should tell the truth about weed so we trust them about the other stuff!

7. The President Inhaled
Everyone flipped out that Bill Clinton had smoked weed, but nobody seems remotely concerned that President Obama admitted to it — "I inhaled frequently. That was the point." Mayor Bloomberg eagerly confessed to having smoked weed and liked it. So clearly it doesn't exactly prevent you from succeeding in life.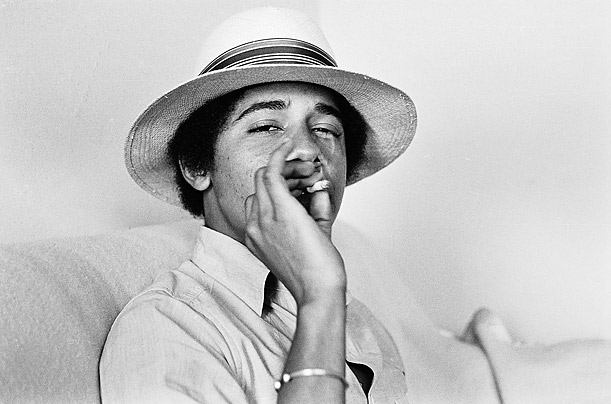 8. National Enlightenment Re: Racism and Mandatory Minimums
AHAHAHAHAHA just kidding America isn't gonna suddenly wake up enlightened ! But just so you know, in New York City, 430,000 people age 16 and up have been arrested for marijuana possession since 1997. Over 40,000 were arrested in 2008. More than 80 percent of those arrested on pot charges are black or Hispanic. White people smoke a lot of pot.
Here's an infographic from Chicago:
Anyhow, in California, where I live, I have a card that enables me to buy marijuana legally at a dispensary. The people who work there are nice and you wait in a nice line with other nice people who talk about the product like they're selling different kinds of apples. The experience is approximately a thousand times better than getting a delivery service in Manhattan.
So to me this trend of acceptance seems to be one of those things that I thought was just happening to the people around me but is actually happening to all the people around everybody at the same time. I'm not endorsing marijuana, I think it can enable apathy, fuck with your short-term memory, and dulls the pain of problems you should probably work on instead of numbing them. However, I've got plenty of negative things to say about alcohol, too, but I don't think it's bad for everybody and I don't think making it illegal is ever the answer. Ultimately, perhaps the most devastating potential affect of pot upon a person is that it encourages sitting on your couch, watching television and eating Doritos for many hours, which might be the real reason things are turning around — when the only thing you can afford to watch is your own television set, you're gonna wanna jazz that shit up, you know? I mean, have you ever seen Pretty Little Liars ON WEED?!