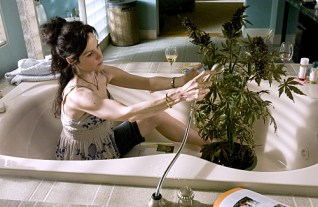 Midterm elections are coming up and I bet 65% of you are not registered to vote. Unless you live in California, as so many homosexuals do, and are a Democrat, as so many homosexuals are, in which case you are significantly more likely to have registered to vote because you have strong feelings about THE WEED LAW otherwise known as Proposition 19 a.k.a the "Regulate, Control and Tax Cannabis Act of 2010." The race is neck-and-neck with polls revealing that Californians are more or less equally divided on the issue.
Here's what Proposition 19 is:
Proposition 19, also known as the Regulate, Control and Tax Cannabis Act of 2010, is a California ballot proposition which is on the November 2, 2010 California statewide ballot as an initiated state statute. It would take effect the day after the election.
Proposition 19, if approved by voters, will legalize various marijuana-related activities, allow local governments to regulate these activities, permit local governments to impose and collect marijuana-related fees and taxes, and authorize various criminal and civil penalties.Proposition 19 was certified for the November statewide ballot on March 24, 2010.The official proponents of the measure are Richard Lee and Jeffrey Wayne Jones. Tax Cannabis 2010 is the official advocacy group for the initiative.
Just like the drink, under state law, 21-and-uppers will be allowed to possess, cultivate or transport up to one ounce of marijuana for personal use, and local governments would be welcome to regulate/tax pot sales. You're still not allowed to bring pot brownies to the elementary school playground or drive while totally fucked up or smoke in front of impressionable children, but hopefully you people can handle yourselves where that's regarded.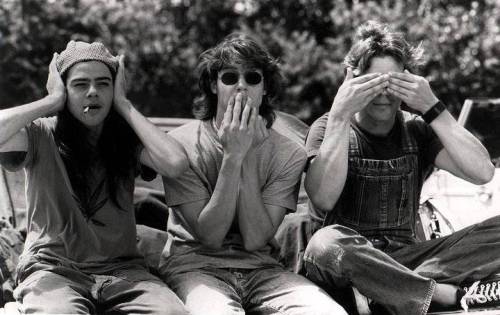 Due to Proposition 215, which passed in 1996, medicinal marijuana is already legal in California and weed dispensaries dot the Hollywood highways like so many Walgreen's. Prescription holders can obtain their anxiety/pain relief in multiple formats including lollipops, Purple Kush and banana bread. For those without health insurance, it's sometimes slightly more difficult to get the necessary "recommendation" (not "prescription," as that opposes federal law), but still possible because of specialized clinics. It's legal for medicinal purposes in 12 states now, although the conditions that qualify for treatment with marijuana vary from state to state.
Everything that Prop 19 seeks to do is already banned under the federal Controlled Substances Act. According to federal law, in the United States, you cannot legally possess marijuana. You cannot cultivate marijuana. You cannot sell marijuana. Anywhere. And when federal laws conflict with state or local laws, the federal laws always win.
So how can California do this? Well, with medical marijuana at least, the federal government has essentially decided to look the other way. Last year, the Department of Justice changed their enforcement policies, recognizing that they had more important things to do than prosecute people who use or provide marijuana in compliance with state medical marijuana laws.
But the federal government has clearly indicated that they will not take the same approach if Proposition 19 passes. Attorney General Eric Holder has promised that the Department of Justice will vigorously enforce existing federal laws forbidding people from growing, selling or possessing marijuana. So if this law takes effect in California, things might not be so easy for non-medical smokers.
There are a lot of myths about marijuana floating around out there — like that it's highly addictive or a gateway drug or as bad for your lungs as tobacco — but obviously there are downsides to excessive marijuana use, like apathy.
The Benefits (visit Yes on Prop 19)

– Californians buy about $1.4 billion in weed a year. California is broke. Therefore California needs the $1.4 billion annual boost it'd get from legalizing weed to fund jobs, healthcare, public safety, parks, roads, transportation and seemingly a variety of lovely services that seem twice as bright when you're high.
– Prop 19 would potentially decrease the influence of drug cartels, which get 60% of their funds from the U.S. illegal weed market and were responsible for the murders of 6,290 civilians in Mexico in 2008 alone. (The vote is being closely watched in Mexico)
– 80% of the people in jail are non-violent drug offenders. 60,000 marijuana arrests are made in California each year; therefore, legalizing weed would save tens of millions of taxpayer dollars annually, and clear out the jail cells for scarier criminals.
– Controlling cannabis in the same manner as alcohol would save the children, because right now it's often easier for teenagers to get weed than alcohol.
The Drawbacks:
– "Proposition 19 is so poorly thought out, badly crafted and replete with loopholes and contradictions that it offers an unstable platform on which to base such a weighty conversation." – Los Angeles Times
–  California's 478 cities and 58 counties will be able to make their own local regulations, which means different laws from county to county, which would be super confusing.
– It's hard to determine what "under the influence" means w/r/t driving and working and operating light-rail trains. And although you can't smoke while driving, you can smoke right before driving. And if you've ever been in a car with a high 16-year-old boy who thinks his arm is detaching from his shoulder-socket, you might not be so inclined to smoke and drive.
– There could be a loophole through which local distributors could avoid paying those dearly-needed taxes because pot isn't legal under federal law.
Supporters include Former U.S. Surgeon General Joycelyn Elder, The National Black Police Association, a group of moms in Hollywood who want tax dollars spent on education, Sean Parker (co-founder of Napster and Facebook), the ACLU of Northern California, The California NAACP, former San Jose police chief Joe MacNamara and the United States Libertarian Party.
Gay supporters include the Harvey Milk LGBT Democratic Club, the Alice B. Toklas Democratic Club, CREDO Action and The LA Gay & Lesbian Center
Antis include The San Francisco Chronicle, Arnold Schwarzaanger (who decriminalized weed last week, idk), Meg Whitman (who is evil), Mothers Against Drunk Driving, Gavin Newsom (San Francisco mayor who legalized gay marriage there), D.A.R.E and The Los Angeles Times.
Gay antis include William Rodriguez-Kennedy, president of the Log Cabin Republicans of San Diego (he says his people are divided but ultimately they consent to side with the Republicans against this issue), openly lesbian Democrat State Senator Christine Kehoe and openly lesbian San Diego County District Attorney Bonnie Dumani.
Furthermore, there have been some interesting things happening w/r/t Conde Nast's willingness to accept anti-gay ads but not "Yes on 19" ads.
In conclusion, this is a complicated issue and, as new residents of the fine state of California, we are slightly concerned that this could be like turning 21 all over again, except with more sandwiches and less beer. As radical socialist leftist lesbian angryfaces, however, we have to side with "Yes" because why the hell is it illegal, that's dumb. Tequila should be illegal because nothing good ever happens when you drink too much tequila, you know? Have you ever had raspberries with peanut butter cups in the same bite? Seriously, it's good.