A new GQ photoshoot by Terry Richardson showcases a different side of Rachel Berry & Quin Fabray.
Lea Michele (who is 24), Dianna Agron (also 24) and Cory Monteith (28) posed for a cover story in which the actors revealed via body language that unlike their characters, they know something about sexyface and Cory knows a thing or two about cardigans.
Obviously the Parents Television Council President is very upset about this:
"It is disturbing that GQ, which is explicitly written for adult men, is sexualizing the actresses who play high school-aged characters on Glee in this way. It borders on pedophilia. Many children who flocked to High School Musical have grown into Glee fans. They are now being treated to seductive, in-your-face poses of the underwear-clad female characters posing in front of school lockers, one of them opting for a full-frontal crotch shot. By authorizing this kind of near-pornographic display, the creators of the program have established their intentions on the show's direction." – Parents Television Council President, Tim Winter
Hmm… except that Dianna & Lea are not children? I hope nobody takes him to see Spring Awakening, which Lea started working on while still in her teens. Anyhow, Scott Mendelson at The Huffington Post points out the obvious gender double-standard in the GQ shoot:
…just in case you need the obvious pointed out: the women are shot in overtly salacious poses in a state of semi-undress. Monteith is photographed fully clothed and (in his solo photos) engaging in relatively asexual behavior such as playing the drums or goofing off in the gym. I certainly don't need or want to see Moneith's bare ass or the man who plays Finn in any kind of compromising positions, but why is it that the women must be photographed with imagery out of a pornographic fantasy, while the male lead (and in fact most male actors in glossy photo shoots) get away with not doing so much as unbuttoning their top buttons?
Dorothy Snarker, Quasi-Sapphic Photoshoot Expert, had this to say:
I understand that all parties involved are, in fact, above the legal age of consent and therefore this photo isn't technically underage. But, doesn't it look underage? And isn't that the nod and wink they're trying to convey by it being set in a high school. Of course, it's no surprise the shot was done by perennially plaid-shirted and bespectacled hipster photographer Terry Richardson. He gives almost all his shoots an uncomfortable, bad 70s porn feel. But what is supposed to be hot here is just, well, creepy.
Mark Salling unbuttoned a few buttons in May for GQ, come to think of it — surrounded by bikini-clad girls, howevs.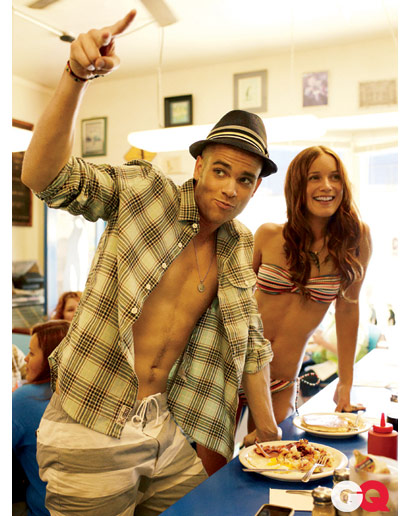 Jennifer Armstrong at Entertainment Weekly didn't like it either, but for totally different reasons, namely – Ugh, Why?
Now, I'm all for being sexy. I love a sexy star, and I don't oppose sexy stars being in various states of undress on camera. But does everything have to be sexed up? Gleeo why Glee's strain to prove to GQ's target demo of straight white men that it's sexy? isn't exactly a wholesome family show as it is, what with its "Push It" covers and premature ejaculation storylines …
…Apparently, when Glee goes "sexy," the whitest and shiniest stars come to the front out of a huge cast remarkable for its diversity.
Anyhow it's pretty clear that these actresses know a little bit more about sex than their characters do.
In the GQ interview, Ryan Murphy says:
"I didn't want to do a family show. I wanted to do my version of a family show. But we try to be as responsible as we can, because we know some young people watch. Some of the humor goes over their head, hopefully."
Thoughts/feelings on Glee gone wild?