It's time for Tea's BIG BLIND DATE that Dad set her up on. Everyone is Italian which means lots of loud talking and face-squeezing, apparently. I worked at The Olive Garden, the mood was similar.
But omg, guess who her blind date is?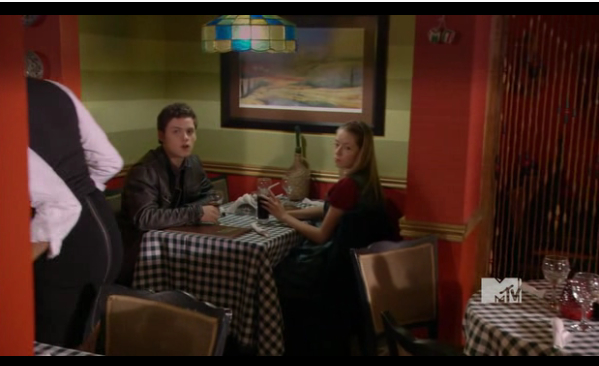 It's not the blonde chick, I know I got excited too, like it was a "Surprise You're Gay" party or something. It's Two-Note Tony.

Waiting For Godot Per Ushe
+
Luckily both the kids have pocketed some serious change to fund their little date and therefore the Never Explain Never Apologize Team heads to the playground with some cheap vodka, where they can spin and spin and not fall down.
Ultimately, none of this matters because these kids are fucked and going to die. I didn't first drink vodka out of the bottle 'til age 25. She's what like 16. I'm dying as we speak. If I my brain wasn't too burned out to remember math, I could tell you what this specifically means to these kids, but I can just say it's not looking good.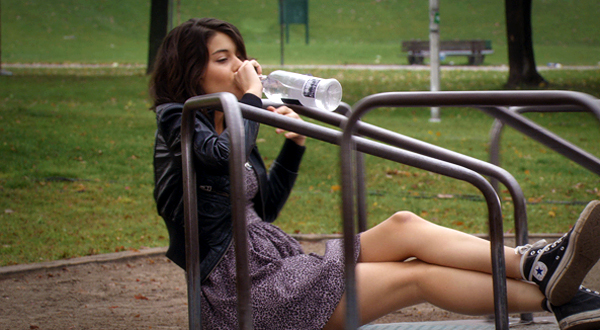 I don't see the "chemistry" in this scene some newly minted shippers see. It's two confident humans drawn to each other in a way that isn't sexual, but because a great deal of their confidence is tied into their sexuality, that's the only language they have to express it.
Tea: "Why Michelle?"
Tony: "What?"
Tea: "You heard."
Tony: "She's hot. No, she's the hottest. And the cleverest and her nipples make me laugh, so she's mine."
Tea: "That's how you see it, huh?"
Tony: "That's how I see it. We get along."
Tea: "Does it bore you?"
Tony: "Your turn, tell me something about yourself."
Tea: "You wanna know what we do right, what goes where, who licks what, it's so tedious. I screw girls, so what. And only the HOTTEST, by the way."
Tony: "Listen I know you like to fuck the lady-harp. That's boring. You're mysterious."
Tea: "I'm what?"
Tony: "You hold back, nobody gets in, it's mysterious."
Tea: "My Dad threw his life away to be with my Mom, he didn't care that his family disowned him — maybe he never wanted that world, I dunno. And he loves her. I can't imagine feeling that way about anyone. I think I've got a screw missing."
Tony: "Maybe it just needs tightening."
Tea: "FUNNY!"
Tony: "Yeah, you're funny too."
Tea: "I know, but you're FUNNY."
The real question here is: will Tea grow up to become Bette, or Shane?
"I can match you," Tony Don Juan Cassanova De La Pica Moraelliano insists. "You've met your match."
Yup. It's time for everyone to rock out with their cocks out!


Tony  the Alliteration Addict notes Tea's hideaway, "Snatch City." "Boy, you lesbians sure have style," Tony says like a douche.
Tea hits the dance floor like a lusty drunk girl in silky underpants who wants to dance / knows how. Tony summons two stray worms of personality from his feet and then proceeds to showcase the moves he learned from Roundhouse.
Tony's swiffer-jetting his way around Tea and they're smiling and happy and having fun and intrigued, maybe, when one thing leads to another thing and before long, here we are!
Didn't Even Take Her Chucks Off
+
Afterwards Tea is like, THIS IS IT? THIS?!! and cracks up laughing. It's pretty fucking awesome.

Tony: "What?"
Tea: "That was –"
Tony: "Awful."
Tea: "Terrible, it was terrible!"
Tony: "Normal girls like it, so."
Tea: "They must be really stupid."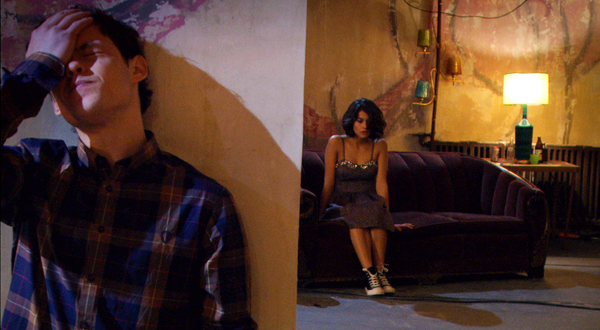 I KNEW I SHOULD'VE TRIED "CIRCLES"
+
This is a scene that launched a thousand 'ships, but I've got no clue why. It doesn't represent a crucial plot point in Tea's sexuality development nor was it added to the series precisely to titillate whomever it is that still enjoys these straight boy-lesbian onscreen match-ups.
What's interesting here is that this is, in fact, something that happened in the original series — they aren't veering from this plot point — but that time it was with Maxxie, the gay male character who was replaced by 'Tea' in this episode. Tony, who's been itching to show Maxxie what an ambisexually deft lover he is, finally gets his chance during the crazy trip to Russia.
Results are similar:
Maxxie: "Tony, you've finally found something you're not actually good at."
Tony: "What?"
Maxxie: "Goodnight Tony, find somewhere else to sleep."
Tony: "What?!"
In conclusion, Tea wins the scene.

On Tea's way home, she's assaulted by the Scary Drug Man who calls her a dyke and grabs onto her arm. Then Dad comes out and stands on the porch with his arms crossed like a badass until Scary Drug Man heads off.
Later we learn that Dad thought he called Tea a "kike" — it can be hard to hear over the sound of confetti shooting from my eyeballs that Dad's Italian Mafia has been called in to sub for Jal's brothers and that this whole marijuana-buying sub-plot, which I've yet to mention in this recap BECAUSE IT IS STUPID AND ANNOYING, will soon end.
Here's a picture of what happens later. Doesn't Tea look cute in that jacket? I wish that dude's nose wasn't in the way.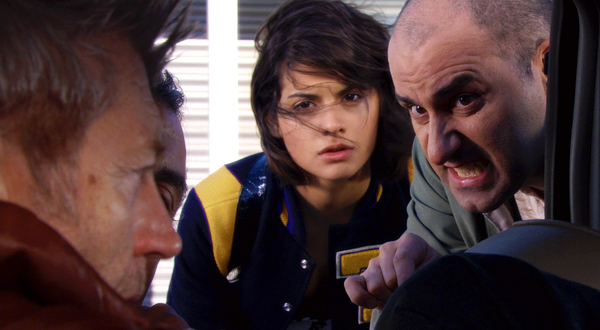 BUT! BEFORE WE GET TO A PART OF THE RECAP I WOULD'VE SKIPPED IF MTV HADN'T MADE THE SCREENCAP FOR ME —  here we are back in the "present" of the teevee show, where Tea feels vulnerable after being gay-bashed and having sex with a dude for no reason.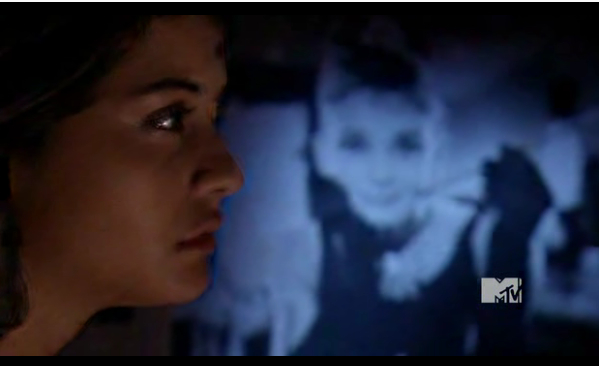 "You musn't give your heart to a wild thing. The more you do, the stronger they get, until they're strong enough to run into the woods or fly into a tree. And then to a higher tree and then to the sky."
– Holly GoLightly, Breakfast at Tiffany's

Tea, in just a t-shirt and a weary gait, slips into Nana's bedroom and asks if maybe she could sleep with her, and of course it is, how else will we ever protect ourselves from Nuclear attack.
THE LAVENDER MENACE
+
Nana: "President Eisenhower let me down. Some kind of war hero. He can kiss my ass."
Tea: "He can kiss my ass too, Nana."
Nana: "I thought nobody knew I had a lover. I told her, "This is a free country, no one can hurt you know. We got no ghettos here, Martha". Eisenhower should have helped us. He should have put a stop to it but it was on the radio every day about the bad people, traitors, queers, I guess they thought between us and the communists, we were going tear the place down. They even gave us a name so everybody knew what to hate: Lavender."
Nana: "I told her, "It's a sweet flower, how can a flower hurt anyone?" but people visited. They said that wasn't the way Jewish people behaved and Martha got so scared that they knew we loved each other. I hear she married a farmer in Wisconsin. Everybody's most particular there. Shame on you, Mr. President. Shame on you."
Tea: "I love you, Nana."
Nana: "I know you do, Ruthie."
Lemme be honest: this scene both feels totally over-the-top and totally made me cry like a baby.

The next morning in the caf, Michelle is talking to Tea about how she hasn't been getting the hot beef injection on the reg from Tony's Salami. Perhaps Tony only enjoys a challenge. He continues eyeing Tea with the attitude of somebody who didn't give her the worst 'sex' of her life.
"It's work," Michelle says about sex with Tony. "It feels like work."
THEN BETTY ARRIVES.
No. Not that Betty. This Betty: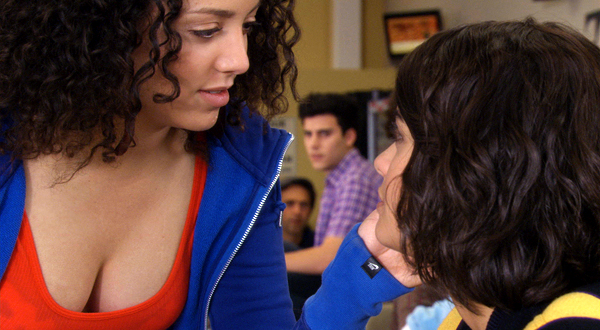 It's time for Betty to "put her truth" on Tea. This isn't gonna end well if Tea doesn't have feelings back though honestly, even as I type this, I'm just looking at that chick's cleave.
The cafeteria is both stunned and entertained.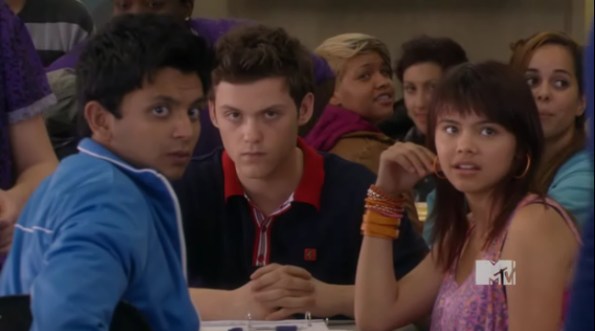 Definitely Considering Club Skirts
+
Michelle diffuses the situation by volleying the homophobia ball right back at a group of guys in the corner nudging each other in excitement about the lesbian action, "Hey guys, why don't you all go screw each other in the ass. It looks like you want to, the way you're all touching each other and everything." AWESOME.
Tea then strolls outside where her Dad is regulating on the Scary Drug Man as aforementioned. He tells Tea she's a good girl and she should be proud of herself. She looks sad, like "would he still be proud of me if he knew about the clambakes?"



Tony calls and Tea lets him know "this isn't gonna fly," this thing where Tony wants her for one additional moment. He needs affirmation though — he needs to re-write the sex act for both of them — "I matched you," he says. "I matched you good." Tea rolls her eyes, purses her lips, and then Betty calls on the other line so she says she has to go.
Tea, who's really into "Wade in the Water" this week, then dances all over the room like a fucking pixie from Planet Homodorable.

At the end, my viewing companion said to me, "even though this show will never be as good as the British one, it'll still be a big deal to a lot of kids" and I think this episode is a perfect example of that. Tea's already had her awakening and is out to her friends. I'm not sure if I loved the episode, but I loved the character. It's about time we get our own Ricky Vasquez, Jack McPhee, Kurt Hummel, Eric van der Woodsen, Calvin Owens, Marco De Rossi — or, you know — Maxxie.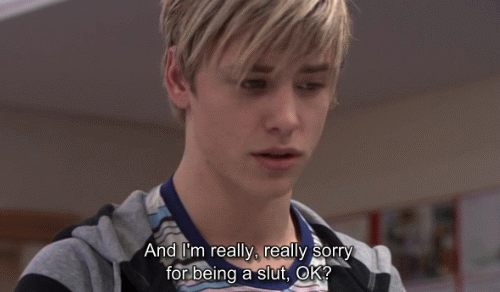 Pages: 1 2See entire article on one page