This week we watched an entire thirteen minutes and forty-seven seconds of Skins before turning to drugs, which means everything the Parents Television Council was worried about is true.
Without a doubt, however, the most unrealistic aspect of this week's episode is that on a random weeknight, there just-so-happens to be a hoppin' lesbian club night that lets in 16-year olds within walking/bussing distance of Tea's house. I mean they take ten busses and a hydroplane to get to school and it's only a hop/skip/jump to pussy palace?


We open in Lesbian Cruising Spot #1 — NOT THE PLANET THE PLANET ISN'T REAL — History class! Is this what happens in high school these days, children? Is it?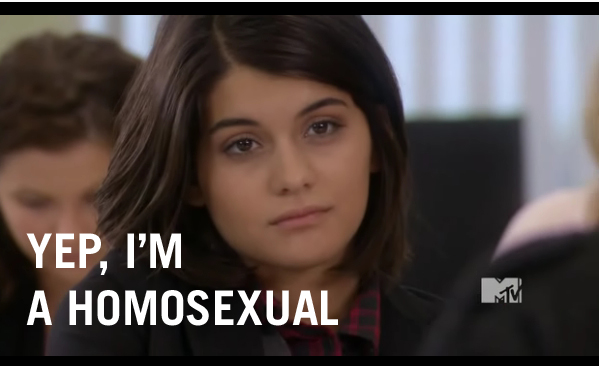 +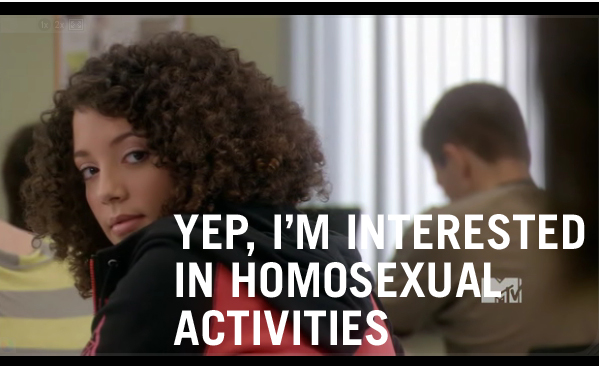 Tea invites Betty to join her at Lesbian Club Night in Fantasyland via mysterious table-dropped note which reads "Northern Soul."


Tea roars sexily through her busybusy life, surrounded by noise and chaos, eventually escaping into the dear refuge of her bedroom where we can watch her undress and check out her literary tattoo:
Tea's got her lesbo-jeans, lesbo-shoes and GLITTER SHIRT on, as well as a giant coat that is not fucking around. IT'S TIME TO MEET THE LADIES
But This ID Says "Maxxie Oliver"?
+
No lesbian bar would ever be named Northern Soul, it would be named "Lick" or something. Which is the name of an actual lesbian bar in Vancouver. This is how we prevent anyone wandering into Meow Mix looking for Monday Night Football or e-harmony speed-dating.
Tea's confident and demurely plucky, like a girl with a lot going on in her head and no suitable receptacle for her feelings. Thus she saunters confidently towards the Lordess of the Dance.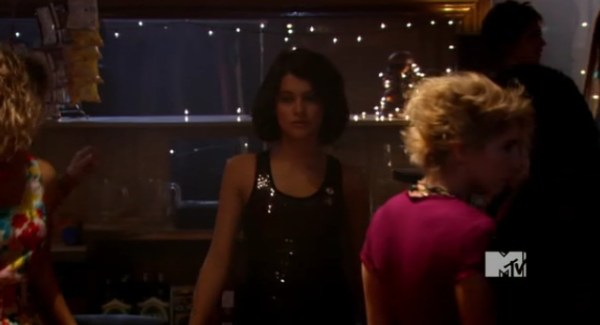 Someone Get That Girl a Blog
+
Also? Tea's got this little dance she does that makes you want to cuddlefuck the hell out of her glittershirt and Chucks.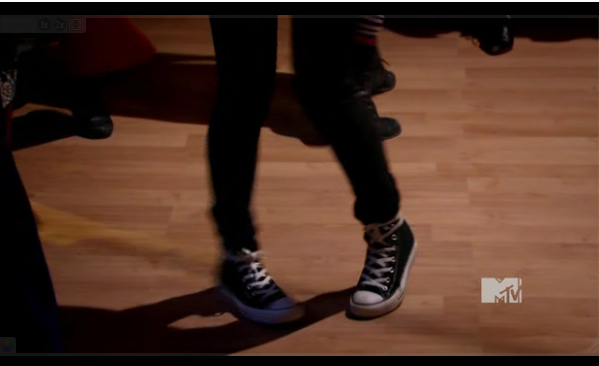 Betty, dressed like her namesake from the Archie comic books, arrives, as promised…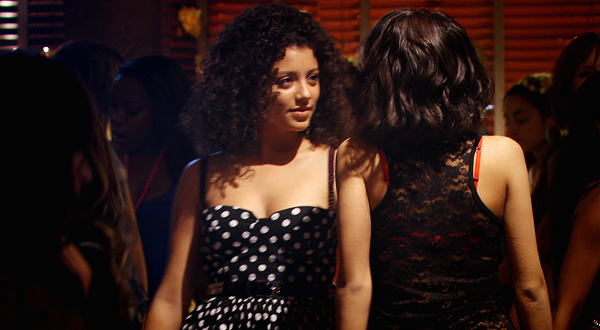 I See What You're Doing With That Bra and That Tank Top And I Like It
+
Before long, Tea and Betty begin Lesbian Kissing each other in a way that suggests they will soon be Lesbian Vadgeblasting. Get your gas mask on, the apocalypse is nigh.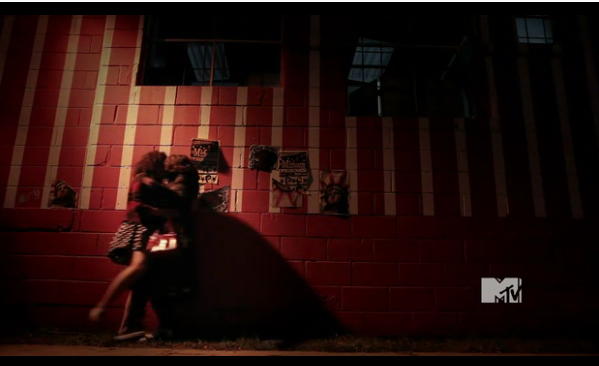 Betty, just like Showtime, has NO LIMITS and before long she's back at Tea's casa, clam-diving in what could not possibly be A DARKER ROOM UNSUITABLE FOR SCREENSHOTS.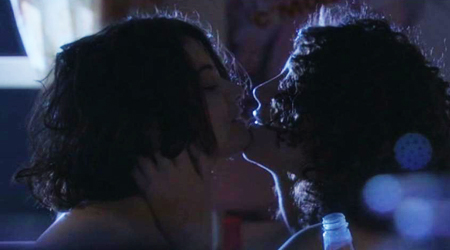 According to our chart…
Yes. They had sex.
+
This was not Palex sex…

+
…or Spashley sex…


+
…or Emya sex…

I mean, people definitely went down on each other. Just saying.

Already sleeping naked together, at such a young age.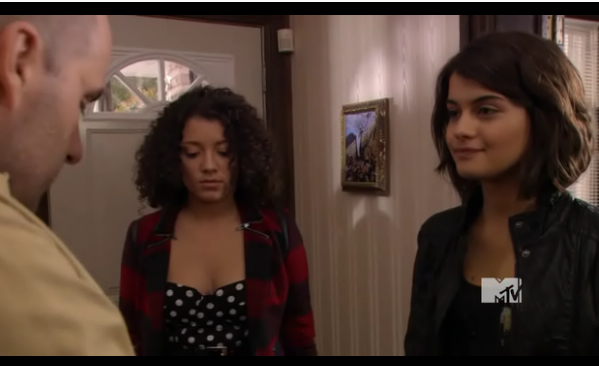 The next morning Betty puts that godawful dress back on and trods downstairs into the madhouse that is Tea's family, which is when we meet NANA THE SURPRISE STAR OF THE SHOW: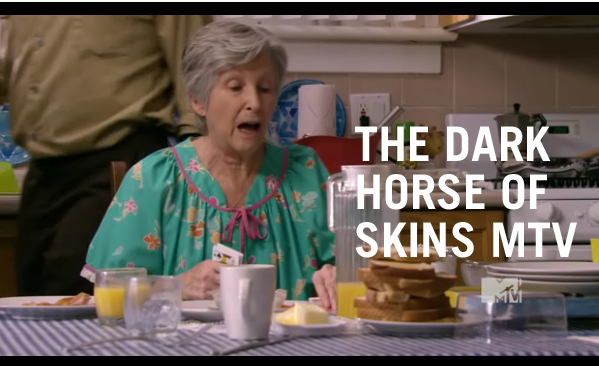 As Betty's being awkwardly introduced and spoken to by everyone in the room because Tea's Dad knows her boyfriend or something, suddenly, Tea's brother calls out LOOK IT'S THE LESBIAN…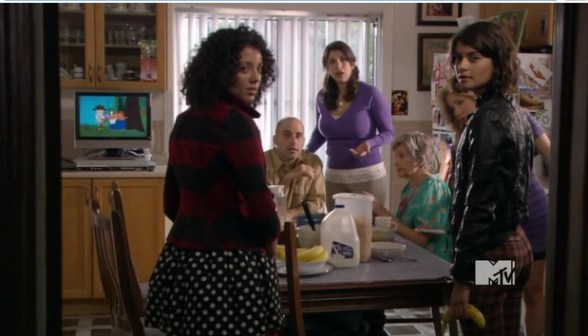 …and Mom says we can't use that word here you know how Grandma hates it and the Dad says what word and Mom says "The L Word" and who can't relate to that, right? I mean, who killed Jenny = so dumb.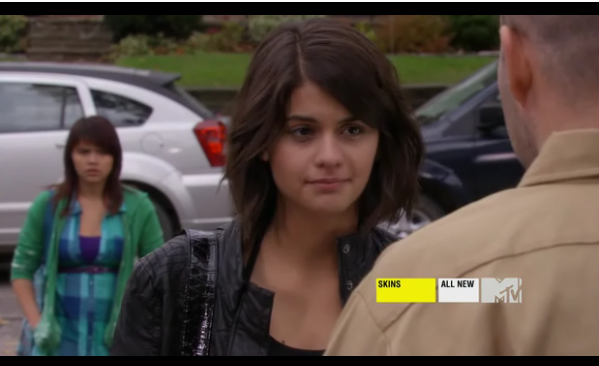 The one in leather or the one in plaid, you decide
+
But they're talking about Daisy, who's not a lesbian. She doesn't even have a personality yet, let alone a sexuality. Duh.
Dad jokes that Tea is very "open-minded" and Daisy wonders out loud if Tea will ever tell her family that Daisy isn't the fingerblaster here. Then Betty has her requisite morning-after freakout —
Betty: "So look, I don't want — you better not tell anyone about — just — DON'T."
Daisy: "Uh, you might wanna work out an explanation for those hickeys, though."
Betty: "Shit, Bobby's gonna — SHIT. I'll see you."
Tea: "Sure."
[Tea leans in to kiss her]
Betty: "DON'T. For Chrissakes."
Tea: "Scaredy cat."
Tea describes her night of passion to Daisy as 'alright' with 'a lot of licking.' How many licks does it take to get to the center of a Tootsie Roll Pop/Tea's heart? Time will tell!
Oh but first it's time for our morning commute!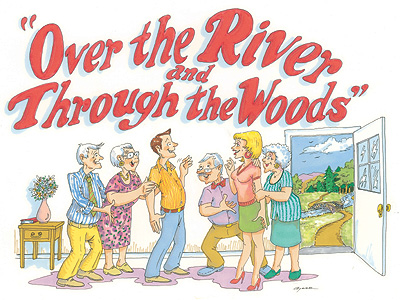 It's another leisurely morning in RandomeasterncitymaybeBaltimore, where the children appreciate the morning light, have 2-3 feelings, ride the bus, get some bacon & eggs, and then wander into school just in time for lunch.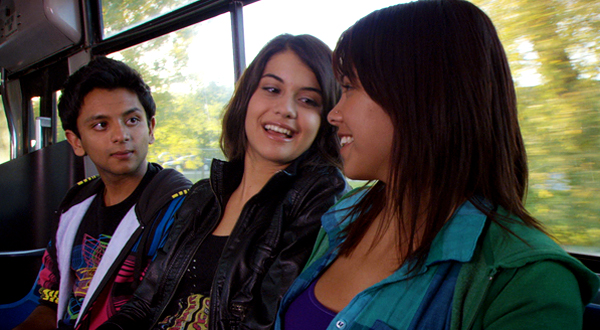 Hey Did You Get That at Kohl's Back to School Sale? I Love Pencils!
+
Abbud needs to stop it with this OMG SEX thing. It worked when Dev Patel did it, because that dude is a good actor and I believe his lines were slightly better, but this guy is just irritating. Nice hoodie, though.

Ah, lunch. Such a pivotal time in the life of a young person. Lunch brings out the child in all of us, apparently, the child who can't eat a chocolate bar without smearing it all over his face…
… the child who is so fascinated by FRENCH KISSES WITH TONGUE that when Michelle & Tony play a bit of tonsil hockey, the world must cease as the children stare on in wonderment, offering a verbal play-by-play…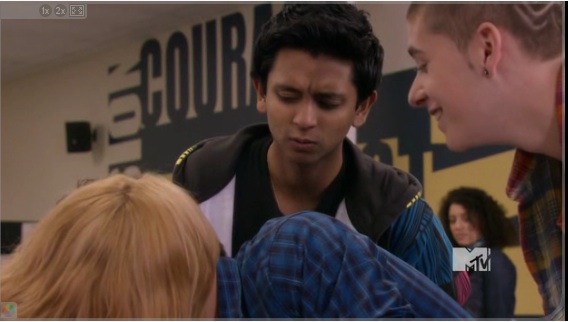 … the child who is so nervous to use the word "sex" that he says "making monkey" instead …
… the child who is so titillated by saying the word "breasts" that it must be repeated, multiple times, slightly different but no less exciting every time, just like the idea of the cheerleader showing everyone her boobs at halftime, which I think counts as child pornography.
But back in grown-up land, SOMEBODY HAS FEELINGS and is sharing those feelings with Tea via eye contact.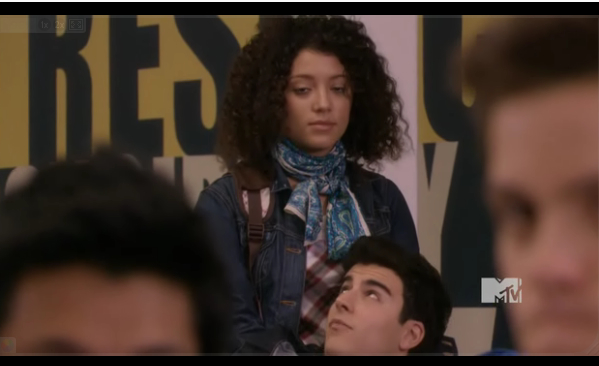 I'm putting my money on "credits Tea with her lesbian awakening, falls in love with her"
+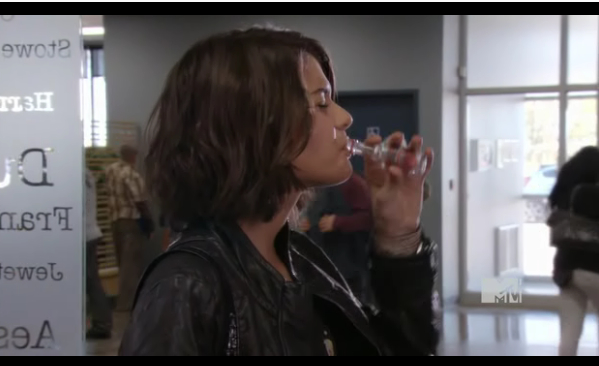 I Know This Mini-Bar
+
Tea chases lunch with a mini-bottle of vodka but luckily evades an open container law as she lives in no-mans land. I mean that could totally just be a mini-bottle of clear Tabasco sauce or some kind of lesbian witch potion. OH LOOK WHO IT IS —
Look Me in the Eyes And Tell Me You Didn't Find My Little Debbie Dress Attractive
+
Betty: "Hey–"
Tea: "Oh–"
Betty: "I was thinking–"
Tea: "Betty. We had sex. But I'm not really looking for anything else."
Betty: "Why not?"
Tea: "Somebody mentioned a boyfriend? What's that for, show?"
Betty: "I have to have a boyfriend."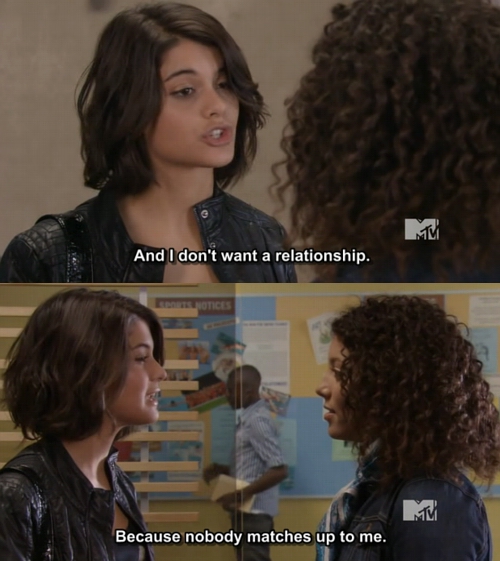 Liquid Courage In Action
+

Tea: "Sounds like pretending to me, and that's bad stuff I have to avoid. And I don't want a relationship."
Betty: "Why's that?"
Tea: "Because nobody matches up to me."
Betty: "You're just an arrogant bitch really, aren't you?"
Tea: "Sorry, scaredy cat."


Tea's family is playing "who can talk the loudest" and at first we think Tea's going to come out while everyone talks, like when Bette told Jodi that she slept with Tina (or something like that, I can't remember) and Jodi couldn't hear her which was like, really mean but also weird, but no instead Tea yells for everyone to be quiet and everyone is for about a minute and then chaos re-erupts.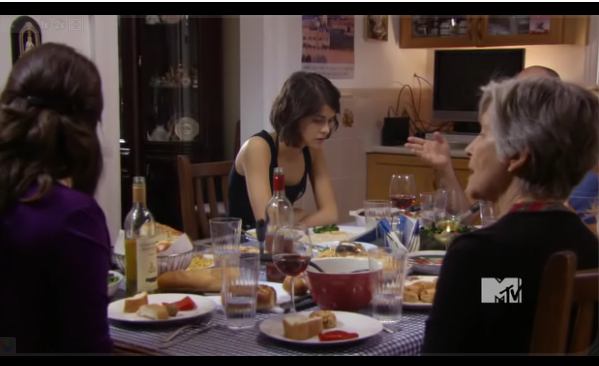 Nana notes, "What's the difference in Arkansas, it's a skill! Mazel Tov!" Word.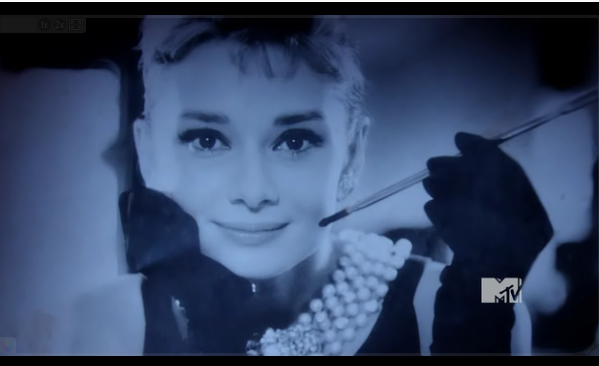 Breakfast in Bed at Tiffany's
+
Tea's getting intimate with Audrey Hepburn in her dreams when Nana strolls in, which would be embarrassing if Nana didn't think she was walking into a Nuremberg Rally.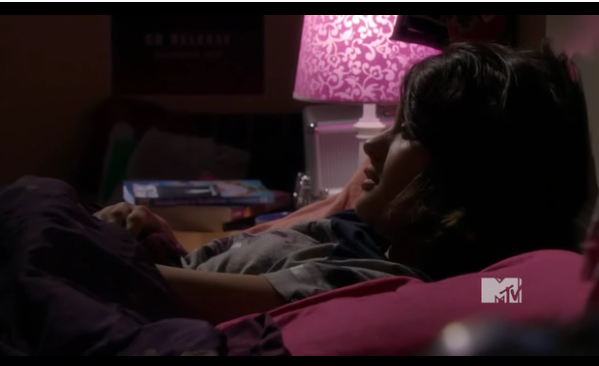 Blair Waldorf (at least in the books, IDK re: the TV show) Also Loves Audrey Hepburn, Maybe They Should Bang
+
Probs Nana is thinking, "Audrey Hepburn sure is looking lovely these days." She calls Tea "Ruthie" and says she doesn't want her marrying that boy. Tea figures this would be a good time to bounce her private ideas off somebody who has a lot of love but not a lot of memory.
Tea: "Something's wrong with me Nana. I want the sex but the girls I sleep with? Bore me. They're catty and clingy and I dunno — it never feels like enough. Is it too much to ask for someone to be interesting? I just wanna feel equal."
And I Said, What About Breakfast at Tiffanys and She Said "I Think I Remember the Film"
+
Two thumbs up for the "gay AND." As in: she's not a one-note lady for whom navigating homosexuality is the only issue. 'Cause it ain't — relationships are complicated & confusing regardless of gender, and by often watering down teevee homo plots to "Gay" being enough to ride a character, writers really shortchange us. So Big Up to Brian.


It's time for Tea's BIG BLIND DATE that Dad set her up on. Everyone is Italian which means lots of loud talking and face-squeezing, apparently. I worked at The Olive Garden, the mood was similar.
But omg, guess who her blind date is?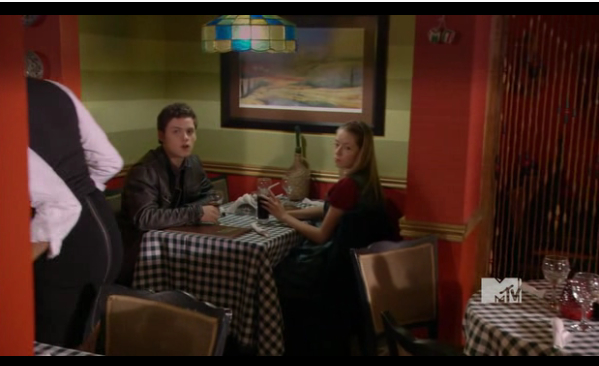 It's not the blonde chick, I know I got excited too, like it was a "Surprise You're Gay" party or something. It's Two-Note Tony.

Waiting For Godot Per Ushe
+
Luckily both the kids have pocketed some serious change to fund their little date and therefore the Never Explain Never Apologize Team heads to the playground with some cheap vodka, where they can spin and spin and not fall down.
Ultimately, none of this matters because these kids are fucked and going to die. I didn't first drink vodka out of the bottle 'til age 25. She's what like 16. I'm dying as we speak. If I my brain wasn't too burned out to remember math, I could tell you what this specifically means to these kids, but I can just say it's not looking good.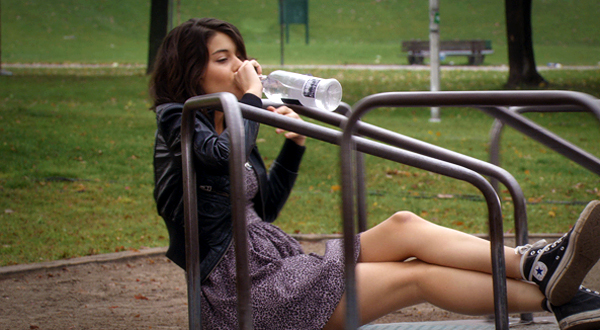 I don't see the "chemistry" in this scene some newly minted shippers see. It's two confident humans drawn to each other in a way that isn't sexual, but because a great deal of their confidence is tied into their sexuality, that's the only language they have to express it.
Tea: "Why Michelle?"
Tony: "What?"
Tea: "You heard."
Tony: "She's hot. No, she's the hottest. And the cleverest and her nipples make me laugh, so she's mine."
Tea: "That's how you see it, huh?"
Tony: "That's how I see it. We get along."
Tea: "Does it bore you?"
Tony: "Your turn, tell me something about yourself."
Tea: "You wanna know what we do right, what goes where, who licks what, it's so tedious. I screw girls, so what. And only the HOTTEST, by the way."
Tony: "Listen I know you like to fuck the lady-harp. That's boring. You're mysterious."
Tea: "I'm what?"
Tony: "You hold back, nobody gets in, it's mysterious."
Tea: "My Dad threw his life away to be with my Mom, he didn't care that his family disowned him — maybe he never wanted that world, I dunno. And he loves her. I can't imagine feeling that way about anyone. I think I've got a screw missing."
Tony: "Maybe it just needs tightening."
Tea: "FUNNY!"
Tony: "Yeah, you're funny too."
Tea: "I know, but you're FUNNY."
The real question here is: will Tea grow up to become Bette, or Shane?
"I can match you," Tony Don Juan Cassanova De La Pica Moraelliano insists. "You've met your match."
Yup. It's time for everyone to rock out with their cocks out!


Tony  the Alliteration Addict notes Tea's hideaway, "Snatch City." "Boy, you lesbians sure have style," Tony says like a douche.
Tea hits the dance floor like a lusty drunk girl in silky underpants who wants to dance / knows how. Tony summons two stray worms of personality from his feet and then proceeds to showcase the moves he learned from Roundhouse.
Tony's swiffer-jetting his way around Tea and they're smiling and happy and having fun and intrigued, maybe, when one thing leads to another thing and before long, here we are!
Didn't Even Take Her Chucks Off
+
Afterwards Tea is like, THIS IS IT? THIS?!! and cracks up laughing. It's pretty fucking awesome.

Tony: "What?"
Tea: "That was –"
Tony: "Awful."
Tea: "Terrible, it was terrible!"
Tony: "Normal girls like it, so."
Tea: "They must be really stupid."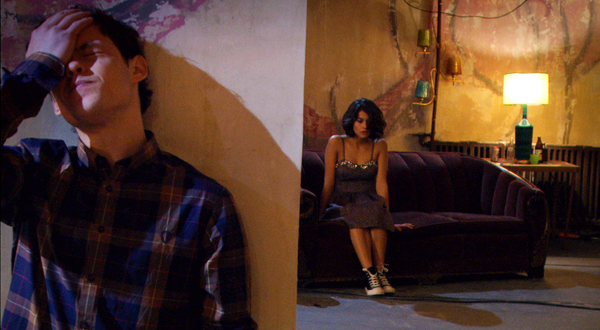 I KNEW I SHOULD'VE TRIED "CIRCLES"
+
This is a scene that launched a thousand 'ships, but I've got no clue why. It doesn't represent a crucial plot point in Tea's sexuality development nor was it added to the series precisely to titillate whomever it is that still enjoys these straight boy-lesbian onscreen match-ups.
What's interesting here is that this is, in fact, something that happened in the original series — they aren't veering from this plot point — but that time it was with Maxxie, the gay male character who was replaced by 'Tea' in this episode. Tony, who's been itching to show Maxxie what an ambisexually deft lover he is, finally gets his chance during the crazy trip to Russia.
Results are similar:
Maxxie: "Tony, you've finally found something you're not actually good at."
Tony: "What?"
Maxxie: "Goodnight Tony, find somewhere else to sleep."
Tony: "What?!"
In conclusion, Tea wins the scene.

On Tea's way home, she's assaulted by the Scary Drug Man who calls her a dyke and grabs onto her arm. Then Dad comes out and stands on the porch with his arms crossed like a badass until Scary Drug Man heads off.
Later we learn that Dad thought he called Tea a "kike" — it can be hard to hear over the sound of confetti shooting from my eyeballs that Dad's Italian Mafia has been called in to sub for Jal's brothers and that this whole marijuana-buying sub-plot, which I've yet to mention in this recap BECAUSE IT IS STUPID AND ANNOYING, will soon end.
Here's a picture of what happens later. Doesn't Tea look cute in that jacket? I wish that dude's nose wasn't in the way.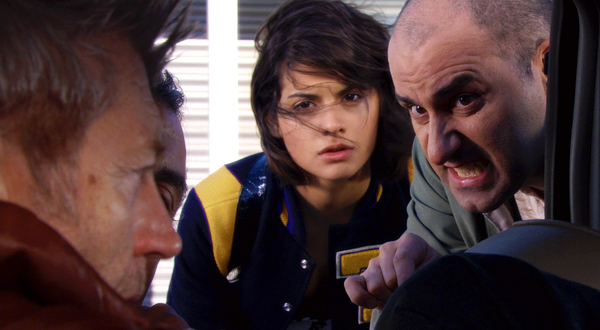 BUT! BEFORE WE GET TO A PART OF THE RECAP I WOULD'VE SKIPPED IF MTV HADN'T MADE THE SCREENCAP FOR ME —  here we are back in the "present" of the teevee show, where Tea feels vulnerable after being gay-bashed and having sex with a dude for no reason.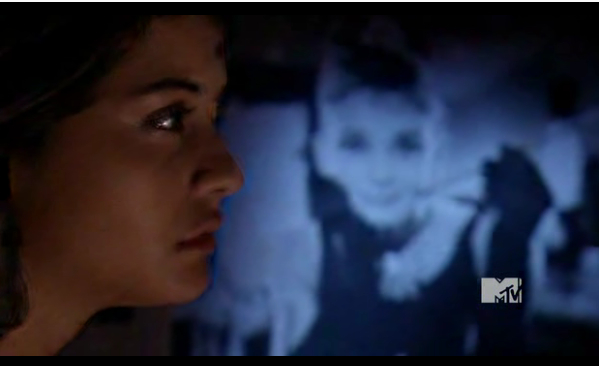 "You musn't give your heart to a wild thing. The more you do, the stronger they get, until they're strong enough to run into the woods or fly into a tree. And then to a higher tree and then to the sky."
– Holly GoLightly, Breakfast at Tiffany's

Tea, in just a t-shirt and a weary gait, slips into Nana's bedroom and asks if maybe she could sleep with her, and of course it is, how else will we ever protect ourselves from Nuclear attack.
THE LAVENDER MENACE
+
Nana: "President Eisenhower let me down. Some kind of war hero. He can kiss my ass."
Tea: "He can kiss my ass too, Nana."
Nana: "I thought nobody knew I had a lover. I told her, "This is a free country, no one can hurt you know. We got no ghettos here, Martha". Eisenhower should have helped us. He should have put a stop to it but it was on the radio every day about the bad people, traitors, queers, I guess they thought between us and the communists, we were going tear the place down. They even gave us a name so everybody knew what to hate: Lavender."
Nana: "I told her, "It's a sweet flower, how can a flower hurt anyone?" but people visited. They said that wasn't the way Jewish people behaved and Martha got so scared that they knew we loved each other. I hear she married a farmer in Wisconsin. Everybody's most particular there. Shame on you, Mr. President. Shame on you."
Tea: "I love you, Nana."
Nana: "I know you do, Ruthie."
Lemme be honest: this scene both feels totally over-the-top and totally made me cry like a baby.

The next morning in the caf, Michelle is talking to Tea about how she hasn't been getting the hot beef injection on the reg from Tony's Salami. Perhaps Tony only enjoys a challenge. He continues eyeing Tea with the attitude of somebody who didn't give her the worst 'sex' of her life.
"It's work," Michelle says about sex with Tony. "It feels like work."
THEN BETTY ARRIVES.
No. Not that Betty. This Betty: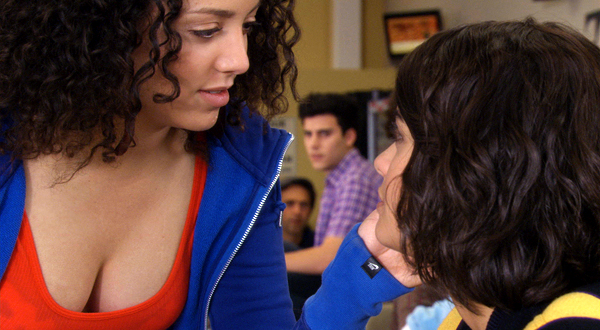 It's time for Betty to "put her truth" on Tea. This isn't gonna end well if Tea doesn't have feelings back though honestly, even as I type this, I'm just looking at that chick's cleave.
The cafeteria is both stunned and entertained.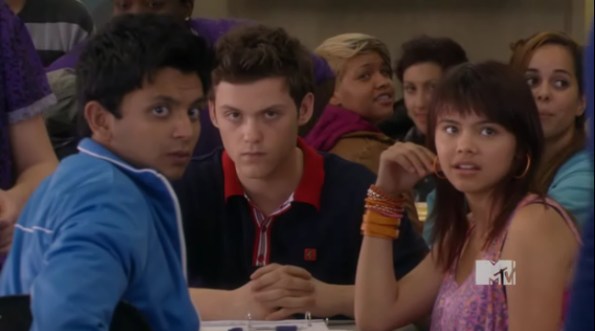 Definitely Considering Club Skirts
+
Michelle diffuses the situation by volleying the homophobia ball right back at a group of guys in the corner nudging each other in excitement about the lesbian action, "Hey guys, why don't you all go screw each other in the ass. It looks like you want to, the way you're all touching each other and everything." AWESOME.
Tea then strolls outside where her Dad is regulating on the Scary Drug Man as aforementioned. He tells Tea she's a good girl and she should be proud of herself. She looks sad, like "would he still be proud of me if he knew about the clambakes?"



Tony calls and Tea lets him know "this isn't gonna fly," this thing where Tony wants her for one additional moment. He needs affirmation though — he needs to re-write the sex act for both of them — "I matched you," he says. "I matched you good." Tea rolls her eyes, purses her lips, and then Betty calls on the other line so she says she has to go.
Tea, who's really into "Wade in the Water" this week, then dances all over the room like a fucking pixie from Planet Homodorable.

At the end, my viewing companion said to me, "even though this show will never be as good as the British one, it'll still be a big deal to a lot of kids" and I think this episode is a perfect example of that. Tea's already had her awakening and is out to her friends. I'm not sure if I loved the episode, but I loved the character. It's about time we get our own Ricky Vasquez, Jack McPhee, Kurt Hummel, Eric van der Woodsen, Calvin Owens, Marco De Rossi — or, you know — Maxxie.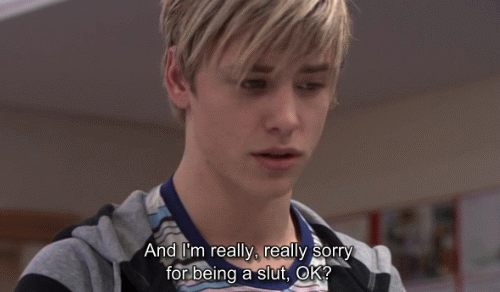 Pages: 1 2See entire article on one page