Two days ago, the internet first saw the shocking cell phone video of a 15-year-old Ohio high school student being assaulted by another boy. At first identified only as "Zack," the video is proof of at the very least a horrifically violent act that's even more upsetting for happening in a school and with very young people. Some, including Zack's mother, purport that it's also video evidence of an anti-gay hate crime — one that no one in a room full of other students did anything to stop.
(Warning: video contains explicit depiction of assault.)
"Zack," who doesn't want to be identified, is reported by his mother to have two broken teeth and a possible concussion as a result of the beating. His attacker was given three days of suspension. The high school principal notes that the punishment, however, was given out before he was aware of the video, "which contradicted his investigation and appears to reveal premeditation." The Chillicothe Gazette reports that the attacker told officials he wasn't responsible for the attack because he's mentally ill:
According to the initial report obtained Thursday by the Gazette, the two boys were on their way to a third-period class when they "bumped shoulders." The 15-year-old suspect told deputies he has a mental illness, that he "just zoned out," and didn't know why he punched Collins' son, according to the report.
The attacker's explanation does not address why a cell phone camera was aimed at him as Zack approached.
"Zack" also identifies as gay, and his mother has been certain when speaking with the press that this was the reason for his attack. Zack reported cruel anti-gay comments left on his Facebook page a few days earlier. Initial responses from the school didn't deal with Zack's sexuality at all, but they are now investigating a connection between the online comments and the videotaped attack.
Unioto High School, where Zack and his attacker are both students, does not have a GSA. ABC reports that according to GLSEN, one in four queer Ohio students has experienced some form of assault in the last year. The school district does have an anti-bullying policy in place, but says it's never dealt with anything like this before.
The high school had an assembly on cyberbullying three days after the fight that Osborne and Garrett said had already been scheduled before the fight.Staff is educated annually about reporting bullying, and the high school has at least one education assembly on bullying a year, Osborne said. While there have been reports of bullying before relating to sexuality, Osborne said he doesn't get them often and has not had an assault on any other student who is out about his or her homosexuality.
There are those who feel like Zack's story, and the outrageous statistics on violence against queer kids in Ohio, are proof that this approach isn't enough. In a statement released on Thursday, GLSEN said:
"It is extremely frustrating for us at GLSEN to watch a student get bullied when there are tools and resources that are proven to reduce and prevent similar incidents from taking place in a classroom or hallway… School districts with comprehensive anti-bullying policies inclusive of sexual orientation and gender identity are effective at curbing anti-LGBT bullying and harassment. It is time for the Union-Scioto school district and every school in Ohio to protect students from the kind of torment that everyone has witnessed on video."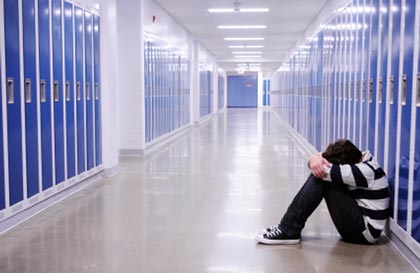 Given the fact that the attack seems to have been clearly premeditated, the sheriff's department is investigating whether to file a charge of assault or felonious assault. Depending on the course of the investigation of the attacker's motives, it's possible that the attack could fit the criteria for a hate crime. Unfortunately, that doesn't necessarily mean it will be treated like one in court; Ohio's laws don't make that easy, as Ross County prosecutor Matt Schmidt explains:
"What people are failing to understand is there isn't an Ohio law to enhance it (if the assault was motivated by the victim's sexuality)," Schmidt said. There is a federal hate crime law, he added, but the federal district attorney would have to file the charge, and Collins could approach him about it. 
Aside from criminal prosecution, however, what can a school do to make sure this doesn't happen again? Zack's mother wants a zero-tolerance policy in place, but it seems clear even to her that there's a problem here that an anti-bullying policy might not solve. "To me, it's not only the kids doing it. The teachers aren't stepping in," Collins said." And it's not just teachers — the cell phone video posted on the internet doesn't end when someone, a student or a teacher, stepped in to help a student who was being assaulted on school property. Because no one did. Will an anti-bullying policy make students care about each other's wellbeing, or just teach them that they'll get in trouble if a teacher sees them fight?
"Zack" didn't want to be identified, or (understandably) speak much to the press. But he did say this: "I covered myself, I shielded my body, and he just kept hitting me and nobody did anything." In the wake of the tragedy that bullying of queer kids has brought to our community, we've thought a lot about ways to prevent kids from doing things — mocking their peers, hurting them, making their lives torturous. How do we help kids do something? How do we help them want to make a difference? This never should have happened to a child, in school, where they should be safe. But more than that, this should never have happened to any human being in a group of people, because someone should have stepped in before Zack had two broken teeth, a black eye and a potential concussion. How do we change that? How can queer kids — or any kids, really — ever be okay if the people around them don't care? Because for all our efforts, violence against children or other relatively powerless groups is never going to end, as long as the people who watch it happen are willing to let it go.