Last week Big Bang Theory was the only new Thursday Televisionary show. So this week, we have a double bang for you!

Community
"Horror Fiction in Seven Spooky Steps"
by Brittani
Britta throws a Halloween pre-party which is like a pregame without the prematurely drunk girls, douches who insist on calling beer pong Beirut, and any sign of fun or enjoyment.
Britta: Look. One of the tests came back with 70 out of 75 red flags for an Extreme Personality Disorder. Extreme, Jeff.
Jeff: Like a Dorito?
Britta: A sociopathic Dorito. A cool ranch lunatic. Only instead of zest, Jeff, one member of our study group has homicidal tendencies.
Britta tries to tell a horror story in an attempt to flush out the maniac in their presence. It doesn't work. The story lacks fun just like Britta. The stories all mirror the traits of the person telling them. It's reminiscent of Chaos Theory but still refreshing and hilarious.
Abed tells a story with way too much detail and extremely logical characters. He thinks you should care about them because they make the same choices most people would make. I would never be in a log cabin with only one other person unless something about my mindset underwent a serious change. Or the other person was Eliza Dushku 'cuz how could you pass that up.
Annie then gives it a go with her romanticized but chilling story of an illiterate vampire. After teaching him how to read, she reveals she is a werewolf that feeds on selfish vampires that quote King Lear. Again we see that though Annie may hold on to the notion that naive young women or anyone in a relationship has, that they can change the person they desire, she's not entirely disillusioned and will protect herself when necessary. Even if it means eating you alive.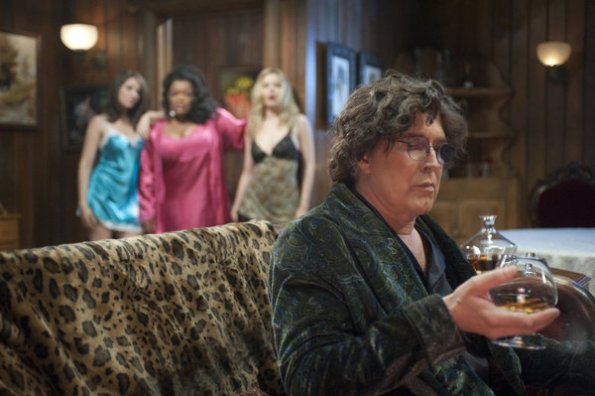 Troy's spooky story involves Top Gun pilots (the best in the world) who wonder upon a cabin inhabited by an old doctor after their plane goes down. The doctor is evil like the healthcare system and connects their bodies, forcing them to be together forever. The surgery has undue side effects and the duo gains ESP, telekenesis, and the ability to hear each other's thoughts. They flip the script on the doctor and sew his butt to his chest giving him boobs he can touch all day. Except they switched his feet with his hands! Maybe later the doctor discovers he's into that. Respect the fetish.
Pierce's scary scenario involves post-coital brandy and Abed and Troy breaking into his home. Troy is Marlon Wayans from Don't Be A Menace To South Central While Drinking Your Juice In The Hood. I'm surprised Pierce has seen that movie. He beats up the intruders then punches Troy with his penis.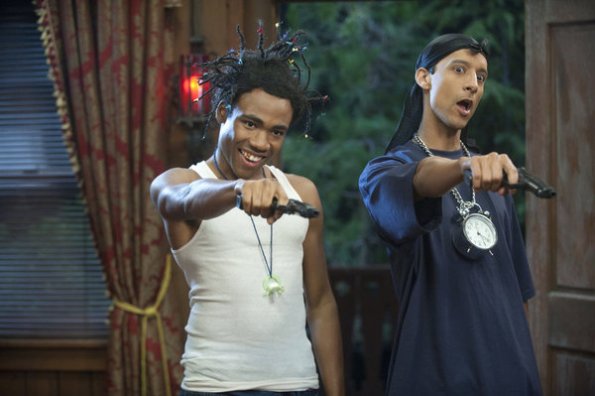 Shirley insists on a classic tale of good vs. evil. Death metal, New York, and weed will all get you sent to hell. Dean Devil shows up during the End of Days followed by Angel Shirley who doesn't save the gang. She leaves them to deal with the genital stealing demon to repay them for criticizing her devoutness all these years. Britta does Shirley's "anywho" which is classic and Dean Devil comes back waving a chainsaw…a subtle reminder to avoid gay marriage endorsements. Gay marriage is a sports team.
Troy: Shirley, that wasn't a horror story, that was a sermon. You ruined a Britta party. That's like letting poop spoil.
Troy sure is hard on Britta for someone who has a crush on her. Jeff thinks he will be the hero and shit storm conqueror by telling a story to calm the group. Chang's fear-fueled killing spree ends through the simple act of kindness. The crew gives him a hug and he's done with his murderous ways. It doesn't work. Paranoia has set in and they need to find who amongst them is off their rocker. Turns out Jeff filled his answers out randomly and Britta britta'd the tests by running them through the machine upside down. After correcting the tests, we learn all of them have plenty of red flags except one. It's Abed. Obviously.


Big Bang Theory
by Lizz
The Rhinitis Revelation
If your mom comes to town and refuses to make you fried chicken and pecan pie, that's sort of like if you come home and your mom won't make you matzo ball soup, right? Yes? Okay now I have a better frame of reference for this episode. Sheldon's mom Mrs. Cooper is in town to spend the weekend with Sheldon before leaving on her cruise, the Born Again Boat Ride.
Some Things Are Better Left Alone
Ms. Cooper: So do you know what's going on with these two [Amy and Sheldon]?
Leonard: Mmm, it's sort of like the Loch Ness monster. Maybe there's something there, maybe there isn't. We may never know… but sometimes it's fun to creep yourself out thinking about it.
Much to Sheldon's dismay, instead of cooking for him and attending physics lectures, his mother wants to see the sights and, oh I don't know, have an adult relationship with her son. That goes over about as well as when you tell a five year old there's no Santa. While it seems unlikely that any Santa-believes are reading this: FYI, it's just your parents. You should probs write them a thank you note now.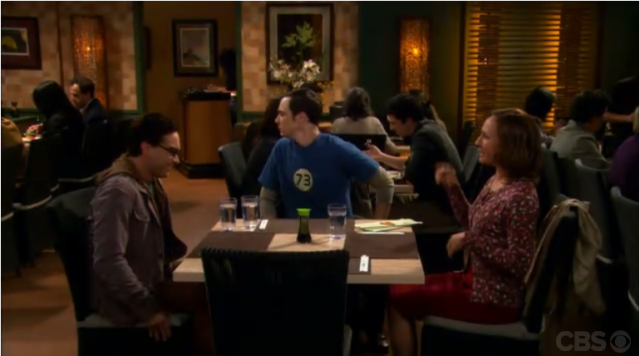 Regardless, for Sheldon's mom the whole trip is awesome. She gives all the kids advice on good behavior. Ms. Cooper comforts Raj on not having a girlfriend and helps Leonard realize he needs to figure out what's going on with him and Priya. Gosh! She even explains to Penny why she shouldn't let the boys "ride the roller coaster for free." She even gets to have sushi for the first time!
Ms. Cooper: The only thing that would have made it better was if it were cooked. and beef.
Um, to be specific, by "seeing the sights" she meant visiting all the churches in the area. She even goes ahead and forces everyone to pray.
This of course does not please Sheldon one bit. He storms off to some lecture all alone and, sadly, ends up outside in the rain and catches a cold. His mother see's that he's sick and comes right to his rescue.
The best part? Since Sheldon is sick and someone's caring for him, you know what that means! Soft kitty!

The Good Guy Fluctuation
Yay for Halloween episodes!! The Good Guy Fluctuation taught us a lot of important stuff about Halloween with the whole Big Bang gang (hey that rhymes!). Right from the get go, we learned that Sheldon is a total scaredy cat who is also terrible at playing tricks on people
Sheldon Teaches us About Texas
Sheldon:Enjoy your japes gentlemen; think you've poked fun at a milk-toast academic. Well you've forgotten one thing. I am also a son of the Lone Star state of Texas through and through. We know how to settle scores down there. If you doubt me, ask Mexico.
I looked in to it. Shedon isn't actually saying milk toast, but rather milquetoast. Ha! The more you know!
In the process of realizing how terrible Sheldon is at playing pranks, we also learned that Raj loves snakes and hand shocker things are definitely still funny after all these years. Raj took one look at the snake hidden in his desk and reacted like he'd discovered a shivering baby bunny.
Howard on the other hand managed to concoct a full blown fake heart attach to respond to Sheldon's buzzer (even getting Bernadette in on the deal).
While all this is going on Leonard hit it off with a hot girl who likes comic books!! A real live girl who likes something for boys only! One who's attractive by standard conventions of beauty! Holy Smokes!
Sheldon ends up making out with her and guiltily telling Priya. Turns out that Priya slept with her ex. Ouch. Sad times for Leonard. Oh, plus just as he heard the news, Sheldon managed to scare him.
All in all a good Halloween episode and, I'm suspect, the last whimpers of Priya's character. So here I am with only one question left: what, no Amy?
Happy Endings
by Brittani
This week's Happy Endings was a Halloween episode. It's one of the bonuses of not being a midseason replacement. Brad has been duped into house-sitting in the suburbs with Jane instead of going to his favorite Halloween party. Penny gets dumped for suggesting a couple's Halloween outfit too early in the relationship. Max's Lady Gaga meat suit went bad and now he wants in as the baby to Penny's mom. Dave is excited to finally wear a costume of his own without worrying about matching with Alex. Previously they'd gone as Carlito's Way Sean Penn and I am Sam Sean Penn. We're left to guess who took what Penn.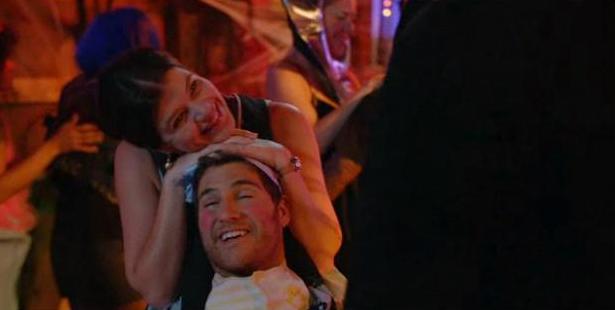 Despite a nasty cold, Alex shows up to the party with a raspy voice and possibly a virus. Meanwhile, Brad and Jane disagree on their way out of the city about where they will raise their future attractive children. Brad says the suburbs are boring and Jane thinks city kids grow up way too fast. She lists drinking and smoking as two of her main concerns which I'm pretty sure are valid anywhere and would not top my list of concerns in the suburb vs. city debate. Once they arrive and discover "Breezy Acres" has a hot tub, Brad would rather indulge than hand out candy to trick-or-treaters.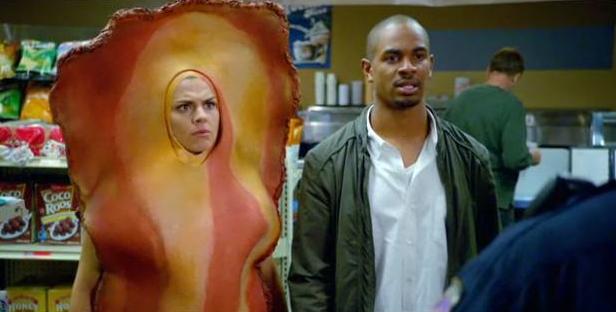 Brad: Let's just make a sign and have the kids meet us back at the tub.
Jane: Oh ok, so you're plan is to use the promise of candy to lure kids to a grown man in a hot tub.
Brad: Now that I've head the plan out loud, I like it even more.
Jane: Clean it up, Polanksi.
Brad does the classic leave the candy on the doorstep, assume children have self-control bit and the whole stash is gone in seconds. An ominous young doctor warns him they should get more candy because the big kids are coming. Where are their parents? Do people in the suburbs really let their kids go out unsupervised? I thought those days were over. Brad has resorted to giving out goods from the kitchen given their present predicament. Heavy whipping cream, lunch meat, sandwich bags. All the ingredients needed for a great night. He even gave out a whole cake but the big kids weren't having it. Shows you how stupid teenagers are. I would go trick-or-treating right now if I thought someone would give me an entire cake.
Max is throwing salt on Penny's game by not being a very good wing baby. Dave tries to warn Alex that Henry thinks she is a man, man but she thinks he is jealous since his solo costume didn't quite work out. With people thinking he's Elton John and all.
Max: Being straight sounds like so much work.
Max wants to have a weird gay turkey party with ZZ Top Gun, real name AJ but Penny wants to get back to her future ex-boyfriend. Rick walks over and hears Max insulting him so he wants no more to do with the single mother. Max thinks it's time to split so Penny has a shot at Abe Lincoln. He takes one for the team so he can take one for the team and wears the one piece Penny was wearing under the costume.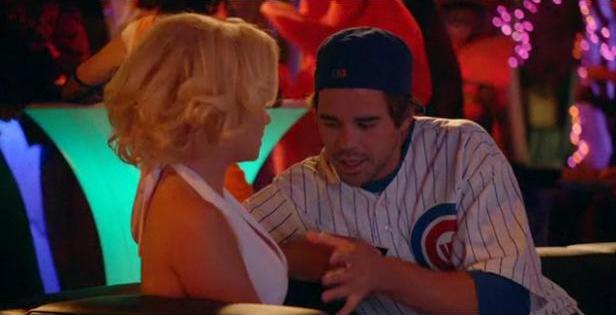 Henry tells Alex she's a shoe-in to win the drag queen contest because of her realistic boobs. Alex, finally finding out what Dave already knew, leaves that gay alone but enters the contest anyway. Max wins despite her putting on quite a show. No word on whether any actual drag queens entered the contest.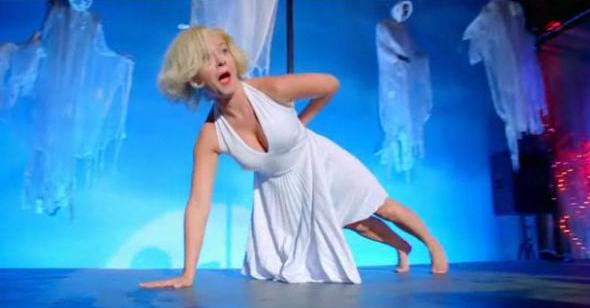 Back in the suburbs, the big kids stole the front door right off the house. Brad goes on a rampage through the suburbs which I think is exactly what people in the suburbs were trying to avoid. He comes across a kid with a door. Said kid claims he and his friends are attending a party as "The Doors" and he's Ray Manzarek. Brad says that's not a real name and steals the door. Standing outside the half covered doorway (not the right door), the couple gets egged…and baconed. They reverse their previous stances on the suburbs which I don't buy but we'll roll with it anyway.
How does this episode stack up against other Halloween specials? What was your favorite costume? Did you have an Arrested Development flashback?
Parks and Recreation
"Meet N' Greet"
by Brittani
April and Andy are throwing a Halloween party in which there will be blood orphans. Leslie is throwing a meet in greet for business owners and Entertainment 720 is running the operation.
This episode was heavy, heavy, heavy on the quotables. Each story was pretty straight forward and predictable so let's just focus on the comedic gold that was uttered from the mouths of babes. It's not really from the mouths of babes but still.
Andy: I feel like we need to inflate it more.
April: I told you I'm a sumo wrestler after he's lost the weight.
Chris: To me Sherlock Holmes is literally the greatest character in the Western canon. Smart, intuitive, handsome. Replace his pasty British frailty with super human physical fitness and you get Sherlock Traeger.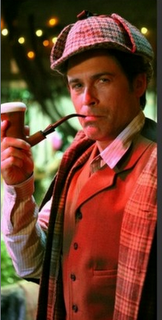 Leslie: I know I should be chasing your vote but I stand behind my decision to avoid salad and other disgusting things and I think I have a lot of support in the community for that.
Tom: Mind if I steal you away for a few seconds? Give you the tails.
Business Owner: The tails?
Tom: The details. Most people would probably say the deets. I say the tails. Just one example of innovation.
Ron: It's a good feeling. A sense of accomplishment and pride. Damn it I just love it so much.
Ann carried around tools and spoke authoritatively. It was my favorite thing. What was your favorite thing? Which NBC comedy had the better episode?