The internet is a great place to learn about sex, but Scarleteen, one of the most comprehensive and nonjudgemental sources on the internet for youth of all genders and sexualities, is in danger of disappearing from the web if they can't accumulate enough funds to be sustainable. Serving a wake up call to those who have grown accustomed to their presence on the internet, Scarleteen declared it will go on strike on May 1st — May Day — unless people step up to get them the funds they need to sustain their work.
If you have an internet connection, you have access a lot of sex-related stuff — porn, sex toys, message boards, erotica, pirated L Word episodes, educational information, probably other things I've never heard of. A lot of the information out there about sex is really shitty — sexist, misogynist, unsafe or just plain wrong — the fact that anyone can create content related to sex can make it hard to find accurate, nonjudgmental information. Scarleteen has been a trusted resource for all things sex and relationships for 16 years.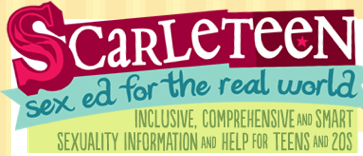 Scarleteen began in 1998 as a reaction to abstinence-only mandates, and questions that site founder Heather Corinna was getting from youth through the site about sexuality she ran for adult women. Corinna said,
We really were the first of our kind, and when it comes to our user-directed model, we still are one of the only things like us… It's important because people need sexuality, sexual health, sex and relationships information in order to stay healthy, physically and emotionally, and in order to have facts to figure out what their own wants, needs and best choices are and support to make them based on who they are, uniquely, especially if and when those choices are not broadly supported.
We live in a world where the idea of even providing sex ed that is relevant to queer youth, or even sex ed that acknowledges pleasure is part of sex, is controversial. In light of this, Scarleteen is an invaluable resource for young people, particularly those who come from backgrounds where their sexuality or sexual practices might not match what their families or communities deem acceptable. Vassar College sophomore Erin spoke to the importance of being able to use the internet to learn about sex:
"Since both my geographic location (and associated cultural norms) and religious background imposed a conservative/abstinence-only lens on all education I received until I came to college, internet sex ed places have helped me a ton."
The fact that Scarleteen has been around since 1998 also means that they have produced a ton of information over the years. The articles on their front page on any given day range from "Yay, I'm Bisexual! How Can I Block Out All the Negative Messages & Stereotypes I Hear About It?" to "Squirt: On Ejaculation" to "Body and Sexuality Disconnects with Disability." Their sheer volume allows them to cover a wide range of topics that even the best sex ed classes rarely get to, and they've done all this with a fraction of the budget that other big websites offering sex ed have.
Robyn noted that she likes Scarleteen because they keep the needs of sexual assault survivor in mind in ways that other resources don't:
"Whenever I have questions about anything related to sex/sexuality, it's one of the few Google hits I trust. And as I'm also coping with past sexual assault/violations, I've found their stuff on healthy relationships and negotiating consent really helpful. Lots of other teen websites are pretty ugh when it comes to giving advice on consent and healthy, equal relationships."
As great as it is, though, Scarleteen is in financial trouble. Providing the kind of information and resources they do isn't cheap, and on top of that, they operate at the intersection of two of the hardest areas to fund: producing online media, and celebrating and validating sexuality in marginalized populations.
Consumers often have a sense that we are entitled to access anything and everything on the internet for free. News, TV, music, sex ed — if people can access it for free, there is the assumption that they should be able to access it for free. Combine this with the increasing pressure of the non-profit industrial complex that is making it harder and harder for organizations that do work around sexuality to get funding from private or government grants (not that there's a ton of grant money out there in the first place), and the result is that Scarleteen has a really really difficult time funding itself sustainably.
After raising almost no money with their annual fundraising effort, Scarleteen has turned to drastic measures. They will strike on May 1st, unless something changes. They will shut down their direct services, which include their moderated message boards, SMS service, live chat, advice column, and the work they do offline. They will also stop producing new content or using social media except to update on the strike.
May 1st, or May Day, is International Workers' Day — a day associated with building power amongst workers and labor unions around the world. The US and Canada don't officially recognize May Day, instead recognizing Labor Day which falls in early September. However, May 1st has historically been used as a rallying day for labor movements in the US, particularly in recent years by the immigrant justice and Occupy movements, connecting US injustices to a global context. Scarleteen is choosing to strike on May Day because of a need Corinna sees for people to recognize the work Scarleteen does as labor:
"Labor matters, and the labor of any person — whether they do the kind of work we do, or do something else entirely — should not be taken for granted, and cannot be taken for granted if we've any care for the basic well-being of those doing the labor. …Even with something like Scarleteen, which we remain committed to providing for free to our users, someone has to pay for it, and someone has to pay for the labor involved, just like with any other job or workplace.  Few people can work for free, especially for long, and it also matters to have workers with experience, skill and a long-term commitment to the work.  With the exception of people who are independently wealthy already, or otherwise supported in some way, you don't get that when the labor comes without a living wage and reasonable working conditions."
The idea of a strike for an organization like Scarleteen is an unusual tactic, because strikes typically involve a group of workers coming together to leverage their power against an employer to appeal for better pay or working conditions. The idea is that the employees all join forces, because even though they might not have much power over their employer individually, if they present a united front, they have a lot of power because the employer needs the employees to facilitate their success.
In the case of Scarleteen, there isn't an obvious target for their strike. They need significant donations to keep going, but the people they serve are youth, whom they don't expect to have the money. Essentially, the strike is meant to serve as a wake up call to people who used Scarleteen as a resource and now could contribute financially, or to people with financial means that refer to Scarleteen and that might generate their own income from referring to Scarleteen, but would never think to contribute to Scarleteen. To this end, the strike is a performative tactic to draw attention to the fact that Scarleteen can't just magically keep going.
The expectation that people can get anything from the internet without having to pay for it is damaging to the people who are producing content, and too many people are willingly working their asses off to provide amazing content without getting a living wage or even remotely fair pay for their work (sound familiar, Autostraddle readers?) As capitalism becomes more deregulated, we are also seeing new groups of people using creative tactics to organize and demand fair compensation for work that hasn't been traditionally thought of as work. Graduate students and adjunct professors are organizing in unions, and fast food workers are organizing for fair pay. Even college athletes are organizing to form unions and demand pay as workers who generate huge amounts of income for their schools. It makes sense to demand a fair wage for the labor that goes into producing information on the internet. As Corinna said, they are striking, "for the same reasons anyone strikes: because we work hard and deserve at least a living wage and reasonable working conditions. Because it costs money to do all we do, and without it, we cannot keep doing all that we do."
Scarleteen needs the support of individual donors because there just aren't other means to gain funding. Grants are few and far between, and even if there were more, Scarleteen would need a full-time employee to write grants, which they can't do unless they have a bigger budget. Even if they did have someone writing grants full-time, the grants they'd have would be contingent on Scarleteen following the wishes of the grant-giver. Corinna said that would compromise Scarleteen in ways they aren't willing to do:
"[A foundation grant] often does come with a lot of strings attached, and the agenda for what an organization [that receives a grant] does will tend to then be set, or set more, by a foundation than the organization itself.  Because our model is user-directed, and we stand strongly behind that, having a foundation, rather than the young people we serve, set or control our agenda would be problematic, and would also potentially make us much less effective at what we do."
This compounded catch-22 of a funding situation is extremely common amongst non-profits that do work that is considered to be radical. Queers for Economic Justice had to shut down because they lost grants and couldn't sustain their operations with only individual contributions. The people served by organizations like Scarleteen, QEJ and other organizations doing work around sexuality are not generally groups with a ton of money to throw around. For these organizations to survive, they need major donors to step up, and they need people with moderate means to give what they can, so they can continue to be available for free to those who need it.
People are stepping up. Glyde Condoms and Lucky Bloke are offering partnerships, which Corinna is excited about. "They are both companies we really like, who are profoundly ethical." If you're in Chicago, check out the release party for a comic anthology created by Scarleteen's illustrator, Isabella Rotman, at Early2Bed on April 26th. Corinna stressed that individual donations are the most important — each day Scarleteen gets 20-30,000 visitors. If every one of them gave just $5, Scarleteen would have an entire year's operating budget. Of course, not everyone who visits Scarleteen has even $5 to spare, but the point is that it shouldn't be so hard for amazing resources to sustain themselves. The money exists. If we're paying to stream Netflix, shouldn't we be able to offer up five bucks to Scarleteen? Or other organizations that work with queer people, like the organizations that Queers for Economic Justice used to work alongside in the Miss Major-Jay Toole Building for Social Justice, or the Ruth Ellis Center, or Autostraddle, bringing you Sex and Relationship content since 2009?
As of writing this, Scarleteen has raised about $24,000 of the $36,000 they need to raise before May 1 to avoid a strike. To donate now, go to their Donation Page, or to find out about other options for support, visit the Scarleteen Strike page.