RWANDA: Rwanda votes on criminalization of homosexuality today – "Rwanda.  Yes, Rwanda. When I first saw the email heading, I thought it might be wrong." I thought so too, but it's not. [FYI Rwanda, a sub-Saharan country, is directly south of Uganda.] The lower house of Parliament will be voting Wednesday on a bill that would criminalize homosexuality for the first time in the country's history. (@rh reality check)
And of course Rick Warren is involved: "If Rick Warren was willing to condemn Uganda's gay genocide and criminalization bill, which he said he had no hand in, he should have zero problem condemning a bill supported by his personal friend, President [of Rwanda] Paul Kagame… The American people provide life-saving aid to Rwanda." (@phb)
You can also find more about the situation for gays in Rwanda at this website I just discovered called GlobalGayz which features info (some of it is a year old or older, but still) about gay rights and travel all over the world. If you can get past the Comic Sans you f*cking snobs, you will learn a lot! (@globalgayz)
ZIMBABWE ON MY MIND: Two Dominican Convent High School students in Bulawayo fell in love. And then they got expelled from their Roman Catholic school. This isn't an unusual event, as it happens worldwide all the time, but that "although Zimbabwe does not tolerate homosexuality, people have continued to engage in the practice" line summarizing the action is chilling. The most interesting part of this article is the persistent reporter character who describes being denied interviews from various school officials as if he actually could've possibly expected any of them to wanna sit down and dish about the lezzies (@sundaynews):
When a Sunday News crew went to the school on Friday last week to seek a comment from the headmistress, its reporter was barred from entering school offices.
According to the ilga, male-to-male sex is illegal in Zimbabwe but female-to-female sex is legal.
IMMIGRATION: A Daily Kos blogger makes plans to leave the country: Her girlfriend, a UK citizen, is here on a limited work visa and now that visa has expired. If they were straight, they could get married and stay together. But they're not. So the girlfriend is either going to have to leave America (likely), break up, or do long distance. Find out about the The Uniting American Families Act (UAFA) which, if it ever gets anywhere, could help people like her.
NEW YORK SAME-SEX MARRIAGE: Most people in New York State aren't happy about same-sex marriage losing last week: "Forty-seven percent of voters were disappointed that the Senate rejected the bill to legalize same sex marriages in New York, compared to 41 percent who were pleased by the Senate's vote. Liberals, young voters, Democrats and Jewish voters were most disappointed."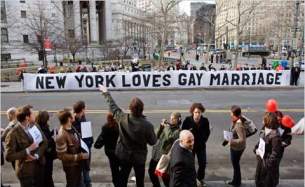 MATTHEW SHEPARD: "Every so often you stumble upon something in the interwebs and think, "How the hell didn't I see this before?" Such is the case with this interview with Matthew Shepard, which comes from the 1998 documentary Dear Jesse. At the time, Shepard was a student at Catawba College, in North Carolina, before moving to Wyoming. Shepard is interviewed, along with his then boyfriend Lewis Krider, as part of Dear Jesse's focus on being openly gay deep in the heart of Senator Jesse Helms country." (@change.org)
HILLARY: Hillary Clinton: The Most Pro-LGBT Secretary of State Ever. (@change.org)
TRANSGENDER RIGHTS: Transgender state employees receive protection in New York – "Though state antidiscrimination law includes gay men and lesbians, it is silent on the issue of transgender people. And while Mr. Paterson's order will not have the sweep of a statute enacted by the State Legislature because it will apply only to state agencies, gay and transgender rights advocates said it would be a first step toward including gender identity and expression protections in state law." (@new york times)
GAY SOLDIERS: A British soldier comes out in Afghanistan – Attention all pro-DADT-ers: "Trooper Ben Rakestrow said he's received nothing but friendly banter from fellow soldiers since telling them last year he picked a guy up at a gay club." (@mcv)
DISCRIMINATION: The Vatican speaks out against "Unjust" discrimination – Fr. Bené explained to LSN that "'The Church distinguishes between just and unjust discrimination.' He used the example of his 10-year-old niece not being permitted to marry – a situation, which, although clearly discrimination of a kind, 'is just discrimination, because she's not old enough."  He added: "Discrimination is not a bad thing in itself, but it has been interpreted that way.'" (@life site news)