PLAYING GAY: The Advocate discusses how for hot "seemingly harmless" girls, playing gay has become par for the course — and by "playing gay" they mean "flirting with gay ideas for a little while and then returning safely to heterohood." They note that "the most surprising part of Tequila's wedding announcement, Gaga's girl moment, Gossip Girl's ménage, and Rihanna's admission, is how unsurprising all the lesbian flirtation seems these days. What used to be alluring and headline grabbing now seems sort of old hat. It's got an almost lazy casualness to it." True enough.
Clearly straights can't have all the fun, speculating all day about those who those girls from The Hills or Tiger Woods or the British guy from Twilight is shacking up with, as The Advocate asserts, "Not that we don't want to see Rihanna and Megan Fox make out … But to really get our attention, maybe some of these celebrities should go all the way by coming out." See, the problem isn't that we want LESS "gay for 15 minutes" girls on our screens, we just want more of the other kind of visibility — visibility which embraces actual homosexuals AND the hotness/beauty of gender role subversion (in all its forms & sexualities!) rather than clinging fiercely to sanitized, traditional images of sexual expression.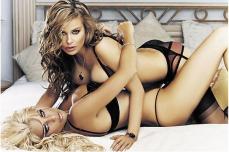 To that end, The Advocate makes this important point we've made before and fully agree with —
"It has been argued that depictions of lesbian sexuality are more "digestiblewp_poststo mainstream media because straight men love to look at it. But I wonder what would happen if Rihanna were to come out as a lesbian and french kiss, say, Melissa Etheridge onstage [rather than the more "digestable" Megan Fox, who Rihanna recently told the press she would love to hook up with]. You get the sense CBS would blur that too."
They also quote Kera Bolonik (the original Lezberado, before Autostraddle's Riese). To this end … eh, no, we don't agree. You can steal our sexy. We like it, and it looks good on you. Kera also passionately hated Jenny though, so obvs we don't see eye-to-eye on a lot of things:
In the Celebrity Industrial Complex, being identified as gay is still a liability, but playing with it can be a buzz booster. "It lends you street cred, lends you some of that sexy, or at least you're hoping it'll rub off on you,wp_postssays Kera Bolonik, writer and author of The L Word: Welcome to Our Planet. "But, people, get your own sexy! Stop trying to steal everyone else's hard-earned sexy!"
GLEE: Cute photos of Lea Michelle and Jane Lynch celebrating Golden Globe nods with the cast of Glee. The show received four Golden Globes nominations, including Best Television Series. Check out Entertainment Weekly's look at who got snubbed for a GG award this year. (@toronto sun) (@popwatch)
GAY PIMP: Our friend Gay Pimp Johnny McGovern's new song & new video for "Bossy Bottom"! (@queerty)
ANYONE BUT ME: New Teevee looks at Anyone But Me's venue switch: Strike is run by writers, whereas Blip has actual offices and executives and tech people. We had a meeting with them and they said, 'Oh, you're just the kind of show we would like to have, and if we don't show you the love you can call us and complain.'wp_posts(@newteevee)
MICHELLE MY BELLE: I'm not entirely sure when it came up, but according to a few headlines, this is hot news: "Actress Michelle Rodriguez has long fought off rumors she is a lesbian, and although she admits her love life is complicated, she won't be revealing the details any time soon. She says, "If I wanted to tell people what I do with my vagina, I'd have made a sex video a long time ago. Largely, people don't know the whole story about anything." (@houston chronicle)
Another source reports: Actress Michelle Rodriguez is a big fan of Angelina Jolie. "I like Angelina Jolie because of her ability to harness masculine and feminine energy into one. There are certain people who are so sexual that it doesn't matter how old they get, they're still sexual. Angie, at 50, will still be sexual." Hmm. Maybe she should take a cue from her heroine and be open about her (bi?)sexuality! But that's fine. We got your back, Michelle. And I think those rumors probs started because your ex-girlfriend is Kristanna Loken. Just saying. (@starpulse)
PRECIOUS: Precious has been getting a lot of media attention because it's the best movie that came out this year (I haven't seen any movies this year per ushe, but I trust Oprah, and it's about educators trying to impact change in the f*cked up socioeconomically-segregated  U.S. public school system which is my favorite topic to discuss passionately (READ SAVAGE INEQUALITIES) besides media visibility for homos), but ya know what hasn't gotten enough attention? Sapphire, who wrote the book "Push" that Precious is based on, identifies as a lesbian: "The teacher IS Sapphire. She really did this work for a living and she came out as a lesbian to her students, which plays a scene in the book." (@lezbehonest)
In Angry Women, Sapphire states: "I do [define myself as a lesbian]. I don't run from that. I embrace that definition of myself — even though I have loved men and maybe will again. I don't define myself as bisexual or heterosexual; I'm jut a lesbian." (@riese'sbookshelf)
AUSSIE: Australia's samesame has made their list of the 25 Most Influential Australian Gays & Lesbians of the Year. Somehow our music editor Crystal is not on this list, perhaps next year. Ruby Rose and Sia make the cut.
DAVID HYDE PIERCE: Joy has David Hyde Pierce on the show, they talk about coming out and he says it hasn't had any negative affect on his career. (@queerty)
NINE: NINE premiered last night, and everyone looked smokin' hot. Here's evidence: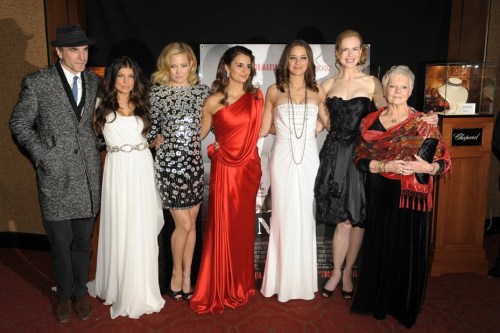 LADY GAGA: If Lady Gaga had a Christmas Album, it would look like this: