all photo credits to Robin Roemer
Autostraddle's editors, most of our writers, and nearly 400 other LGBT women, non-binary folks and trans men recently gathered together in Ojai, California for our annual A-Camp. It's a six day retreat that's also a brazen reclamation and celebration of queerness.
This is probably one of the few times where brazen is an understatement. We made dildos out of clay for "Arts and Crafts" and played Quidditch out on the main field. A bunch of us hosted a pool party for QTPOC where we rapped in unison every word of Nicki Minaj's verse on Big Sean's "A$$ (remix)" and sang Queen Bey's update of "Before I Let Go" while the sun kissed our melanin.
This year bisexual badass New York Times best-selling writer, professor, and editor Roxane Gay was camp's featured guest. She descended into our madness during the dinner hour. Murmurs passed from table to table as people realized she was among us – like the wave cheer thingy that straight people do at football games, but in reverse. She stood casually against the mosquito netting outside the dining hall while we piled our plates high on the hotly-anticipated Falafel Night. Up until that very moment, I was 100% certain that the idea of Roxane Gay coming to A-Camp was fake.
Gay came to be interviewed by her girlfriend Debbie Millman, the lesbian writer, curator, artist and beloved podcast host of "Design Matters." Millman fielded conversation topics from attendees and together they talked about a full range of issues – how to keep your creative flame lit, navigating an interracial relationship, and the current state of fat body positivity in pop culture. (The nerd in me has to let you know that Roxane Gay spoke a bit about her tenure writing the gay Dora Milaje Black Panther comics spin-off World of Wakanda to a near standing ovation from every black lesbian, bisexual, and queer person in the room.) They are, as you might have imagined, unbearably funny and cool. Both have voices that would make the even most staunch NPR listener weep. Truly, we never stood a chance.
A guest in the audience asked Roxane for tips on how to keep choosing your own self-worth when the world insists you make yourself smaller because of your race, your gender, your size, your sexuality.
"Every day I tell myself that I deserve to be happy, I deserve to be loved, I deserve to have a hot girlfriend," she said. However, that project never ends and isn't easy. Debbie feels me, "the more we choose to be ourselves, to be who we are, the happier we are. I'm still working on it. There's no expiration date on shame. It's an everyday struggle to choose self-love."
And speaking of ongoing struggles to care for yourself in the best light, Debbie Millman credits her therapist with saving her life. At first she didn't realize her therapist was also gay, but it turns out she's been with her same partner now for 40 years – a number that Debbie couldn't help but openly marvel at. She wondered to the audience, can you imagine the delight and pleasure that must come with having such security?
Roxane bit her lip slightly before whispering into the microphone, "I'll let you know in 40 years."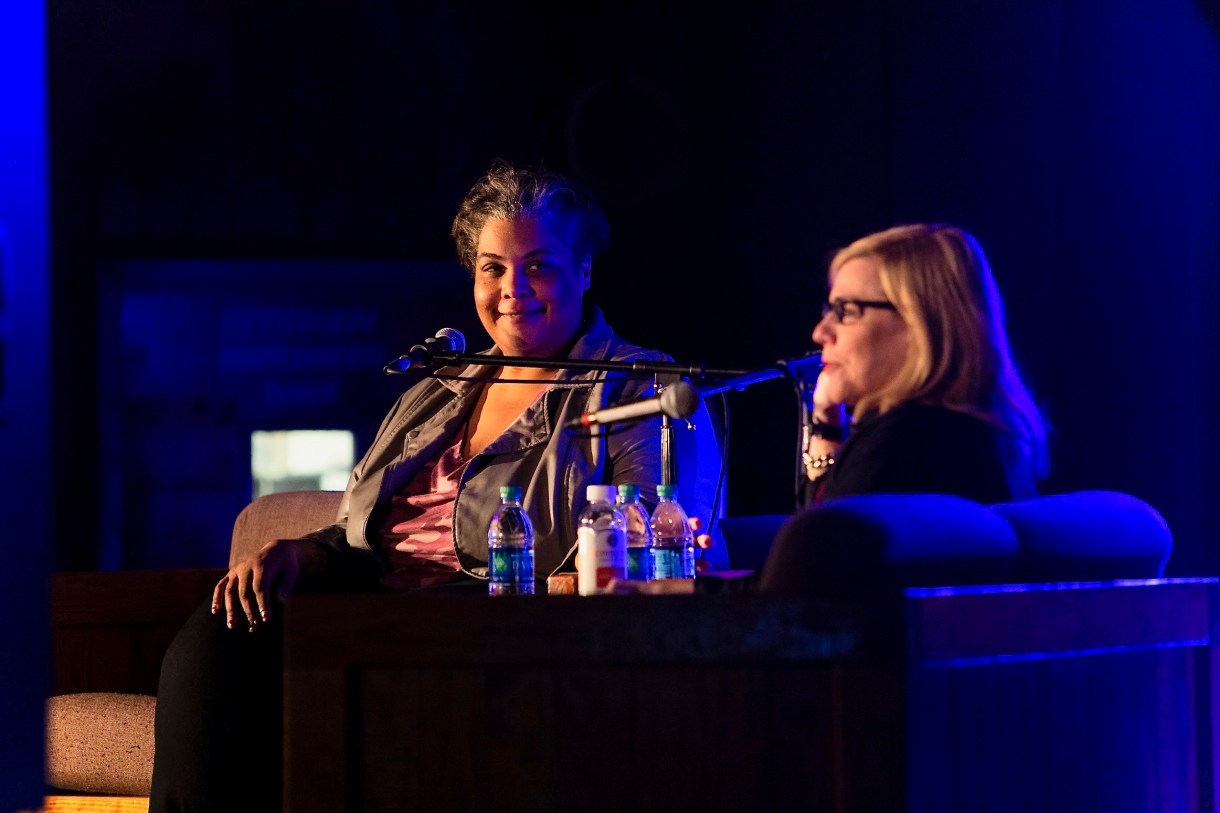 Roxane Gay's been a long supporter of our website — in fact, she's written for us before — but Millman is also a voracious reader of our work! She only had one major gripe. Sitting perched on her chair, thick black glasses balanced at the bridge of her nose, she called out our editors: How had Autostraddle not written about the couple yet? "Roxane Gay has a girlfriend! That's BIG news!"
Afterwards, I had a chance to catch the couple together before they left back for Los Angeles. Listen – Debbie Millman put our reputation as the internet's go-to source for queer gal pal celebrity hot gossip into question! I was more than ready to rise to the challenge! But, I also knew Roxane Gay is famously private about her personal life. The last thing I'd want to do is cross the line.
My voice wavering with nerves and my iPhone Notes app clutched in my sweaty hand, I offered to make Debbie Millman's wishes come true. If she wanted the full Autostraddle celesbian treatment, I was more than happy to oblige.
Roxane didn't even let me finish my sentence. There was warmth in her eyes and a slight protective corner in her smile as she gently placed her hand on Millman's shoulder.
"Whatever Debbie wants."
And so, here we are.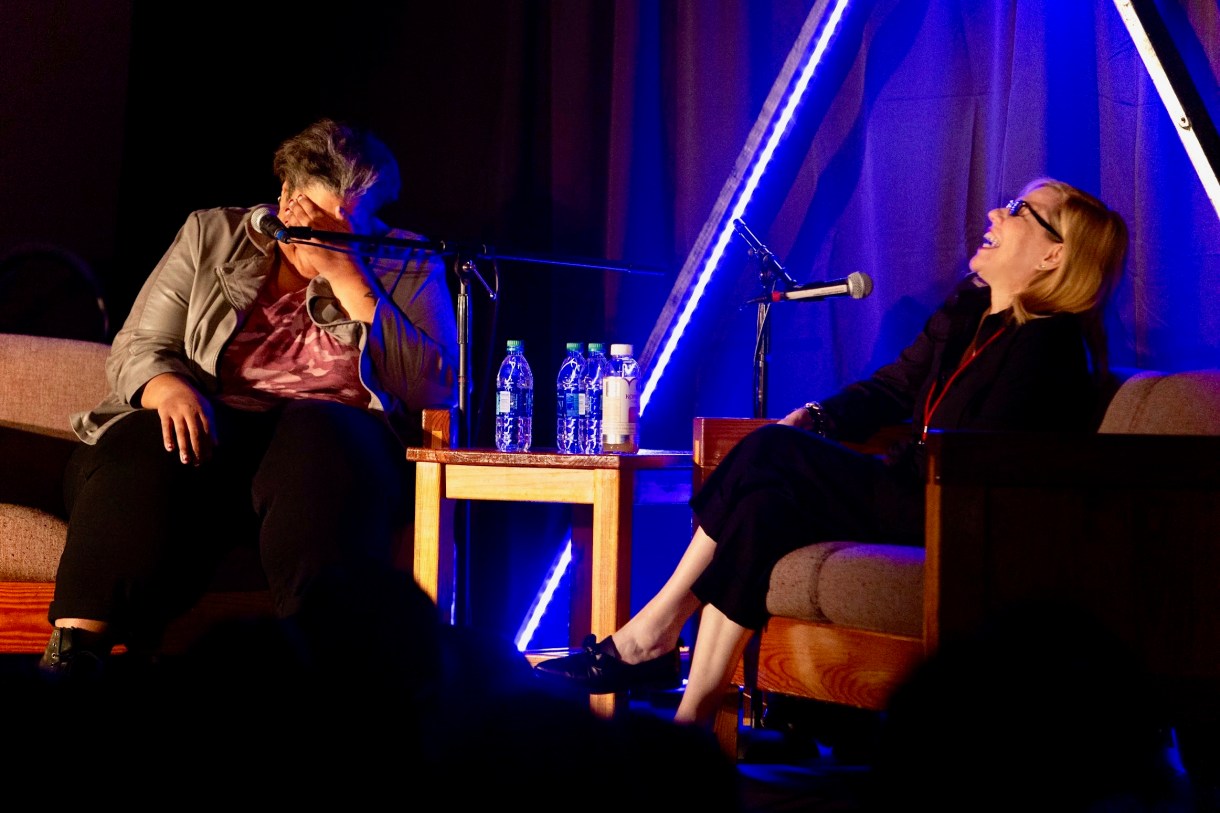 How do you lock down Roxane Gay, you ask?
Well, if you want the real real – Debbie played the long game. "Design Matters" began as a podcast on Voice America where Debbie interviewed designers about their life work, with time it evolved into a space where Debbie interviewed people who interested her most about how they "designed" or constructed their lives (the podcast is also now hosted on Design Observer, in addition to being available on iTunes and other formats). When Debbie, who came out later in life, found it difficult to tap into a lesbian or queer community, friends recommended that she use her podcast to meet new people. That led her to Roxane Gay.
The process wasn't seamless; it took a while for Roxane's "people" to get back in touch. Meanwhile, in what has to be one of the slickest pick ups I've ever heard, Debbie started inviting other people onto her show that she knew Roxane would be interested in. She stacked her deck with the likes of museum curator Thelma Golden, from the Studio Museum in Harlem, and Kima Jones, writer and founder of Jack Jones Literary Arts. Is this the elite artists' circle version of getting to know the friends of your crush first, in the hopes that you'll eventually infiltrate their Instagram feed all casual-like? As if you didn't plan it at all? When, in actuality, the shit's been chess, not checkers – and you're playing to win? Of course it is.
"Shoot your shot," Roxane told the audience.
"I'm the luckiest woman alive," is all Debbie said in return. "It was the first time in my life that I aggressively went after someone."
"And it was the first time in my life that anyone aggressively pursued me," Gay added. After finally recording Millman's podcast, Debbie asked Roxane out on their first official date. According to Roxane, "we talked and I spilled wine on her because I'm so cool and then we went outside and she asked if she could kiss me and then she did."
First, I would like to personally thank Roxane Gay for proving my personal life mantra "Consent is Sexy" to be correct in real time. Second, while the official party line of Autostraddle celebrity coverage continues to be that love is a lie: WOULD YOU GET A LOAD OF THESE TWO!!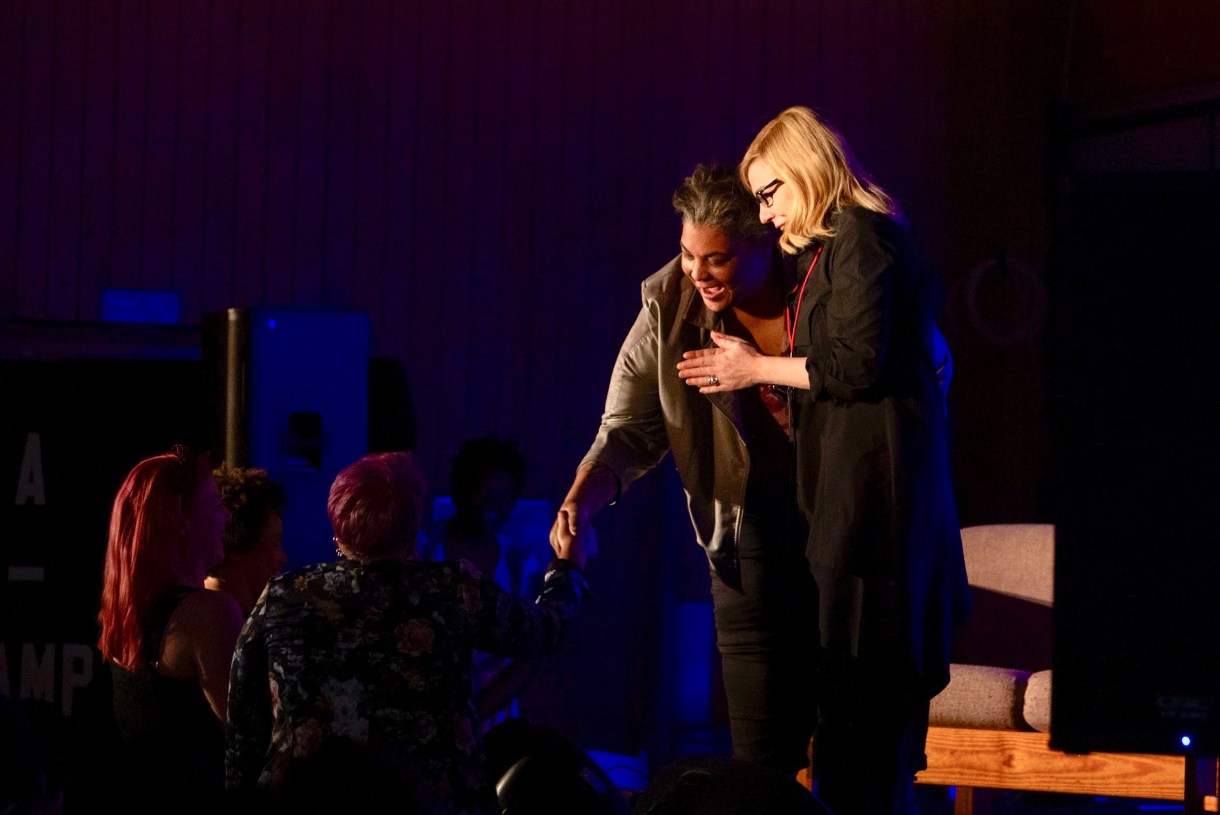 There was not a single moment on Saturday night when Roxane Gay and Debbie Millman looked at each other without my stomach butterflying. And yes, I'm intimately aware of how ridiculous it is to find myself so unabashedly enamored by the love of two people that I barely know. But some of y'all get googly-eyed over videos of cats peeling bananas or whatever, so you will have to give me this.
It took me a few days to put my finger on it: just how few possibility models exist for grown ass queer love between grown-up queer women who already have their baggage and are willing to lift up that heavy shit together. Fully grown adult women who still make each other breathless and bashful.
My stomach flip flopped not just for Roxane and Debbie. It twisted itself in knots over a future that I – on those rare days that I'm just barely brave enough to wish upon a Tinker Bell fairy dust – still believe I can have in 10 years. Or in 20. There's no expiration date on shame, and maybe just maybe that also means there isn't one on a happy ending. (Or maaaaybe LOVE IS STILL A LIE! Definitely not Roxane and Debbie's love. Just for the rest of us. Stay tuned to find out as we all keep fireballing towards hell at warp speed! Wheee!)
On stage in front of nearly 400 other queer humans, Roxane Gay dared to hope for another 40 years with the woman she loves. Despite myself, I hope we get to see each and every one of them.