Admit it, you like Grease. Maybe you haven't seen it in awhile or haven't heard the soundtrack on the radio and you forgot about it. And you probably think it's dorky or cheesy or just plain awful. And to be honest, yes it is all of those things. Take it from someone who was in musical theater for a large portion of her adolescence, I hate it too. But I also kinda love it BECAUSE it is so cheesy and corny and kinda bonkers (remember that Frankie Avalon dream sequence and/or that final scene of Sandy and Danny driving off into the sky?). No matter how hard I try there's something about those crazy catchy Bee Gee songs and a movie in the 70s trying to depict a movie in the 50's that's kinda brilliant. And the most amazing part of it all is one of the original girl gangs, The Pink Ladies.
Don't let their name emblazoned on their jersey jackets fool ya, these gals ain't the typical high school debutants. Way less diabolical than the Switchblade Sisters (possible Rhymes With Witches post?) and a ton more fun than the Mean Girls, the Pink Ladies are a permanent part of the American lexicon like gentrified rock n roll and sock hops.
For those of you a bit lost (and a bit young, how have you not seen this movie?) the 1978 movie Grease depicts the blooming love of two kids, greaser Danny and square Sandy, from opposite sides of the very white tracks with the background of a 1950's high school. But forget about those two because the real entertainment lies with their friends. While the original musical was much grittier and focused more on class conflict and social issues, the movie sanitizes the heck out of the original story which explains why these are the goofiest juvenile delinquents on film. But even with the PG-13 rating, The Pink Ladies were still awesome enough to go down in Girl Gang History.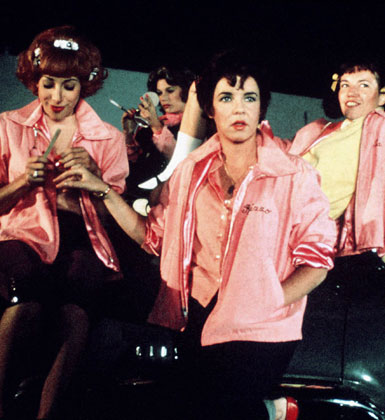 We first meet the Pink Ladies, which consist of Rizzo, Frenchy, Marty and Jan, on the first day of high school when they drive up in their PINK CAR and their matching jackets. You know a girl gang means business when there's a uniform requirement — specially cool jackets with embroidered names on the front. Right from the start we know these are not the type of girls that are into promise rings or being elected prom queen. Rebellion and not fitting in, that's what's cool. There's Rizzo, their indelible leader, Marty, the heartbreaker who has a wallet full of marine boyfriends, Jan, with an insatiable sweet tooth, and everyone's favorite beauty school drop out, Frenchy. Not exactly a menacing group, but cool enough to garner the need of acceptance from high school princess/teen dream Sandy, played by doe-eyed Olivia Newton John.
"She looks too pure to be pink" -Rizzo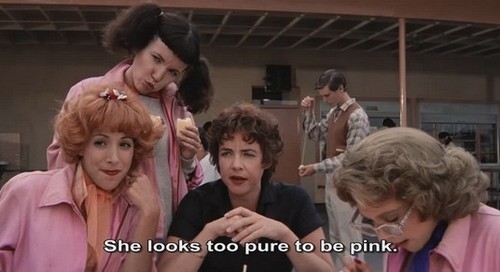 It's 1959 and there ain't nothing worse than being a SQUARE, which is just what Sandy is. While she pines for Danny (which takes up seriously the entire film), the Pink Ladies are all about using boys for a good time and not much more. The more I think about it the more I realize the genius of their song "Sandra Dee". While it's sung to make fun of Sandy, it in turn makes fun of all the cheesy teen girl archetypes from older flicks like Ann-Margaret in Bye Bye Birdie and teen idol, Sandra Dee. Perfect blonde virgins with tiny cinched waists and poodle skirts who frame their crushes on their vanity, an ideal The Pink Ladies despise and refuse to follow. Who cares about being Sandra Dee, when they are too busy throwing milkshakes on their kind-of-boyfriends, dropping out of high school and watching drag races?
"I'm gonna get my kicks while I'm still young enough to get em" -Rizzo
I like them because they are so relatable. They're funny and awkward and horny, just like high schoolers really are! These characters are foils against the stereotype of a 1950s teen just by being HUMANS. They are subject to mean rumors, heartbreak, and tons of mistakes. Sure they're not the meanest girl gang or the toughest, but they do seem like the most fun to hang out with. One day we'd be getting drunk at a sleepover and the next we'd be discussing the proper way to dispose of a cigarette with heels on and rat your hair. What I would give to get a "bad" Sandy make over!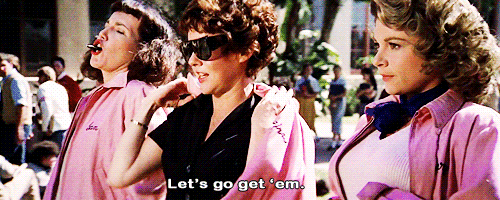 Which is your favorite Pink Lady? Mine is Jan, cause I gotta give props to a girl who would rather be eating chocolate bars than making out with greasers. Not to mention her killer bangs.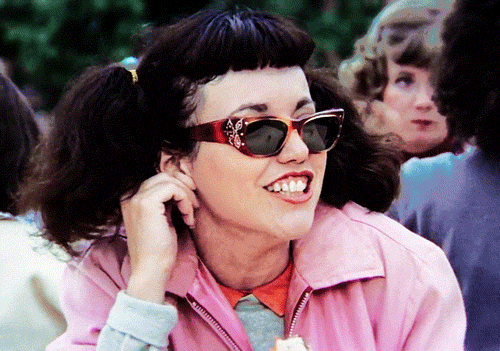 ---
Calling Out For All Mean Girls! Is there a mean girl or girl gang that you would like to see on Rhymes With Witches? Comment below and let me know of all the awesome ladies we love to hate.