I've always had a bit of a thing for bad girls, and I don't think I'm alone on this one. Who doesn't love gals with switchblades hidden in their beehives, girls with killer smirks who drink the tears of their enemies, and ladies that enact revenge without smearing their lipstick? And why do we love them? Is it the clothes, the hair, the make-up? Or is it more about attitude, manipulation, and that pesky sexual ambiguity? For slightly shy girls like me, bad girls let us live out our wildest fantasies. All those things we wish we could have done to that one girl in high school who made our lives a living hell. For these reasons, this column, "Rhymes with Witches" will be a weekly piece dissecting our love for the fictional mean girls that make it hurt so good. Every week, come take a walk with me on the wild side (switchblade not included) to explore the evil women we love on TV and in film and why we love them. Heroes and damsels in distress be damned.
---
The first time I set my eyes on that infamous "all about the tease" cheerleader skirt and Slinky style ponytail, I had a mouth full of cotton swabs and a face like that of a hamster with a carrot stuck between it's cheeks. I had just gotten my wisdom teeth ripped out of my mouth and, from what my mom tells me, I was wheeled to the car because I was delusional and wouldn't stop crying before completely blacking out as soon as we arrived home. Not remembering any of the above, I woke up a couple hours later in my bedroom, a half a Chic-fil-a milkshake on the dresser, a chubby bunny mouth and hours to waste in quarantine.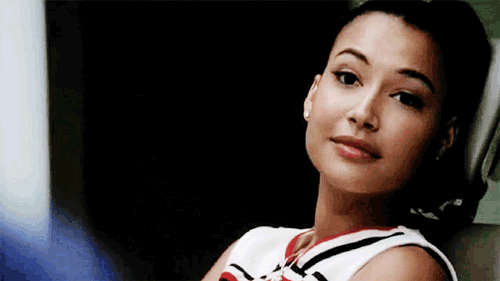 "Have you ever watched Glee?" my best friend Taylor texted me. It was 2010, at the height of Glee mania, which to that point I had successfully avoided, but the pain medication was really kicking in and I was in a very loopy state making even loopier judgments. I spent the next couple of days in a medicated whirlwind of musical numbers, corny intro music and codeine. While the rest of the show made me want to throw up my already liquidated spaghetti Os, something about Santana Lopez, played by Naya Rivera, kept me watching even after I went back to solid foods. I should have learned that this would not be the last time I would suffer through an entire show to watch an attractive chick (I'm looking at you Girl/Girl Scene).
Though most of my relationship with Santana is based on the short clips on Youtube and, of course, the Autostraddle recaps I can't help but be completely enthralled by her razor sharp wit and badass attitude. She embodies all of my favorite Mean Girl characteristics (shameless, authoritative, lesbian), but I think the major reason I like her so much is because she dislikes Glee as much as I do. I too can't stand the vomitously perky Rachel Berry, creepy Mr. Fitz and pretty much any lughead that's in the football team. I don't know how these writers created such a subversive character, cause every time Santana throws some shade I think of it as a slushy to Ryan Murphy's face. Fucking troll.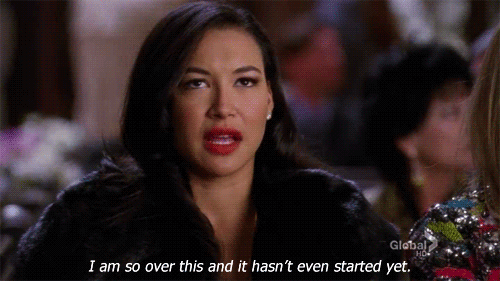 I've heard some people say they don't like her because they are sick of watching queer characters and people of color being villainized (which is a totally valid point), but in the case of the girl from Lima Heights Adjacent, I don't think that at all. If anything I see Santana as the heroine of the series. While everyone else is worried about going to musical theater college, Santana triumphs through adversity that often queer people of color face in their communities that I can relate to. I have often felt because I am a queer person of color that I have to set some perfect politically correct example, and Santana refuses to live by those rules. She is unapologetic about who she is and where she comes from. Plus, us Queer Latina cheerleaders need to stick together. I had the strange high school experience of being bullied by the drama "geeks" while the cheerleaders welcomed me with open arms, so you can bet I am team Cheerios all the way.
Of course, another reason to love Santana is the girlfriendship between her and Brittany (played by real life BFF Heather Morris) that created the monster now known as Brittana. Sure she's probably hiding a couple of razor blades in her hair, but Santana has a soft side when it comes to Brittany that is just adorable. In her mind, it's Santana and Brittany against the world. Don't lie to me! I know y'all cried when they sang that Stevie Nicks duet, so don't even play. Whatever this past season might have wrought, I still picture them running away together and having each other's finger babies.
While I know she's become a more "warm hearted" character in these later seasons, I hope she never loses her edge. Personally I think she needs to dump these Glee losers and have her own spin off show, Mary Tyler Moore style.
I'll leave you now with a few words of wisdom:
Well said, Santana, well said.