It's Wednesday and there are several things we haven't talked about yet this week! Let's get it started.
How Americans Ruined Russia
Homophobia in Russia didn't just come from anyone. It came from us. Or, at least, it came from the slimiest motherfuckers among us.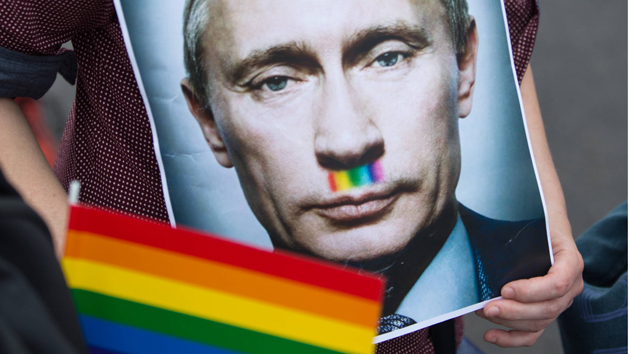 In November 2010, Russia's Sanctity of Motherhood organization kicked off its first-ever national conference. The theme, according to its organizers, was urgent: solving "the crisis of traditional family values" in a modernizing Russia. The day opened with a sextet leading 1,000 swaying attendees in a prayer. Some made the sign of the cross, others bowed or raised their arms to the sky before settling into the plush red and gold seats of the conference hall at Moscow's Christ the Savior Cathedral.

On the second morning of the conference, the only American in attendance, a tall, collected man, stepped up for his speech. Larry Jacobs, vice president of the Rockford, Illinois-based World Congress of Families (WCF), an umbrella organization for the US religious right's heavy hitters, told the audience that American evangelicals had a 40-year track record of "defending life and family" and they hoped to be "true allies" in Russia's traditional values crusade.

The gathering marked the beginning of the family values fervor that has swept Russia in recent years.
Saudi Arabia's First Female Editor-in-Chief
Somayya Jabarti has taken the helm of the Saudi Gazette, and she's pretty badass.
"There's a crack that has been made in the glass ceiling. And I'm hoping it will be made into a door," Jabarti said after starting her new job, according to quotes carried by Al Arabiya News.

She added: "Being the first Saudi woman [editor-in-chief] is going to be double the responsibility… One's actions will reflect upon my fellow Saudi women."

According to Jabarti, of around 20 Saudi Gazette reporters only three are male but the paper's senior editorial positions are mainly held by men.

"The majority of our reporters are women – not because we are biased and choosing women over men. There are more women who are interested in being journalists, and who are journalists," she said. "The success will not be complete unless I see my peers who are also Saudi women in the media, take other roles where they are decision-makers."
On The Issues
+ Marriage: Gay rights advocates are taking on the south, and the state of Oregon will not defend their ban on gay marriage in a federal suit.
On March 12, 2004, the state of Oregon had a problem. Its most populous county was handing out marriage licenses to same-sex couples, and the state was unsure whether those actions were on solid legal footing. Ted Kulongoski, then the governor, asked his attorney general if state agencies should treat same-sex marriages as legal, until the state Supreme Court makes a decision, "Existing Oregon statutes limit the grant of marriage licenses to one man and one woman," then-Oregon Attorney General Hardy Myers wrote. That November, 57 percent of Oregon voters agreed to a gay marriage ban. Then the Supreme Court voided the marriage licenses already issued. And federal law still banned the recognition of same-sex couples.

What a difference a decade makes.
+ Women's Health: Texas lawmakers are holding a hearing to celebrate their amazing work for women's health. It is unsure as of now whether it's a satire or a straight-up punch line.
+ Homophobes: Folks who live in bigoted communities tend to die earlier, giving us all more reason to go all Fear and Loathing on these motherfuckers.
+ Gender Identity: Diane Rodriguez was the first transgender woman in Ecuador to legally change her name. Now, she's suing Ecuador to acknowledge her gender identity on legal documents.
+ Military: The US ranks 40th in a global survey on LGBT rights in national military forces.
Joshua Polchar said the U.S. is behind the rest of the world because of the policy. "There have been big steps since don't ask, don't tell and the repeal of DOMA," Polchar, who helped produce the index, told The Guardian. "But the headline story is that the US continues to lag behind on the transgender issue… This is also about military effectiveness, as an inclusive and respectful culture benefits straight people, LGBT people and the armed forces as a whole."
Looking Back: The History of Trans-Exclusionary Feminism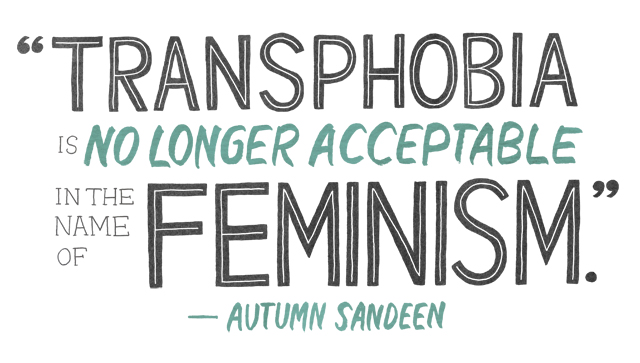 Transphobia is, unfortunately, part of the feminist movement's history. Bitch took a deep look into how and why that is – and then challenged today's feminists to do better.
Trans women have been saddled with the responsibility of taking on trans-exclusionary feminists for far too long—but it's not their issue to deal with alone. Cisgender feminists, such as myself, have to make it clear that our feminism loves and supports trans women and that we will fight against transphobia. As Williams said, it's time to expose trans-exclusionary feminists for who they really are.

"I've often wondered what their [radical feminists'] end game is. Do they really believe that they're going to cause thousands of companies and hundreds of towns to roll back trans protections?" Williams asked. "TERFs were the first to politically weaponize the trans-bathroom meme back in 1973 and they pioneered the end of trans healthcare in the 1980s. It's high time that 40 years of focused, unrelenting hate be pulled into the light of day."
You Should Go: The Center Dinner
The New York City LGBT Community Center is hosting their annual dinner this April.

As we dive into 2014, exciting things are happening at The Center! We are currently at the halfway point of construction in our capital improvement renovation, which will dramatically enhance the building and its functionality. This project will benefit all programs and provide a more welcoming and modern space for our community to gather, grow and celebrate. Meanwhile, as the building is transformed around us, we remain open and continue to provide life-saving and life-enhancing services.  In recognition and celebration of this work, we are excited to invite you to come together once again for our annual Center Dinner.
Media Matters
+ Heathers: The Musical. Your dreams are coming true.
+ IS JENNIFER NETTLES GAY I DON'T GET IT
+ Elisha Cuthbert of "Happy Endings" is going gay on NBC's One Big Happy.
+ Angel Haze is back with a "Battle Cry" for us all.
A Girl Scout You Can Believe In
Danielle Lei inspired us all this week when she made the decision to sell Girl Scout cookies outside San Francisco's Green Cross medical marijuana dispensary. It's like God came to me in the moment and said, "everything you love is right."
She sold 117 boxes in 2 hours and called for backup.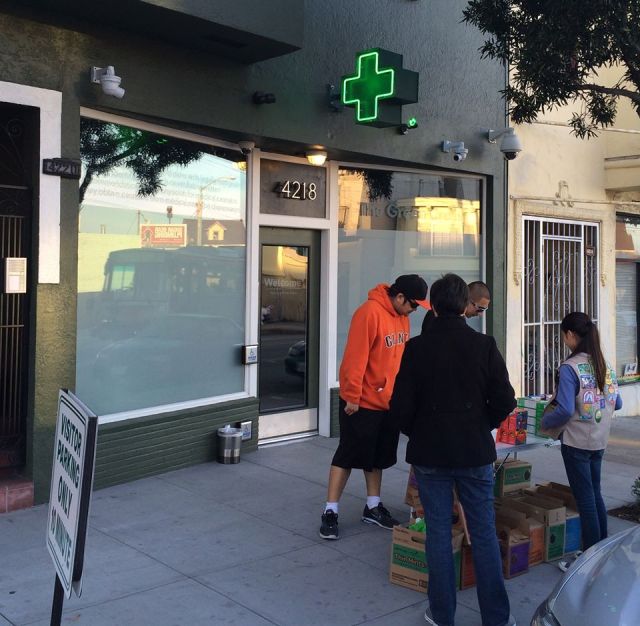 Protecting LGBT Youth
+ A Texas school district outed Skye Wyatt to her parents five years ago, and they will pay. Literally.
+ The Movement Advancement Project has launched a series of expanded LGBT Equality Maps indicating where communities stand on conversion therapy for minors.
"Studies show LGBT youth are already disproportionately likely to face bullying, harassment and family rejection just because of who they are," said Ineke Mushovic, Executive Director of MAP. "So-called 'conversion therapy,' further rejects youth and sets them up for failure through the futile and unnecessary exercise of trying to change who they are. Banning these hurtful and discredited practices, is an important step in protecting the most vulnerable members of the LGBT community."
+ High schoolers can stand to learn a lot from Ashton Lee on effecting impactful change for trans* students in their high schools: